Welcome to the 710th Metamorphosis Monday!
Hope your Labor Day weekend is going amazing! I've been goofing off and relaxing a bit, something I find hard to do. lol I always feel a bit guilty if I'm not being productive. Anyone else have that problem? There was one thing that I got done here in the garage, something that's been bugging me since the garage makeover was completed.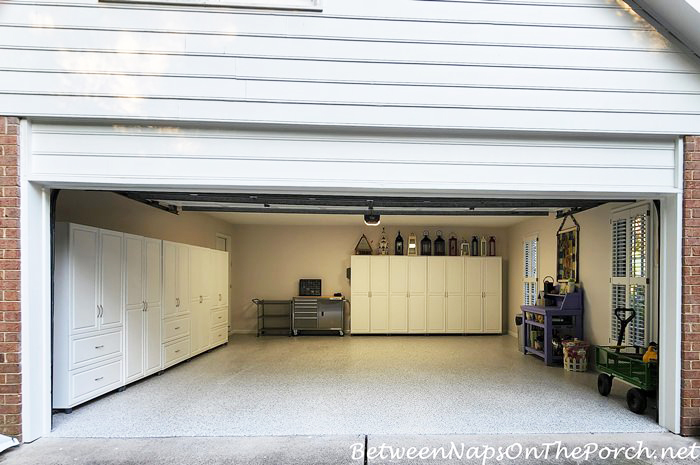 See that big ole blank spot there above the standing tool chest to the left of the cabinets?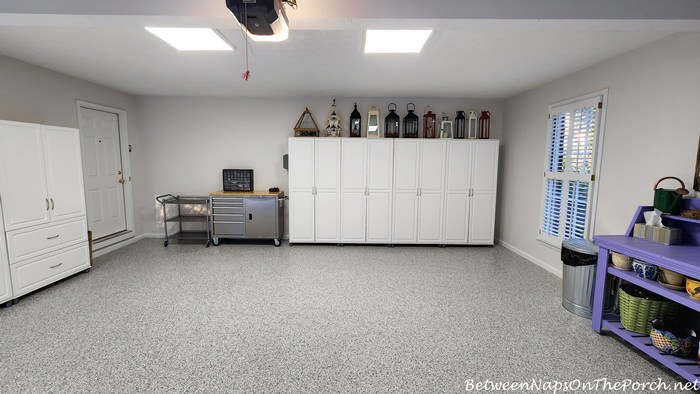 I used to have two things hanging there. One of those was this wood flag I made many years ago from scratch. I loved seeing it there and it was a good place to store it when it wasn't in use on the porch.
The step-by-step tutorial for making this flag can be found here: Craft a Wood Flag for the 4th of July.
Hanging on that same wall above the flag (in the garage) was this big red, white and blue star. Can't remember where I found it now, probably Hobby Lobby or Marshalls.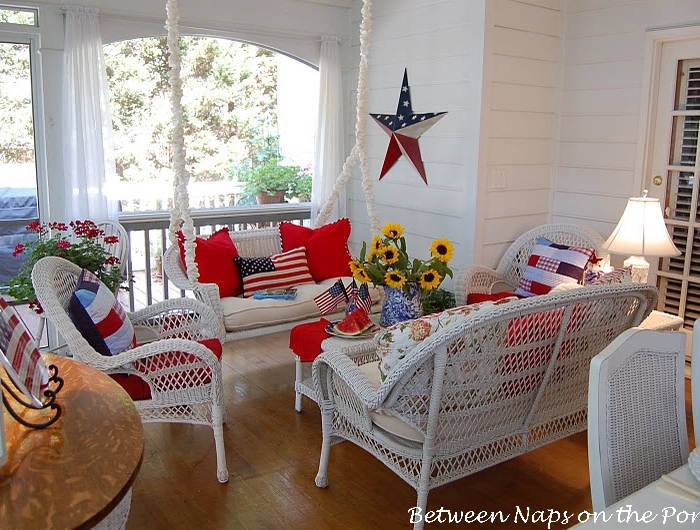 The wood flag is currently propped on my back staircase, along the top edge of a wall that runs down the side of the staircase. Not sure if it will stay there, but that's where it's living for now.
That big blank spot in the garage was calling for something so I decided to hang the star back. When you have just painted your walls, you have to really think about what you're willing to nail back up, ya know? Fortunately, to hang the star back, it only takes a single skinny nail because it's metal and not very heavy.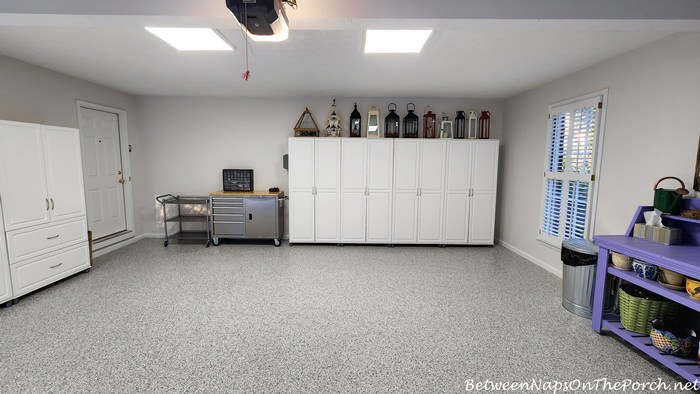 Here's how it looks back on the wall. This photo was taken in the evening with the garage door down, so it's a bit shadowy. I didn't take time to back the car out, thought it would be better to share it just as it looks with everything in place. Someone asked recently if I park my car in the garage. I definitely do, always have. I keep a car for so long (usually 11-16 years) so I like to keep it garaged so the paint stays looking as nice as possible, for as long as possible.
I love how this star looks here, I've missed it!
It's good to see it back home again!
Helpful Tip for Leveling SystemBuild Storage Cabinets
After the garage makeover was complete, during the time I was adding the cabinets back to the garage, I figured out a cool little trick for leveling them. These cabinets are designed with feet that spin up and down so that you can level them wherever you happen to be using them. They get a lot trickier to adjust/level when you start adding several of them in a row and they are right up against each other as I have here in the garage.
You may remember I mentioned having a new seal professionally added along the bottom of my garage door. It actually had to be done twice because the first time, the installation didn't turn out as it should have. The second installation went way better and turned out really nice. After that first installation of the seal, the garage door repairman left behind a leftover piece of the seal.
Man, did that scrap piece ever come in handy! Since I was adjusting and leveling the cabinets by myself, there was just no way I could simultaneously pull the cabinet forward off of its back legs, while lowering/raising the legs all at the same time. I knew I needed a way to lift the cabinet up in back and I remembered that squishy seal. I folded the seal twice and stuck it behind the cabinet, between the cabinet and the wall. That allowed me to reach up underneath the front of the cabinet (thankfully I have skinny forearms) to raise/lower the legs in the back as needed. There was a lot of back and forth, climbing up and down the ladder to replace and remove the seal after each adjustment, but it worked great! I could never have done it without that scrap piece of seal! Just wanted to share this tip in case you ever need to adjust the back legs of a cabinet in place against a wall, and you don't have anyone available to pull the cabinet forward off its back legs.
When I share these cabinets, someone will usually ask if I secured the cabinets to the wall. Yes, always! The doors on these cabinets are quite heavy/substantial so I would never attempt to open them without having them secured to the wall, even if they are loaded down with dishes. You can see my little pencil mark where I used my Stud Finder to locate the stud before securing the cabinet.
This stud finder was worth its weight in gold! It worked seamlessly, found that stud the first time, every time! (Stud finder is available here: Stud Finder.)
Before I end this post, I have to share one of the amazing tools I purchased during this makeover. I love DeWalt tools and now own quite a few. I saw this retractable knife/box opener online when I was purchasing a set of DeWalt screwdrivers recently. I purchased one to use here in the garage for breaking down boxes for recycling and I like it so much, last night I purchased another one to keep inside for opening packages. It works amazingly well and comes with quite a few blade refills. I have found it really easy to use and I love how the blade retracts back into the handle for safety. It's currently still on sale here: DeWalt Premium Retractable Knife/Box Opener.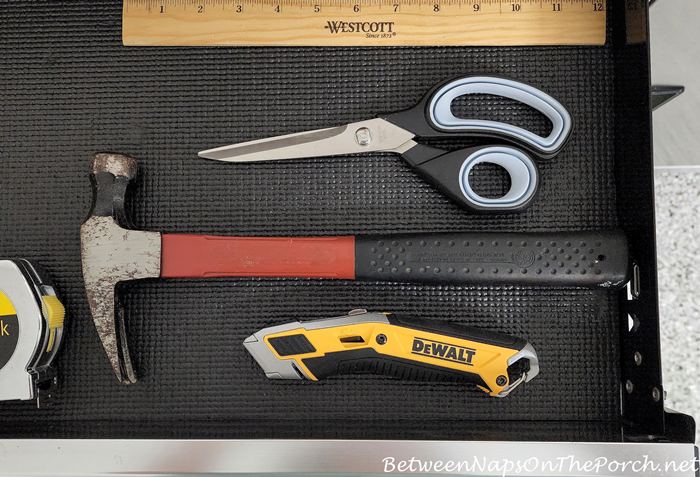 I've been trying to decide if I want to remove these lanterns from the top of the cabinets and store them down in the basement. It's super convenient having them here–easy to reach if I wish to use one in a table setting, although, I rarely use the little greenhouse and birdhouse on the far left. I can't decide if I like this area being fully open above the cabinets or not. The lanterns have a way of pulling the eye up and they almost make the cabinets feel taller–which I like. But, are they distracting from the clean openness of the garage?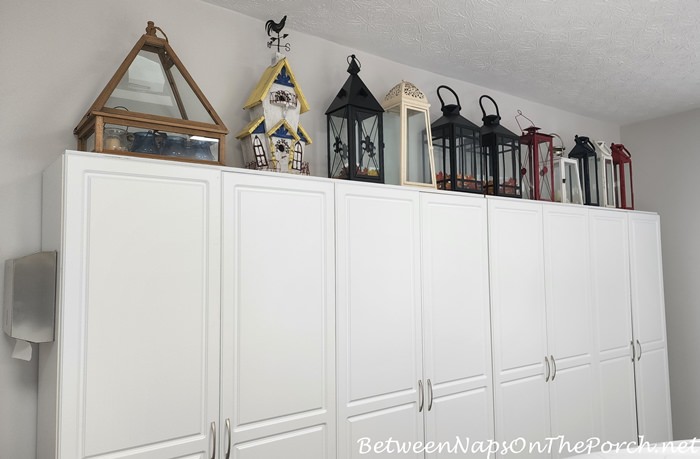 Give me your thoughts, should I leave the lanterns here atop the cabinets or move them down to the basement? Argggh, I can't decide! Let me know what you think!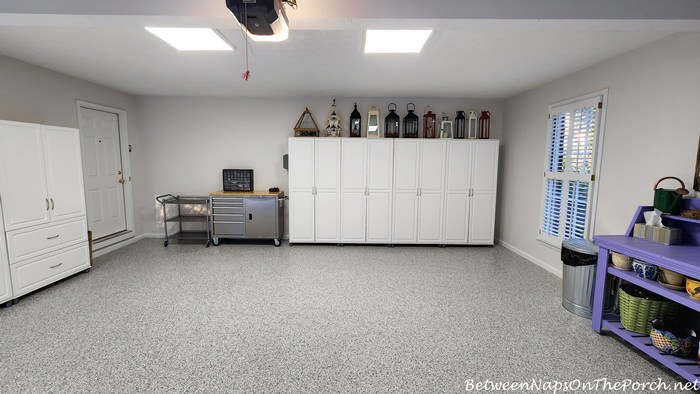 Looking forward to all the wonderful Before and Afters linked for this week's Met Monday!
Pssst: Did you know Between Naps On The Porch is on Instagram? You'll find me on Instagram here: Between Naps On The Porch.
Like to know when a new blog post is up and available to read? Subscribe for email updates, it's free and your email will never be shared. Subscribe for free post updates via email here: Subscribe.
Metamorphosis Monday
Metamorphosis Monday is a party that's all about Before and Afters. Please link up your Before and After projects like DIY projects, room makeovers, craft projects even recipes. Any Before and After is great! Please do not link up Table Settings, save those for our Tablescape Thursday party on Thursday.
If you are participating in Met Monday, you'll need to link your post to the party using the "permalink" to your MM post and not your general blog address. To get your permalink, click on the name of your post, then copy and paste the address that shows in the address bar at the top of your blog, into the "url" box for InLinkz when prompted.
NOTE: Please do not link up more than 3 posts from your blog. In order to link up, you'll need to include a link in your post back to the party so visitors to your blog can find the other party participants. When linking up to the party, give the InLinkz system time to find the link in your post to avoid having your link held for moderation/approval. Thanks!
This party has ended, click button below for the links to all who participated.
*If a post is sponsored or a product was provided at no charge, it will be stated in post. Some links may be affiliate links and as an Amazon Associate, I may earn from qualifying purchases. *