Welcome to the 762nd Metamorphosis Monday! I hope you've been having a relaxing Labor Day weekend. I'm running a tad behind due to computer issues. My computer this morning suddenly decided it didn't want to let me access any of the photos, including the ones I needed for this post. I finally got it to work, hope it stays working. Computers are always a love/hate relationship, aren't they?
Before we get into today's post, I want to give you a brief update on some of the things I have planned for this month. It's going to be a busy month! I have a somewhat major update I'll be doing in the basement–more on that soon! Also, I've been getting estimates for shutters or 2-inch, faux wood blinds. The blinds that are currently here in the basement are very yellowed with age, so it's time to update them.
I've decided to go with blinds since the company that made all the other shutters in my home is no longer in business. I don't want to change to another shutter style even if it is here in the basement–plus, I think it would be nice for the next family who lives here to be able to fully raise up the blinds whenever they wish. That would maximize the light and backyard view for this space. After that, it will be time to get estimates for flooring.
The flooring may have to wait though because as soon as the upcoming basement updates are complete, I'm going to be in research and estimate-getting mode. I'm close to starting one of the two bath renovations I need to complete. So before this year is out, I hope to have at least one bath renovation underway and/or complete. As I get estimates, I may find I can save a lot if I renovate both bathrooms at the same time, which may mean waiting until spring to start those. I'm not sure my brain can deal with that much chaos at once, though. Ha!
Today, I have a very small update to share involving the luggage I normally use when I travel. Many years ago I purchased this Away carry-on bag. It has been on so many trips over the years–too many to count. I love it but there is one thing that it doesn't have that I wish it did–a pocket on the front that will hold a laptop computer. That means when I travel, I have to lug my heavy laptop in my "personal item" bag throughout the Atlanta airport, OR, if I place it inside my Away carry-on, I have to open the suitcase in front of the world to retrieve it before going through security. I almost always travel with my laptop since I like to create blog posts while I'm away. Plus, it's just nice having a computer when traveling.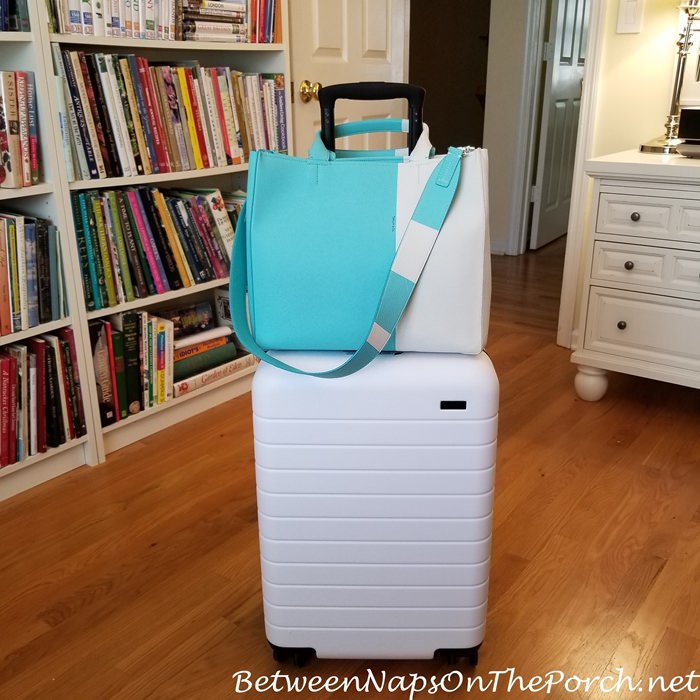 This is my BIG suitcase that I take when I take longer trips–like those that last 2 weeks or more. This suitcase has been to 10 different countries over the past few years and it is just starting to finally show a tiny bit of wear. I am amazed by how well it has stood up to the abuse checked luggage goes through!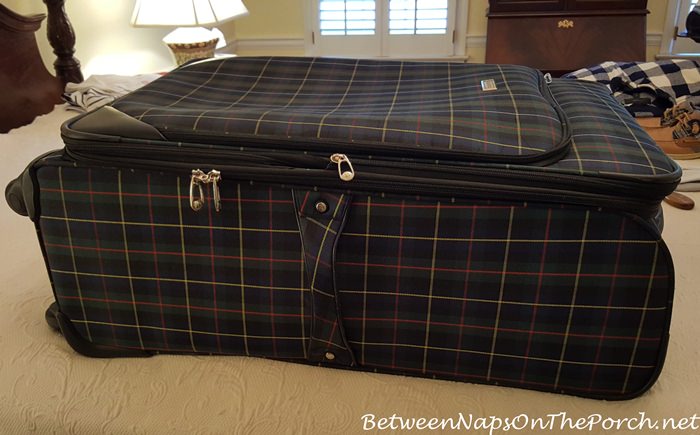 My large suitcase is made by London Fog and I love, love, love its beautiful plaid design. I love plaid anyway, especially in these colors, and the plaid design makes it easy to spot on the luggage carousel at the end of a trip.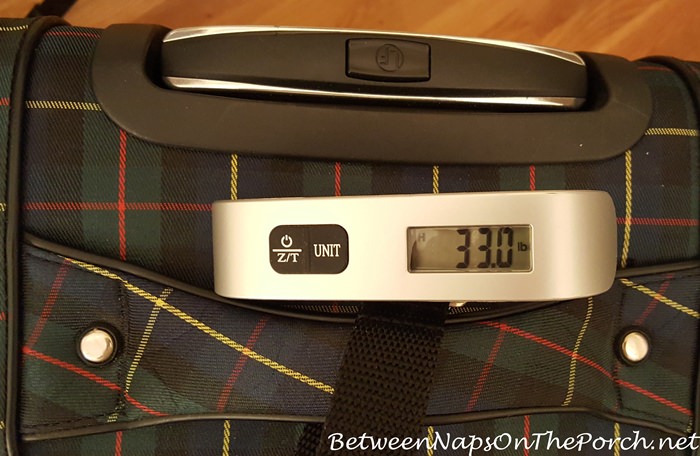 So, I made a purchase a few days ago–a new carry-on bag. I went with another London Fog since my large London Fog has held up so beautifully. I purchased this cute suitcase in Marshalls. I think my original large London Fog was a find in HomeGoods/TJ Max, back in the day. They seem to always have a nice selection and the prices are excellent. This bag was $89.99 before tax. This morning I looked online and found similar London Fog bags available here: London Fog Carry-On Bags. Love their plaid designs!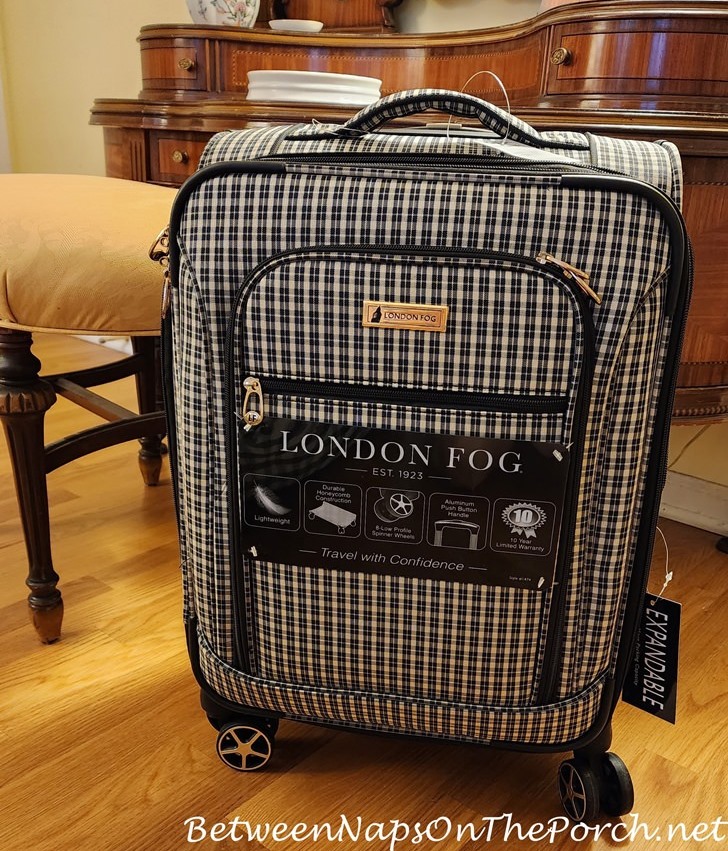 I've already tested it and my laptop comfortably fits in the front pocket. Yay! Away is now making suitcases with a front pocket for holding laptops, but sadly, they didn't start that until after I had purchased my white carry-on from them.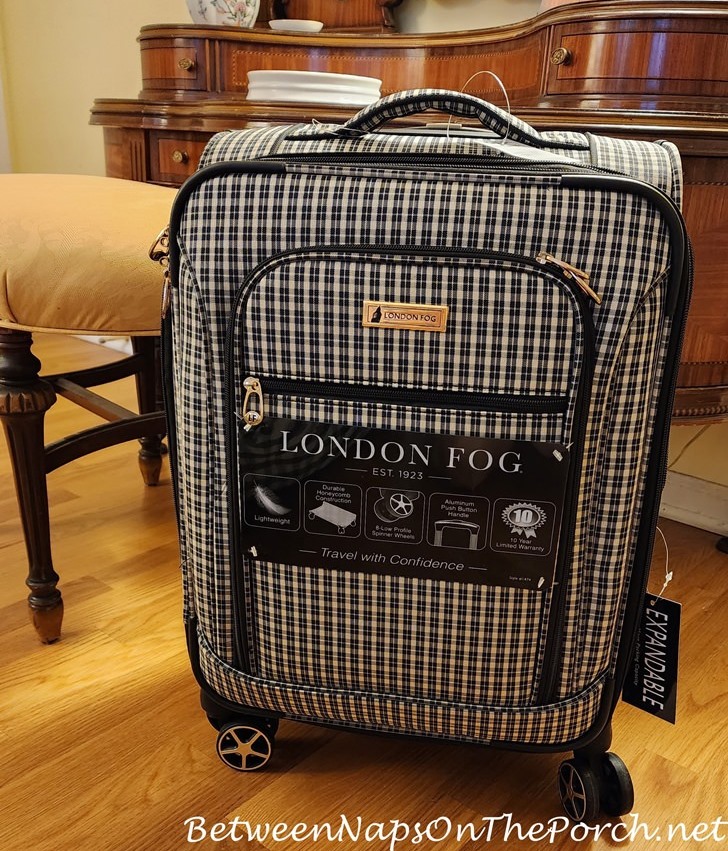 I love how this bag expands for additional room, as you can see in the photo below. It rolls and spins beautifully, and I think it's a bit lighter than my Away bag which will make it easier to lift and place in overhead bins when flying.
So that's my little Before/After for this week. Do you have any trips planned for this fall? I have one short, 3-day trip planned later this month and I'm looking forward to sharing it with you! It will be the first time I use this little bag.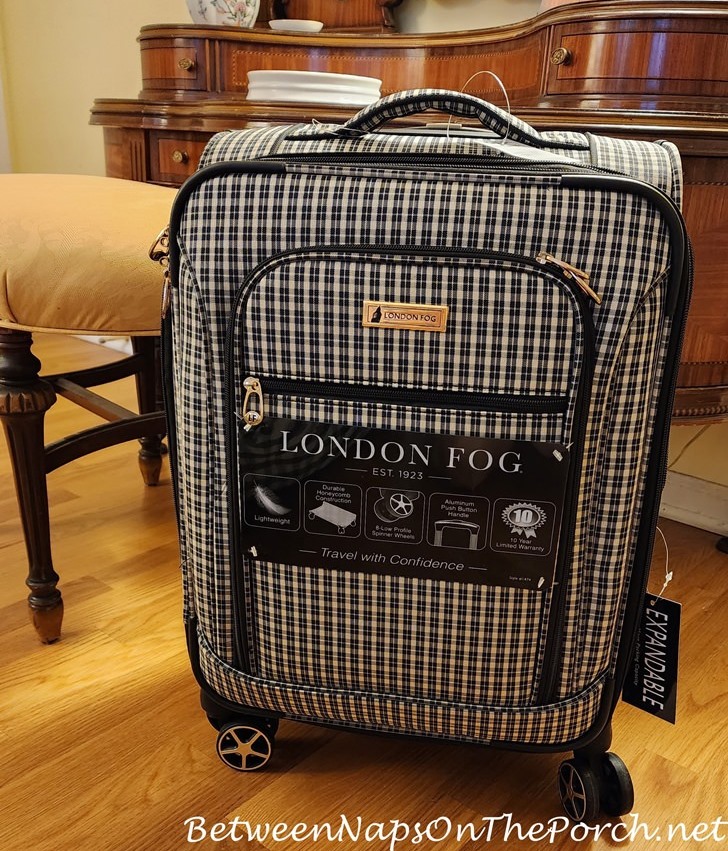 Looking forward to all the great Before and Afters linked for this week's Met Monday!
Pssst: Did you know Between Naps On The Porch is on Instagram? You'll find me on Instagram here: Between Naps On The Porch. Like to know when a new blog post is up? Subscribe for email updates (it's free) and your e-mail will never be shared. Subscribe for free post updates here: Subscribe.
Metamorphosis Monday: Metamorphosis Monday is a party that's all about Before and Afters. Please link up your Before and After projects like DIY projects, room makeovers, craft projects even recipes. Please do not link up Table Settings, save those for our Tablescape Thursday party on Thursday. If you are participating in Met Monday, you'll need to link your post to the party using the "permalink" to your MM post and not your general blog address. To get your permalink, click on the name of your post, then copy and paste the address that shows in the address bar at the top of your blog, into the "url" box for InLinkz when prompted. NOTE: Please do not link up more than 3 posts from your blog. In order to link up, you'll need to include a link in your post back to the party so your readers can find the other party participants. When linking up to the party, give the InLinkz system time to find the link in your post to avoid having your link held for moderation/approval. Thanks!
You are invited to the Inlinkz link party!
*If a post is sponsored or a product was provided at no charge, it will be stated in post. Some links may be affiliate links and as an Amazon Associate, I may earn from qualifying purchases. *