The Fortnum and Mason hamper I ordered a few weeks back arrived this week. If I ever make it back to London again, I would love to visit their Piccadilly store in person. In today's post, I thought I'd share what I ordered. I also have a sneaky plan for the hamper, looking forward to sharing that very soon.
When I placed my order, I chose their "Large" size hamper. I knew it would be a great storage piece for use later. These are the measurements in inches for the large F & M large hamper: 16.14 inches high, 23.22 inches wide/long, and 16.14 inches in depth.
This first photo was taken late at night on the day the hamper arrived. I was like a kid at Christmastime opening up this hamper! The goodies were all throughout the hamper, snuggled down in the tons of pretty, straw-like packing inside. It was like a treasure hunt digging through and finding them all!
Here's a brighter photo taken today, only I forgot to include the musical tin when I grouped everything together. (Sharing that further down in this post.) Fortnum & Mason has a huge selection of hampers that are already filled or come with select items they've already chosen. Those are more cost-efficient to purchase since they are less expensive than individually choosing specific items and creating your own bespoke Hamper. Unfortunately, none of the ready-made large-size hampers contained quite the combo of items I wanted, so I ended up spending a bit more to fill my hamper with the treasures I wanted to try.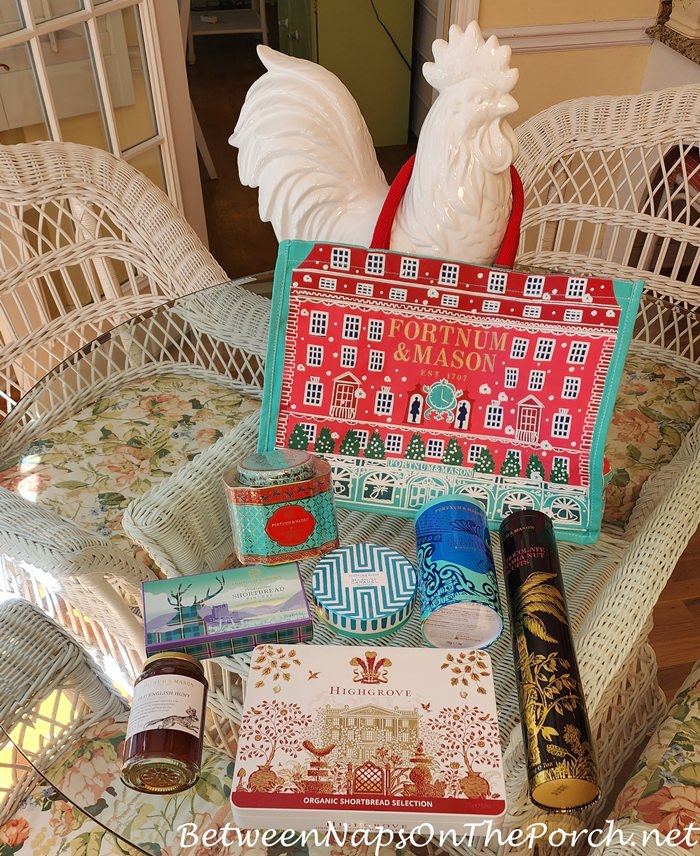 One of the items I chose is their Christmas Piccadilly Bag for Life. It was just so darn cute, I couldn't resist. Apparently, if you live locally and shop in F & M, if your shopping bag ever wears out or gets damaged, they will give you a new one for free. (Bag is available here along with their other beautiful bags: F & M Christmas Piccadilly Bag for Life.)
The bag feels like a heavily coated canvas and the colors are gorgeous–rich and intense!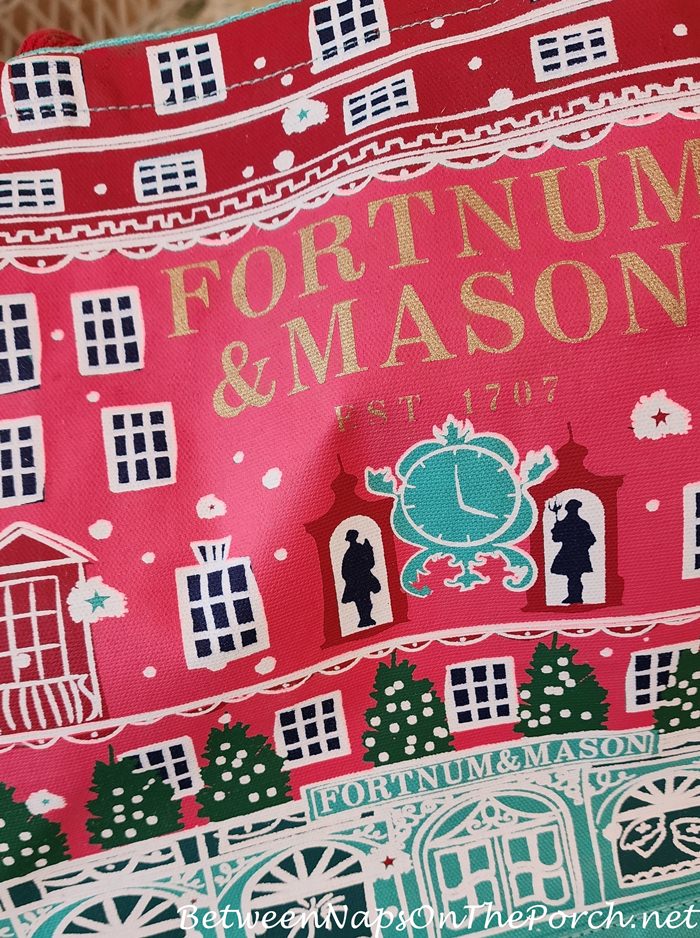 Here's what it says on the other side.
Not all the items on their website are available for shipment to the United States. For example, some of the truffles I tried to order ended up having to be removed from my hamper at checkout, maybe because they contained alcohol…not sure. Out of the things I purchased, my favorite so far is the Highgrove Organic Shortbread Selection.
The Highgrove shortbread/cookies are really dense and hearty. It makes me think I'm eating a cookie that is pretty authentic to how they would have been made and tasted back in the 18th or 19th century. I love the flavors, too! (Highgrove Shortbread Biscuits and Tin are available here: Highgrove Organic Shortbread Tin.)
The Sea Salted Caramel Truffles are also very good. I haven't tried the Old English Hunt Marmalade yet but I know I'm going to love it since I like marmalade.
Here's a better photo of the marmalade from the F & M website. (It's available here: F & M Marmalade.)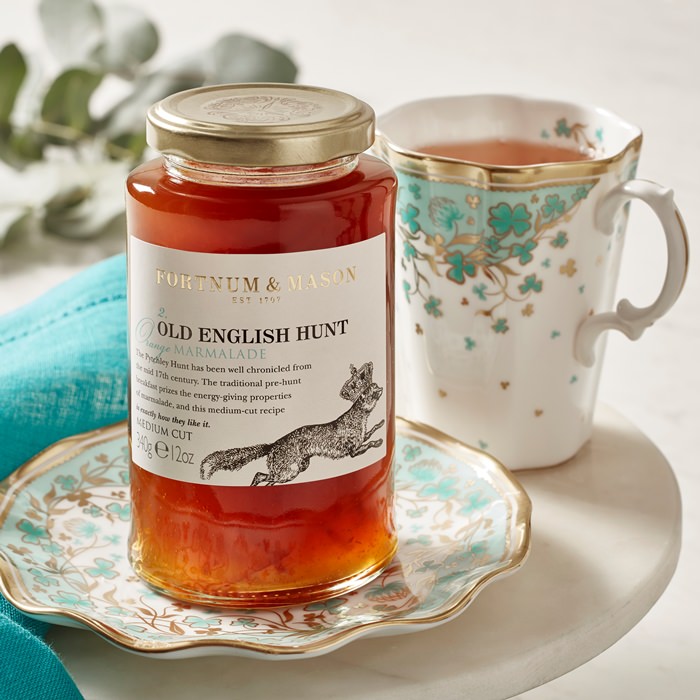 Oh, and the Clotted Cream Digestive Biscuits are wonderful! I would definitely include them if I were to order another hamper. They are available here: Clotted Cream Digestive Biscuits.
This is the adorable musical tin I chose to include in my bespoke hamper. It's designed in the image of the Fortnum & Mason Piccadilly Store and inside are 3 different types of biscuits–or cookies as we would call them. There are "zesty and moreish lemon curd biscuits, warming and energizing stem ginger biscuits, and chocolate pearl biscuits." The tin plays Handle's Water Music. It's completely charming! (This musical tin filled with delicious biscuits is available here: Musical Piccadilly Tin.)
One thing I noticed is everything came individually sealed so all of these items could potentially be given as gifts on their own. I'm probably going to do that with the beautiful tin of tea that I added to my hamper. I was initially thinking of displaying it somewhere because it's so pretty, but I'll probably end up giving it as a gift.
I wish I liked hot tea, my sister really did and always tried to get me interested in it, but I just don't like hot drinks at all–well, except for the occasional hot chocolate in the dead of winter. I will say, when I was enjoying one of the biscuits, I was thinking how perfect a cup of hot tea would be with them to offset the sweetness. It would be a great pick-me-up in the afternoon when the energy starts to lag–a bit of caffeine and sugar to jolt the system awake again. Ha! Maybe I can try to make iced tea with these tea bags. I think I'll try that. By the way, this tea comes in teabag form and in loose leaf. I thought I chose loose-leaf but apparently, I purchased the teabag variety. You'll find it here: Fortnum & Mason Afternoon Tea.
Looking forward to sharing my plans for this beautiful hamper!
*If a post is sponsored or a product was provided at no charge, it will be stated in post. Some links may be affiliate links and as an Amazon Associate, I may earn from qualifying purchases. *