Welcome to the 512th Tablescape Thursday!
Announcement: If you are currently subscribed to receive BNOTP blog post updates via a Hotmail e-mail address, but they are not getting through to your Inbox, check your Spam folder. If they aren't in the spam folder, try subscribing with a different e-mail. Hotmail is notorious for filtering out emails that contain photos. Just Google and you'll find a lot folks on forums discussing this issue of emails not getting through the Hotmail filters.
Just this past week a reader e-mailed to say she wasn't getting blog post updates even though she was subscribed to receive them. She changed from using Hotmail to another e-mail service and that completely solved the problem. They are coming through now without any problem.
I can definitely recommend Gmail, that's what I use and love. I couldn't survive without the "Folder" options and the many ways you can use Gmail to stay organized. It's truly the best email system I've ever used, and so far, no one has ever mentioned a problem receiving post updates when using Gmail for their email.
If you aren't currently getting an email when a new post is up here at BNOTP, sign up for that here: Subscribe for Blog Post Updates. It's totally free and your e-mail address will never, ever be shared.
Tablescape Thursday
The Limelight Hydrangeas in my front garden are blooming up a storm right now, so I couldn't resist cutting a few stems for today's centerpiece.
I got a late start creating this table setting. When I started around noon, it was 79 degrees on the porch. By the time I started taking photos around 3:00, it was already up to 89 degrees! I don't think the humidity was as bad as it has been, though because it really didn't feel that hot. Mornings and evening are still nice and cool out on the porch, love this time of year so much! Summer is going by way too fast!
You may remember this photo from when I shared a tiered planter I made from terra cotta pots and saucers. Notice the little green pitcher there on the far right? It worked great as a vase in today's tablescape.
In case you're interested, you'll find the tutorial for making the terra cotta tiered planter here: Tiered Planter.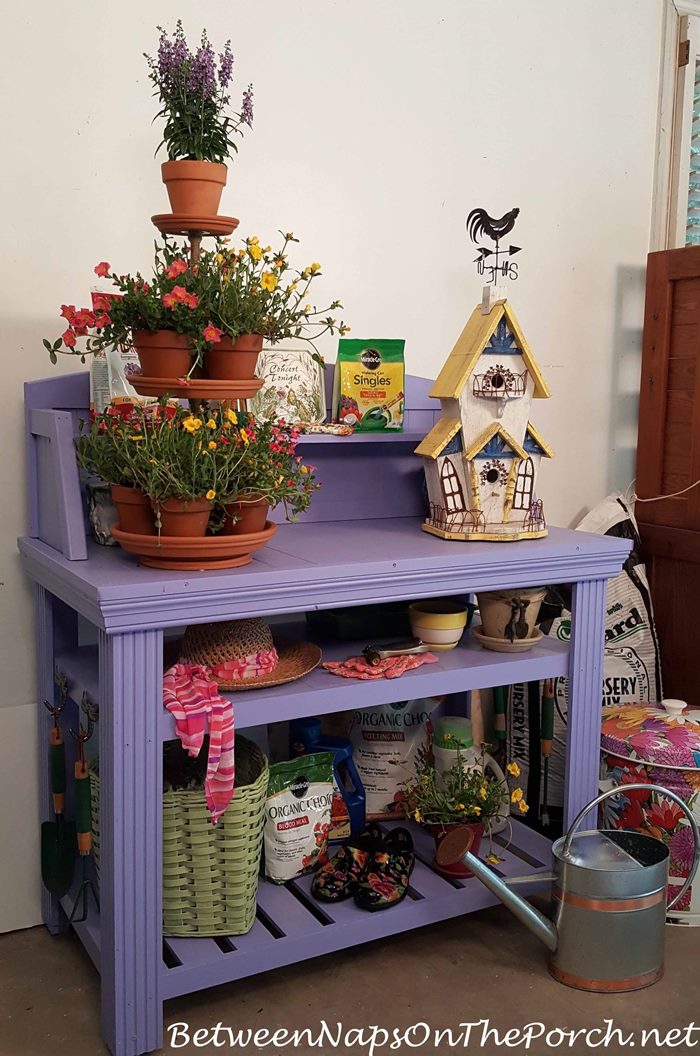 I don't know why but I haven't been able to get these little bee skep soup tureens out of my head all week. I guess they wanted to be used in a table this week because they just kept coming to mind every single time I thought about what table I would create.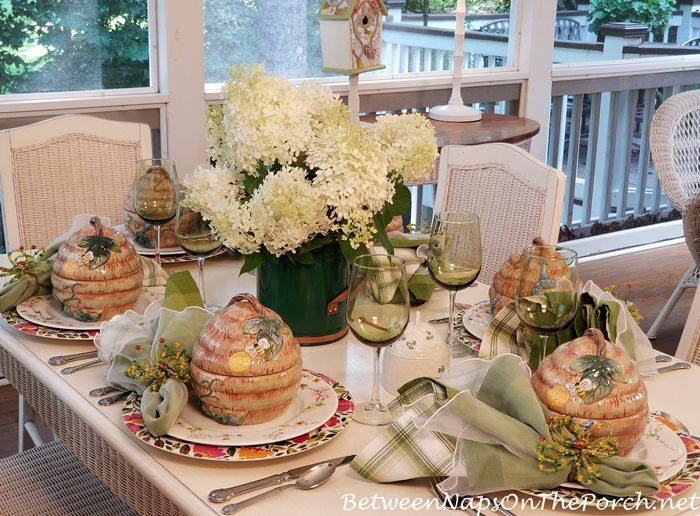 Update: Forgot the salad plates so I'm adding a few pics to this post that include the salad plates.
I found the bee skep tureens in Old Time Pottery many years ago.
This table ended up with a garden/bee theme, so it would work well for a garden party or any spring-summer gathering.
I love, love, love Limelight Hydrangeas! The blossoms are so beautiful the way they start out white, then turn the most beautiful shade of green.
With bees on the flatware and bee skep soup tureens, I pulled out my little Kylemore honeypot purchased during a visit to Belleek Pottery in Northern Ireland last August. If you missed that tour, you'll find it here: Tour Belleek Pottery, Northern Ireland.
Tour the gift store where I purchased this little honeypot here: Shopping in the Belleek Pottery Factory Store. It didn't come with a dipper so I purchased one here: Honey Dipper.
Green wine stems were a dollar store find in Dollar Tree. They often have pretty wine glasses so it's always worth a stroll down the glass aisle when stopping by. Beaded butterfly napkin rings worked well in this garden-themed table setting.
I forgot to take a close up photo of the bee flatware…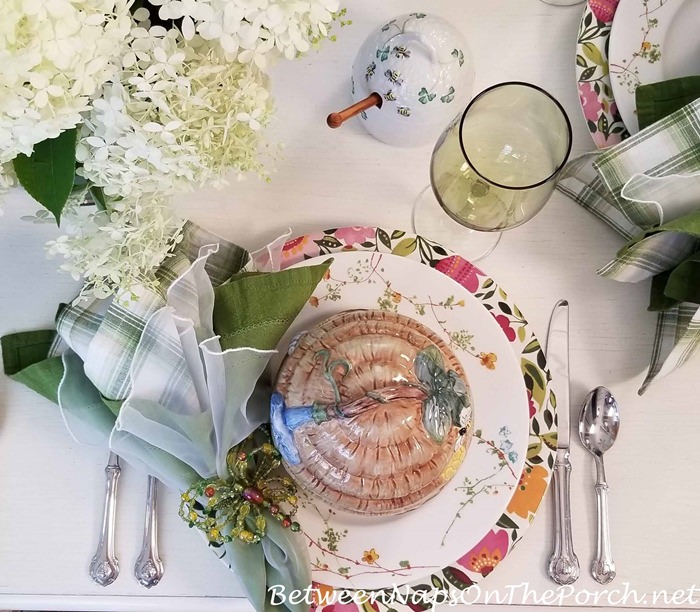 …but here's a little close-up from a previous table setting.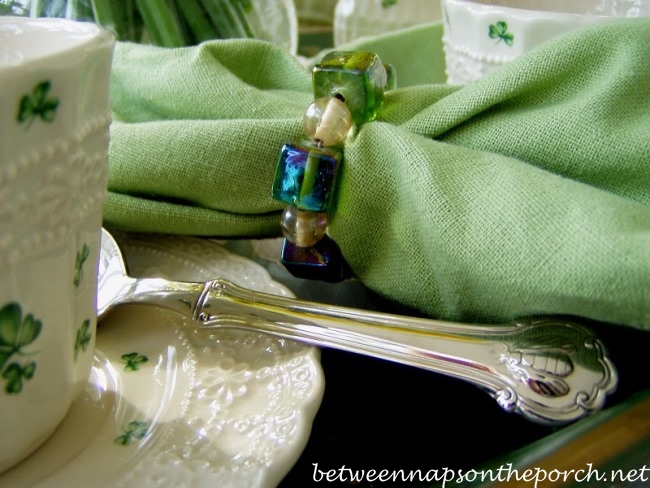 You'll find this whimsical bee flatware currently on sale where I purchased mine here: Bee Flatware. I can't believe that sale, much less than what I paid!
Beaded butterfly napkin rings are from Pier 1 a few years back. Both the solid green and green plaid napkins are from Pier 1. I'm not sure if they are still available but all their napkins are currently on sale or on clearance right now here: Napkin Sale.
The salad and dinner plate is Sketch Floral by Mikasa.
It appears to still be available here: Sketch Floral.
The dinner plate…
The chargers are by Kim Parker and the pattern is Emma's Garden. They were a find in Marshall's several years ago.
What kind of soup would you serve in bee skep soup tureens? Maybe a cold soup for these warm summer days? Do you have a favorite cold soup recipe for summer?
Looking forward to all the beautiful tables linked for this week's Tablescape Thursday!
Pssst: I post almost daily to Instagram. Follow Between Naps on the Porch on Instagram here: Between Naps On The Porch. If you enjoyed this post, subscribe for free email updates when a new post is up here: Subscribe for post updates.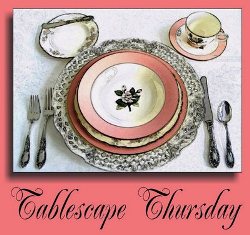 Tablescape Thursday
If you are participating in Tablescape Thursday, please be sure to add your permalink below, and not your general blog address.To get your permalink, click on your post name, then copy and paste the address showing in the address bar, into the "url" box when you link up.
You'll need to include a link in your post back to the party to link up and participate. That's so visitors to your blog will be able to find the party and the other Tablescape Thursday participants. Requiring a link back also prevents businesses and scammers from linking up to sell their products. (Yup, that really happens, unfortunately.)
*If a post is sponsored or a product was provided at no charge, it will be stated in post. Some links may be affiliate links and as an Amazon Associate, I may earn from qualifying purchases. *