It's that time again, time to share all my favorites from the previous month–the things I really enjoyed and feel comfortable recommending.
I rarely wear slides or backless sandals these days but I fell in love with the design of these. They reminded me so much of the turtles I saw on the beaches during a trip to Hawaii a couple of years ago. I've been wearing them outdoors here when the kiddos are playing in the "family lounge" pool. (More on that in a sec.) They come in a bunch of different colors. I ended up purchasing them in both the white and a pretty beige/brown color. You'll find them available here: Sandals.
Back home, I have one of these adorable bamboo totes in a smallish size.
Recently I discovered they had come out with a new beaded design that covers the (previously visible) plastic connections inside the bag. I really loved that design change so ended up purchasing one in the larger size for both my dil and myself.
The larger size holds a lot more than the smaller one and is a lot easier to reach into. I especially love how this design comes with an insert that can be used if you don't want your items inside to be visible.
Here's a comparison of the two sizes this new design is available in. You'll find this cute bag available here: Bamboo Tote Bag. Every time I carry it, I get so many compliments, so if you buy one, get ready to say "Thank you" a lot! lol
I came across these luscious colored lip glosses recently and they were so reasonably priced, I purchased one for myself and one for my dil, Nancy. For myself, I went with this color called Strawberry Cheesecake. It was only $3.39 and I love it! The tube is small so it will easily fit into a small handbag or fanny pack. I took mine with me when we went on a recent walk to a local restaurant. Nancy loved the color I bought her, too. The color was Praline, Deep Nude.
A few days later Nancy was having dinner with a friend and her friend gave her a little gift. It turned out to be the same lip gloss, only in a different color. She had just discovered them, too. I don't know if these are brand new out, but they def seem to be popular. If you would like to see the 20+ colors they come in, you'll find them available here: NYX Butter Gloss.
I have jewelry cleaner at home but wanted some to use while I'm here. I purchased this one below and was very pleased with how my jewelry looked afterward. You'll find it available here: Jewelry Cleaner.
Remember this sweater I purchased a few months ago? I just bought my 3rd one, all three in the color, white. I keep one in the car, I have one back home and I have one here at my son/dil's home since they like it cooler in the house than I do. Everybody likes it colder than I do! lol
I love this sweater and it's so reasonably priced! It comes in a ton of colors, so far I've only purchased it in white. If you're in need of a nice sweater for fall, you'll find it here: Sweater.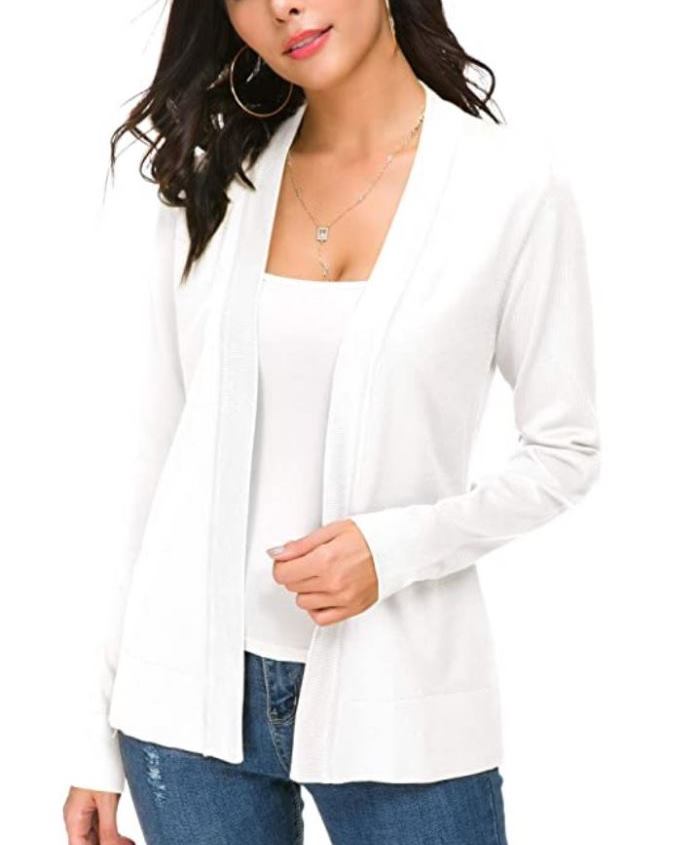 I shared this tunic last month and have so enjoyed wearing it! Unfortunately, I think it's sold out in most sizes and colors but you may want to periodically check back to see if it's back in stock. It's super warm and I love the length! You'll find what they currently have available here: Long Tunic.
I purchased this sweater last year when it was on sale, only I purchased it in black. I love this sweater! It's part wool, super warm, yet not at all scratchy. It's perfect for fall and winter. I love this camel color below, it also comes in Navy, Black and Olive, too.
I'm thinking about picking up another color while it's on sale, either the camel color above or the olive. It looks and feels very high-end/sophisticated–perfect for wearing out when you want to stay warm yet look polished. You'll find it 30% off in four colors here: Sweater Jacket. Update: Changed my mind and went for the dark blue. I really want it in all four colors!
Still loving all the hoodies I bought last month…did I mention my son and dil like it colder in the house than I do. 😉 This one may be my fave of all I purchased. You'll find it available here: Paris Hoodie.
In the evenings when I want to get cozy and comfortable for movie watching or reading to my grandsons, I've been wearing these flannel lounge pants. Like the hoodies, I bought them oversized for comfort. Since I sized up, I wear them over my summer, shorty PJs, then just remove them when it's time for bed. If you could use some cozy flannel lounging type pants/PJs, you'll find these here: Flannel Plaid Lounge Pants.
Note: Since I liked these so much, I ordered them again in the red/green color and they didn't fit the same, so I'm returning them. The Blackwatch plaid ones in the photo below are the ones that I love and recommend.
At home, I rarely sleep in a face mask, but here I sometimes wear one since the room gets bright and sunny as soon as the sun starts coming up. This is the absolute best face mask I've ever worn! It is soooo comfortable! I love it! Definitely recommend! You'll find it here: Face Mask.
Nancy loves her new drawer organizer so it had to make the favorites list for August. You'll find this flatware organizer that will expand to fit any drawer here: Flatware Organizer.
We all love the new staircase basket! You'll find it available here: Staircase Basket.
Whenever I'm here, I love spoiling my grandsons a bit. I've purchased a few things that I thought I'd share since they would make great Christmas gifts…and Christmas will be here before we know it!
They love these "paint with stickers" sticker books. This was the one I purchased for my 6-year-old grandson and it was a big hit. You'll find it available here: Paint by Stickers. I purchased a different one for my 4-year-old grandson that is a little less complicated with fewer pieces. If you would like for me to share that one, too…just let me know in the comments
Update: Had some questions about which one my younger grandson is enjoying. You'll find it here: Zoo Animals. It has fewer pieces, the stickers are all square so easier to manipulate and the image of what they are putting together is faintly displayed to help them know where each sticker goes. I just noticed it says for ages 7 and up, but he was able to figure it out by himself by looking at the image on the paper.
My oldest grandson (age 6) is really getting into reading now and he LOVES these First Little Readers books. Every single day he wants to read as many as we'll sit and listen to. Seriously, he would read all 25 in this collection to us in one sitting if we would let him. lol
So far he has the Level A, B, C and D collections and I'm sure we'll be buying the others. The stories are really cute and funny. They are written in a way that makes the little ones laugh. Even my younger grandson who just turned 4 this past summer, asked to have them read because the stories are so cute.
The stories are very short, only around 10 pages with a few lines per page, so it makes my grandson feel like such a big boy when he can read a whole book by himself! Whoever created these books, knows kids! They know what they need when learning to read. I've been very impressed with how much he loves these books and how fast they are helping him learn to read. Definitely recommend them for any little ones who are in the process of learning to read right now or will be doing so in the near future. You'll find them available here: First Little Readers.
I bought two of these mugs below for my grandsons in August, one in blue and one green. They love them! They can decorate/build on them and it also works with regular Legos. They come in a bunch of different colors and would make a cute gift or stocking stuffer for the kid who loves Legos. You'll find them available here:: Lego Style Mugs.
This is the play pool my grandsons have been playing in this summer. It's huge and they love that it has seats. So do the grown-ups! 🙂
A couple of adults may have been spotted lounging in it this summer. lol Just wanted to mention it in case you want to pick one up to stow away for next summer since I'm not sure if they'll bring this particular pool back or not. Hopefully, they will.
It has two built-in cup holders that will hold a regular canned drink or a fun tumbler like these that I found in CVS earlier in the summer. I wish I had bought a flamingo one for me, now! The other one looks like a Cockatoo. So fun!
If you're interested in a play pool for the kiddos or grandkids for next summer, this one is available here: Family Lounge Pool.
Enjoy these last fleeting days of summer, it's going by fast!
*If a post is sponsored or a product was provided at no charge, it will be stated in post. Some links may be affiliate links and as an Amazon Associate, I may earn from qualifying purchases. *