Do you have a friend who is a joy to be around…someone who truly loves life and when you're together, you always have a blast? When my friend, Marie and I get together, it's always non-stop fun and laughs. Marie's enthusiasm is contagious and everyone who meets her is better for having known her.
Recently, Marie and I got together for one of our play dates which usually involves a little lunch, a bit of shopping and a lot of fun. When I arrived at Marie's home, I saw it was already decorated for Halloween.
Each year trick-or-treaters come from far and wide. Cars line up down the driveway to see what Marie has created for them this year.
Marie, dressed in a costume she's chosen for the year, sits here on the front porch and hands out treats to all the ghosts, witches and fairy princesses who make their way up the steps to the porch.
I was so excited when I started taking pictures and realized I had caught the Blue Hour after we returned from our day of shopping. (Read about the Blue Hour here: The Secret of the Blue Hour.)
It was so dark out, it was almost too dark for pictures. Can you imagine being a small child and trick-or-treating here?!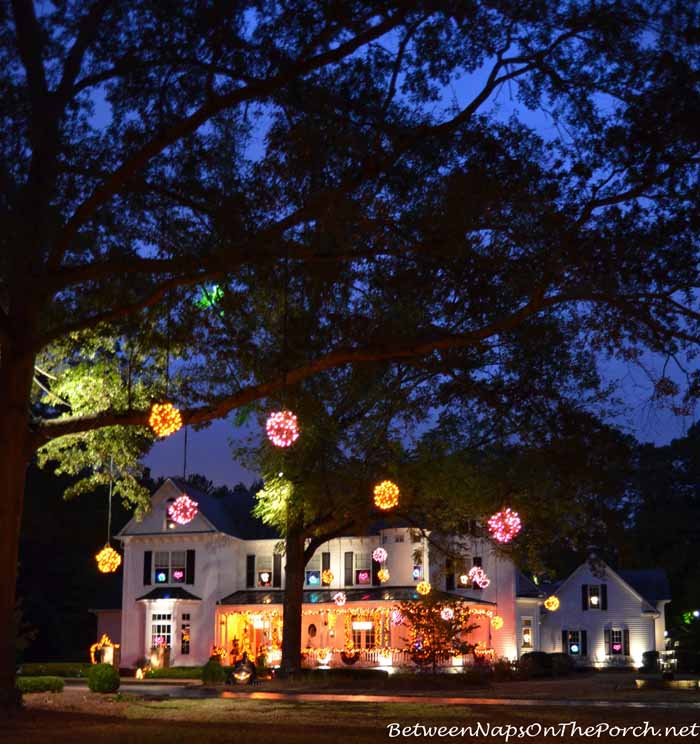 I love the lit orbs in the trees! I had always thought Marie bought these already lit but when I asked her about them on Monday, she said they are large grapevine balls that she strung with lights. She used different colors: purple and orange for Halloween, red and white for Christmas. Only the purple and orange ones are lit this time of year.
Marie has the same battle with squirrels that many of us do. I finally had to take down the lights under my pergola because the squirrels had chewed through the wiring in so many places. Why do squirrels do that? Can they not tell a non-edible, insulated wire from an acorn or pecan?! I guess they chew because they can! Fortunately, everything was in working order this season when Marie flipped the switch!
This is truly amazing in person, much prettier than I can really convey in pictures.
Let's walk a bit closer up toward the house.
So much fun!
Since it was so late and already pretty dark when I started taking pictures this year, here are a couple of picture I took last year when it wasn't quite so dark.
Truly magical!
I'll leave you with this view of Marie's backyard. The trees back here stay lit all year around. Marie is just starting to set up for a community service event she'll be hosting here soon so that's why there are so many tables. So pretty!
Are you decorating for Halloween yet? I need to get busy and do something for my front door. Today I'm working on a Halloween table I hope to share tomorrow for Tablescape Thursday.
Looking for a little more Halloween inspiration or a suggestion for some not-too-scary Halloween movies? Check out this previous post here: Decorate For Halloween
*If a post is sponsored or a product was provided at no charge, it will be stated in post. Some links may be affiliate links and as an Amazon Associate, I may earn from qualifying purchases. *