Welcome to the 574th Tablescape Thursday!
Yesterday I stopped by two of my favorite stores to check out the autumn dishware offerings. At first, I was completely underwhelmed, every table I saw was done in neutral tones. There were at least four dressed that way. I didn't take photos of all of them because I was really in the mood for some gorgeous fall color.
If you love neutral colors for autumn, you'll find this pattern available here: Dinnerware in Neutral Tones.
Another table with a simple, neutral palette.
There was lots of fun Halloween dishware. These would be super cute as an appetizer or snack plates for a Halloween Party. You'll find them available here: Bat Plates.
More cute Halloween party dishware, these are available here: Skelton Dishware.
You'll find this colorful Pumpkin dishware here: Pumpkin Plates.
These cracked me up! So fun for Halloween!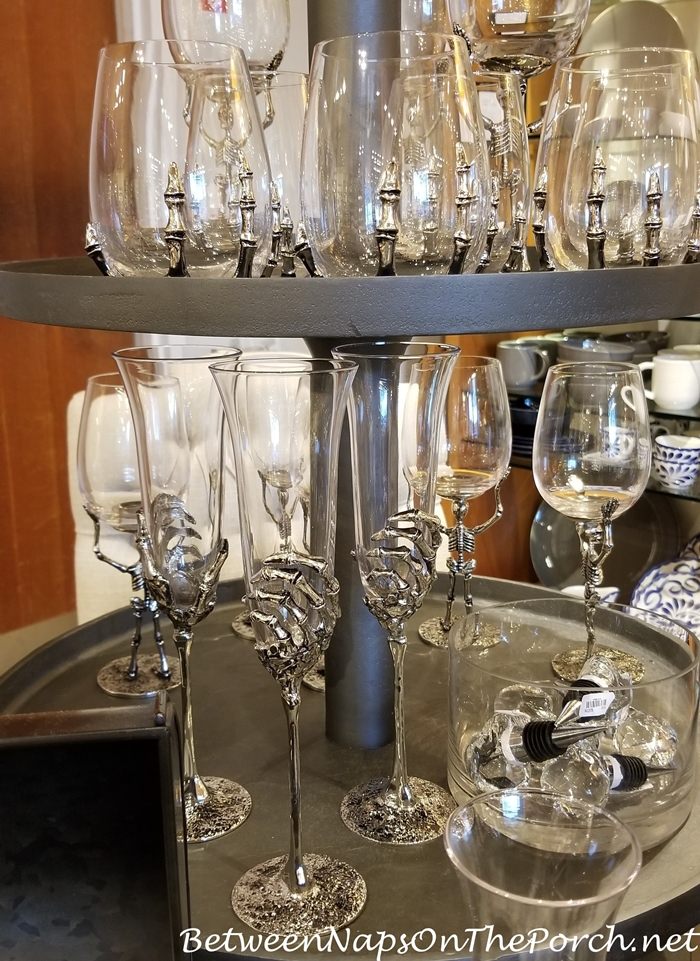 The wine glasses are my favorite! Imagine serving wine in these for a Halloween party. 🙂 You'll find all the Halloween glassware here: Halloween Glassware.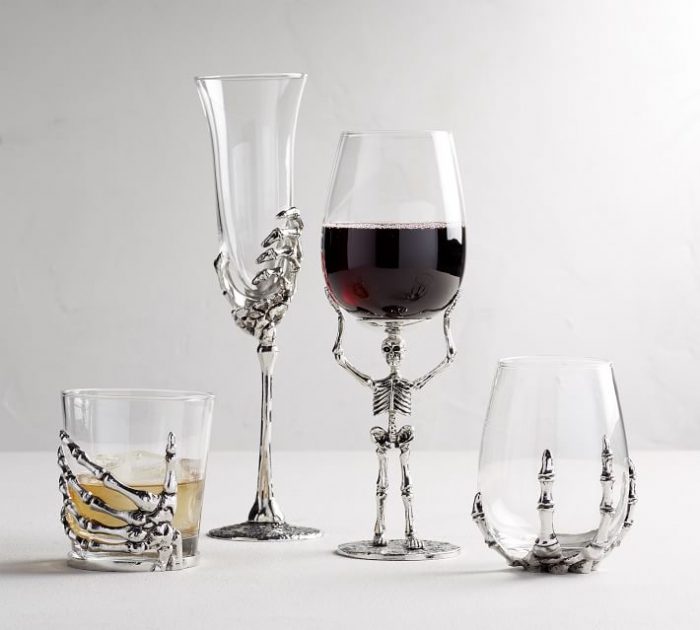 Loved this table!
These beautiful pumpkin plates look like gorgeous watercolors.
The salad plate set comes with different colored pumpkins and I loved them all! You'll find this set available here: Pumpkin Plates.
The Thanksgiving dinnerware is also beautiful!
You'll find it all here: Thanksgiving Dinnerware.
I loved the big turkey tureen in the center of this table! I think he's priced very reasonably for such a large piece! He would be beautiful in the center of a Thanksgiving table! You'll find him here: Turkey Tureen.
After shopping in Pottery Barn, I headed over to Williams Sonoma a few doors down. I remember this gorgeous pattern from last year…it's so beautiful and dramatic!
It sets a stunning table, too! You'll find it available here: Autumn Dinnerware. Scroll down at that page to see all the piece offered in this pattern…there are a lot and it's all beautiful!
I loved this beautiful pattern as well! You'll find it available here: Thanksgiving Dinnerware.
I love, love, love this mix of china, especially with the tartan chargers! The plaid/tartan chargers are available in two different patterns/colors here: Tartan Chargers.
I have them in the red tartan and love using them for Christmas!
You'll find the red tartan chargers available here: Red Tartan Chargers.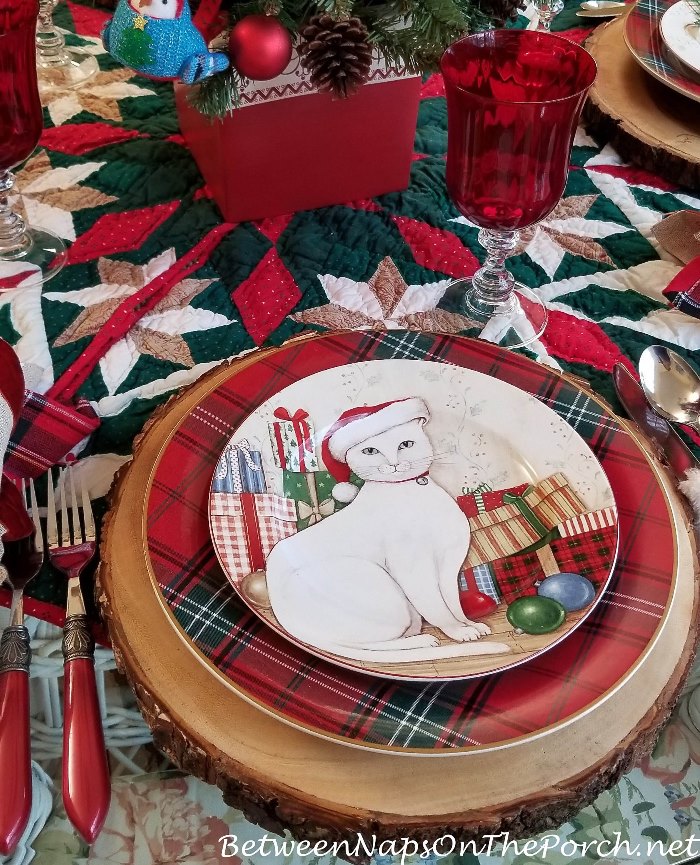 But, this guy! Oh my gosh, I knew he was coming home with me the moment I saw him. I've learned from experience that if I really love something I see at Pottery Barn or William Sonoma, not to risk waiting for a sale because it will sell out. (He's available here: Pheasant.)
That's what happened with this guy below. The first year I saw him in PB, I passed him by waiting for him to go on sale. He never did because he sold out immediately! I was shocked when that happened.
Thank goodness they brought him back the following year and I purchased him immediately. I had learned my lesson from the year before. He's never been back since so I'm glad I got him that year. Sometimes it's just not worth the risk waiting for a sale!
So when I saw this beautiful pheasant and it was love at first sight, I jumped on him and found a sales associate right away. She was going to retrieve one from the back and looked in their system to see how many they had. She was surprised to see he was the only one they had in the store so I bought him right off the floor.
When she was searching in the computer, she said there were only 171 left in the entire country. I guess that would be 170 now! So if you love him, I wouldn't wait too long to get him. I get emails all the time from folks asking me where I purchased my big turkey and I know it's going to be same with this guy.
He's not a tureen, he's meant to be a centerpiece or to hold a beautiful floral arrangement. I love that!
He looks gorgeous in this table! I could also see him in on a table or chest in an entryway or foyer holding a beautiful, tall, autumn floral arrangement. Wouldn't that be stunning?! You could even tie an autumn ribbon around his neck. 🙂
You'll find this beautiful pheasant available here: Autumn Pheasant.
I awoke early this morning and after I dressed, made my bed, etc…I headed down to the kitchen. I couldn't help but giggle when I walked into the kitchen and was greeted by this silhouette. 🙂 I think he's going to stay right here all fall except for when he's in use as a table setting centerpiece.
I'm starting to get excited for fall now! There's a chill in the air each morning so I know it won't be long before the leaves start changing into their autumn dress.
Looking forward to all the beautiful tables linked for this week's Tablescape Thursday!
Pssst: Did you know Between Naps On The Porch is on Instagram? Would love to have you follow me on Instagram here: Between Naps On The Porch AND here: Under Moonlight and Magnolias.
Like to know when a new blog post is up and available to read? Subscribe for email updates, it's free and your email will never be shared.
Subscribe here: Subscribe for free post updates via email here: Subscribe.
Tablescape Thursday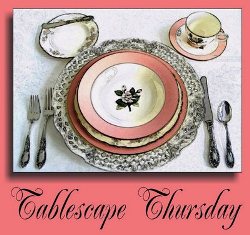 If you are participating in Tablescape Thursday, please be sure to add your permalink below, and not your general blog address. To get your permalink, click on your post name, then copy and paste the address showing in the address bar, into the "url" box when you link up.
You'll need to include a link in your post back to the party to link up and participate. That's so visitors to your blog will be able to find the party and the other Tablescape Thursday participants. Requiring a link back also prevents businesses and scammers from linking up to sell their products. Please let me know if you click on a link that isn't a tablescape or table related so I can remove it.
This party has ended, click button below for the links to all who participated.
*If a post is sponsored or a product was provided at no charge, it will be stated in post. Some links may be affiliate links and as an Amazon Associate, I may earn from qualifying purchases. *