When I traveled to England earlier this summer, I had an experience while going through security that sent me on a search. Whenever I fly domestically, or even sometimes when traveling via car, I use this blue and white bag as my travel tote. It holds everything I need and is the perfect size to be my "Personal Item" when flying.
I decided to use it on an international trip for the first time when I traveled to England this past summer. It worked great but I was a dismayed by how things went when I went through security. I had placed the bag in one of the trays they have available for your belongings, and as it approached the little scanner/x-ray machine area, a TSA employee standing nearby reached over and literally SLAMMED it down on its side in the tray.
When something like that happens, it makes me wonder if the person hates their job. She seemed so angry! She could have easily just pushed it over if she thought the bag was too tall to pass through the machine while standing up. Instead she literally slammed it down into the tray. I decided then and there that I needed a better way to protect my bag when traveling from this type of physical abuse.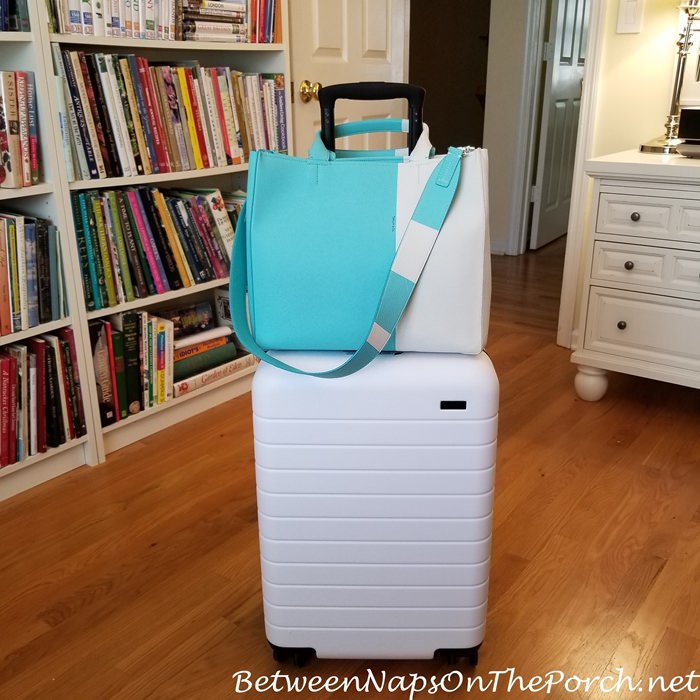 Mini Before and After
Before I share what I've purchased to protect my bag in the future, I wanted to share how I care for my bags after every trip. After each trip the corners of my bag are often a bit dirty.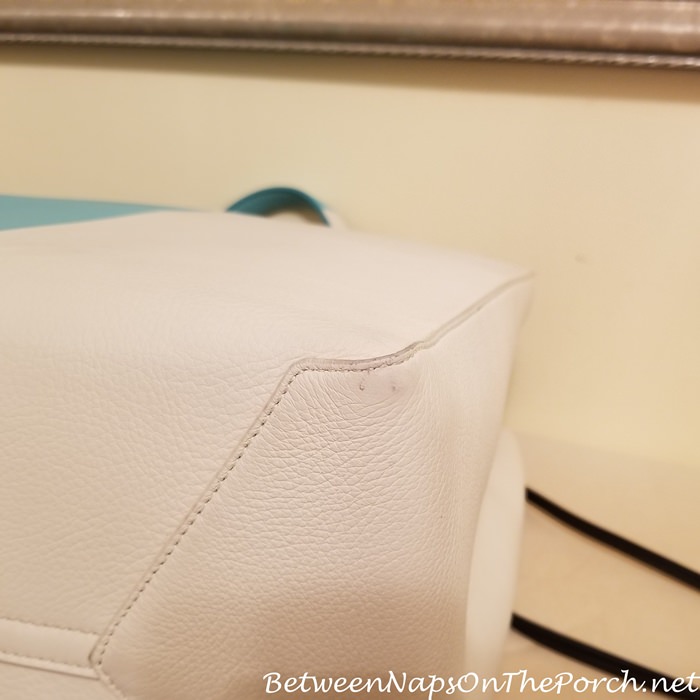 This is my absolute favorite leather cleaner for the everyday dirt/grime that I get on my bags. I use this leather cleaner on almost all of my bags and it does an excellent job.
Here's how that corner looked after I gave it a couple of wipes with one of the leather wipes.
Here's how the other corned looked after cleaning.
I cleaned all four corners. The dark color you see here is a bit of corner wear to the leather itself. Plus, I had just cleaned it which always darkens a scraped place a tiny bit until it dries. It hadn't had time to dry when I snapped this photo.
If you need a good leather cleaner for bags, shoes, etc… I can't recommend this one enough. I love how it both cleans and conditions my bags whenever I use it. You'll find it where I purchased it, here: Leather Cleaner.
How I Hope to Protect My Bags in the Future
So, here's what I'm going to use the next time I travel via plane. I'm going to place whatever handbag or tote I'm using down inside a De Vesi bag as shown below. I saw these clear bags on Instagram and fell in love with the design. I love how you can still see your own bag through them, yet your bag is protected.
I hadn't intended on buying two of the De Vesi bags. What happened was I placed an order for the white one at the De Vesi website using a coupon code they send whenever you sign up for their emails. The coupon gives you 20% off. The bags were on backorder at the time and weren't going to ship for a couple of weeks.
About 3-4 days after ordering, I changed my mind about the color I had ordered. I had ordered it in white but was wishing I had chosen their camel brown since it was almost fall when I'd be carrying darker colored bags. So I contacted them via email and asked if they would update my order to show I wanted it in brown, instead of white. They replied back letting me know they would make that change. It was another week or so before they finally got the bags back in.
During the time I was waiting for my bag to ship from De Vesi, I searched on eBay for "De Vesi Bags" and saw a white one for about 1/2 the price! I could not pass that up! I figured the white one would be good for spring/summer travel and the brown would be good for autumn/winter travel. I purchased the white one on eBay and ironically both bags arrived on the same day.
These bags in the "De Tropicale 40" style/size come with a small, removable pouch/mini bag inside. They apparently make great "beach" bags since they are water-resistant and you see a lot of photos on Instagram showing them being used on the beach or around a pool. The De Vesi fits beautifully atop my rolling Away carry-on bag because the handles are nice and tall. It's also super easy to carry as a shoulder bag.
They have some really fun, whimsical, hand-painted designs. I was tempted by a few of those but ultimately decided to keep it simple.
I think my bag will stay cleaner and a lot safer as it rides in a tray (where shoes have been!) along the conveyor belt toward the x-ray machine the next time I travel. Also, the corners will be much better protected when I have to scoot it up under the seat in front of me on the plane. The handles on the De Vesi bag bend very easily so I think it will fit okay.
By the way, this isn't a sponsored post, De Vesi has no idea I'm sharing this, I'm just another customer to them. As mentioned earlier, I saved 20% on my bag for signing up for their emails. That offer pops up pretty much every single time you visit their site, so look for it if you do visit their site to check out the bags. You'll find their website here: De Vesi.
Have a wonderful weekend! See you on Monday for Metamorphosis Monday!
*If a post is sponsored or a product was provided at no charge, it will be stated in post. Some links may be affiliate links and as an Amazon Associate, I may earn from qualifying purchases. *