The 4th of July is just a few days away! Do you have any special plans for this year? Sheri, a lovely BNOTP reader, shared the awesome table she has created for her upcoming Independence Day celebration with me and I love it!
Sheri said, "I decked out our dining room in Patriotic decor for the Fourth of July. Usually, I go from Spring to Patriotic decor in Mid-May and keep it until Fall decor starts showing. We have several birthdays to celebrate and a high school graduation this month so we are ready to entertain."
"The white chargers and plates are recycled from my Spring table but the colors were perfect. I used my Snowflake Blue Corelle dishes, I have had these almost since we married, 53 years ago and have added as I find some at antique stores. The salad plates are Pioneer Woman from The Merc (The Pioneer Woman Mercantile) in Pawhuska, Oklahoma. I bought these 2 years ago on a trip there. Each plate shows different cowboy or cowgirl scenes. We also toured the Lodge and saw where she filmed her cooking show, Pioneer Women for the Food Channel."
" The napkins are mix and match patriotic ones from..you guessed it..garage sales. See a trend here?"
I love Sheri's bandana tablecloth! Sheri sewed it after seeing something similar on Pinterest. So clever and it's perfect with the cowboy/cowgirl salad plates!
The centerpiece is an All-American diner scene, Sheri said, "The centerpiece is a cut diner, but it is actually a birdhouse I found at Dollar General several years ago sitting on top of a box."
"The jar candles I made and they have votives inside. The tall candle is from our Bicentennial in 1976. Other things are from various garage sales or gifts."
"I thought the cute picnic table with ketchup, mustard, salt, and pepper shakers with holiday napkins was appropriate for our Americana table."
"I included a photo of the caddy for plastic cutlery and cups and napkins to be used for our desserts. Notice I used "plural" because there will be several! Ha!"
Oooh, wonder if Sheri would mind an extra visitor for the 4th! 😉
I love this adorable picnic table Sheri used for holding the extras…sooo cute! I found several online here: Picnic Table for Ketchup/Mustard. Check out this one with the umbrella: Picnic Table for Ketchup/Mustard. Someone even turned that one into a birdfeeder which is hilarious! You can see a photo in the comments at that link. 🙂
I love all the wonderful decorations Sheri has created throughout her home and dining room for this special holiday when we come together to celebrate our great country and the men and women who have served and are serving to protect her every day. I'm so grateful everyday for our men in uniform!
Sheri ended her email with, "We are a family that loves this country and are proud that my husband and both sons have served in the military. When we get together we are grateful we are all here to enjoy our freedoms. I hope you have a Blessed Fourth of July and get to enjoy some good food and friends and family.
God bless,
Sheri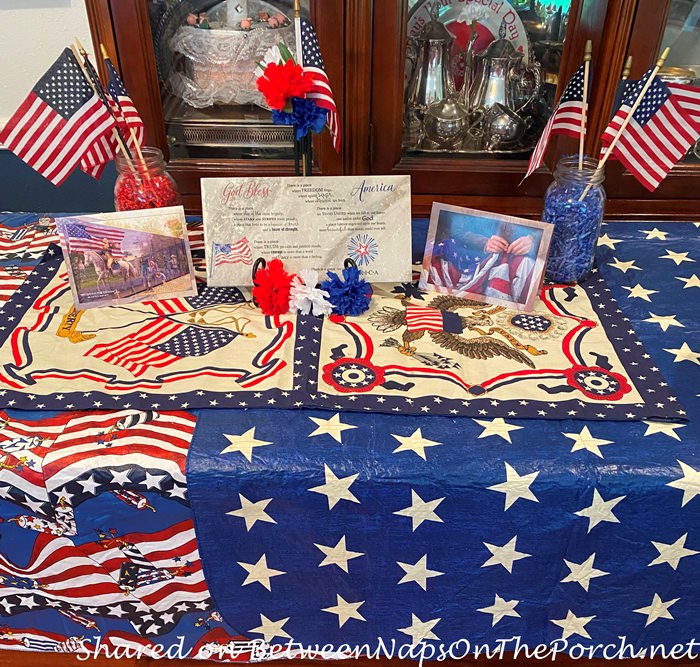 *If a post is sponsored or a product was provided at no charge, it will be stated in post. Some links may be affiliate links and as an Amazon Associate, I may earn from qualifying purchases. *