Welcome to the 729th Metamorphosis Monday! A few months back, I had the electrician who added lights to my basement stairway, install a whole-house surge protector. Unfortunately, when a drywall guy gave me a quote for drywall a few weeks ago, he told me that the surge protector had to be moved, otherwise, it would get covered up by the drywall.
When I first had the surge protector installed, I told my electrician that I had plans to have drywalled installed sometime soon. When he came back out a second time to do some additional electrical work in the basement, I mentioned it again since the drywall guy had said it would need to be moved. He completed the work he was there for that day and said to just let him know when the drywall was going to be done and he'd move it. I thought it was odd that he didn't just move it that day.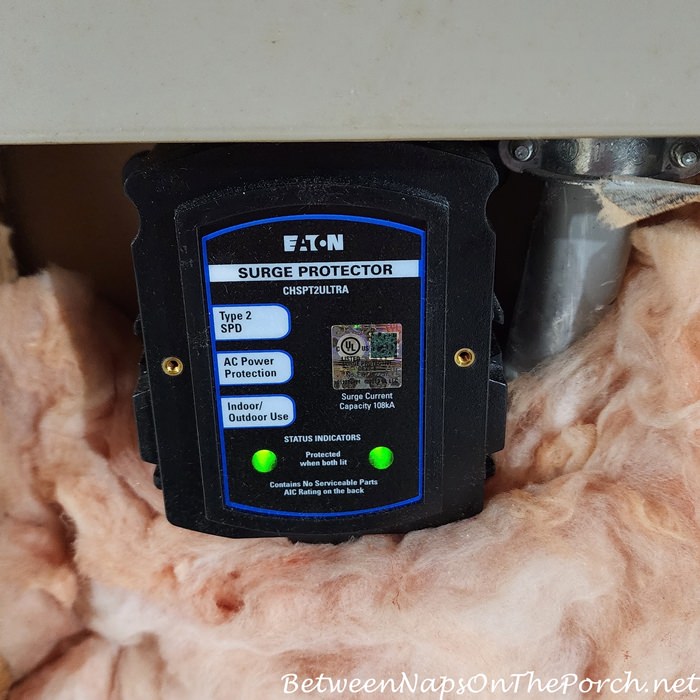 After the drywall was scheduled to be installed, I called the electrical company about moving the surge protector and they sent a different electrician out since my original electrician was on a two-week-long job elsewhere. Unfortunately, I had to pay again ($149) to have it moved out of the way–he put it inside the electrical panel. I'm not sure exactly where it is since you can't see it when you open the door of the panel. I guess it's behind that panel.
Now that the drywall is in, the original electrician is coming back out today and I will have to pay AGAIN for the surge protector to be installed somewhere in this storage room here in the basement. I'm not happy about how this process went since I told the electrician the day he first installed the surge protector that I would be having drywall added to the room in the next month or so. He casually mentioned he could move it temporarily at that time, but never mentioned all the added expense. The electrician who moved it out of the way for the drywall said during his visit that if the first electrician had not been busy when it had to be moved, he probably would have moved it at no charge, but that he had to charge me.
So learn from my experience, if you're having an area drywalled, don't install anything like a surge protector until after the drywall is done, even if the electrician acts like it's no big deal to move it later. The initial cost to have the surge protector installed was quite reasonable, but after having to pay to have it moved out of the way, and now having to pay again today (he'll be here today sometime between 11-3) to have it moved back, this has turned out to be an expensive surge protector! I'll share a photo of where it ends up and how it looks in a future post.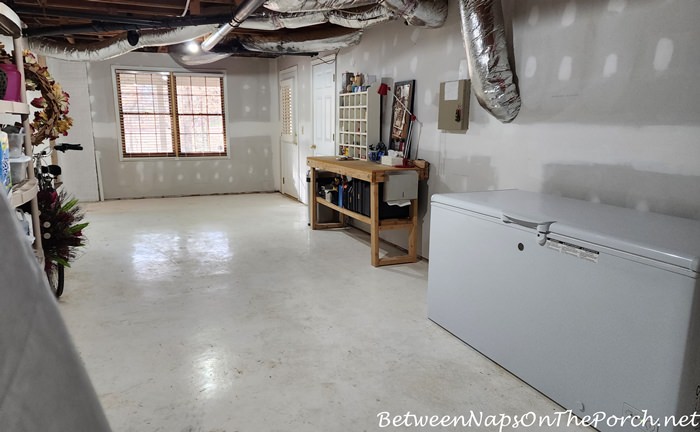 Freezing Eggs
Okay, let's get on to what I really wanted to share with you today. So you know how there's all this talk about a possible egg shortage later this year? I have an egg almost every day for breakfast and of course, we need them for a lot of recipes. Now that I have a freezer, I started wondering if it was possible to freeze eggs for future use. I did a bit of research and read that they can be frozen. The info I found said to beat the egg first so that the yolk and white are all blended together, then they can be frozen for up to 1 year, although they are freshest if used within 3-6 months. So I decided to give it a try. To start with, I purchased a set of these Souper Cube containers. Each cube will hold around 2 tablespoons. The compartments turned out to be a bit too small to hold a large egg. I discovered that you needed around 2 ounces of space (1/4 cup) to fully hold one large egg.
Next, I purchased this silicone storage container below that was designed to freeze and store baby food. They have a 2.5 oz capacity so that sounded perfect. (Storage container is available here: Silicone Storage Container.)
I started out beating one egg at the time before pouring it into one of the little storage cups. I wondered if I could just go ahead and beat several together instead of one at a time, so I tried beating two eggs together and evenly dividing them between two compartments. That didn't work out well at all! When I tried pouring just half the egg mixture into a cup, the WHOLE mixture tried to heave itself into the cup. Once an egg gets going, it doesn't want to stop until it's ALL in the cup. So I went back to just mixing and pouring one egg at a time. It didn't take very long at all since it only takes a few seconds to mix up an egg really well. Here's how the eggs looked in their little storage compartments.
Here's how they looked with the lid in place, ready to go into the freezer.
I took them out this morning to see how it went.
These are Pete and Gerry's organic free-range eggs, purchased in Publix.
It was super easy to push each egg out of its cup. A 1-quart-size freezer bag easily held all nine eggs. I plan to keep them in the freezer for the next few months, just in case there's a shortage and I really need an egg for a recipe. When needed, I'm guessing an egg would probably thaw overnight in the refrigerator, but it probably wouldn't hurt to take an egg out of the freezer and place it in the refrigerator a couple of days in advance of when it's going to be needed. Have you ever tried freezing eggs? If so, how did it work?
Looking forward to all the great Before and Afters linked for this week's Met Monday! Pssst: Did you know Between Naps On The Porch is on Instagram? You'll find me on Instagram here: Between Naps On The Porch. Like to know when a new blog post is up and available to read? Subscribe for email updates, it's free and your email will never be shared. Subscribe for free post updates via email here: Subscribe.
Metamorphosis Monday: Metamorphosis Monday is a party that's all about Before and Afters. Please link up your Before and After projects like DIY projects, room makeovers, craft projects even recipes. Please do not link up Table Settings, save those for our Tablescape Thursday party on Thursday. If you are participating in Met Monday, you'll need to link your post to the party using the "permalink" to your MM post and not your general blog address. To get your permalink, click on the name of your post, then copy and paste the address that shows in the address bar at the top of your blog, into the "url" box for InLinkz when prompted. NOTE: Please do not link up more than 3 posts from your blog. In order to link up, you'll need to include a link in your post back to the party so visitors to your blog can find the other party participants. When linking up to the party, give the InLinkz system time to find the link in your post to avoid having your link held for moderation/approval. Thanks!
This party has ended, click button below for the links to all who participated.
*If a post is sponsored or a product was provided at no charge, it will be stated in post. Some links may be affiliate links and as an Amazon Associate, I may earn from qualifying purchases. *