I'm a tad late this year, but each winter I like to share my favorites with you–those things that help get me through the winter in comfort. I am not a fan of cold weather, but I have to admit that I do like some of the goodies that I pull out this time of year. It's all about staying cozy and comfortable as possible when it comes to winter.
I know I've mentioned these several times over the past few months but I have to mention them again because I literally wear a pair every single day here at home. When I run errands, like to UPS, Target, or the grocery store, I'm always wearing a pair of these fleece-lined joggers because they are so incredibly comfortable and warm! I just ordered my 5th pair today. I'm not going to open them but will save those for next winter just in case they stop making them or I just can't find them next winter. I can't recommend these enough for comfort and warmth, plus, I think they are really very flattering. They don't cling to the body like tights which I really do appreciate. You'll find these available here: Fleece-Lined Joggers.
I've been singing the praises of these cozy merino wool socks for several years. I must have 20+ pairs now. They are pretty much all I wear during the winter months. I wash them with my other dark clothes and hang them to dry, and they dry overnight. They are so soft and not the least bit itchy/scratchy. So far, none of the socks I've purchased have worn a hole in them anywhere, which to me is amazing since I'm still wearing the same ones I purchase a few years back. If you can keep your feet warm, that's at least half the battle to keeping warm during the wintertime. You'll find these for both men and women here: Women's Merino Wool Socks AND Men's Merino Wool Socks.
I can never write a Winter Favorites post without mentioning Cutemol. It's the only thing that keeps my and my DIL's fingers from cracking during the winter months. We both use it year around, though…it's so amazing for feet! It's not cheap, but a tiny amount will go a long way and it last for hours if you apply it as recommended on the container. Best stuff ever! My DIL and I keep a small size by the sink to use after washing dishes.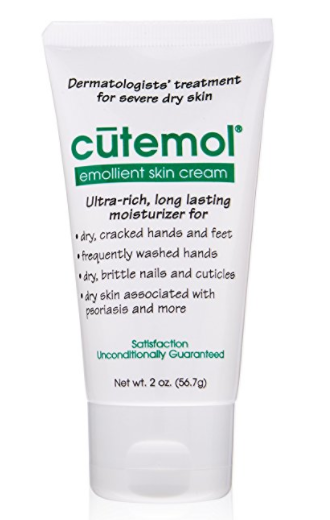 This is the size we use at night on our feet, elbows, and hands. It is transformative in what it can do for rough, dry skin! It also helps if you have a terrible cold and you're blowing your nose a lot. My DIL found that out when she was sick this winter and the area under her nose was so raw as happens when you have a cold. She used a little Cutemol before she went to bed and her nose was so much better the next day. She also uses it on my two grandson's cheeks at night to keep them from getting chapped when they are playing outside. It's just the most amazing lotion for winter–can't say enough great things about it! You'll find it in both sizes here: Cutemol.
The lotion that I like to use all over when I've just gotten out of the shower is this Curel Itch Defence. I use it year around. I've always had dry skin my entire life, and as I've gotten older, I think it's dryer than ever. If I don't use this Itch Defense lotion when I get out of the shower, my dry skin is unbearably itchy throughout the day. I always buy this large size and it lasts for many months. You'll find it available here: Curel Itch Defense
Once the heat starts running a lot here in my home, I know it's time to bring out my warm mist humidifiers. I run one full-time during the day here in my office and always run one in my bedroom at night while sleeping. I do not care for cool mist humidifiers–when I've used those, they left a whitish film on everything in the room. But warm mist humidifiers have always worked great for me during the winter months. Can't do without them, especially at night! This is the one I use and I find it easy to fill–it's not too heavy. I don't use special water in mine, I just clean it about once a month by soaking the heating element in vinegar overnight. You'll find it available here: Warm Mist Humidifier. here: Warm Mist Humidifier.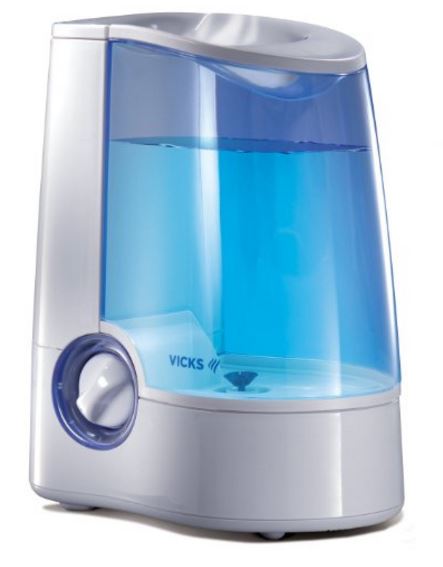 The flannel sheets go on the bed just as soon as cold temps arrive. They are so incredibly warm! The woodland pine/chickadee ones I bought a few years back are no longer available, but you can probably find flannel sheets on sale right now since we're part way through winter. I'll take a look today and see if I can find some great ones to recommend.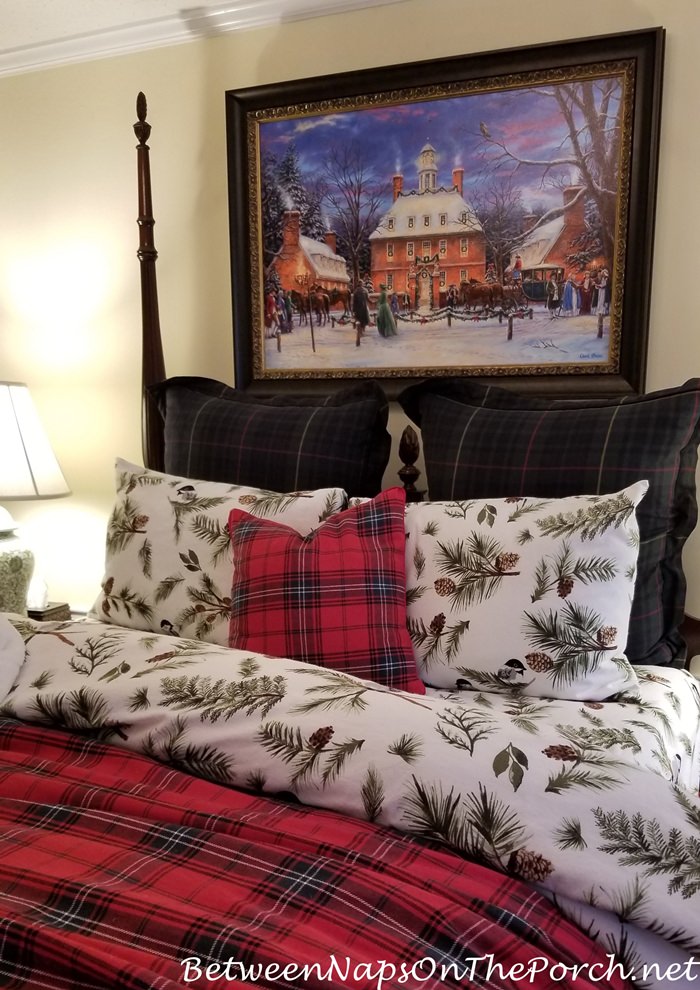 I burn a lot of candles throughout the year and my absolute favorite for winter are the Woodwick Candles. I love, love, love the crackling sound they make while burning! My favorite scent is their "Fireside" scent. I also like their Frasier Fir scent. You'll find the Woodwick Candles available here: Woodwick Candles.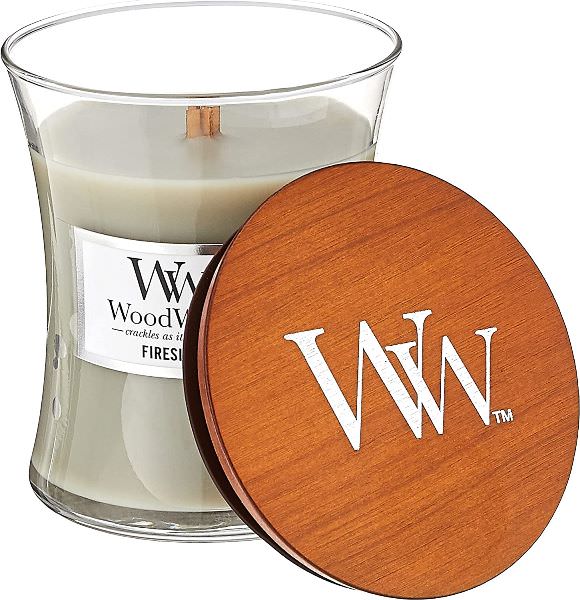 I love doing puzzles year around but I seem to do them even more often during the winter months. Somehow puzzles and staying warm and cozy inside just go together in my brain. My favorite way to work on a puzzle is on this puzzle board. It really saves my back, letting me work on a puzzle for hours without any back pain. I purchased one for my home and one for my son's home and my grandsons love using it for working on their puzzles, too. This is the one that I have and you'll find it available here: Puzzle Board.
Need a cozy puzzle for winter—this is one of my faves: Cozy Puzzle.
Something New I'm Planning to Buy: Do you have a towel warmer? I didn't realize these even existed until I saw an Instagramer I follow using one like the ones below. In the past, I've only seen the warming towel racks. I am definitely going to order a towel warmer this week, so wanted to mention them in this post. You can see many styles/brands available here: Towel Warmer.
A few years back I shared something kind of crazy that I purchased and I have to share it again because I am still absolutely loving it! I purchased a heated toilet seat!
Since I don't have an outlet in the wall right beside the toilet in my bathroom, I ran an extension cord from an outlet in my vanity area. You best believe when I renovate my bath, which I hope to do this year, I will have an outlet installed right beside the toilet. This seat is a life changer! Once you have a heated toilet seat, you're ruined for life! You can never go back to the trauma of sitting on a freezing seat in the middle of the night! lol I love this thing so much, If I'm working in the basement and need to use the bathroom, I will literally take the time/effort to go up two flights of stairs to my bathroom upstairs. If it ever quits working, I will immediately purchase another one! I love the little light it emits during the night, it's the perfect night light for a late-night run to the bathroom. You'll find the one I purchased here: Heated Toilet Seat. It has 2,556 5-star ratings and deserves every one of them!
Finally, I can't do a Winter Survival List without mentioning my UGG boots that I wear almost every day here at home. It was several BNOTP readers who first turned me onto Uggs and I am forever grateful! My desk is in a corner of a square bay area that protrudes outward on the back of my home, so it can be a challenge to keep my feet warm on the coldest days of winter. These do the job and even have a bit of arch support built into them! I purchased black ones a few years back because I wanted a practical color that wouldn't show dirt since I wear them every day. I mostly bought them to just wear at home, but I do love to occasionally wear them out to the grocery store and on errand running. They are just so warm! I wear mine with my merino wool socks (most people wear them without socks, I think) which makes them a bit snugger. So if you think you would prefer to wear Uggs with socks, you should probably size up one size. I think I'll do that the next time I order them.
They come in some really cute colors like this pretty pink. If you'll only wear them at home, lighter colors are probably fine, but for everyday wear, I think black is the best option. You'll find these available here: Black Ugg Boots, Super Warm.
Stay warm! I'm off to pull out my puzzle board for some relaxing winter fun today!
*If a post is sponsored or a product was provided at no charge, it will be stated in post. Some links may be affiliate links and as an Amazon Associate, I may earn from qualifying purchases. *