Welcome to the 626th Metamorphosis Monday, a blog party sharing fabulous Before and Afters!
Over the last few weeks I've had several questions about what I do with all the puzzles I complete and if I ever save them. In today's post, I'm answering that question and also sharing exactly how I preserve a completed puzzle that I wish to keep.
Typically when I complete a puzzle, if it's one I especially loved and enjoyed doing, I will take it apart and box it back up to do again someday. If it's one that I found wasn't the greatest quality or just not that much fun to work, I will donate it to my local Goodwill. In a way, a great puzzle is like a great book–you save the best ones just in case you want to reread it again one day.
This adorable Charles Wysocki puzzle is one of only three puzzles I've preserved over the years.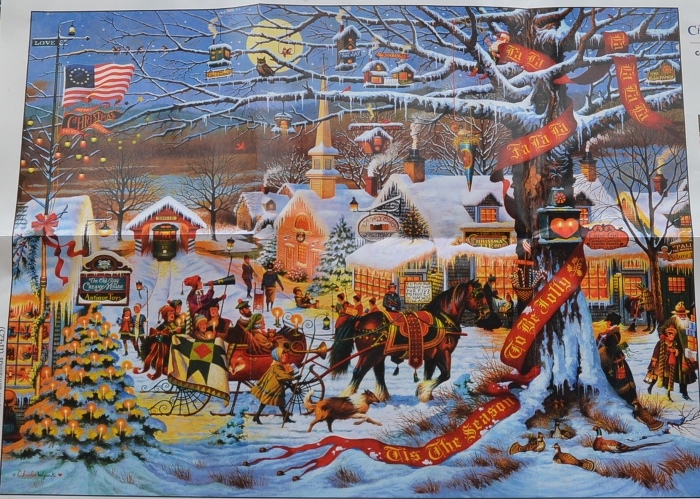 I really enjoyed doing it but thought it would be fun to preserve and frame to bring out and hang each year at Christmas. I haven't actually gotten around to framing it yet–need to do that!
By the way, the puzzles I share in photos here online are so much prettier in person than they photograph. I wish I could really show them well in photos but the finish on most puzzles creates an unavoidable glare, even with the overhead light off. Arggh.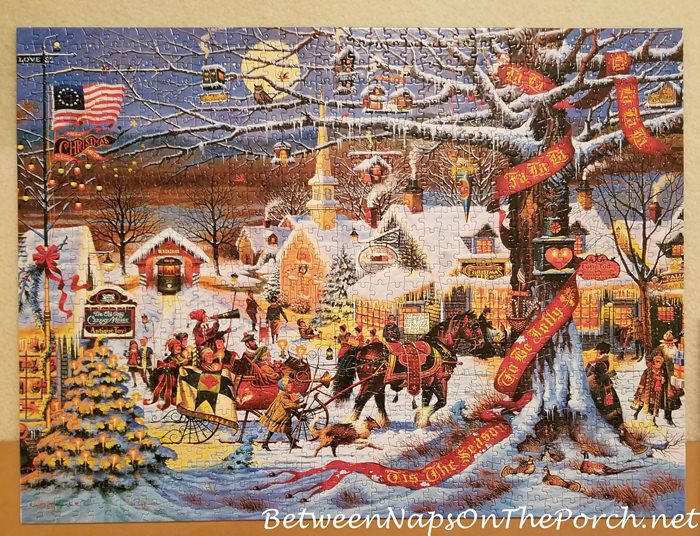 This Nancy Drew puzzle below is another one that I decided to preserve/save for sentimental reasons. Nancy Drew was my hero growing up. I used to save my $1 a week allowance just so I could buy a new Nancy Drew book every few weeks. I loved them and they were always a bright spot during some very rough years of my childhood.
The first time I decided to save a puzzle, all the tutorials I found online involved using messy glues that ultimately altered the appearance of the puzzle. I kept researching figuring there had to be a better way, and there is! As you can see, once completed, a puzzle holds together beautifully.
The super-easy way I preserve or save my puzzles is by using this product that's available here: Peel & Stick Puzzle Saver. Also, if you have one, a rolling pin comes in handy–more on that in a minute.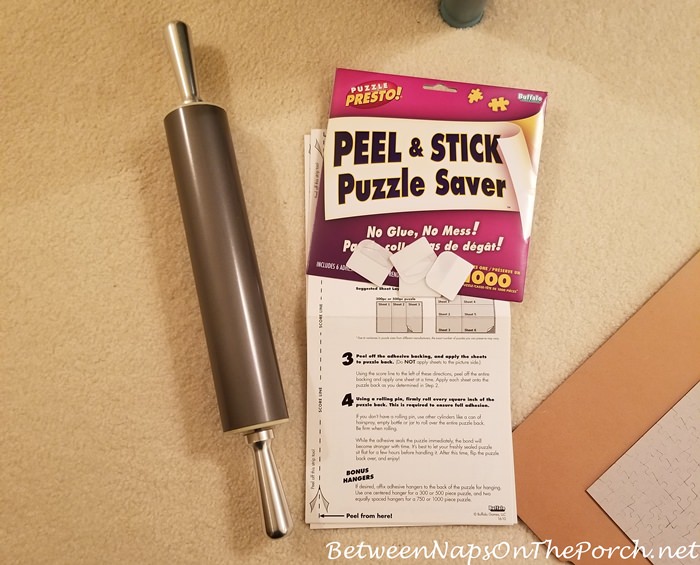 Peel and Stick comes with directions that are super easy to understand and follow. They are very detailed so at a glance, this may look more complicated than it is, but trust me, it's not. Whoever invented this product is a genius because it works beautifully AND is so easy to use! Honestly, you can save a puzzle in about 5 minutes!
Peel and Stick comes in different sizes for various size puzzles. I always purchase the one designed for 1,000-piece puzzles since those are the only ones I have saved so far.
In order to preserve your puzzle, you will need to flip it over. Because I do my puzzles on a puzzle board, that's a super easy process if I wish to save a puzzle since my puzzle board came with a lid. The lid fits atop the board and allows you to move a partially completed puzzle to a different location in your home. It also really helps with flipping a puzzle you wish to save. (Puzzle board is available here: Puzzle Board.)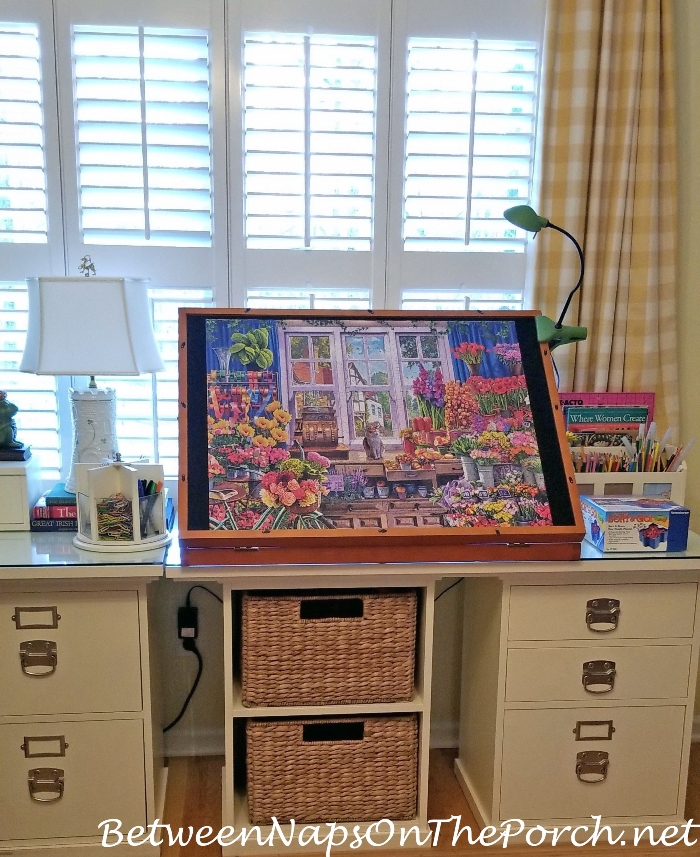 If you do not have a puzzle board on which you do your puzzles and you are working on a puzzle that you think you may want to save, I would recommend doing it on a very stiff piece of cardboard (or some type of board) so you can easily flip your puzzle over to preserve it when you're done. It will need to be a very stiff board, regular cardboard or poster board would probably not work.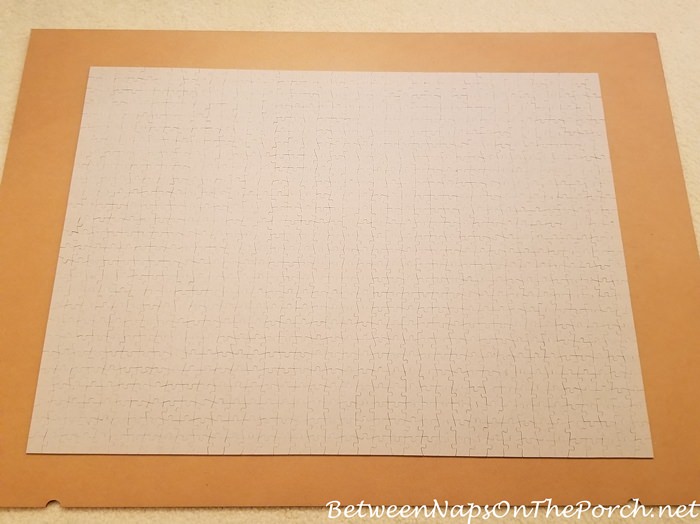 The last time I saved or preserved a puzzle for framing, I applied the peel and stick sheets to the back of the puzzle in this format: starting at the end and applying them vertically.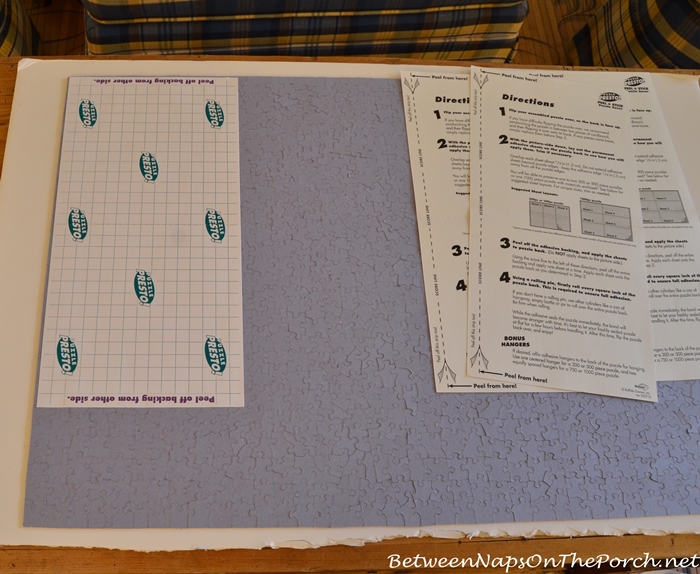 This time I applied them horizontally just to see if there was any difference. The instructions actually show doing it this way for 1,000 piece puzzles. I think I did it the other way the first two times I preserved a puzzle because there seemed to be less overlap of the sheets. I wasn't sure how well they would stick if they overlapped, but I have discovered that they stick very well regardless of whether they overlap or not. So I never attempt to trim off any of the excess "Peel and Stick" product, I just let the sheets overlap and it works great.
Before you start, make sure all your puzzle pieces are pressed down and firmly into place. When you apply each sheet of Peel and Stick, you need to stay about 1/8th of an inch away from the very edge of the puzzle. All of this information is included in the easy-to-follow instructions.
In this picture, I have applied two pieces with the second piece overlapping onto the first piece.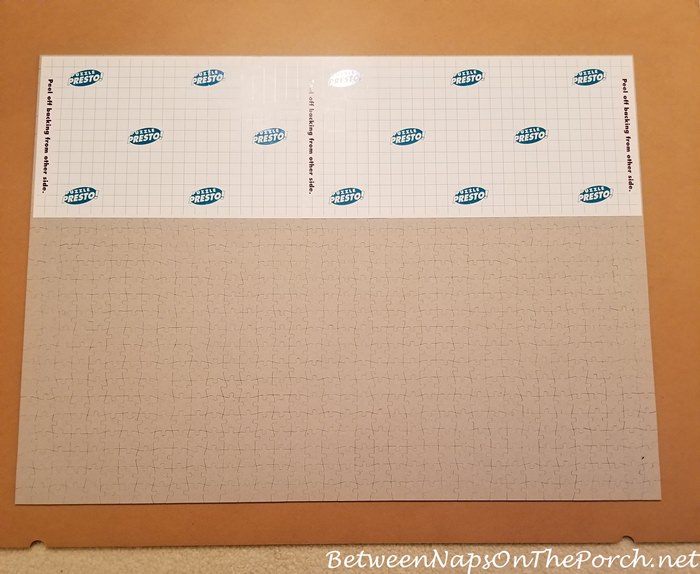 Next, I applied two pieces across the bottom of the puzzle. I finished by applying the last two pieces across the center. This product is very forgiving as you move it around to apply it. It doesn't suck down to the surface or anything like that, so it's not a stressful process at all. I'm not sure how they managed to make this product where it's good and sticky, yet super easy to apply, but they did! Things like this can sometimes stress or panic me, but I'm happy to say there is no panic involved with this process at all.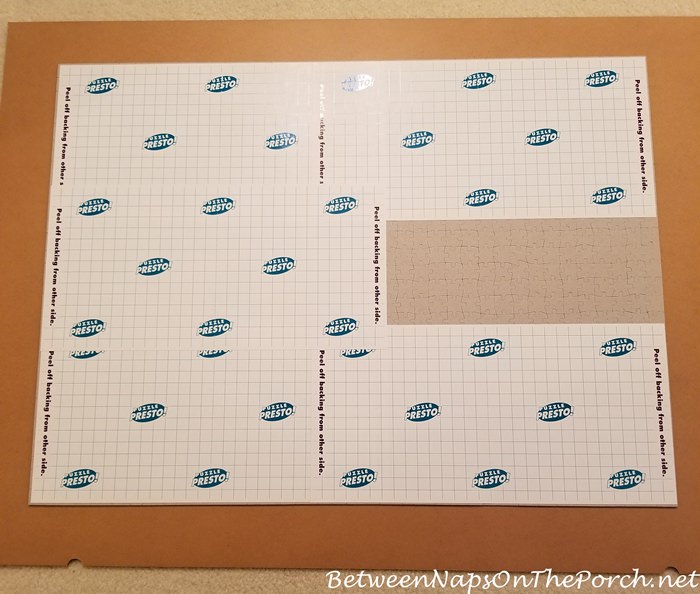 Once you have all the pieces onto the back of your puzzle, (which takes about 3 minutes, if that long) the directions recommend you use a rolling pin to gently roll over the puzzle to ensure all the pieces are well stuck down. Pay close attention to the edges of the puzzle, it's easy to miss those.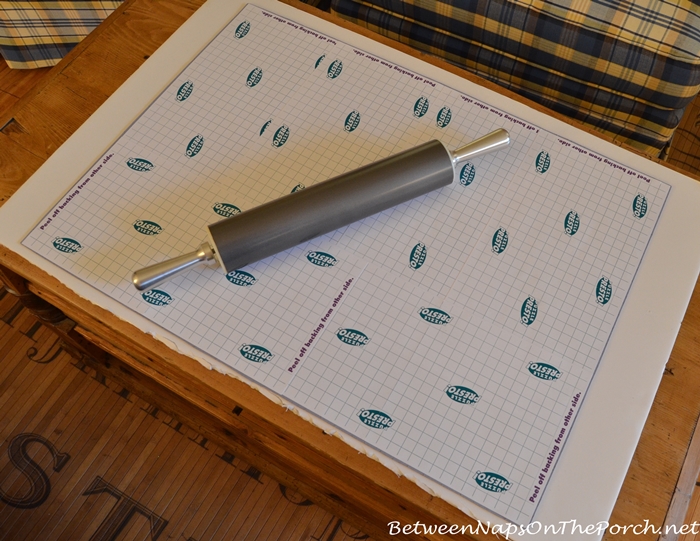 Here is my puzzle all completed and preserved. I absolutely love how this process does not involve using any sticky, messy glues that would alter the original appearance of the puzzle. My puzzle looks exactly the same way as it did when I completed it.
If you've been reading BNOTP for a while, you may recognize this puzzle. It's what inspired me to purchase the painting that I bought recently to hang above my bed. I did this puzzle many years ago (and again recently) and it wasn't until I shared it here on the blog that I discovered via a lovely BNOTP reader that it was available as a painting. What?! I had no idea it was available as a painting but that made perfect sense since often puzzles are inspired by a beautiful painting. (I purchased my painting directly from the artist's website here: The Governor's Party.)
By the way, if you saw my previous post where I shared various frames I was considering, I've run into a problem. When I went back to the frame shop to let them know my decision, they discovered the frame I had chosen was no longer produced quite the same way. The new sample they had just gotten in had a lot more gold in it, and I didn't like it at all. So I'm back at square one–looking for a frame again.
I hope you found this post helpful if you have a puzzle that you would like to save in its completed state. You'll find the Peel and Stick product that I use to preserve my puzzles here: Peel and Stick for Preserving/Saving a Puzzle.
Looking forward to all the wonderful Before and Afters linked for this week's Met Monday!
Pssst: Did you know Between Naps On The Porch is on Instagram? You'll find me on Instagram here: Between Naps On The Porch.
Like to know when a new blog post is up and available to read? Subscribe for email updates, it's free and your email will never be shared.
Subscribe for free post updates via email here: Subscribe.
Metamorphosis Monday
Metamorphosis Monday is a party that's all about Before and Afters. Please link up your Before and After projects like DIY projects, room makeovers, craft projects even recipes. Any Before and After is great! Please do not link up Table Settings, save those for our Tablescape Thursday party on Thursday.
If you are participating in Met Monday, please link up using the "permalink" to your MM post and not your general blog address. To get your permalink, click on your post name, then just copy and paste the address that shows up in the address bar at the top of your blog, into the "url" box for InLinkz when prompted.
In order to link up, you'll need to include a link in your MM post back to the party so the other participants will have an opportunity to receive visits from your wonderful blog readers.
This party has ended, click button below for the links to all who participated.
*If a post is sponsored or a product was provided at no charge, it will be stated in post. Some links may be affiliate links and as an Amazon Associate, I may earn from qualifying purchases. *