Later today I will be going up under the eaves to start pulling out all the Christmas decor. This photo is from a previous year.
Here's how it actually looks right now. I need to wear a helmet while doing this because I always end up hitting my head a couple of times in the process of pulling everything out. I think I may put on a thick, winter beanie for a bit of protection. lol Not sure why I persist in storing everything here when I have a basement. I think I just prefer hauling decorations downstairs as opposed to up.
The sofa in the upstairs living room is covered with gifts waiting to be wrapped. I like to get a jump on the wrapping because once the tree is up, it's nice to have a few presents underneath. That may be torture for my grandsons (ages 4 and 6) when they are here for Thanksgiving, but I plan to have a few things for them to open so hopefully, that will mitigate some of the angst. Ha!
Window Cleaning
Every year when I hang the wreaths on the outside windows (photo below is from a previous year) it bugs the heck out of me that the windows and shutters always seem to need a good cleaning. Since I can't stop right then and clean every window in the middle of hanging the wreaths, last night I started the process of cleaning them all.
Do you clean the interior side of all your windows? It's a big job, isn't it? I love a true divided light window though, so I don't mind the more intense cleaning a couple of times a year.
Since it takes a while to wipe down all the shutters, molding, sashes, and window sills, I'm doing just a few each day. Otherwise, it feels too overwhelming. The process really isn't that bad since I'm doing it while listening to a book on Audible. The reward will come at the end of the week (or next week) when I start hanging the wreaths and see clean shutters, windows, and the new Baldwin Brass window locks I added recently.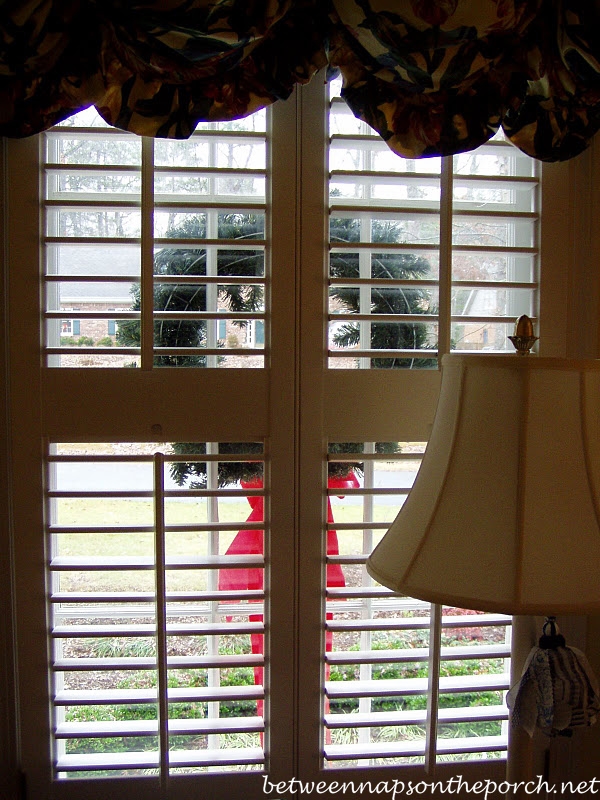 Finished this puzzle last night and it was challenging! The flooring, the shadows, the white wicker, and white rails definitely made it interesting! I bought this puzzle to do this past summer but never got around to it since I was away from home so much.
I love the ocean view, the flag, the lighthouse, the flowers, the white wicker…just everything! If you love this scene, you'll find this puzzle here: Oceanview Puzzle and here: Ocean View Puzzle.
I picked up a few items last night at Publix for making the Vegetable Beef Soup I've previously shared here on the blog. I still need a few more things like corn and potatoes…forgot those last night. Once done, I'll freeze some of the soup to pull out for a quick meal when family is here. With bread, it makes a pretty hearty dinner. I love this soup!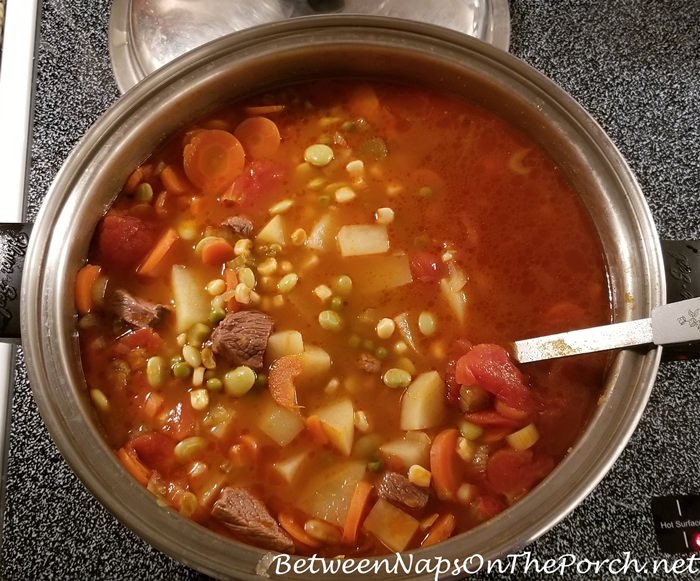 You'll find the recipe here: Hearty Vegetable Beef Soup. Your house will smell like heaven while it's cooking!
In the midst of pulling out the holiday decor and cleaning windows, I've been taking a few breaks to do a little shopping online. I don't plan on buying the vest below but wanted to share it because I have one that's pretty much identical to it and I wear it allll the time during the winter. I have several puffer style vests, but this one is the one I wear over and over because it looks great with everything. It especially looks great layered over a sweater or a plaid shirt, paired with slacks or jeans. Every time I wear it, I get compliments. Def recommend it if you want a piece in your wardrobe that goes with everything! Find it 40% off here: Down Puffer Vest.
I'm just a little obsessed over this furry sheep sweater. That fat, fluffy body on those tiny, stick legs are killing me! lol Sooo dang cute! You'll find it 40% off here: Sheep Sweater.
Love this wool stadium coat. This looks like a coat my daughter-in-love would like…she loves a red coat.
It comes in 6 colors including a pretty soft blue color blue, navy, black, and heather gray.
You'll find it 40% off here: Italian Wool Coat.
I love the design of these boots! So chic! They are available in three colors here: Leather Ankle Boots.
If you live where it gets really cold (cough-Ohio-cough) and you need a beautiful puffer coat, this one comes in two colors (red and black) and is currently on sale 40% off here: Puffer Coat.
I don't normally like black coats but the black is beautiful with its black faux-fur trim!
So many beautiful fashions on sale–too many to share all that I found! I'll end with this gorgeous cashmere wrap…love the ruffle trim around the bottom!
It also comes in this beautiful ivory/cream color and in black. You'll find it 40% off here: Cashmere Wrap.
I really want this piece, trying to decide between the red and the cream color. Gahhh, love them both!
Update:
Not on sale, but love this gorgeous sweater! I love the wider neck opening–so pretty!
They also made in a bright pink version. Soooo pretty! It's available in three colors here: Beautiful Sweater.
I've linked a few more of my favorites below. Click any photo for more information on that particular piece.
Okay, I'm off to clean windows and finish up the table I started for tomorrow's Tablescape Thursday.
See you tomorrow!

*If a post is sponsored or a product was provided at no charge, it will be stated in post. Some links may be affiliate links and as an Amazon Associate, I may earn from qualifying purchases. *