Welcome to the 615th Metamorphosis Monday, a blog party sharing fabulous Before and Afters!
Nope, it's not Thursday, so please don't link up your table settings to today's Met Monday party. This is not exactly a Before and After, although this table did survive Hurricane Zeta! 😉 My computer almost didn't, though. Zeta fried its "power supply" despite it being plugged into a surge protector. Thankfully, the company that built my computer was able to repair it. Yay!
Since I already have a table in mind for this week's Tablescape Thursday, AND since the longer I wait, the further away from Halloween we get, I thought I'd go ahead and post this table that I created but was never able to post due to Hurricane Zeta. A little late but hope you enjoy this table setting anyway.
These photos were taken at random times during the week I set this table, so some photos were taken at night and others late in the evening just before sunset.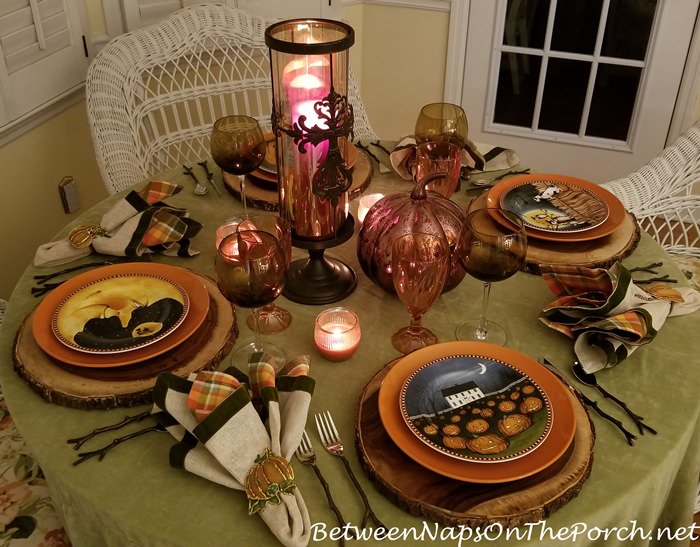 I love this David Carter Brown pattern called Pumpkin Hollow. I found the plates on eBay many years ago and the orange dinner plates are from Dollar Tree quite a few years back. If you love this pattern, you'll find the plates available here: Pumpkin Hollow.
I love some of the serving pieces they made to go with this pattern. Those are also visible at the above link.
The wine glasses were a find in A Classy Flea many years ago. Sure do miss ACF, still can't believe it's gone.
The water/tea glass is Noritake's Breeze Clear, available here: Breeze Clear Glasses. Unfortunately, I don't think this particular color is available right now. I love their regular clear glasses, too. They are so sturdy and comfortable to hold. Love the swirl design!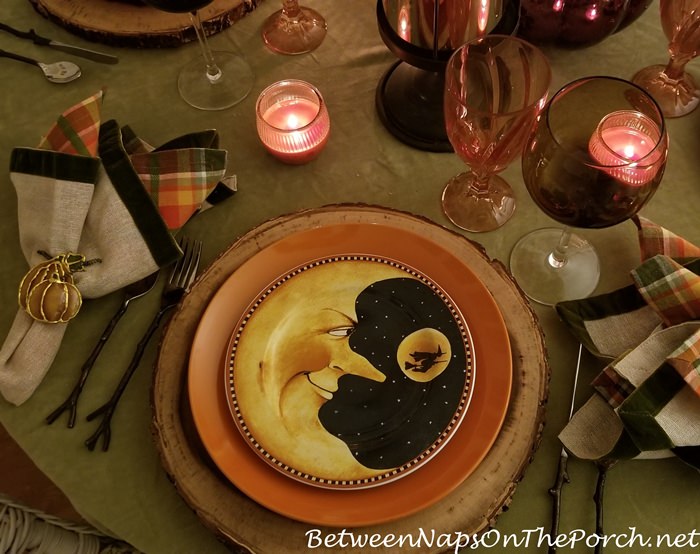 Twig flatware is from here: Twig Flatware. This particular pattern/design of twig flatware is no longer available, but they have some new twig flatware at that link that's really interesting.
Love this Pumpkin Hollow pattern! The bark-edged chargers I'm using in this table are currently available here: Bark-Edged Chargers.
I kept the centerpiece very simple for this table. I love this lantern and don't use it enough. I've had it so many years, I don't remember where it's from now. If I'm remembering correctly, the pumpkin napkin rings are from Pier 1 many years ago. The velvet-edged napkins are also from Pier 1. The plaid napkins were probably from HomeGoods or Pier 1…having trouble remembering now.
The velvet green tablecloth was another find in A Classy Flea many years ago.
After dark…spooky!
Looking forward to all the wonderful Before and Afters linked for this week's Met Monday!
Pssst: Did you know Between Naps On The Porch is on Instagram? You'll find me on Instagram here: Between Naps On The Porch.
Like to know when a new blog post is up and available to read? Subscribe for email updates, it's free and your email will never be shared.
Subscribe for free post updates via email here: Subscribe.
Metamorphosis Monday
Metamorphosis Monday is a party that's all about Before and Afters. Please link up your Before and After projects like DIY projects, room makeovers, craft projects even recipes. Any Before and After is great! Please do not link up Table Settings, save those for our Tablescape Thursday party on Thursday.
If you are participating in Met Monday, please link up using the "permalink" to your MM post and not your general blog address. To get your permalink, click on your post name, then just copy and paste the address that shows up in the address bar at the top of your blog, into the "url" box for InLinkz when prompted.
In order to link up, you'll need to include a link in your MM post back to the party so the other participants will have an opportunity to receive visits from your wonderful blog readers.
Update: Please do not link up table settings/tablescapes for Metamorphosis Monday. Please save those for our Tablescape Thursday party on Thursdays. Recipes are fine because that's definitely a "Before and After" but please save your beautiful table settings for Tablescape Thursday. Pretty vignettes (transformations) you've created on atop a chest or somewhere in your home are great for our Before and After party, but let's save the actual table settings for Tablescape Thursday.

This party has ended, click button below for the links to all who participated.
*If a post is sponsored or a product was provided at no charge, it will be stated in post. Some links may be affiliate links and as an Amazon Associate, I may earn from qualifying purchases. *