I've been going non-stop since getting back home–going through 2 weeks of mail, returning sandals that didn't fit, getting a very dirty car (on the outside) washed, washing clothes, coloring my hair, creating posts, setting tables, and putting everything back away, and getting a much-needed pedicure. Chipped polish isn't pretty.
Do you enjoy pedicures? I don't, just don't like the wasted time sitting through one. I always say I don't want the leg massage, but they try to sneak it in any way, maybe worrying it will affect their tip. I always tip generously, be it in a restaurant, car wash, or salon because I appreciate those who do those jobs. I managed to finally get away without a massage this time so I got out of the salon in a more reasonable amount of time. I wish there was a place you could go for an express pedicure–no massage just all down-to-business, an in and out in 20 minutes sorta thing. Anyone else feel that way or do you enjoy the slow pace of the nail salon?
Today, I hopped online to scope out some of the sales. Now that spring is almost over, there are some great sales on spring/summer clothing. One of my favorite places to shop that I have a tendency to forget about is Joules. I've never ordered anything from them for myself or for my grandsons that wasn't as awesome or better than expected. I love their quality! I've been eyeing this hoodie since early spring and it's finally on sale. I think it's time I added it to my growing hoodie collection. I really got into hoodies this past winter, I love how warm they are and how they really hug your neck. This one is currently on sale here: Hooded Top.
One thing to know about sales at Joules is the good stuff goes fast in the most popular sizes. I think their fans must bookmark and stalk the piece they want because I notice that many of the items I like that are on sale right now are out of stock in the most popular sizes. However, these are available in my size! I think they would be sooo cute with white or blue denim jeggings any time of year–even shorts. I love the bright yellow! They are currently on sale at almost half price here: Rain Boots.
A few years back I decorated the front porch for spring.
I had just purchased these beautiful floral Hunter Boots. (Photo taken before I removed the tag.) To this day, they are my favorite tall boot for spring.
I noticed Joules has some that are very similar and much more reasonably priced. You'll find them on sale here: Floral Boots.
This gorgeous shirt isn't on sale since it's a "new in" item, but I'm in love! I love all the flowers–there's even foxglove, one of my favorite flowers in the garden!
I don't expect it to last that long since it's priced reasonably.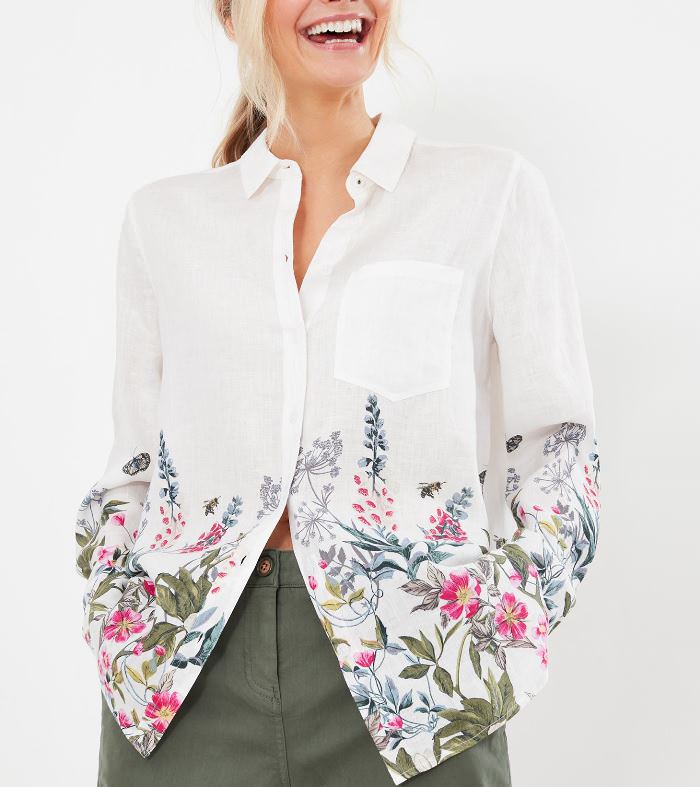 It appears to be lightweight and very breathable–perfect for our hot, humid summers.
If this shirt is calling your name, you'll find it here: Linen Floral Top. You'll find everything that's currently included in the sale here: 50% Off Sale.
Remember this shirt I shared recently that I had just purchased from Talbots. Well, I got an email from them with bad news saying that it was sold out. Not sure if it was a supply issue or what, but apparently they sold more than they had. Arggg. I hope they get more in because I love their linen tunics. When I was shopping in Talbots a few days ago, I asked the associate who was checking me out about it. She said, "You and everybody else is looking for that shirt!" They need to bring it back ASAP! lol
The lemon topiary shirt I purchased this spring is currently 50% off!
It was $44.99 and is half that now. You'll find it here: Lemon Topiary Shirt.
This beautiful floral shirt is also included in the 50% off sale here: Floral Garden Top.
I was thinking this would be really cute to wear to a 4th of July gathering in a few weeks.
It's on sale 50% off here: Red, White, and Blue Top.
So many great tops are included in the sale…love this one! You'll find it 50% off here: Pink Striped Top.
Dresses and Skirts are 30% off…I still love this one!
You'll find it 30% off here: Maxi Skirt and everything that's included in the 50% off sale here: 50% Off Markdowns and 30% Off Dresses.
Chronic Sinus Sufferer–That's Me!
Sooo, totally off-topic, I just purchased this Slanted Wedge Pillow and it arrived today. I'm going to give it a try tonight and will report back. I've been fighting sinus issues for the past gazillion years and it's really beginning to affect my sleep. I love sleeping on a very low pillow–don't like tall, shelf-like pillows and I'm hoping this will help. I laid down on it briefly today and added my own low pillow to it for neck support. It seemed pretty comfortable.
I occasionally watch a YouTuber who swears by hers. I'll let you know how I like it after I give it a try this weekend. Have you ever slept on one of these? You'll find the one I purchased here: Slanted Pillow with Cover.
Have a great weekend!
*If a post is sponsored or a product was provided at no charge, it will be stated in post. Some links may be affiliate links and as an Amazon Associate, I may earn from qualifying purchases. *