I've always had a love for equestrian style. I love it in home decor and I'm always drawn to it in fashion or clothing styles.
You may remember when I shared one of my favorite books that features equestrian decor, collectibles, fashion, etc… in this previous post: In the BNOTP Library: Equestrian Style. Book below is available here: Equestrian Style.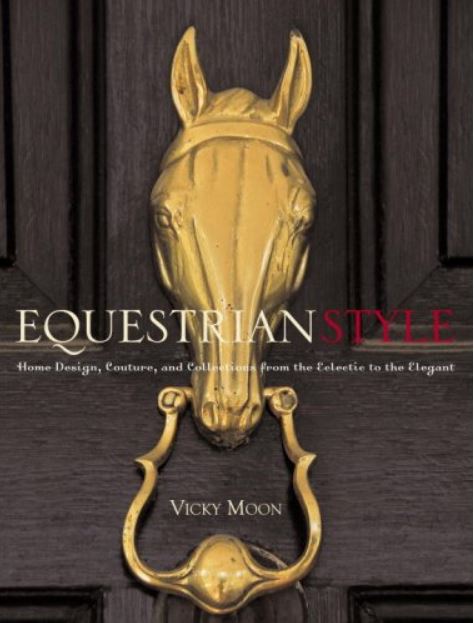 Over the years I've also taken you along on several home tours of beautiful equestrian estates like this one.
Take a tour of the home above in this post: Historic Equestrian Estate in Virginia
Here's a tour of another gorgeous equestrian estate: Historic 1825 Home and Equestrian Farm. I love the warmth and understated beauty of an equestrian estate!
You can just imagine how excited I was to see that Talbots has gone equestrian for a lot of their autumn clothing, plus it's all on sale! I fell in love with this entire ensemble the minute I saw it! I love, love, love ivory/cream paired with camel. It's just the most elegant combination of colors!
For years I had a Ralph Lauren ad pinned to my bulletin board here in the office. I wish I still had it, I would share a photo of it in this post. It pictured a lovely model wearing an outfit that was all in cream and camel colors with the most gorgeous cognac-brown leather bag on the floor beside her. I wanted that entire outfit, it was stunning!
This outfit below reminds me very much of that RL ad that I had pinned to my board for so many years. I actually have an ivory vest from Talbots, an ivory sweater and some beautiful cognac-brown Frye boots. I think all I need are the pants and I'm all set!
This same outfit is also stunning with this equestrian motif/style vest below in a gorgeous "ginger" color. It looks so beautiful and so perfect for autumn with either vest. (Vest is available here: Vest.)
If you love these two outfits as much as I do, you'll find links to all the pieces to create it linked below. Did I mention everything is currently on sale, 25% off! Yipee! Love it when I can catch the current season's clothes in an early season sale!
This is the sweater pictured above and you'll find it available here: Sweater. I love the longer length (so flattering!) and the cute buttons down the side!
These are the pants pictured in the ensemble. They are in the equestrian style and you'll find them here: Equestrian Style Pants.
If you're not sure you want the pants in equestrian style, I think these cords would also work well to create the look. You'll find these stretch style cords available in a bunch of different colors here: Corduroy Pants.
I definitely plan on buying some of these for fall.
They also have them available in Jeggings. Love those too! You'll find those in several colors here: Corduroy Jeggings.
I love jeggings because they fit so well down inside boots.
I adore these boots! These are the boots the model was wearing in our inspiration photo for this autumn equestrian look. You'll find them here: Boots with Chain-Tassel Detail.
I already have boots in this color but I may have to break down and get these. I just love that chain/tassel detail and the heel height is perfect! That's my ideal heel height…so comfortable!
They are also available in black here: Boots.
You'll find the pretty ivory vest in our inspiration picture here: Ivory Vest. It's available in six different colors.
So excited to see Talbots now carries Barbour Coats! You can read more about Barbour coats in my previous post here: A Forever Coat.
This coat is available here: Barbour Coat.
I love all the pearl accessories they are carrying for fall. You'll find them all there: Pearl Accessories.
Here are few more pieces I'm loving for autumn and they are all on sale! If the images below don't load, refresh the page and that should help.
Click any link below to check out that particular piece.

*If a post is sponsored or a product was provided at no charge, it will be stated in post. Some links may be affiliate links and as an Amazon Associate, I may earn from qualifying purchases. *