The last time I purchased a handbag was February 19, 2020, almost two years ago. That's showing great restraint for me, considering how much I love handbags. lol Back in 2019, Louis Vuitton produced a Limited Edition shearling version of their iconic Speedy bag. They named it the "Teddy Speedy" and I loved it the moment I saw it. It looked so cozy for fall and winter! Unfortunately, it was priced a good bit higher than their regular Speedy 25 bags due to it being in such limited production.
Every year when autumn came around and the cooler temps began to move it, I would think about that bag and would stalk Fashionphile, my favorite shop for pre-loved bags, to see if they had it in stock. There were quite a few listed that first fall in 2020 but this past fall they had a lot fewer in stock. I came close to buying it–but again resisted.
I was late looking for it this fall/winter season and didn't check out Fashionphile until a few weeks ago. There were only two on the site and one was listed in "Excellent" condition. It looked new in the photos. I've discovered over the years that Fashionphile seems to err on the side of under-estimating the condition of their bags. I've purchased one other bag from them, also listed in Excellent condition and it looked brand new when it arrived. The Speedy bag I was stalking was already in 27 carts and had been ♥ by 73 other bag lovers. Yikes! I knew if I really wanted to buy it this year, I needed to act quickly.
I had a few fashion items that I no longer needed or wore, and that I had been thinking of selling to Fashionphile. I knew the bag would probably be gone by the time I took photos and submitted those to Fashionphile for a quote/payment, so I decided to try something I've never done with them before–their "Reserve Layaway" program. I placed the bag on reserve with a downpayment and got busy photographing the items I no longer needed. In the end, I decided to part with three designer costume bracelets that were in colors I never seem to wear, a small scarf, and a bag charm. I also offered them a Roberto Coin sun pendant I had purchased while in Hawaii–the trip you guys convinced me to take in the comments of THIS post. 🙂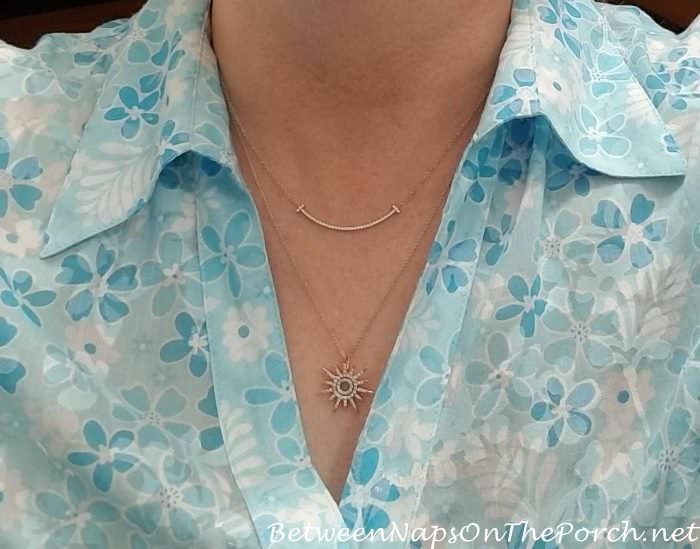 I love this necklace but when I purchased it, I had a hard time deciding between the two sizes it came in. I remember standing in the Na Hoku store in Lahaina, agonizing for an embarrassing amount of time between both sizes, finally going with the smaller of the two suns. Over the years, I have always second-guessed that decision, kinda wishing I had gone with the bigger sun which was around twice as large as the smaller one, so when Roberto Coin brought this design back again this past year, I purchased the larger sun pendant with intentions of selling the smaller sun one day.
One of the things I like about Fashionphile is if you decide to go with a store credit instead of being paid directly for an item, they will add an additional 10% to the payment they offer you for your item. I decided to go with a store credit and once the credit was posted for all my items, I paid the small amount left remaining on the bag. In the end, by selling items I no longer needed/wore, I only paid out of pocket a little more than 1/4 the cost of the bag.
The bag arrived a few days ago and again, Fashionphile had greatly understated the condition of the bag in their ad. The description had stated there would be scratches on the hardware, scuffs on the handles, and marks on the inside. There are none of those things…it's perfect. I'm starting to wonder if Fashionphile always defaults to stating scratches/scuffs/marks on any bag they sell that's not brand new to cover anything they may possibly overlook on a bag. The bag came with a beautiful, gold-colored lock (with keys) that's still in pristine condition. I love how it looks hanging on the bag but have decided to leave it off since I don't want it to get scratched. I don't plan to ever lock the bag anyway, so it would just be decorative if I did use it.
I never worry about buying from Fashionphile since you have 30 days to return a bag as long as you don't cut the tags off. If you change your mind about buying an item that you've had on reserve, they keep a 10% restocking fee which is understandable since the item has been kept off the market/website where they could have sold it during the time it was on reserve. But if it's a bag that is purchased outright and not placed on reserve, I love their generous 30-day return period. That is so rare when purchasing from online shops selling pre-loved bags and sometimes you just don't know if a bag will work for you until you have it in your hands and can see and touch it for real.
I purchased a bag organizer in red, the same color as the interior of the bag. I love the extra structure and protection it gives the bag. The place I always go to for organizers is here: Bag Organizer Insert. I've ordered several over the years and they are always well-made. I plan to keep my cellphone in the center (currently zipped) pocket since that's so easy to reach and my large phone fits easily.
I wanted to share this experience with you since it was the first time I've placed anything on reserve with Fashionphile. The quoting and selling process with them was easy and straightforward. They took a little longer to give me a quote for my necklace than for my other items, but I think that's due to the volume of submissions they get each day and the fact it was a fine jewelry item, so more expensive than the other items I was selling.
By the way, this isn't a sponsored post or anything like that. Fashionphile has no idea I'm sharing my experience. I'm just another one of their many customers. If you would like to see what they currently have in stock, you'll find their website here: Fashionphile. They have a "Sale" category where you can find items on sale from 10-30% off. You'll find the Sale section here: Fashionphile Items on Sale.
After my experience, I would definitely sell to them again and I appreciate how they have a Reserve/Layaway option. It worked great in letting me hold the bag I wanted during the time I was submitting my items to Fashionphile for a quote.
*If a post is sponsored or a product was provided at no charge, it will be stated in post. Some links may be affiliate links and as an Amazon Associate, I may earn from qualifying purchases. *