Update on the Necklace Spacer
Several folks had asked that I update them on how the necklace spacer worked. Mine arrived a couple of days ago and I immediately took off both my necklaces, attached them and put it to work. The result? It worked great! My necklaces stayed tangle-free all day. I'm very pleased!
Tip: If you change clothes while wearing your necklaces/necklace spacer, check the position of the spacer afterward. The reason I recommend this is because I went shopping in Atlanta on Tuesday and when I got back, I changed into a pair of comfy shorts and a short-sleeve summer top.
Later I noticed my necklaces weren't straight and realized when I removed the shirt I had been wearing, I had turned over the spacer. The spacer needs to be laying properly on your neck in back in order to keep your necklaces from tangling. So just remember to check its position after changing clothes. Otherwise, it worked great! You'll find it available here: Necklace Spacer.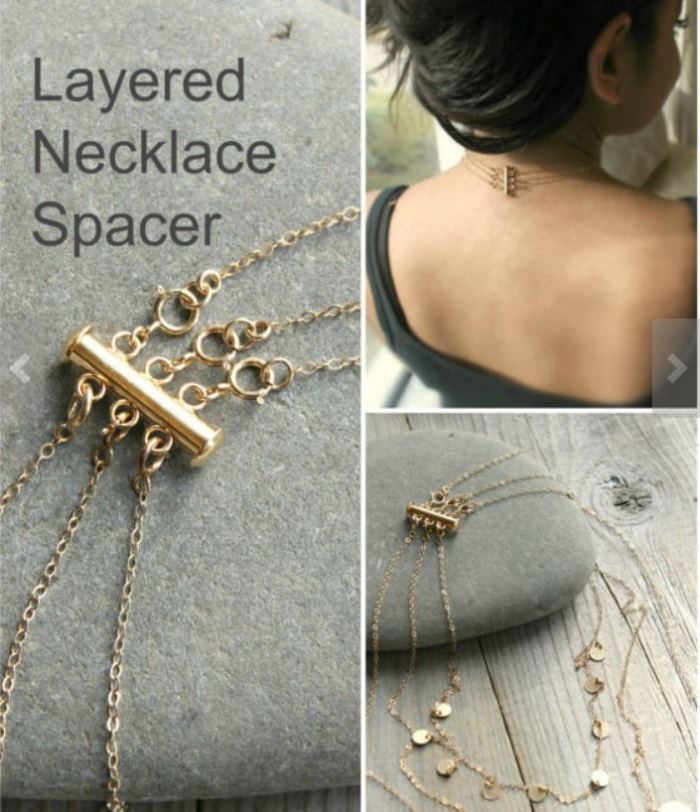 A Fabulous Tip for Keeping Bracelets Safe
I've had jewelry on the brain lately after my recent necklace purchase in Hawaii. I had forgotten how much I love it, I think it's a pretty close rival for handbags. lol
Whenever I am curious about a handbag, a jewelry brand, or really almost anything, I always search to see if anyone has uploaded a review. Almost always someone has. Sometimes a review will convince me I don't need the item, other times it will make me want it even more. No matter what, I always come away having learned something new.
That happened a few days ago, I was googling about a bracelet that's been on my wishlist and I learned the coolest tip! It's a way to protect a bracelet that you wear daily (or never take off) when doing household chores or other activities around the house. Some folks even do this before working in the garden.
The suggestion was to place a stretchy wristband over your bracelet to protect it. I didn't have any so I ordered this set: Wristbands. They are nice and thick, which is what I wanted. I didn't care what color they were because I knew I'd only be wearing one over my bracelet while working around the house. I placed a few sets in the kitchen, garage, upstairs and in a few other drawers around the house so they would be handy wherever I need them.
I tried this for the first time yesterday when I needed to fill all my birdfeeders and it worked great. I didn't have to go the trouble to remove my bracelet and it was well protected as I took down the feeders, filled them, and rehung them from the hooks that hang off the deck. It took me about 5 seconds to pull the band on over my bracelet, so much easier than having to take it off and put it back on. Such a simple idea, yet so effective!
What I Bought On Sale at Talbots
I received a coupon in the mail from Talbots recently with 50% off any regularly priced item. I used it yesterday to purchase this cute top available here: Sleeveless Summer Floral Shirt.
Also, Talbots currently has 50% off any regular priced item with the code: SUMMER50. I think this promotion started today. In addtion, all sale items are 50% when you buy two or more.
While I was there, I also purchased this one that was already on sale. The decorative front reminds me so much of a Lilly Pulitzer dress. Backstory: I had purchased this shirt earlier in the spring while visiting my son/dil, but returned it because it seemed a bit too big.
I love it so I tried it on again yesterday since it was on sale. I decided to get it but the Talbots sales associate also ordered it in a smaller size from another store so I can compare the two and decide which one to keep. So happy to have caught it on sale! You'll find it on sale here: Tunic.
Update: Need a great tote for work or travel. I love this beautiful bag with tons of storage pockets! Found this bag available here: Great Work Tote.
See you tomorrow for Tablescape Thursday! I hope to be sharing a 4th of July table. 🙂
*If a post is sponsored or a product was provided at no charge, it will be stated in post. Some links may be affiliate links and as an Amazon Associate, I may earn from qualifying purchases. *