Welcome to the 697th Tablescape Thursday!
Are you an Emily in Paris fan? I do not subscribe to Netflix so had never heard of the series until I received an email from Brenda. Brenda said, "I was excited about this table setting as we are paying tribute to the show Emily in Paris. We were testing different cheesecakes for the bakery side of our business for Peaceful Valley Farm. We even make the candles that you see."
After receiving Brenda's email, my curiosity was piqued! I've always wanted to visit Paris. I did a some online research and apparently, the show has created a bit of controversy because of how it portrays the French culture/people. I ended up purchasing the first season via Amazon in hopes of enjoying some beautiful Paris scenery and fashion. (See the series here: Emily in Paris.)
I really enjoyed the bits of Paris we get to see throughout the first season, as well as the beautiful Paris fashions. I wasn't too impressed with how Emily dresses throughout the show, though. Maybe they are really trying to play up the "fish out of water" theme for Emily's character because her outfits are pretty wild and not at all what I expected her to be wearing while in Paris. Have you watched any of the show? If so, what did you think?
Brenda set such a fun "Emily in Paris" inspired table!
Let's take a closer look at all the beautiful details!
I love the salad plates Brenda chose for this table. She found those on eBay a few years back. They are perfect for an Emily in Paris theme.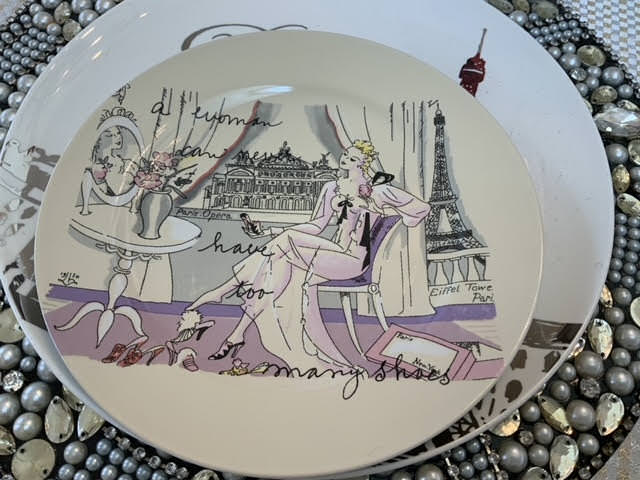 You can't have an Emily in Paris table without an Eiffel Tower centerpiece!
Brenda made the wineglass candles herself! We need a tutorial for that, don't we! I remember when I was a child, a friend invited me to her home for a candle-making project. I was only around 9-10 years old so I don't remember much about it, but I do remember it was a lot of fun!
Oh, what's this? Notice the blinged-out handle on the cake cover! I wonder if Brenda crafted the handle…super fancy!
For dessert, we're having an "Emily in Paris" cheesecake!
Sooo pretty! Brenda shared that her tribute to "Emily in Paris" cheesecake is made with a Vanilla wafer crust with a creamy Cream cheese vanilla bean filling.
Look at all those yummy layers! That crust looks amazing!
What's this? Another dessert?
Wow! This beautiful Red Velvet Cheesecake is made with an Oreo cookie base and a creamy, cheesecake filling with a hint of lemon, swirled with a red chocolate filling. This would be so perfect for Valentine's Day!
Brenda's cheesecakes are available at her Peaceful Valley Farm Market, HERE, but I'm guessing they can't be shipped. I'm not sure if it's possible to ship a cake. Wonder if they could be frozen and then shipped. Can you freeze cheesecake? Ummm…not sure. Update: Unfortunately, the cheesecakes can't be shipped. Brenda said, "No, unfortunately not. But we do get customers who live in the US ordering them for friends, family in Canada."
Thanks so much to Brenda for sharing this beautiful Emily in Paris themed table setting! Have you watched the series? If so, how do you like it? Did it make you want to travel to Paris one day?
Looking forward to all the beautiful table settings linked for this week's Tablescape Thursday!
Did you know Between Naps On The Porch is on Instagram? You'll find me on Instagram here: Between Naps On The Porch.
Like to know when a new blog post is up and available to read? Subscribe for email updates, it's free and your email will never be shared. Subscribe for free post updates via email here: Subscribe for Post Updates.
Tablescape Thursday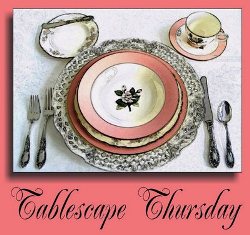 If you are participating in Tablescape Thursday, please be sure to add your permalink below, and not your general blog address. To get your permalink, click on your post name, then copy and paste the address showing in the address bar, into the "url" box when you link up. You'll need to include a link in your post back to the party to link up and participate.
That's so visitors to your blog will be able to find the party and the other Tablescape Thursday participants. Requiring a link back also prevents businesses and scammers from linking up to sell their products. (Yep, that really happens, unfortunately.) If you see a post that's not table-setting related, let me know and I'll remove it.
Please, don't add your post name/blog name ALL IN CAPS…it tends to create big spaces between the rows of links. Please link up table setting or table setting related posts only for Tablescape Thursday.
This party has ended, click button below for the links to all who participated.
*If a post is sponsored or a product was provided at no charge, it will be stated in post. Some links may be affiliate links and as an Amazon Associate, I may earn from qualifying purchases. *