What's that expression, "Nature abhors a vacuum?" I guess Aristotle was right because without any planning or scheming, that empty spot on the hat rack over the little reading corner in my office….
…is empty, no more. (See the post where I shared adding this hat rack to the office here: Hat Storage That's Both Functional and Decorative.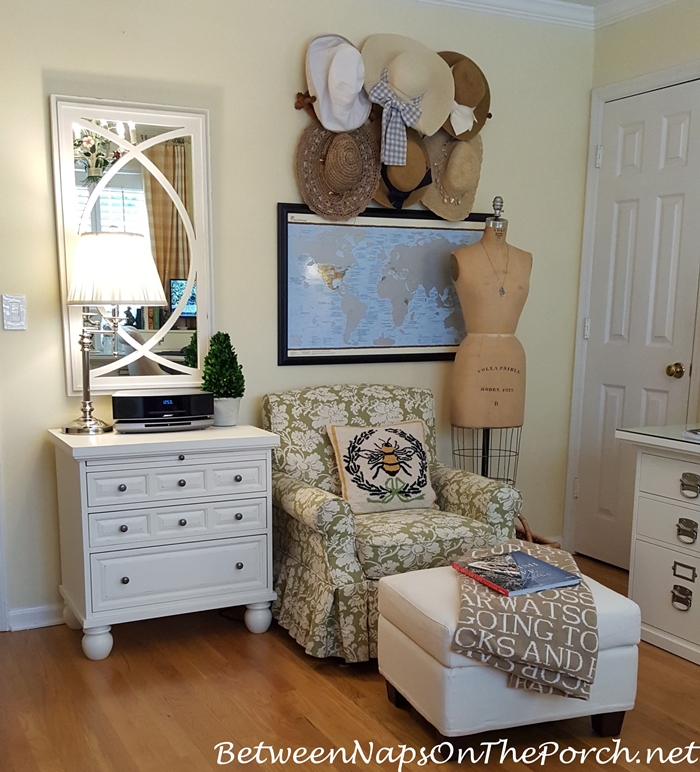 A Youtuber I watch ordered several hats from HERE, and I absolutely loved this one when she tried it on. The colors are so soft and muted, so summery!
It arrived yesterday and is super cute! The brim is nice and floppy (but not too floppy) so you can bend it down in front or on the side and wear it however you wish.
Ummm, I'm seeing a trend here. Apparently, I like hats with bows. lol
The price was definitely right at just $26. If you've been looking for a pretty, sun hat for summer, you'll find this one here: Straw Hat.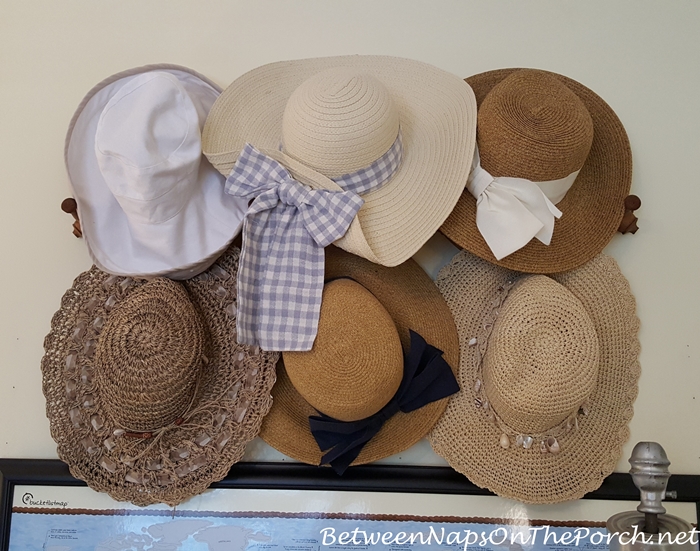 The hat came very well packaged with this plastic support inside the crown. I'm going to save it to use when I travel. On my trip to Morocco, I stuffed the crown of the hat I took along on that trip with small clothing items. It worked fine, but I think this may work even better. I'll still place socks and such in the crown, so that space won't be wasted in the suitcase.
Update: If you were one of the folks who asked in the comments of that previous post, where to find a hat like the one Diane Keaton wears in the movie, Something's Gotta Give, I recently found two similar ones here: Beach Bucket Hat and Beach Bucket Hat.
A Nostalgic Look at the Sailing Life and Fashion
I just ordered this book below called The Stylish Life: Yachting. If you follow me on Instagram, you saw it when I posted a photo there. (Follow Between Naps On The Porch on Instagram, HERE.)
This book is part of a series of books that have been written about the lifestyle and fashion of those who participate in certain sports or activities. Some of the other books are The Stylish Life: Tennis, The Stylish Life: Golf, The Stylish Life: Skiing, and The Stylish Life: Equestrian. (You'll find all those books here: The Stylish Life Series.
This is the only book in that series that I own. I love antique boats and love the clothing that you so often see worn when sailing/boating, so that's why I chose this one. I'm thinking about buying the Equestrian book, as well…love that style of fashion, too!
It's definitely a "coffee table" book with lots of gorgeous pictures of yachts and antique boats.
But the most intriguing part are the photos of celebrities and other famous folks, all enjoying themselves aboard some fabulous boats. That's Taylor Swift on the left and Audrey Hepburn on the right. Such a cute, cute photo of Audrey!
This was the photo that made me order the book, I love that dress! I just love nautical style…period!
If you love the nautical, sailing way of life and the clothes that go with it, you'll find this book available here: The Stylish Life: Yachting. Oh, and this book looks great without its dust jacket because the actual book has the same beautiful cover as the jacket. Love it when books are like that!
A New Bag for Summer
For the last few summers, I've been searching for the perfect wicker bag. I came really close to buying one last summer, but hesitated. It was almost what I wanted in a bag, but not quite.
I think I have finally found my bag! I love everything about this one, including the bamboo handle. Very Gucci inspired, isn't it? I like how it doesn't have a prominent brand/logo visible, the one thing I wasn't too crazy about the bag I almost bought last summer.
The wicker is such a pretty color, as is the natural color of the leather top. It should work well with all my summer clothes and will look great with the sandals I purchased recently for summer.
I love, love, love the pinstripe interior! It even has a little pocket inside. I'm hoping my cell phone will fit there. I should know soon since I just got a notice saying it has shipped out.
Isn't it just the perfect size…not too small and not too large! And I love that it's a structured bag, not the soft-sided style of some wicker/straw bags. Can you tell I'm just a little excited about this bag! I doubt they'll last online very long.
I can't wait until it arrives and I can start using it. Once it gets here, I'll put some things inside and share how it looks and works. If you've been looking for a wicker bag for summer, you'll find this one available here: Wicker Bag.
Pssst: I post almost daily to Instagram. Follow Between Naps on the Porch on Instagram here: Between Naps On The Porch.
*If a post is sponsored or a product was provided at no charge, it will be stated in post. Some links may be affiliate links and as an Amazon Associate, I may earn from qualifying purchases. *