Welcome to the 537th Metamorphosis Monday!
A while back I shared a wicker bag I had purchased a year or two ago. I carried this bag quite a bit last summer and really enjoyed it, but I had one concern that I couldn't resolve.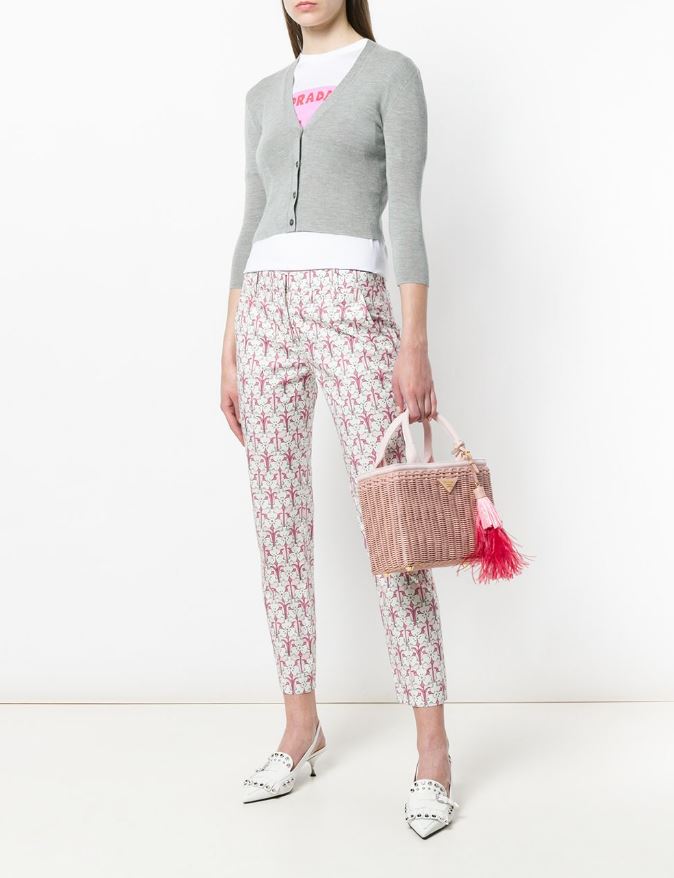 The handles of the bag are a heavy-duty, stiff, canvas type fabric. They feel nice and sturdy but since they are fabric, I've been worried they would eventually show dirt. I've tried to make sure I don't carry the bag while wearing hand lotion, but I know just the natural oils from our skin could eventually cause the handles to darken. This bag can also be worn via its shoulder strap and I do often carry it that way, but there are still times when I need to pick it up by the handles.
At one point I tried tying a Hermes Twilly around each handle, but the twillies would not stay on very well. They kept coming undone/untied. I think that was due to the shape of the bottom of the handle where it attaches to the bag–the way it widens out.
A few days ago I went in search of a solution–something to protect the handles. After a bit of Googling, I found an interesting product and decided to order it.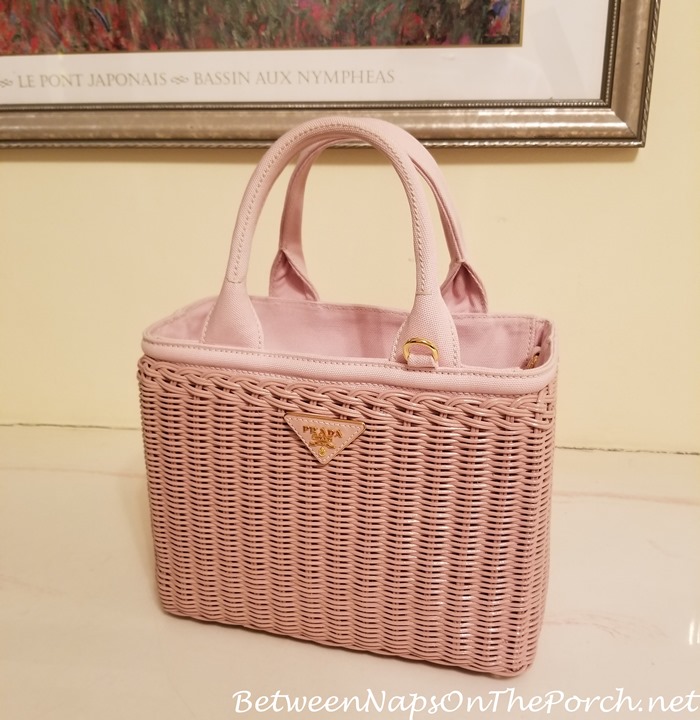 I found these nifty handle covers and after a few exchanges with the inventor, I'm going to give them a try.
They come in a ton of different colors.
There were several pink shades from which to choose; I ordered the color the white arrow is pointing to below. I wasn't sure if the light pink color would match my handles so decided to go with a darker shade that I hope will complement the darker pink color of the wicker part of the bag. I can always exchange them if that color doesn't work. They also come in several neutral shades and several white/cream shades.
I have a couple of more bags with handles that I wouldn't mind protecting so I may end up ordering some of the other colors. I'll share how these work out as soon as they arrive. It will be so nice using my wicker bag this summer and not having to worry about the canvas/fabric handles!
If you have a bag with handles, either leather or fabric that could use some protection, you'll find these covers available here: Handle Covers for Handbags.
I think these covers would be really helpful for Louis Vuitton bags with Vachetta leather handles since Vachetta leather is so sensitive to any type staining. The reviews look great so I'm excited to try them on my bag!
I'm thankful for clever inventors who come up with solutions to our problems!
Looking forward to all the fabulous Before and Afters linked for this week's Metamorphosis Monday!
Pssst: Subscribe for email notifications when a new post is available at Between Naps On The Porch here: Subscribe.
You'll find Between Naps on the Porch on Instagram here: Between Naps On The Porch on Instagram and on Facebook here: Between Naps On The Porch on Facebook.
Metamorphosis Monday
Metamorphosis Monday is a party that's all about Before and Afters. If you are participating in Met Monday, please link up using the "permalink" to your MM post and not your general blog address. To get your permalink, click on your post name, then just copy and paste the address that shows up in the address bar at the top of your blog, into the "url" box for InLinkz when prompted.
In order to link up, you'll need to include a link in your MM post back to the party so the other participants will have an opportunity to receive visits from your wonderful blog readers.
Feel free to link up Before and After posts that are home, gardening, decorating, crafting, painting, sewing, cooking, fashion, travel or DIY related. Please do not link up to the party if you're only doing so to promote/sell a product.
To those linking up, if you notice a shop or online store linking up to sell products (yes, unfortunately, that happens) please let me know so I can remove their link and block them from participating in future parties. No one wants to visit a link expecting a Before and After, only to find a spam link to an online business/store.
This party has ended, click button below for the links to all who participated.
*If a post is sponsored or a product was provided at no charge, it will be stated in post. Some links may be affiliate links and as an Amazon Associate, I may earn from qualifying purchases. *