I am cautiously optimistic I've found the cure for keeping the pesky squirrels living in my backyard out of my flowers here on the deck. This may even save my hibiscus from being denuded as it has been in past years.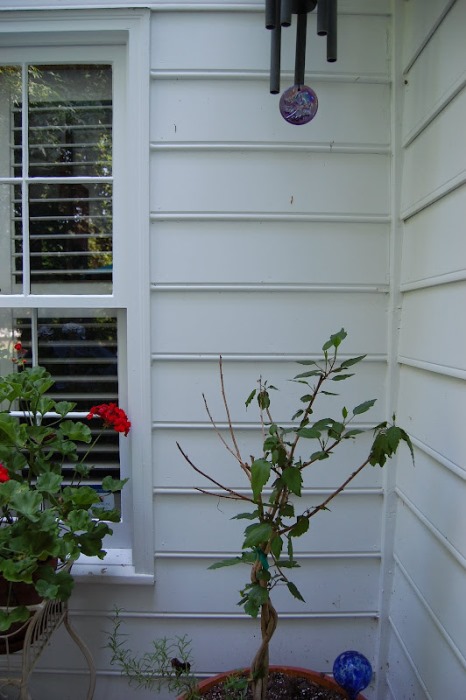 The last two years I've been putting Knock-out Roses in the tall urns under the pergola but after two years of having them prick my shoulders and arms with their thorns as I remove and re-hang the bird feeders each day, I decided to give Hibiscus one more try.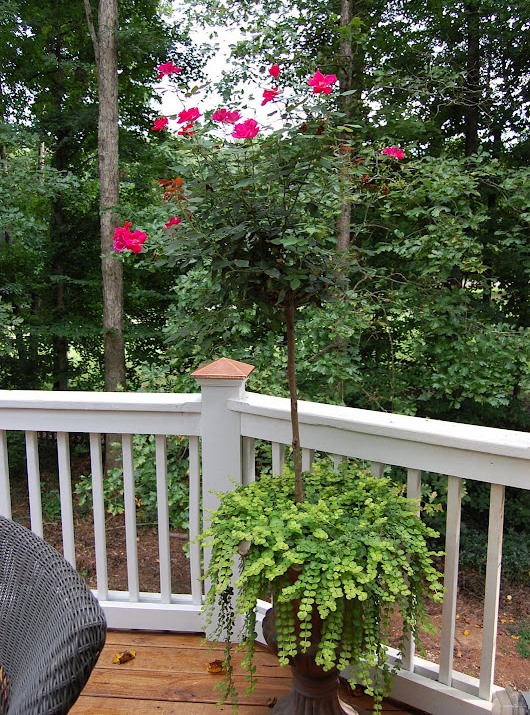 They have only been on the deck for a few days and so far the squirrels aren't eating the leaves but they are having a party in the dirt every. single. day! Each morning when I head out to the deck, this is what I find.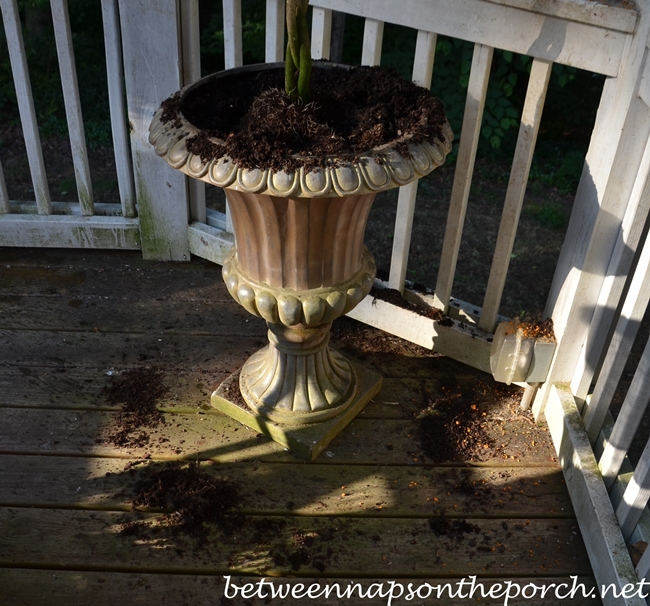 Don't believe him!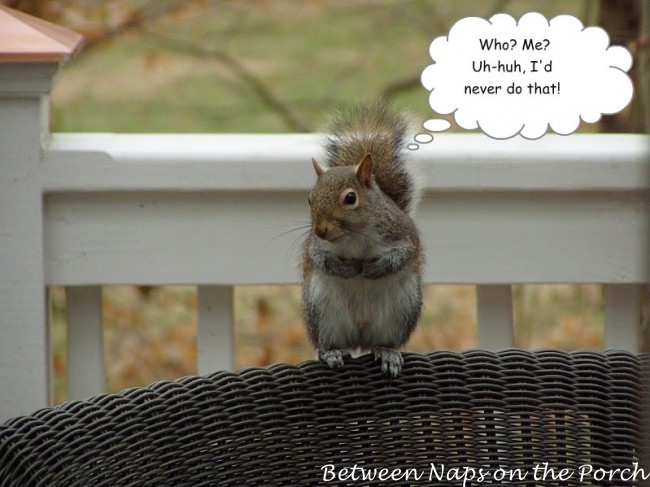 Lovely, isn't it? And not good for the hibiscus exposing its roots this way every day! Grrrr!
Something is also having fun in the pot on the table. I'm pretty sure it's squirrels making the big mess in the urns, although it could be chipmunks since I've seen them digging in the plant on the table in years past. Maybe it's both.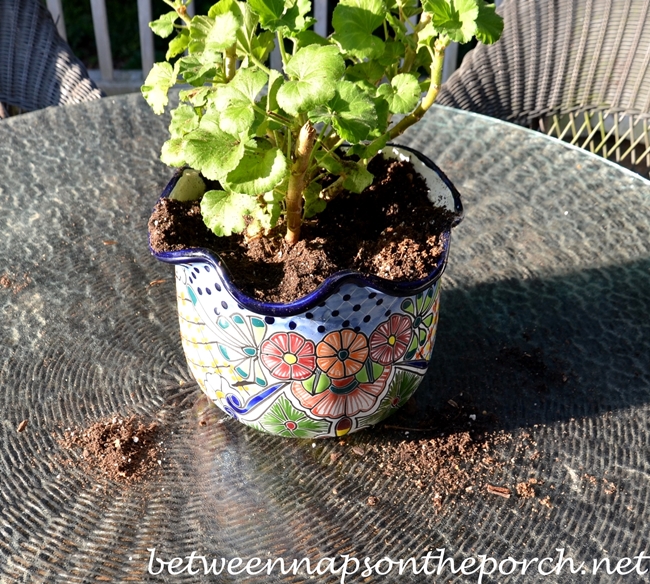 Mary suggested adding dried blood to the dirt. (Thanks, Mary!) I think I've used that in the past when planting bulbs. It was either that or bone meal…forgotten now.
You should have seen the look on the face of the woman I approached in the garden department of Home Depot when I asked where they kept the dried blood. lol I think she was new to gardening because she had never heard of such a thing. She had to check with another associate who immediately knew what I needed.
This was the brand they carried, not the one Mary had mentioned but I was hoping it would work.
So far, it seems to be working. You can tell "someone" has stepped in it but they didn't dig and dirt's not scattered all over the place this morning.
I've been getting estimates on having the whole house pressure washed, along with the decks and porch. I'm also having the decks and porch repainted since it's been over 6 years since that was done. I've chosen a company and they'll be getting me on the schedule sometime in the next 2-3 weeks. Can't wait to get that done so I can stain the deck floors again…time to freshen those up, too.
A Masked Bandit Visits
I had a surprise visitor to the deck this week. I came bopping down the stairs and into the kitchen, looked out my bay window and this is what I saw! I was stunned! They usually make their bird feeder raids after midnight around 1AM.
I couldn't believe one was brave enough to visit in the middle of the day! They are so cute! Don't worry, the guys at the bird store told me that though folks think they are rabid when seen out during the day, they told me it isn't true. Raccoon are often out during the day, they are just usually not seen around houses since they wait until folks are in bed to raid the feeders.
This guy must have been really hungry to come during the daytime. He looked pretty skinny. I've started putting out some wildlife food for them since they look so thin. Someone on Instagram mentioned putting out cat food. I may do that some of the time since the wildlife food is very expensive.
I want to caption this photo: Masked bandit caught with hand in cookie jar! 🙂
Follow-up to Yesterday's Post:
After yesterday's post where we toured Katharine Hepburn's Fenwick home, I downloaded Scott Berg's book, Kate Remembered from Audible and began listening while folding clothes last night. I first searched for her autobiography and unfortunately, it's not on Audible. I love listening to books while I work in the yard, clean house, sort and resize pictures for blog posts, fold laundry or drive around on errands and long trips.
I'm only on the first chapter but so far it's really good. At the start of the book, they (Scott, the author and Katharine) meet briefly in her New York apartment. As I listen now, they are in her Connecticut beach house. When Scott first arrives at the Fenwick home (that Katharine calls, Paradise) for the interview he's doing for Esquire Magazine, Katharine is just finishing a swim in the freezing water of the sound.
It's so neat hearing him describe the house. As I type this, they are just now sitting down by the fireplace with drinks of scotch and soda to talk. I can picture it a little better now after the tour yesterday, although I'm sure it looked quite different when Hepburn lived there.
Hope you're having a wonderful weekend!
XO
*If a post is sponsored or a product was provided at no charge, it will be stated in post. Some links may be affiliate links and as an Amazon Associate, I may earn from qualifying purchases. *