How is your weekend going? I've been working a little outside. I need to be working A LOT outside! There's tons of weeding to be done…and other stuff. One little project I knocked out was cleaning out the interior and exterior of this Lazy Hill Farms birdhouse. I didn't think I'd be posting about it so neglected to take any "Before" pictures, but it was yucky. We've had soooo much rain this spring and summer, the exterior had greenish stuff all over it. I'm not sure if it was algae or mold or what.
Fortunately, it washed off with a bit of scrubbing. I have a feeling I'll be repainting this house in another year or two. When I do, I'll use my exterior house paint. For some reason, the paint that comes on birdhouses never seems to be as good or as durable as my Sherwin Williams Duration. But it's looking pretty spiffy for now, so we'll see how it looks this time next year.
If you need a great focal point in your yard, you'll find this birdhouse available here: Lazy Hill Farms Dovecote. The same design with a shingle roof is available here: Dovecote with Shingle Roof. I have the one with the shingle roof in my perennial garden. Love them both!
I went ahead and cleared out two old nests I found inside the house. Bluebirds nested twice here this past spring/summer. Those two triangular nests at the top of the photo are the ones that were inside the house.
See that little nest at the bottom with 4 eggs?
A bird (not sure what kind) built a nest on the back side of the wreath I placed on my door earlier in the spring.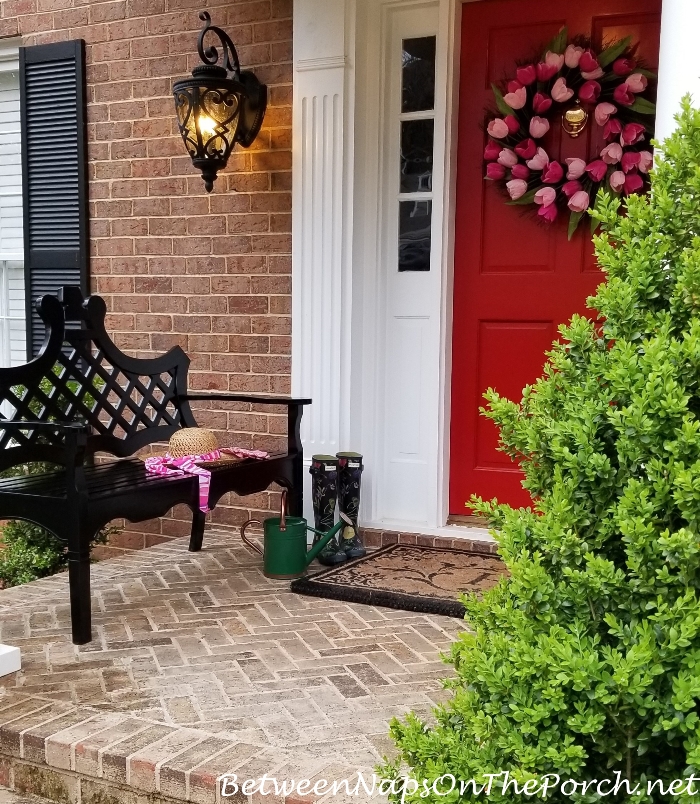 It was tucked right behind the wreath on the left side. I noticed it a couple of months ago when I came out the front door and found a bunch of long strands of some type of straw hanging from the wreath. I never removed the nest, just left it there.
I don't know if the bird who built the nest decided the door was getting opened and closed too much and not a good place for nesting, or what happened. Makes me kind of sad they didn't come back after laying the eggs.
Drying Hydrangea Blossoms
Whenever I happen to post a photo showing dried Limelight Hydrangeas, I always get questions regarding how to dry them. I am definitely not an expect at the art of drying hydrangeas. In fact, the first time I ever tried to do it on purpose, it completely failed. The hydrangeas turned an ugly, yucky brown and I threw them out.
One year I accidentally managed to dry them and didn't know how I did it. I remember Googling when that happened and reading somewhere that successful drying has to do with timing. I would totally agree with that.
The hydrangeas above are the ones that appeared in this tablescape below.
They had just been cut that same day and were very fresh. When I took the table setting apart, I placed the arrangement in the kitchen on my breakfast table and forgot about it. A week or so later I left to visit family for ten days.
When I returned, this was how they looked. They had dried naturally in place. They actually look prettier in person than they do in this photo below.
So the biggest tip I can give you is when drying hydrangeas is to wait until it's very close to the end of the season, or at least until it's toward the end of that particular blossom's blooming time. When I've cut hydrangeas blossoms early in the season when they are new and fresh, they never dry well and just turn brown as they dry out. But if I cut the blooms late in the season after they have turned their final color, in this case, a pretty green since these are Limelight Hydrangeas, they tend to keep their pretty green color as they dry instead of turning an ugly brown.
Again, I'm no expert on how to dry hydrangeas blossoms, but this seems to work pretty well.
Anyone experienced with drying hydrangeas? Would love to hear your tips!
*If a post is sponsored or a product was provided at no charge, it will be stated in post. Some links may be affiliate links and as an Amazon Associate, I may earn from qualifying purchases. *