I'm a bit late doing this, but I wanted to share some of the items I've been using during the month of January that I've really enjoyed–my January Favorites, so to speak. I'm also sharing a few items I just ordered on sale, another I'm about to order that's 30% off and a bag that's come back in stock for spring.
Take the Day Off: Clinique Cleansing Balm
I have really dry skin so I always dread washing my face in the morning since most of the cleansers I've used in the past left my face feeling super dry. Not this stuff! When it first arrived, I was a little taken aback, I'd never used a balm to wash my face. It took using it a couple of times to get used to it, but now I'm sold! It does a great job at removing makeup gently without stripping your face of all its moisture. It's all I use now for washing my face.
You'll find it available here: Cleansing Balm.
A friend (thanks, Susan!) recently shared an awesome sale that's currently going on for these adorable Jack Roger Tartan Boots. They are marked down from $169 to $99. I got another 15% off with the code JR92917. I've used that code twice (once for my boots and once for a bag for my dil) and it worked both times, so hopefully, it will work for you, as well. You'll find these adorable boots here: Boots.
A lot of their sandals are currently on sale, too.
You may remember that the Jack Rogers sandal was the one made famous by Jackie Kennedy who was photographed wearing them a lot back in the day.
I love these cute leopard print ones! You'll find all their sandals and boots on sale here: Shoe Sale.
I talk about this skin cream all the time because it's the only thing that keeps my fingertips from cracking during the wintertime. This is the first year I've not had a single fingertip split open and I totally credit Cutemol for that. I put it on a couple of times a day and it really helps protect. One thing to know: after you put it on, it takes about 10 minutes to dry, so don't put it on when you need to use your hands immediately. It has to have time to work its magic to protect your hands. Also, it only takes a small amount to do the job, so this container will last quite a long time. You'll find it available here: Cutemol.
I have quite a few boots that I wear for winter, including several pairs of rain boots. But on the days when it's not already pouring rain but I know it could rain, these are my go-to boots. They saved my life on a trip I took to Italy when it rained almost every single day except for maybe 2 or 3 days. Seriously, I've never seen so much rain in my life!
These boots are completely waterproof and sooo comfortable for walking in for hours. They always accompany me on every trip I take during the fall/winter months because I know they will keep my feet warm and dry and will be comfortable for walking in all day long. I also wear them several times a week here at home, in fact, I have them on now.
If you don't already own a pair, I highly recommend them. I always purchase them 1/2 size up because they seem to run a tad small, plus I like wearing fairly thick socks with my boots in the fall and winter. You'll find these available here in four colors: Teva Boots. I have them in three of the four colors, but find I wear the black ones the most.
Still loving my Calista hair styling tool. Great for smoothing down those winter frizzies. This goes with me on every trip I take, can't live without it! You'll find it available here: Hair Styling Tool.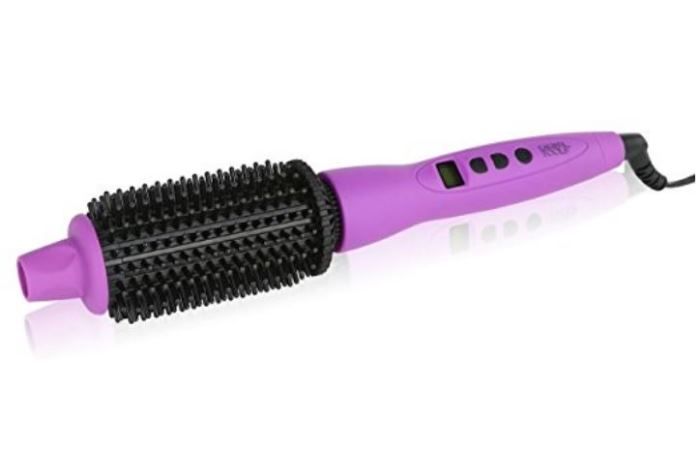 I've been enjoying these two favorite perfumes this month. Chanel Chance Eau Tendre is an old favorite that gets compliments every single time I wear it. Memorize its name because you're going to be asked constantly what perfume you're wearing. Every time I wear this perfume, random strangers, store employees, etc… will ask me what I'm wearing. Anytime I'm going someplace where I'll be around a lot of people, this is the fragrance I choose since everyone seems to love it so much! You'll find it here: Chanel Chance Eau Tendre.
Jo Malone Honeysuckle & Davana.
Jo Malone's Honeysuckle & Davana is a new favorite that I've really enjoyed this year. It's another beautiful fragrance that I love wearing. I alternate between it and Chanel Chance Eau Tendre the most. You'll find it available here: Jo Malone Honeysuckle & Davana.
I purchased this tartan blanket this past Christmas. The rich colors are so pretty and I love that it's all wool. I also love that it comes with a leather strap for carrying it for picnics or road trips. I've really enjoyed using it this winter while working at my desk or reading. It's not at all scratchy, just very cozy. You'll find it available here: Blanket.
A few weeks back I shared about a great sale Tommy Bahama was having on all their summer dresses…they were 50% off! I hope you were able to jump on that sale if you saw a dress you liked. I ordered two dresses during the sale, this one below and another that I am returning since it's too large. (They were out of my size in that dress so I had ordered one size up hoping it would fit, but it didn't.)
Though the 1/2 price sale I previously shared has ended, I noticed today they are having a 20% off sale on the new dresses that are just now coming in for spring and summer. You'll find the sale for their new summer dresses here: Dress Sale.
There are sooo many cute ones! Another thing I really like about Tommy Bahama dresses is the length: they aren't too short like so many of the Lilly Pulitzer dresses. Lilly does make some longer dresses, but you have to really search for those since most on their website are super short. So far, all the TB dresses I've tried on have been the perfect length.
I plan to wear this dress with this pink bag I just purchased a few weeks ago for summer. I've fallen hard for pink handbags over the last two years. For you Louis Vuitton fans out there who don't like really big bags, I can highly recommend the Pochette Metis. It is by far, my favorite bag by LV. Right now it's my favorite bag, period! This bag won't work for those who like a really large bag, but it's perfect if you like a medium size bag. It holds a lot more than you would expect, too!
If anyone is interested in having me share more about the Pochette Metis, let me know and I'll do a post about this bag and what it will hold. I have two of them and I'm seriously thinking about adding one more in another neutral summer color–that's how much I LOVE this bag!
The other bag I will be wearing a lot this summer is this wicker bag I purchased last spring. I got so many compliments on this bag last summer when I wore it out shopping. I was surprised by how many folks stopped me to ask where I got it. It can be worn as a hand-carry or as a shoulder bag since it comes with a shoulder strap. I often wear it that way…with the strap. Update: This bag is back again this year and is available here: Prada Wicker Bag.
Remember the leather glasses cases I shared recently? They had one the perfect shade of pink to go with these bags. If you have a pink bag, you'll find this glasses case here: Leather Glasses Case. Love the pocket on the back for storing a cleaning cloth, credit card or whatever you wish.
Another white wicker bag that I've been eyeing that's a good bit more affordable is this beautiful Brahmin Bag. I have several Brahmin bags that I've purchased over the years and they last absolutely forever. They make beautiful, quality bags!
You'll find this wicker bag available here: Brahmin Wicker Bag.
I love this summer tote! It comes in white and coral but the Lagoon color makes me think of the ocean. You'll find it here: Summer Tote.
Brahmin has too many cute bags for summer for me to share them all, but I am loving the shape of this one. It would be a great bag to carry when you want something that's crossbody and hands-free. I love the size! Plus, there's no need to carry a wallet because it has built-in credit card slots. Just don't forget to put them inside the RFID protector sleeves! You'll find this bag in six different colors here: Brahmin Bag.
Talbots Sale: 30% off a Favorite
Talbots is having a sale that I don't see listed on their website. It's 30% off any one item with the code FEBRUARY. That's good on all their new summer/spring arrivals! You can shop all their new arrivals here: New Arrivals for Spring/Summer.
I love these Sperry Sneakers! They are so cute! I think I may use the coupon to get these, although I have a similar pair by Superga. I have quite a few pairs of Sperry shoes and boots and they always fit beautifully and are so comfortable! These sneakers are available here: Sneakers
On second thought, I think I may use the 30% off code on this pair of French Rose pink jeans. I LOVE the color…are they not just the perfect shade of pink! You'll find these available in their regular fit and their curvy fit (which is what I wear) here: Pink Jeans.
As I do some shopping online today for summer clothing, if I find a good sale, I'll come back and add it to the end of this post. Love this time of year when the new spring clothes are coming in!
*If a post is sponsored or a product was provided at no charge, it will be stated in post. Some links may be affiliate links and as an Amazon Associate, I may earn from qualifying purchases. *