Welcome to the 275th Metamorphosis Monday!
I love, love, love how the days are getting longer. Okay, the days aren't really getting longer but you know what I mean. The daylight is staying with us more and more and I just love it!
With more daylight hours for playing, it's time to get out there and spruce up our outdoor spaces and that's exactly what Mary and Dave from Front Porch Ideas and More did with their porch.
Mary's sharing her spring porch makeover today and I know you're going to love it as much as I did! Here's Mary to fill you in on all the details.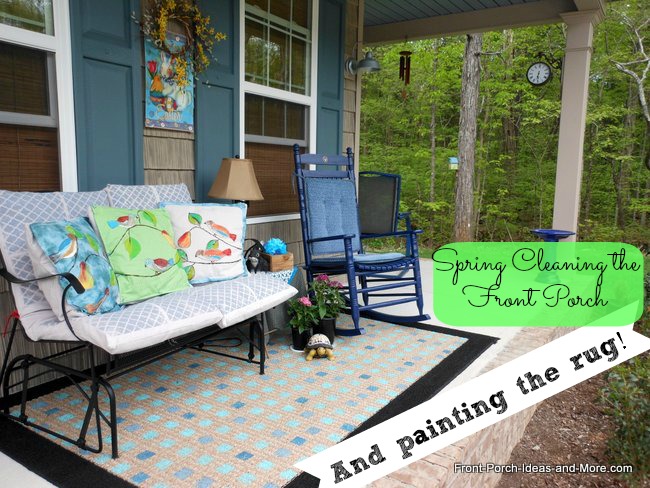 Dave and I are quite honored to be sharing our porch here at BNOTP, a friendly community of seasoned porch lovers! Susan is, of course, a true porch lover and so we take great pride in showing off our cottage-style porch with each of you on this Metamorphosis Monday. As porch lovers, we can all appreciate small tweaks that make our porches great getaway spaces.
Along those lines, we just gave our porch a good spring cleaning. Our porch was covered with yellow pollen, dust and leftover dirt and leaves from the winter. Although spring cleaning can be a little boring perhaps, I found two silver linings.
The first silver lining is the great feeling you get when you really give a room a good cleaning. Yes, I consider our porch a room.
The second silver lining was the makeover we gave our porch rug. When we bought our rug last year, I knew it was plain, maybe even a little on the blah side. I decided that while I was spring cleaning, it was a great time to give it some extra color to jazz it up.
So I decided to paint a pretty check pattern on it to give it a mini makeover. By the time I was all done, our porch was not only sparking clean and fresh, but more colorful and inviting, too. Let me walk you through the steps we took to not only clean our porch, but also to transform our plain rug into something brighter and more cheerful.
First, I vacuumed the porch rug and removed the furniture from the porch – the tables, chairs and pots. Shhh, please don't tell anyone that our rug is not the outdoor variety. We have an outdoor area rug on our back porch and honestly, I cannot tell the difference between the two. Can you?
Next I swept off the porch as best as I could to remove the leaves and dirt from the winter as well as the cobwebs. Then I used our power washer to hose down the porch floor. If you don't have a power washer, a hose would do fine, too. Always test your power washer to be sure it's not too strong for your porch floor.
Then I washed the front windows to make them sparkle again and I also gently washed down the furniture with a bucket of warm soapy water. I let it all dry for a few hours.
Meanwhile, I took the rug upstairs to my craft room to get it ready to be painted. I decided upon painting a checkered pattern on the rug. So, not having a stencil (and later realizing I could have rather easily created one), I used duct tape to tape off rows both horizontally and vertically to make a checkered pattern.
Yes, the process was easy but I will admit it was a little tedious to apply the duct tape. Our rug is 5 ft by 8 ft and I used a big roll of duct tape on it for the masking. Once the tape was on the rug, then I began sponging the checks with just a section of an inexpensive sponge and a bit of blue paint. I was careful not to put too much paint on the sponge as I did not want any paint to seep under the duct tape.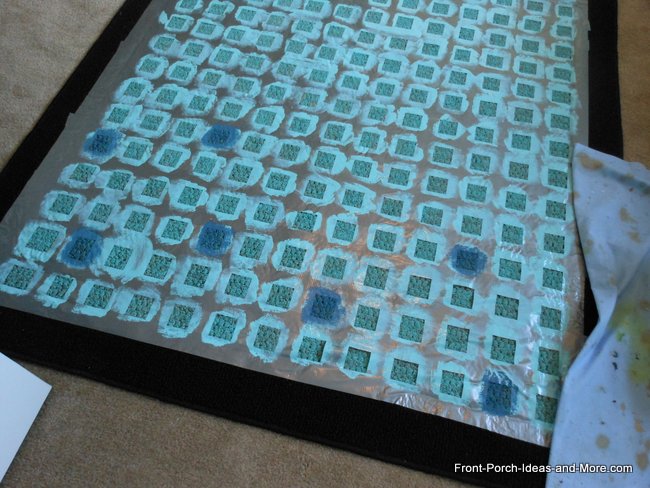 At first I planned on all the checks being the same color, light aqua blue. However, the closer I got done with sponging the paint on, I wondered how it would look with more than one shade of blue. Looking in our paint cabinet I found two more shades of blue that would work. So I got busy sponging on those other blues in random places.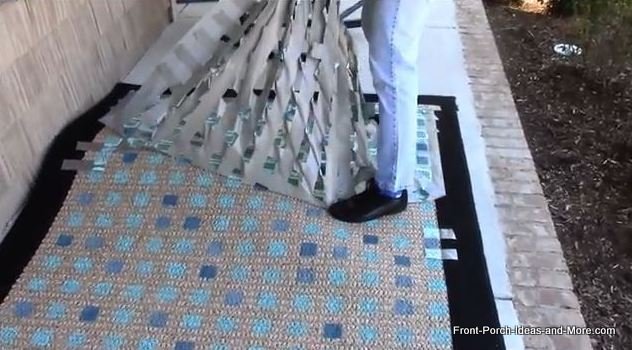 After the paint dried, I moved the rug back to the porch. The most fun part was pulling up the duct tape and seeing the results. Had I not rolled up the sticky duct tape into a ball, it was kind of like artwork itself.
Both Dave and I were very happy with the results. Using more than one color of blue makes the rug more visually interesting, colorful and lively. I could have just painted part of the rug, such as the outer border or a stripe across either end. Just imagine the patterns you could do – plaid, stripes, diamonds, polka dots or basket weave. Endless possibilities.
By the next day, we had our porch back together and how good that felt. The porch was clean and inviting and our newly painted rug was a bonus. In looking at our photos, I am surprised at how much brighter our rug looks with its new blue checkered pattern. That was a project I would enjoy doing again!
Thank you for visiting our porch today and remember to make your porch happy this spring with a good cleaning and sprucing up. It puts a fresh spin on your home and is guaranteed to put a smile on your face. Dave and I would love to have you stop by our porch decorating section to get ideas for your perfect porch.
Looking forward to all the Before and Afters linked for this Met Monday!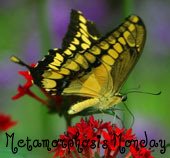 If you are participating in Metamorphosis Monday, you will need to link up the "permalink" to your MM post and not your general blog address. To get your permalink, click on your post name, then just copy and paste the address that shows up in the address bar at the top of your blog, into the "url" box for InLinkz.
In order to link up, you'll need to include a link in your MM post back to the party so the other participants will have an opportunity to receive visits from your wonderful blog readers.
Please observe these few rules:
Only link up Before and After posts that are home, gardening, crafting, painting, sewing, cooking, DIY related.
Do not link up if you're doing so to promote a website or product.
Do not link up a post that was just linked last week since a lot of readers will have already seen that post.


*If a post is sponsored or a product was provided at no charge, it will be stated in post. Some links may be affiliate links and as an Amazon Associate, I may earn from qualifying purchases. *