Welcome to the 661st Metamorphosis Monday!
It's always dangerous when I start a new project. Usually, I start out thinking that it's going to be a gradual process, something I'll be working on for a while. Then before I know it, I want to see it completed. Right now! Once I get a vision in my head, I can't seem to put the brakes on or slow down. Anyone else have that problem when starting a project?
Recently I shared an Ikea Hemnes bookcase I had just assembled and added to the room where I store my smallish collection of handbags. I wanted this bookshelf for the sole purpose of storing fashion-related books. I've had so much fun the last couple of weeks adding to my existing collection of fashion-themed books and playing around with how to display them in this bookcase. So far the Hemnes seems to be holding up well under the weight of the books without any bowing or sagging, unlike my Billy Bookcases in my office. So happy the Hemnes is living up to its reputation of being much sturdier!
Here's how I'm filling the bookcase so far: The top shelf is filled with books I've had for a few years, including one I received as a gift from my daughter-in-law this past Christmas.
If you are a handbag lover and you're looking for a light-hearted read, I can definitely recommend the book, Bringing Home the Birkin. It had me laughing out loud in several places and I had a hard time putting it down. I wish they would make a movie about it–I think it would do well and be hilarious especially with all the buzz going on around the Hermes Birkin bag these days. (Book is available here: Bringing Home the Birkin.)
Paris Hotel Stories is another book I already had prior to purchasing the bookcase. I removed the cover from my copy since I purchased it "used" and the cover was a bit tattered. You can read more about this book here: Paris Hotel Stories.
The little bag sitting on top is a Mary Frances bag. Are you familiar with her bags? I used to drool over them whenever I walked through the Neiman Marcus in Atlanta but most were a bit too fanciful for my lifestyle. One day I came across this one at Mary Frances online and knew I had finally found my bag.
I've used this bag many times for evenings out with friends and it's perfect for that. I love all the little details, including the little twist opening with the diamond-like crystals.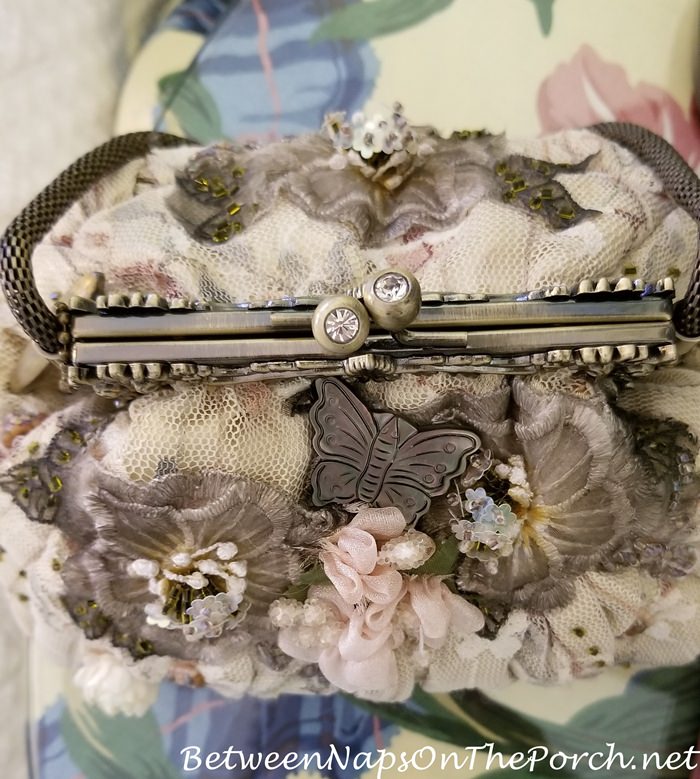 The inside is truly a Mary Poppins bag! It opens up a lot wider than this photo shows–I just couldn't open it and take the photo at the same time. It's amazing how much it will hold! Mary Poppins bags are always very deceiving. lol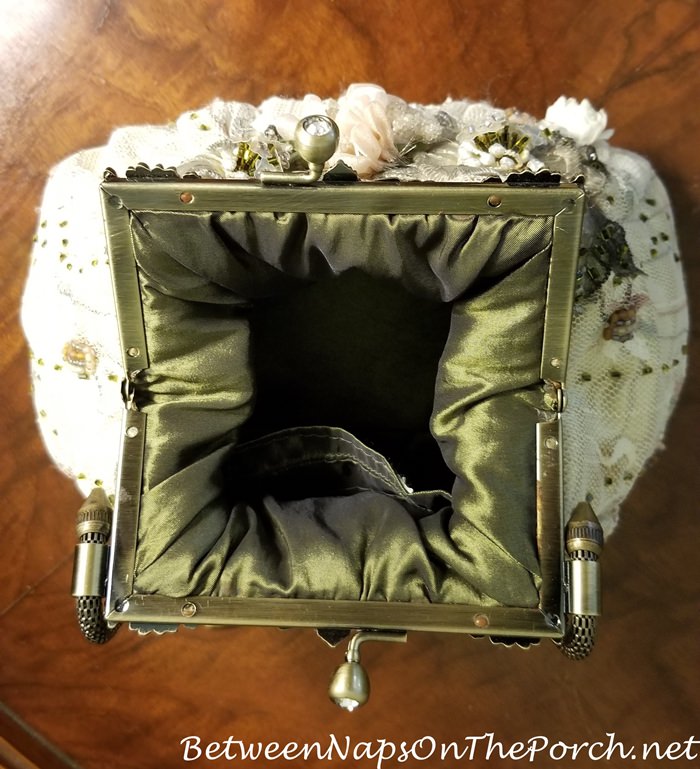 Since this little bag tends to get lost in my handbag cabinet, I thought it looked pretty displayed here on the bookshelf. On the shelf below you'll see a photograph I just purchased.
Have you ever heard of Prada Marfa? Prada Marfa is a permanent "sculptural art installation" that was created in the middle of the desert in Marfa, Texas back in 2005. It's supposed to resemble a Prada store. Can you just imagine zooming down the highway through the desert with nothing else around for miles and suddenly there's a Prada Boutique?! Ha! I love the pure silliness of that!
Unfortunately, vandals graffitied the outside of the building and stole all the bags and shoes the very first night after the installation was unveiled. The thieves got away with six handbags and 14 right-footed shoes. What do you do with 14 right-footed shoes? The sculpture/building was repaired immediately and seems like I remember reading that they cut the bottoms out of all the handbags they put back inside the building to deter any future thefts. I think they also glued everything down.
Prada Marfa has become quite the tourist attraction with people stopping by to have a photo taken in front of the building. You'll find several articles and videos about it online and on YouTube. I've always wanted to visit to see it in person. Doubt I'll ever make it there but I thought it would be fun to have a photo of the installation for my fashion bookshelf. Have you ever visited Prada Marfa or the town of Marfa?
After a lot of searching online, this was my favorite photo of Prada Marfa. I love how it looks lit up in the evening. It was available in several sizes and I went with the 5 x 7-inch size so it would easily fit on one of the shelves. I really love the canvas-like surface the photo was printed on. Excuse the shadow across the right corner, that's not actually on the photo. (Photo was purchased here: Prada Marfa.)
Next, I went in search of whimsical "bookends" for this bookshelf and couldn't find anything that was fashion-themed. I searched online to see if perhaps someone had created a high heel shoe bookend. I didn't find any that I liked but I did come across this adorable Cinderella glass slipper. The Rodgers and Hammerstein version of Cinderella was one of my most favorite movies growing up–it and The Wizard of Oz.
I love the whimsy (and the fond memories) this glass slipper adds to the shelves. If you need a Cinderella glass slipper in your life, you'll find it available here: Cinderella's Glass Slipper. It's also available in other colors here: Cinderella's Glass Slipper.
The books on display beside and under the slipper are all by the author/illustrator, Megan Hess. I absolutely love her fashion drawings! I would love to be able to draw like Megan–her fashion illustrations are so elegant and whimsical! Check out her books and read the wonderful reviews here: Coco Chanel / Iconic / Paris / Elegance / New York / The Dress.
Moving on down the bookcase, you'll find the following books in this collection: Louis Vuitton / Ralph Lauren 50 Years: Revised and Expanded Anniversary Edition / Ralph Lauren: In His Own Fashion / Dior and His Decorators / Chanel / The Hermes Scarf / Louis Vuitton City Bags. (Click any book's name to read more about that particular book.)
I already owned several of these titles and can very much recommend them if you are a fan of any of these designers and would love to read more about their history and designs. Lots of eye candy in all of these!
On the next shelf, you'll find the following books on the left: The Handbag / Handbags: The Making of a Museum / The Secret History of the Handbag. The white, skinny books are all by Megan Hess. I think they were originally written as children's books but they seem more appropriate for handbag, fashion-loving grown-ups to me–kinda like luxury-fashion, fairytale books. Again, the illustrations are wonderful! These books can all be found here: Claris Books by Megan Hess.
The pink Champagne Please bell was purchased here a few years back: Champagne Please! Not sure if it's still available.
On the right side of this shelf, you'll find my collection of "Catwalk" books. These are a must-have for anyone who is a fan of one of these fashion houses. I love all of these and I'm looking forward to the release of the Versace Catwalk book in November. I will continue to collect these as long as they are being made. They are eye-candy from the first page to the last!
You'll find all the Catwalk books available here: Catwalk Books. Louis Vuitton / Yves Saint Laurent / Chanel / Prada / Dior / Vivienne Westwood. The Versace is available for pre-order here: Versace.
In the middle of the shelf, I displayed the pretty Dear Paris, The Paris Letters Collection book I recently shared in this post: A New Bookcase (and Bookcase Picture Light) for the Guest Room. You'll find this beautiful book here: Dear Paris.
I just noticed that I never took photos of the next to the bottom shelf where I have my very small collection of books about Tiffany & Co. I will take a photo of that shelf and add it to this post later today.
Update: If you love Tiffany & Co jewelry, you'll enjoy these books. Actually, Tiffany offers a lot of other great products, too–like their pens and leather bags, too. Their leather is sooo luxurious, incredibly soft. I have one of their totes and it's a favorite of mine to use at home and when I travel.
I never realized how much joy this little bookshelf would bring, but I have so enjoyed the process of hunting down the best books about my favorite fashion houses. There are still 2-3 books I hope to add to this collection in the future, but they can wait for now since the shelves don't feel quite so empty as they initially did.
After the stressful period we've all lived through the last couple of years, this little project has really lifted my spirits. It has been so nice to focus on something fanciful and beautiful for a bit. Books are such a wonderful way to escape for a few minutes each day. Just give me a few books and some puzzles and I'm happy! A great handbag always works, too! 😉
Do you have a favorite fashion house? Have a great fashion book you would like to recommend?
Looking forward to all the great Before and Afters linked for this week's Metamorphosis Monday!
Pssst: Did you know Between Naps On The Porch is on Instagram? You'll find me on Instagram here: Between Naps On The Porch.
Like to know when a new blog post is up and available to read? Subscribe for email updates, it's free and your email will never be shared.
Subscribe for free post updates via email here: Subscribe.
Metamorphosis Monday
Metamorphosis Monday is a party that's all about Before and Afters. Please link up your Before and After projects like DIY projects, room makeovers, craft projects even recipes. Any Before and After is great! Please do not link up Table Settings, save those for our Tablescape Thursday party on Thursday.
If you are participating in Met Monday, please link up using the "permalink" to your MM post and not your general blog address. To get your permalink, click on your post name, then just copy and paste the address that shows up in the address bar at the top of your blog, into the "url" box for InLinkz when prompted.
In order to link up, you'll need to include a link in your MM post back to the party so the other participants will have an opportunity to receive visits from your wonderful blog readers.
This party has ended, click button below for the links to all who participated.
*If a post is sponsored or a product was provided at no charge, it will be stated in post. Some links may be affiliate links and as an Amazon Associate, I may earn from qualifying purchases. *