Welcome to the 518th Metamorphosis Monday!
Happy New Year to you! Any exciting plans for New Year's Eve?
I have something I just discovered that I'm super excited to share with you for this week's Metamorphosis Monday! Over the past 20 years, I've collected or have been given as a gift, several pieces of silver jewelry. Some jewelry, like the silver jewelry from Tiffany & Co., comes in a little protective storage bag that works quite well at preventing tarnish between wearings. However, the bad thing about keeping silver jewelry inside tarnish-free bags is you can't see it. Plus, for me, it's often "out of sight, out of mind."
Over the years, I've gotten pretty good at "feeling" the little storage bags and guessing what's inside, but it's time-consuming to go through every bag feeling each one to try and decipher what's inside. Also, I'm sure I don't wear my silver jewelry as much as I would if it were visible when I'm choosing jewelry for the day/occasion.
Recently, I was searching online in hopes someone had invented a jewelry box lined with silver cloth similar to the special cloth used to lined silver chests for the storage of silver flatware. I wasn't able to find a jewelry box (why hasn't someone invented that yet?!) but I did find something very interesting. Hagerty, the company that makes my favorite silver polish…
…came up with a solution for the storage of silver jewelry! I ordered one of these silver jewelry storage bags about a week ago and had it shipped to Ohio where I'm currently visiting family for the holidays. It arrived and I couldn't wait to try it out with the silver jewelry pieces I brought along with me on this trip.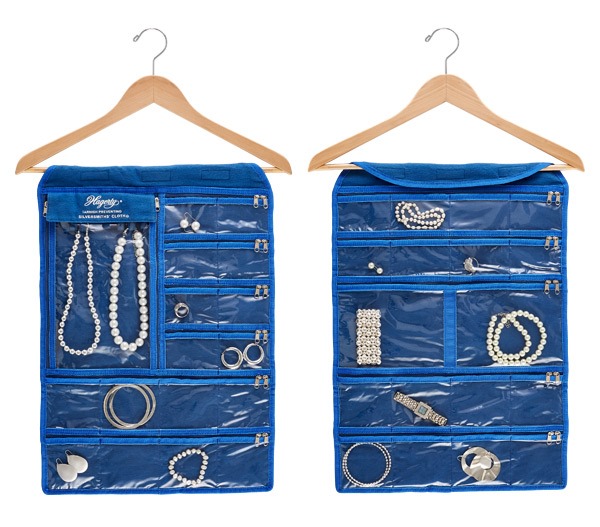 Below on the far left, I used two of the eight necklace tabs to store two necklaces. The little silver/enamel key necklace on the right was a souvenir I purchased before flying home from Germany last Christmas. The heart & key necklace hanging beside it was a gift from my son for Mother's Day one year.
Further down, you'll see three silver and enamel bracelets, including a charm bracelet I love wearing year round, especially during the Christmas season since I've collected quite a few Christmas charms over the years.
One pocket is storing a shorter chain I brought along in case it was needed for one of the necklaces.
Here's how the other side of the bag looks–so many storage pockets! This silver jewelry keeper will hold a lot of silver jewelry, including some large pieces. The top of the bag is designed to hang via velcro on a hanger or something similar for storing away.
Additional info enclosed with the keeper:
35 zippered pockets
Made with Hagerty Silversmith's Cloth with R-22 tarnish preventative
Attaches to any hanger
Folds flat (15″ x 8″) to fit a standard-size safety deposit box or carry-on travel bags
Necklace storage incorporates hooks and loops to keep varying lengths and styles secure & tangle-free
View jewelry easily on both sides of keeper
If you've been struggling(like me) to find a good storage system for your silver jewelry, you'll find this silver jewelry keeper where I purchased mine here: Anti-Tarnish Silver Jewelry Storage. It appears to be on sale now; I don't think it was on sale when I bought it a week or so ago.
I'm very optimistic this system will work well for keeping my silver jewelry tarnish-free because of the success I've had with other Hagerty silver-cloth bags I've purchased over the years for storing silver serving pieces. The Hagerty bags have worked great for those pieces, so I'm excited to use this system for my silver jewelry collection, as well.
Looking forward to all the fabulous Before and Afters linked for this week's Metamorphosis Monday!
Pssst: I post almost daily to Instagram. Follow Between Naps on the Porch on Instagram here: Between Naps On The Porch.
If you enjoyed this post, subscribe for free email updates when a new post is up here: Subscribe for post updates.
Tip: If possible, please do not use a Hotmail e-mail address to subscribe. Hotmail's servers are notorious for filtering out perfectly good emails. Also, it helps if you add my e-mail address, [email protected] , to your "contacts." That will help emails get through to your Inbox and not be filtered out by your email service provider.
Metamorphosis Monday
Metamorphosis Monday is a party that's all about Before and Afters. If you are participating in Met Monday, please link up using the "permalink" to your MM post and not your general blog address. To get your permalink, click on your post name, then just copy and paste the address that shows up in the address bar at the top of your blog, into the "url" box for InLinkz when prompted.
In order to link up, you'll need to include a link in your MM post back to the party so the other participants will have an opportunity to receive visits from your wonderful blog readers.
Feel free to link up Before and After posts that are home, gardening, decorating, crafting, painting, sewing, cooking, fashion, travel or DIY related.
Be sure to include a link back to the party in your post, so your readers will be able to find and visit the other bloggers who are participating.
Do not link up to the party if you're only doing so to promote or sell a product.
To those linking up, if you notice a shop or online store linking up to sell products (yes, unfortunately, that happens) please let me know so I can remove their link and block them from participating in future parties. No one wants to visit a link expecting a Before and After, only to find a spam link to an online business/store.
*If a post is sponsored or a product was provided at no charge, it will be stated in post. Some links may be affiliate links and as an Amazon Associate, I may earn from qualifying purchases. *