Now that's a strange twist, isn't it–blogging about projects I'm not going to do instead of a project I plan to do. lol This topic is fresh on my mind right now because I just got back from visiting a large, hardware store near my home. I was there to scope out a project I was considering doing but have decided against.
Once I get an idea in my head, it's really hard for me to let go. But I've learned over the years that if the cards aren't lining up as they should, I need to just back away and be patient. "Not every project I dream up has to be implemented right then," says my practical side. "But, but, but," says my emotional side!
Today I'm sharing 5 projects or ideas I've thought about doing here in my home, but ultimately decided against. Then I want to hear what projects you've considered but ended up nixing and why. Maybe I should have called this post, "Crushed Dreams." A little too dramatic? 😉
Project 1: Add Hardwood Flooring To My Back Staircase
I have a bonus room or FROG in the upstairs part of my home. It's the only room I have not added hardwood flooring to, yet. I do plan to add hardwood flooring here one day, but I've decided (at least for now) that I'm not going to hardwood the back staircase. The back staircase is to the right of the window seat.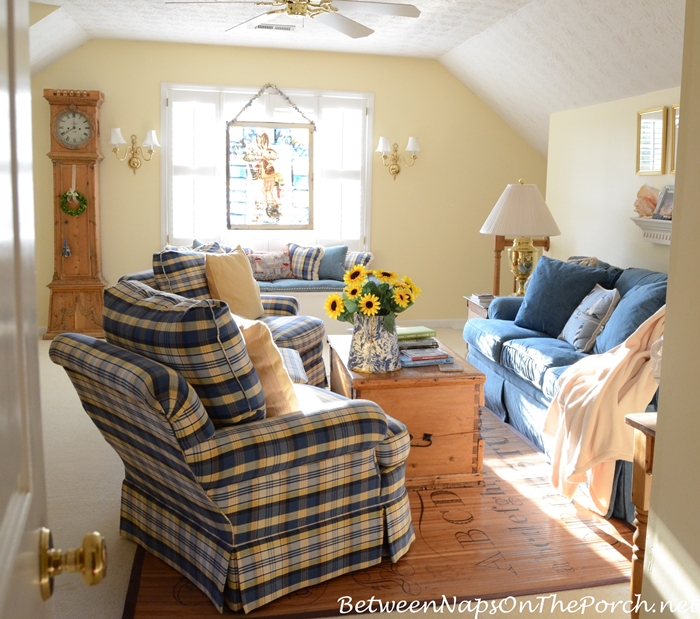 Of course, there's always a chance I'll change my mind when the day comes, but from talking with my hardwood flooring guys, it sounds like most folks remove the carpet and stain or paint back staircases. However, one thing he did mention that I should probably consider is this thing called a hardwood step cover/overlay. It fits right over a regular step, then you just paint the risers. I Googled and found something like what he described here, Step Overlay.
So I'll take a look at that when the time comes. But for now I'm thinking I'll probably just stain or paint the pine treads since this is a back staircase and not the main staircase. Take a look at some of the fun ideas I've come across for staircases on a Pinterest page I created a while back here: Staircase Ideas
What would you do? By the way, if you live in the Atlanta area, I can't say enough good things about A.L. Thomas. They are the only people I trust to do my hardwood flooring. They are excellent!
Project 2: Open Up The Other Side Of My Front Stairway
I've always wished my front staircase was open on both sides, instead of just on one side. Basically I wish the wall with the pictures, didn't start until around the 5th step.
If that side were open the way it is on the right, as you stood here in the entrance to my home, you would be able to see into the dining room. . I had to lean way over toward the wall to take this photo, so imagine with the wall cut away. I think it would make for a pretty view with the mirror and the chandelier
Also, it would make the staircase and the entrance feel more open. I don't really care for a completely wide-open interior, the kind I so often see created on the Property Brothers show. I know I'm in the minority on that. But I do like a more open staircase and love seeing hints or little peeks into other rooms. If I were to do this project, I would move the grandfather clock to another wall in the entry. I like it here for now because you see the face/front of the clock from every angle passing through the entry, including as you enter through the front door.
The reason I'll probably never open it up is because I'm pretty sure it would be very expensive. I'm not sure the benefit would outweigh the cost. It would most likely involve rebuilding the lower section of the staircase. That may also be a load-bearing wall, so not sure it could even be done. But I would love it!
Project 3: Install A Mini-Fridge In The Office Closet
Okay, this is cheating a little because it's not really a project, although it would involve having another electrical outlet installed. It's something I've thought about lately but decided it wasn't worth the risk.
I've been seeing these adorable, little, retro refrigerators on Amazon like this cute Blue Igloo Compact Refrigerator that's just 1.6 cubic feet in size. It's also available in a bright red. (Igloo refrigerator is available here: Igloo)
I thought it would be kinda fun to have one here in the office closet, stocked with water or other favorite drinks. You know, it's just soooo far to walk down the stairs to the refrigerator in the kitchen. 😉
Apparently, retro refrigerators are popular now because there are quite a few available online, even purple ones! I loved this cute, mint-colored Daewoo that's just 2.8 cubic foot. (Daewoo is available here: Daewoo Refrigerator)
Pottery Barn even has them in pink, green and silver. (PB refrigerator is available here: PB refrigerator)
So why did I change my mind? I'm afraid it might one day leak and damage my hardwood floors in the closet or office. Even though most of these refrigerators do not have freezers, I'm concerned that one could still leak somehow. Does anyone know if these refrigerators do that sometimes? Since I'm not sure, I decided to forget that idea.
Project 4: Turn My Dressing Room Into A Deluxe Master Closet
I've sometimes dreamed of turning the dressing area off my master bedroom…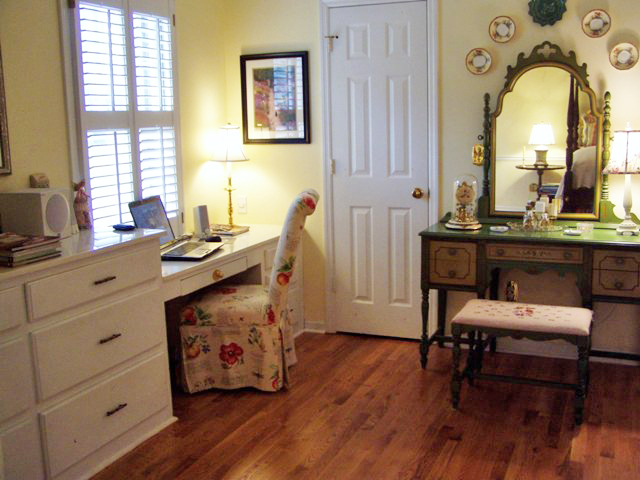 …into a closet space something like this, but with mostly hanging space all the way around.
You may remember from a previous post I shared back in 2013, (If These Walls Could Talk, A Mystery Alcove) this room used to be a bedroom. A previous owner of my home closed off the doorway leading in from the hall and added two more closets…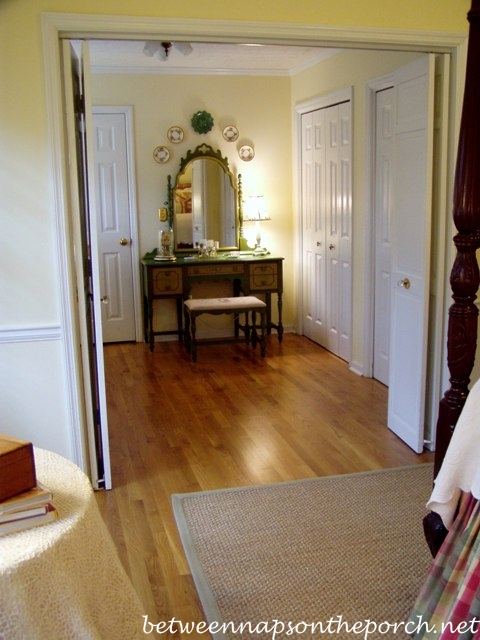 …and built-in drawer space and dresser, turning this bedroom into a big dressing room for the master. I doubt I'll ever revamp it into a full-blown closet because when/if I one day sell my home, the next family who lives here may wish to revert it back to a bedroom. They could just rip out the extra closets and built in drawers/dresser, reopen the doorway to the hall and wall back up the opening leading into the master. Or, they may even want to leave the opening and turn the room into a nursery.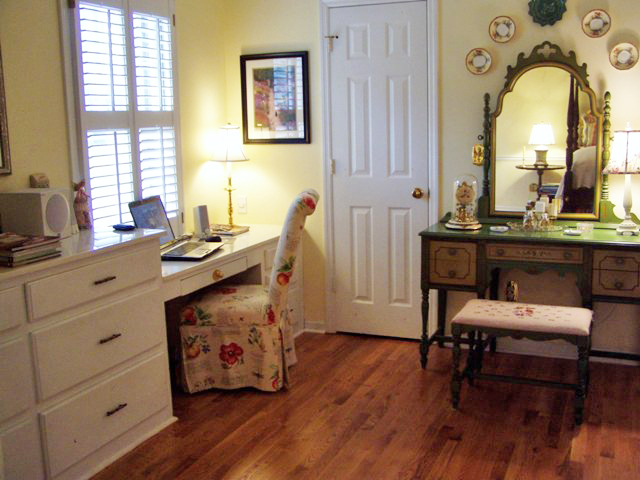 Project 5: Add Cabinet Storage In The Garage
The fifth project I'll probably never do is add additional storage to my garage like these tall storage cabinets I saw in a local hardware store this morning. I was seriously thinking of adding five of these down a wall in my garage. I have a really wide garage and the wall is long enough to easily hold five of these cabinets.
But it would cost close to $1,000 for five and it bothers me that the backs are just cardboard. The shelves will supposedly support sixty-five lbs each, per an answered question I saw in the reviews, but when I saw them in person today, they didn't look like they would support that much weight.
I would still be tempted to use them if I knew for sure the shelves would hold 65 lbs, but they didn't sound like much fun to put together from reading the reviews. Also, the front base across the bottom was broken on the one I saw in the store, not what you want to see when shopping for a product.
Even if I never do any of these projects, I hope by sharing them it will spark some ideas for your home.
So, please share, what projects have you seriously thought about doing in your home or garden, but then changed your mind, or at least postponed them until another day?
*If a post is sponsored or a product was provided at no charge, it will be stated in post. Some links may be affiliate links and as an Amazon Associate, I may earn from qualifying purchases. *