Welcome to the 674th Metamorphosis Monday!
I hope you're having a great holiday season. I feel like this period between Christmas and New Years is just one long, extended holiday, a time for slowing down a bit and making plans for the coming year. Today I'm sharing one more change I have in mind for my bedroom for 2022–actually, I started planning this change last May but it's just taken me a while to get more serious about moving forward.
The change I have in mind is a change of wall color for this room. If you've been reading BNOTP for while, you know I love this soft yellow that I've used in several rooms of my home. The color is Sugar Cookie and it's an older Duron color.
I still very much love it in my home office…
…my entry…
…and my kitchen. I have no plans to change it in any of those rooms.
But I think I'm ready for something different here in my bedroom. I like Sugar Cookie more in the summertime with my summer bedding than I do this time of year with my winter bedding.
I would also be removing the chair rail. The chair rail was initially installed back in the day when I had wallpaper on the upper half of this room with paint below. I've lived here for 31 years now so this room as seen a few changes through the years.
I feel like the chair rail is an unnecessary break in the flow/height of the wall now and just doesn't add anything. Since I'm thinking of going with a new paint color, this seems like a good time to remove it.
As mentioned, I've been thinking about changing the wall color for a while now–adding dark green draperies to this room recently has spurred me on to make that change. I'm just not loving the green with the yellow. Most of the time the yellow looks very pale and neutral, but at times it can appear more yellow, especially now that it's contrasting against the drapes.
I've been doing a bit of research into light, neutral colors. I plan to carry whatever color I choose right out into the upstairs hallway, another area where Sugar Cookie can look really yellow since there are no windows in this hall. (The trunk is no longer in this spot waiting to be moved–I've placed in the upstairs living/bonus room for now.)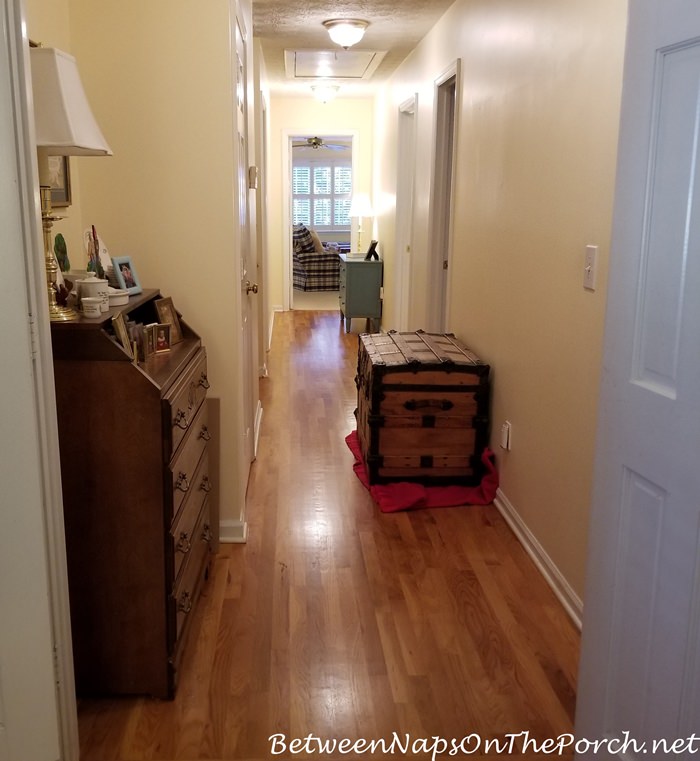 This Benjamin Moore color called Edgecomb Gray is a really popular neutral that I've seen used all across Blogland. Have you ever heard the word, greige? I've often heard of it but didn't exactly know what it meant. Apparently, it's a word to denote any color that's a combination of Gray and Beige. I'm not a big fan of gray walls, they always feel a bit depressing to me and a bit too cool, but I do like a soft taupe color, especially when it's contrasting against white trim. This Edgecomb Gray may be a bit darker than I have in mind, so I'll definitely get a paint sample to try on a large piece of poster board before deciding if it's THE ONE.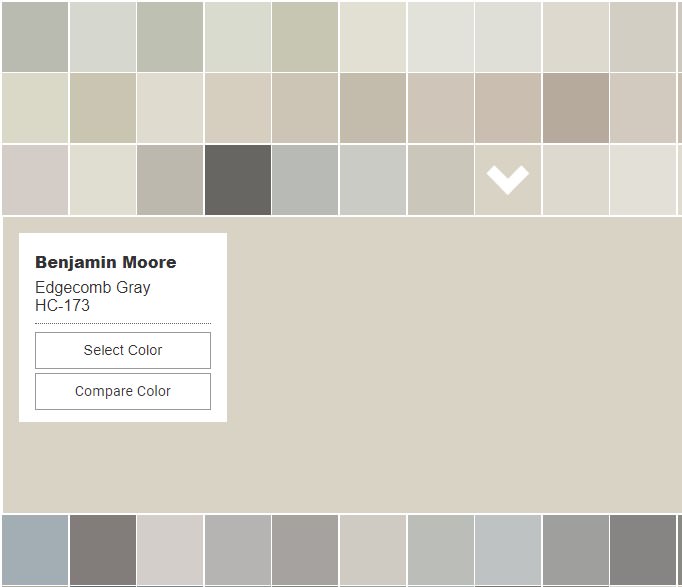 Two more colors I'm considering that are a bit lighter are Pale Oak…
…and Winds Breath. Pale Oak is lighter than Edgecomb Gray and Winds Breath is lighter than Pale Oak. Have you used any of these paint colors in your home, and if so, how did it turn out? I wonder if Winds Breath and Pale Oak are moving toward looking too gray. I definitely don't want gray walls in this room.
Here's a great site for comparing a lot of Benjamin Moore neutral paint colors: Neutral Paint Colors. At that site, just click on the color you're wondering about and it will enlarge so you can compare it to the other surrounding colors. I really like how they've made it so easy to compare and contrast the various colors. Update: Check out the comments section for a few more colors I'm considering, like Sandy White or some of the brown/beige tones. Oatmeal is one to consider, too.
In addition to being a nice backdrop for my fall/winter bedding…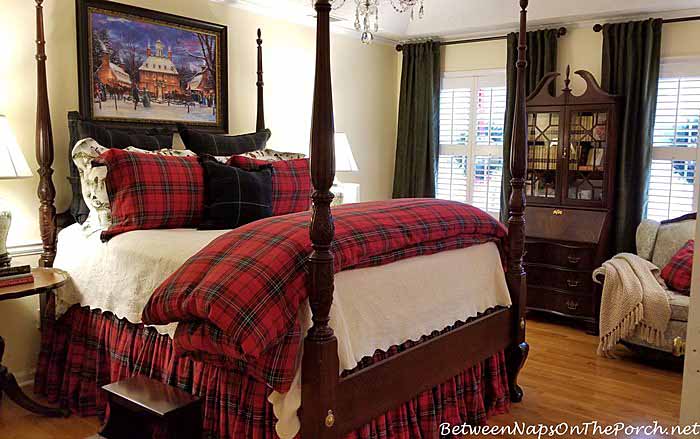 …I think a light taupe will work well as a backdrop for my spring/summer bedding. That bedding actually has a similar color already in the design. Changing wall color makes me nervous, so I'm not going to rush into choosing a color.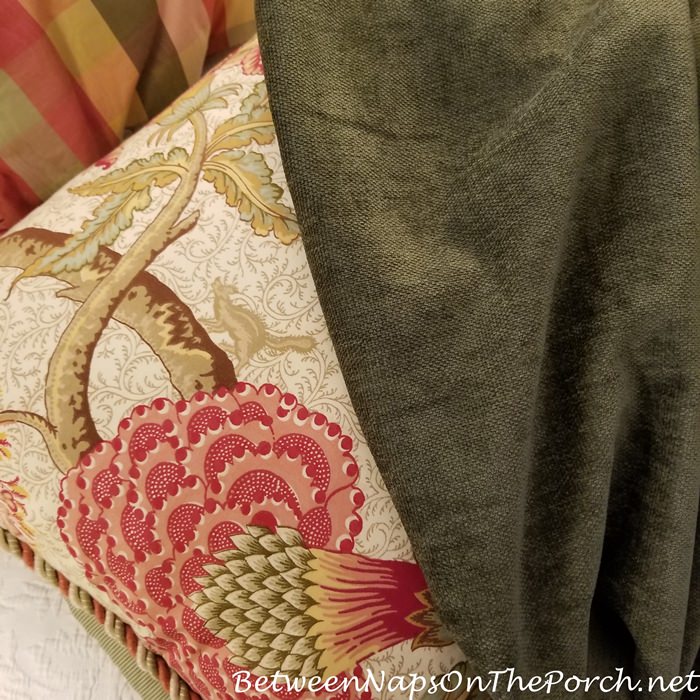 By the way, if you're looking for a great trim color, be sure to check out the trim color Architech, Patrick Ahearn uses in all his homes. It's a gorgeous color! I'm going to have a sample mixed up and compare it to my plantation shutters to see if it will work for the trim in my bedroom and throughout my home. Patrick shares his secret to getting his favorite trim color here: Ahearn White: Paint Secrets Revealed. Hint: It's a combination of two Benjamin Moore colors: China White and Linen White. You'll find a bunch of photos of how Ahearn White looks in many different settings in that article, as well as Patrick's favorite kind of BM paint when having it mixed.
Patrick has written a book that I really want to add to my decor library. I love his classic, timeless designs–it would be a dream to have a home designed by him! You'll find his book here: Timeless: Classic American Architecture for Contemporary Living.
Also, you'll find plenty of drool-worthy renovations and new homes that he's designed on his Instagram page here: Partick Ahearn Architect. I love how he generously gives away all kinds of architectural tips, designs, and recommendations on both his Instagram page and his Youtube channel. I really enjoy following him in both places!
So what do you think about my plans to change my wall color in the master bedroom? Do you have a paint color that you would recommend for that room? I would love to hear your thoughts and recommendations!
Looking forward to all the great Before and Afters linked for this week's Metamorphosis Monday!
Pssst: Did you know Between Naps On The Porch is on Instagram? You'll find me on Instagram here: Between Naps On The Porch.
Like to know when a new blog post is up and available to read? Subscribe for email updates, it's free and your email will never be shared.
Subscribe for free post updates via email here: Subscribe.
Metamorphosis Monday
Metamorphosis Monday is a party that's all about Before and Afters. Please link up your Before and After projects like DIY projects, room makeovers, craft projects even recipes. Any Before and After is great! Please do not link up Table Settings, save those for our Tablescape Thursday party on Thursday.
If you are participating in Met Monday, please link up using the "permalink" to your MM post and not your general blog address. To get your permalink, click on your post name, then just copy and paste the address that shows up in the address bar at the top of your blog, into the "url" box for InLinkz when prompted.
In order to link up, you'll need to include a link in your MM post back to the party so the other participants will have an opportunity to receive visits from your wonderful blog readers.
This party has ended, click button below for the links to all who participated.
*If a post is sponsored or a product was provided at no charge, it will be stated in post. Some links may be affiliate links and as an Amazon Associate, I may earn from qualifying purchases. *