A while back Alda left this comment on a post.
Will be watching too for your favorite Christmas shirts for your grands. I purchased the Dino shirts last year you shared, and my littles LOVED them . Can't wait to see what you find for boys are hard to find cute shirts that are classics.
Alda, I'm sorry it's taken me so long to pull this post together, but it's finally here. Here are just a few of the fun Christmas shirts I've found available and most, if not all, are on sale. Unfortunately, the sale for most of these items ends at midnight, but hopefully, you'll see this if you're still looking for those shirts.
I love this Santa Dinosaur shirt that changes colors when you swipe your hand over the dinosaur. My grandsons have a few of these types of shirts and they love them! This one is on sale here: Santa Dino.
Another super cute one that's not just for Christmas…it's on sale here: Long Sleeve Dino Soccer Shirt.
This one was available last year and I bought it for my grandsons. It's back again and available here: Tree Rex.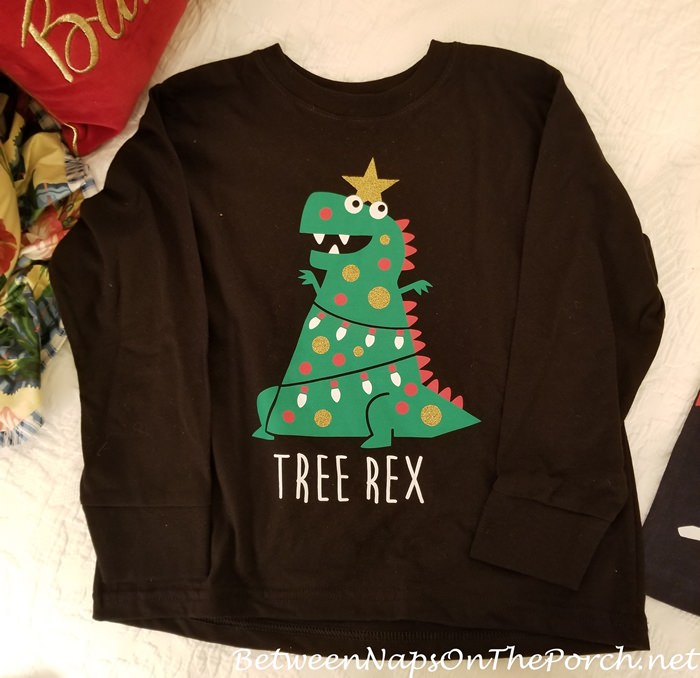 Another cute Tree-Rex top that's on sale here: Tree Rex. Unfortunately, most sizes are gone on this one…they sale out fast during the sales.
Another fun one that is probably more suited for summer…it's on sale here: T-Rex Top.
Not Christmas themed, but I love this one! Unfortunately, a lot of the sizes are already sold out. You'll find it on sale here: Dinosaur Sweater.
If you have daughters or granddaughters, they have some really adorable things for the girls as well. I love this jacket!
So many cute things for girls and many are on sale, as well. Again the sale ends at midnight. You'll find everything that's on sale for girls here: Girls Clothes on Sale.
Women's clothes are also included in this sale…love this woodland animal shirt! You'll find it on sale here: Woodland, Wildlife Shirt. You'll find everything that's currently on sale for women here: Women's Black Friday Sale. Men's Black Friday deals can be found here: Men's Black Friday Sale.
*If a post is sponsored or a product was provided at no charge, it will be stated in post. Some links may be affiliate links and as an Amazon Associate, I may earn from qualifying purchases. *