Lately, I have gotten quite a few questions about the puzzle board that I always use whenever I work a puzzle. We will soon be moving into the autumn and winter seasons when we tend to spend more time inside, so I thought this might be a good time to answer some of those questions since puzzles are such a great cold-weather pastime.
This is the puzzle board I use. I love doing puzzles on it so much, I've purchased it twice: once for my home and another one to use (along with my grandsons) when I'm visiting family in Ohio. My daughter-in-love has shared how they love using it throughout the year, which makes me so happy to know. This board is available here: Puzzle Board.)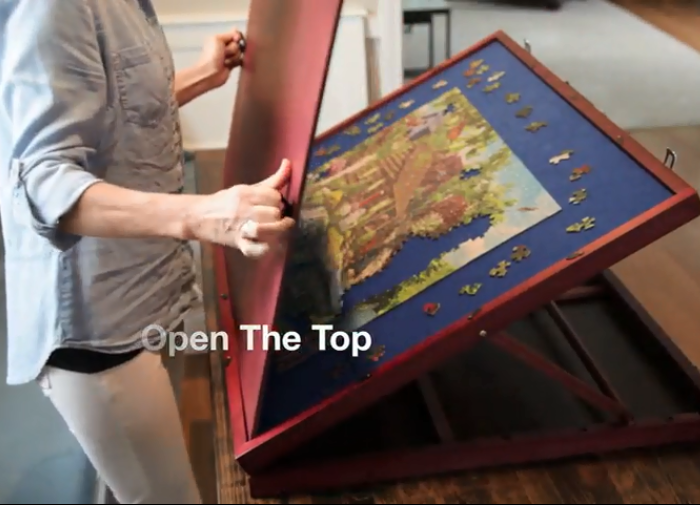 One question I received recently was where do you place all the puzzle pieces when working a puzzle. That depends on so many things like your preferred way of doing a puzzle, as well as the size of the puzzle itself. I'll share how I typically work a puzzle and hopefully that will help or give you some ideas in case you end up purchasing a puzzle board at some point.
I almost always buy 1,000-piece puzzles. Occasionally I'll buy a 500-piece puzzle if I really love the image and it's only available in the 500-pc size. In the past, all the 1,000-pc puzzles I purchased measured around 26 inches wide x 20 inches tall, once completed. That is probably the size of the puzzle in this photo below. Puzzle manufacturers are getting smart and figuring out that we prefer larger size pieces when working a puzzle. The benefit of a puzzle with bigger size pieces is the pieces are easier to see, hold, and manipulate. Plus, when the puzzle is completed, the puzzle itself is much easier to view because there's more surface that isn't cut up with lines.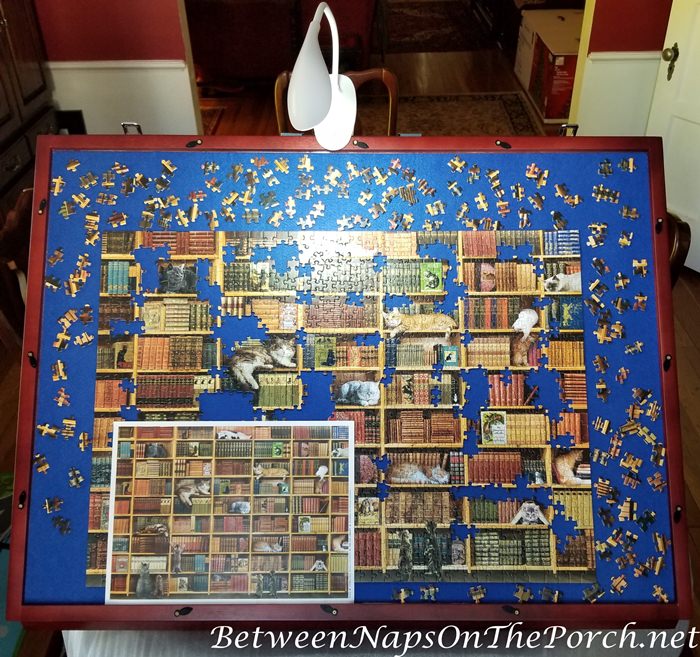 For example, I loved doing this Alice in Wonderland puzzle.
But the pieces were so small that once it was completed, it was hard to really see and enjoy the full image.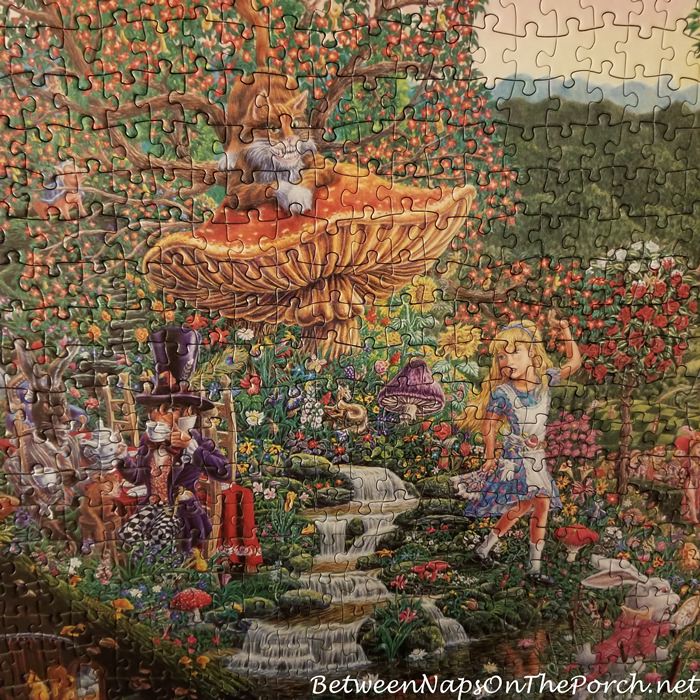 Another benefit to working puzzles with larger pieces is when completed, the puzzle really fills out the entire board as seen in this photo below. White Mountain has started making almost all their puzzles with the "Larger" size pieces, so if you are buying one of their puzzles, look for that designation in the description. Once completed, a puzzle like the one below is around 30 inches wide and 24 inches tall. I love "large-piece" puzzles and how they fill out the whole board. I will often stand to do parts of the puzzle which feels great if you've been sitting a lot.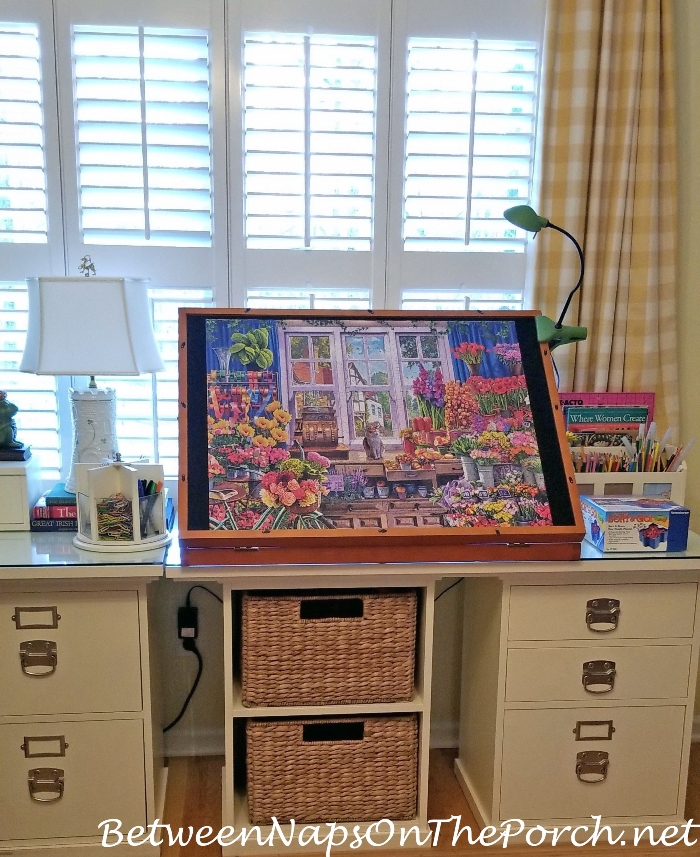 Another feature I love about this puzzle board is if you're working on a puzzle but need to temporarily stop and use the table surface for something else, you can close up the board up by placing the lid over your puzzle. Then it can be stored away until you're ready to work on it again.
So, let's talk more about what to do with the puzzle pieces when you're actually working a puzzle, especially one of the puzzles with the larger pieces. When I'm working on a puzzle, I usually take a moment to really look over the image I'll be putting together. I take note of the large blocks of color or sections that I think will be easy to spot when I start sorting through the pieces. Then I normally sit down at my desk here in the office and while watching a video online or listening to a book on Audible, I'll sort out all the edge pieces into a large puzzle sorting tray.
A few months back I discovered these extra big trays and I love them! They easily hold a 1,000 piece puzzle, even the puzzles with the large size pieces. (Large sorting trays are available here: Large Sorting Trays.)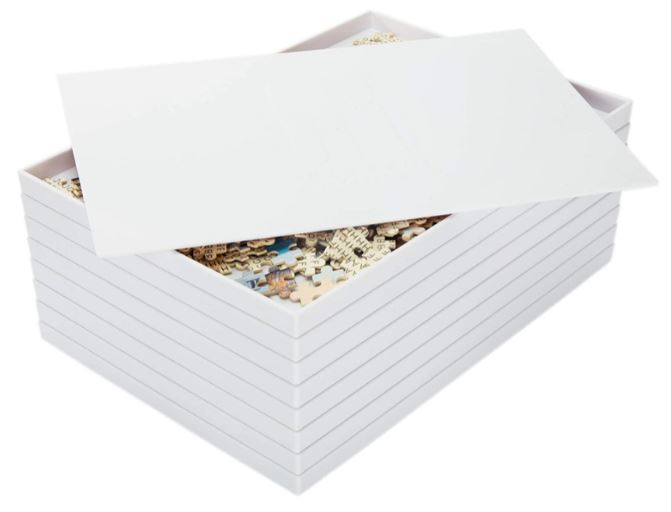 I typically sort out all the edge pieces into one tray, and as I sort, if I come across other very distinctive pieces that I recognize, I will often sort those out into other trays. Let's take this puzzle below as an example: I started off by finding and placing all the edge pieces into one of the puzzle sorting trays. As was I going through all the pieces to find the edge pieces, I came across pieces of the bright green birdcage and I pulled those aside into another smaller puzzle tray. I kept coming across pieces of the red chair–those pieces really stood out. So I pulled those pieces aside into another tray. I also came across pieces of the beautiful, stained glass window, the moon, and the striped window seat cushion, so those were pulled out and placed into other trays.
From there, the first thing I do is place all the edge pieces onto the blank, empty puzzle board–then I assemble those together to create the"frame" of my puzzle. I'm not sure if anyone else starts a puzzle that way, but that's how I like to start all my puzzles–by creating the frame of the puzzle with all the edge pieces.
With this particular puzzle, once I had the frame assembled, I took the tray that contained all the red chair pieces and placed all those pieces onto the board and started putting the chair together. Once I had the chair mostly together, I scanned back through all the pieces that remained in the other trays, looking for any additional red, chair pieces that I had missed the first time through. I always find more pieces when I do that.
Next, I'll pick another element in the puzzle to work on. It could be the birdcage or the stained glass window. Again, whatever element in the puzzle that I choose to work on next (like the birdcage) I'll place all those pieces onto the board which is mostly blank since it only contains the frame of the puzzle and the red chair, and I'll get busy putting that part together. So that's how I work a puzzle–doing various elements/sections of the puzzle that I've sorted out while looking for all the edge pieces.
When I did this puzzle below, after I got the edge pieces/frame of the puzzle assembled, I sorted out all the sky pieces and started working across the very top of the puzzle, putting the sky together. Next, I started along the bottom, putting the greenish section of water together.
A puzzle like this may look hard, but as you begin working on it, you will discover that there are a lot of hints/clues that help you find the pieces you need. For example, the sky isn't all the same shade of blue, though, at first glance, it may seem that way. There are sections with hints of pink and purple so that helps a lot in finding where they go. Same for the water, some areas are more green while others have hints of pink or black. So you quickly start to realize what pieces you're looking for as you work the puzzle.
If I'm not super busy with other things, I can do a 1,000-piece puzzle in 2 to 2-1/2 days. If I'm busy, it will take me a day or two longer. I have a hard time stopping once I start a puzzle. I will sometimes stay up until 2 a.m. working on a puzzle until I'm bleary-eyed. Then I'm off to bed and usually back up around 8 a.m., wishing I had not stayed up so late. lol Doing a great puzzle can be a little like reading a really good book. It's hard to stop when you're really into it and enjoying it! (When I finished putting together the puzzle below, that piece that was missing in the water was still missing. I eventually found it…seems like it was under my desk. So annoying when that happens but such a relief when it's found!
So, in summary, answering the question, where do you put all the puzzle pieces, I sort out the edge pieces into a tray, then place them on the board where they get assembled. During the process of finding all the edge pieces, I will have spotted and sorted out some of the individual images/things in the puzzle, like the checkered floor and the constellation ceiling in this puzzle below.
So once the frame of the puzzle is in place, I start working on other elements of the puzzle, like the ceiling or the flooring. As I look for additional ceiling or flooring pieces, I inevitably trip across more elements/parts that I recognize, like the globes or the green chair. I will sort those out, placing those pieces either in a sorting tray or on the puzzle board to assemble them next. What eventually happens is all these individual elements that I've put together, start connecting and overlapping, and before I know it, the puzzle is well on its way to being done. After you do a few puzzles, you will develop your own favorite way of doing them.
This puzzle was a favorite, I always love bookstore or library puzzles!
Here's how it was looking midway in. It looks like I started on the books/cash register on the right and at some point ended up working the tabletop in the center of the room.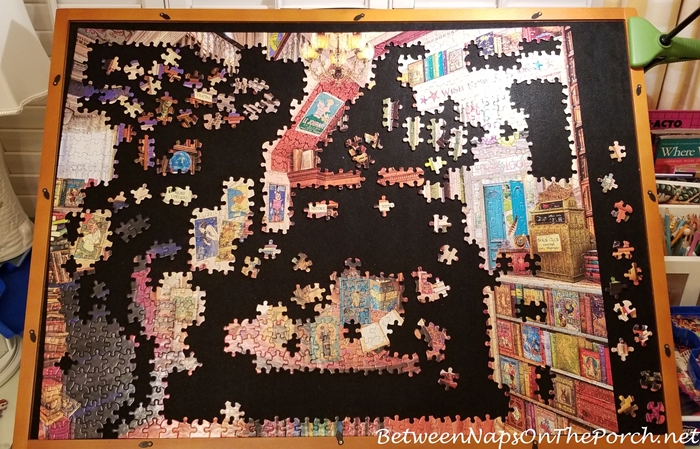 This is another set of sorting trays that I have and like.
I recently purchased these below, finding that I prefer a white background when sorting through pieces. It's just easier to see the pieces, as opposed to sorting them in colorful trays. (Trays below are available here: Puzzle Sorting Trays.)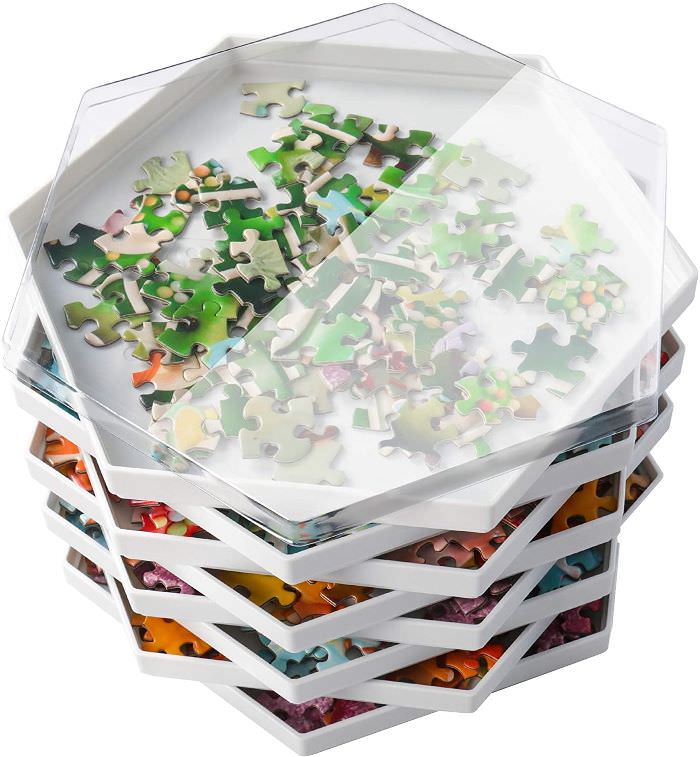 If I'm working on a really small element in a puzzle, like say the boat or the dog in the puzzle below, I may sort those pieces into a small tray since there won't be that many. The sky was definitely sorted out into a large tray because it's a significant part of the puzzle, thus there would have been a lot of sky pieces.
These are the lights I use on my board every single time I do a puzzle here at home. They clip right onto the top of my puzzle board and make such a difference! You may have noticed them in the photo of the puzzle of the library with the constellation ceiling I shared earlier in this post. I have two and they are awesome at helping me clearly see the board when working on a puzzle. I love that they have 3 settings from low to medium to high. I usually work a puzzle with them on medium but occasionally bump them up to high. They swivel easily so I can point them wherever I need them. They are available here: Clip-on Lights.
Over the years, I've gotten super picky about the puzzles I buy. I won't do a puzzle just to be doing a puzzle. I have to really love the picture/image that I'm putting together because I've discovered that makes the process a million times more fun. And addictive! lol (This puzzle is available here: Beach Cottage Puzzle.)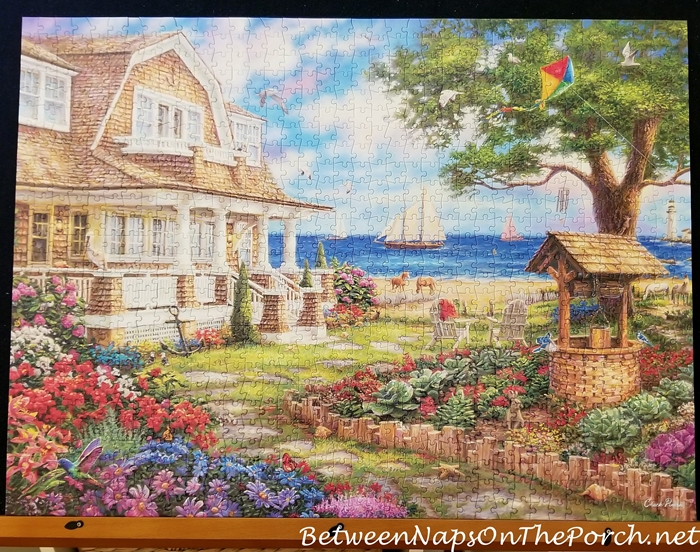 I've been doing a lot of beach-themed puzzles this summer, especially those that feature wonderful beach homes. (This puzzle is available here: Island Homes.)
Here's another one I did this summer featuring a beautiful conservatory and a gorgeous garden. These puzzles I'm sharing look so much better in person than they are coming across in my photos. It's hard to photograph a puzzle and capture all the true colors. If I turn on the tole chandelier in my office, it puts a big, white, glaring spot onto the puzzle and you can't see that section of the puzzle at all. So I have to take pictures with just lamp lighting, which isn't the greatest. So please keep in mind that these puzzles look much better in person than in photos.
Do you see the kitty asleep in the chair and the one out in the garden? Love this scene sooo much! This puzzle is available here: Tea in the Conservatory.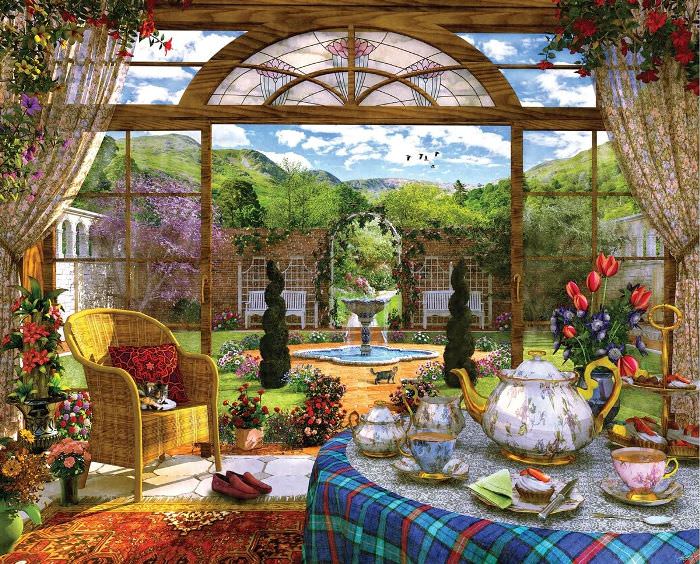 Please let me know if you have any questions. I've linked some of my favorite puzzles below, hopefully, these are all still available. (Click any image to see more about that particular puzzle.)

*If a post is sponsored or a product was provided at no charge, it will be stated in post. Some links may be affiliate links and as an Amazon Associate, I may earn from qualifying purchases. *