Can you believe I'm just now storing away all my Christmas wreaths? I took the wreaths off the windows after I returned from Germany, but due to being sick and then going out of town for 8-9 days, I'm just now getting everything put away. And you know what, I feel zero guilt about it. lol Getting well and visiting family were all way more important than putting the wreaths back in storage and taking down the tree. So if you're Christmas decor is still up, don't sweat it! Life is too short to sweat the small stuff, right? 🙂
Hall Trees
It was really, really hard, but I finally made a decision on the hall tree I'd like to add to my laundry room. (If you missed that post, you'll find it here: The Perfect Mudroom Hall Tree.) I decided to go with this one below (available HERE) because it's narrow enough that it will perfectly fit the spot I have available in the laundry room, while still allowing the door to stay wide open to that room. If I ever renovate that space and the hall tree no longer works, I can always sell it or give it to my son/dil.
I know several folks suggested having one built-in and I love that idea. But the more I thought about it, I decided I would love to take it with me if/when I move one day. If I don't do that, I'm sure the next owners would enjoy it.
I'm going to wait until a sale comes along, hate to pay full price when I have a feeling Home Depot will eventually put their hall trees on sale. If you see HD's hall trees go on sale, please let me know. It would be just like me to miss it!
Bag Decision Was Made For Me
Thanks so much for your input on my spring "pink" bag quest in this post: Help Me Choose: 3 Beautiful Pink-Nude Bags for Spring and Suimmer. After reading your comments on that post, I ordered the one that was most recommended, the Prada Galleria bag in Cammeo Beige. Over the last two days whenever I checked their website, I noticed it was saying "in process" but wasn't shipping out.
I called Neiman Marcus today and after checking into the order, a supervisor called me back to say they hadn't been able to find the bag. It was supposed to ship out of another store, but they were unable to locate it. I noticed right after I ordered it, the site was saying, "Out of Stock." The supervisor said something must have been wrong with it, and it was pulled from stock. After checking all their stores, they were unable to find another one.
I have to hand it to NM, their customer service is top notch. I never asked for anything in compensation for this problem, but the supervisor generously offered a nice discount on any future bag I purchase from them.
I was thinking of ordering the bag directly from Prada since it appears you can do that on their website, but the discount she offered is too nice to turn down. I think I'll just keep an eye out for the Galleria bag on the NM website and hopefully they will get more in for spring.
Another Option for a Nude-Pink Spring Bag
A BNOTP reader shared in the comments about this adorable nude/pink/beige bag that's available at Sundance. I loved how it looked on the website, so I drove over to Sundance today to see it in person.
It's a great bag, but unfortunately, even though the description at the website seems to indicate that it can be carried as a shoulder bag, I was unable to get it to fit/stay on my shoulder. I was wearing my favorite fluffy Orvis sweater, so I'm sure that didn't help, but even without the sweater on, I don't think it would have fit onto my shoulder. The handles just aren't long enough.
If you are looking for a beautiful bag for springtime, and don't mind that it's not a shoulder bag, you'll find this one here: Nude/Beige/Pink Leather Bag. The color is really beautiful, it's definitely a neutral. In the store I took it over to a window and noticed it changes color depending on the lighting. I love that about it, it's really a pretty bag, just wish the handles were a tad longer.
A Book for Those Who Love Fashion
Speaking of fashion, recently a YouTuber I follow recommended a book by an author I recognized from Instagram. Megan Hess creates the most beautiful fashion drawings and all her books are lovely! If you love designer fashion and have either visited Paris or would like to (like me) you will love this book. In the book, she shares some of the history of each of the places she features. I love that part! Her fashion drawings are beautiful, just as I knew they would be.
This beautiful book is my guilty pleasure when I snuggle into bed each evening on these cold winter nights. One of these days I'm going to visit Paris and check out all the great places she writes about in the book. If you love fashion, especially designer fashion…or just love Paris, you'll find this book here: Paris Through a Fashion Eye.
Cutemol for Baby-Soft Skin
Recently I shared a post about some of the products I had planned to try to deal with preventing and healing split fingertips during the winter. Thanks sooo much for all your great suggestions, they were awesome! One of the products I had mentioned that I was going to order was this: Cutemol.
Well, it came and it's pretty amazing! When I first squeezed some out into my hand and starting rubbing it in, it reminded me a little of zinc oxide or whatever you call that white stuff that folks used to put on their nose when they were going to be out in the sun a lot.
It's super thick and rich, so I rubbed it on for a minute or so, then used a tissue to gently blot off any excess that seemed to remain on my hands. I probably just need to use a bit less each time since it's so rich.
I also used it on my feet and the results were amazing! The best way I can describe it is, the next day, my hands and feet felt like a baby's skin! Literally! They felt as soft as my grandson's soft, toddler-baby skin! I was so impressed, I ordered it in the 8 oz size and a second small tube to keep full time on my desk throughout the winter. A little goes a long way since it's so rich. It's available here: Cutemol.
If you only like lotion that completely evaporates into your skin quickly (which is all I have used in the past) you may not like Cutemol because it takes about 10-15 minutes to really sink in. You can definitely still feel it for a while right after you put it on, but it does eventually soak in and all you're left with is the most amazing baby-soft skin! Also, it lasts a long time. Even after I wash dishes, I can still tell that it's there.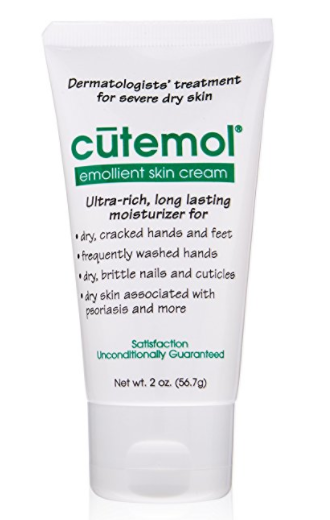 A Scarf Addition
Beginning last summer, you may remember I started adding a few scarves to my wardrobe. Recently, with the color pink on the brain, I purchased a pink cashmere scarf that was on sale at Nordstrom. It was by the brand, Halogen. I've never ordered anything by that brand and as soon as I saw it, I knew it would be going back. It just wasn't the quality that I had expected.
Fortunately, another scarf I had ordered around the same time from The White Company, arrived, and it turned out to be just as beautiful in person as it had appeared online. I first discovered The White Company via a YouTuber I follow. She orders a lot of their bed linens and always speaks very highly of them. As their name implies, almost everything they carry is white or in a neutral color.
If you're interested in adding a cashmere-wool scarf to your wardrobe, I can definitely recommend this one. The scarf is a mix of merino wool and cashmere, and it's divine! The pattern is a beautiful herringbone design and I love how the ends are tipped in white. So pretty!
The herringbone pattern is soft and subtle, it's just a gorgeous scarf! If this scarf is any indication of the quality of their products, I will definitely be ordering from The White Company, again.
You can really see how soft it is in these photos from their site. I have been wearing mine almost constantly since it arrived, even inside the house. It's sooo soft and warm, I don't want to take it off!
It's wide enough, it could probably be worn as a shawl. I absolutely love it and knew as soon as it arrived that I needed to share it with you. I caught it during a sale and I noticed today that it's still on sale with free shipping. That's great since it's coming all the way from London.
If you need a scrumptious scarf for winter, you'll find this one here: Herringbone Cashmere Wool Scarf.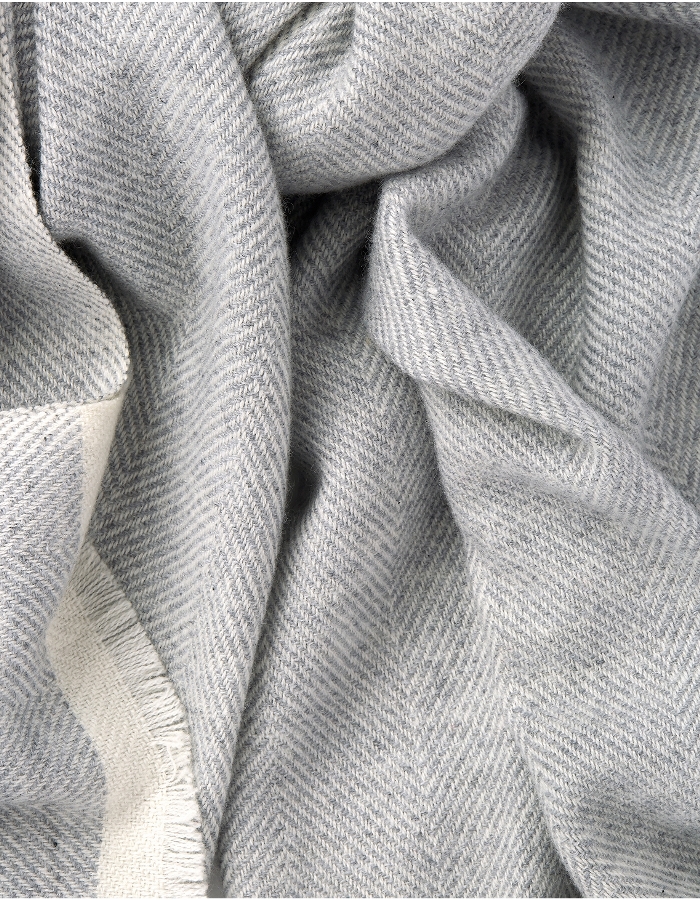 Do you realize we are almost through January? What?! Is that not amazing? If we can just make it through February, spring will be here before we know it! I love spring and summer, but I sure am going to miss all the cozy warm sweaters, scarves and flannel PJs of winter!
Stay warm, dear Friends!
*If a post is sponsored or a product was provided at no charge, it will be stated in post. Some links may be affiliate links and as an Amazon Associate, I may earn from qualifying purchases. *