Welcome to the 560th Tablescape Thursday!
A few days ago I took you into a wonderful garden that was part of the Secret Gardens of Avondale tour a friend and I enjoyed a few weekends ago. There was one particular garden that really stood out for me. In addition to having a wonderful screened-in summer house…
…and lots of little outdoor seating areas perfect for chatting…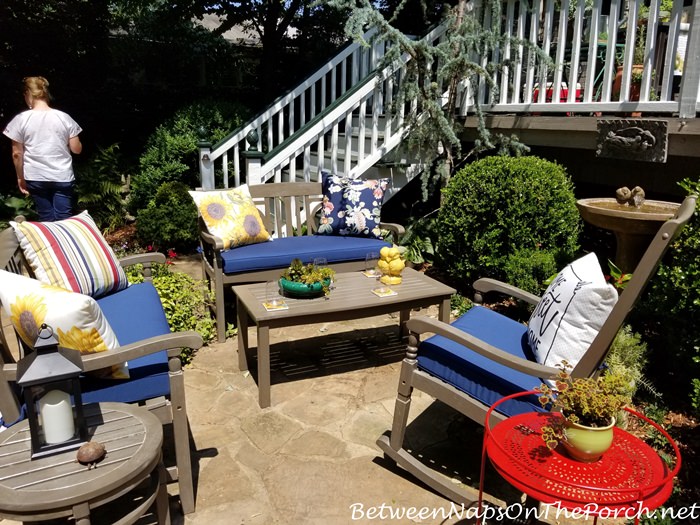 reading…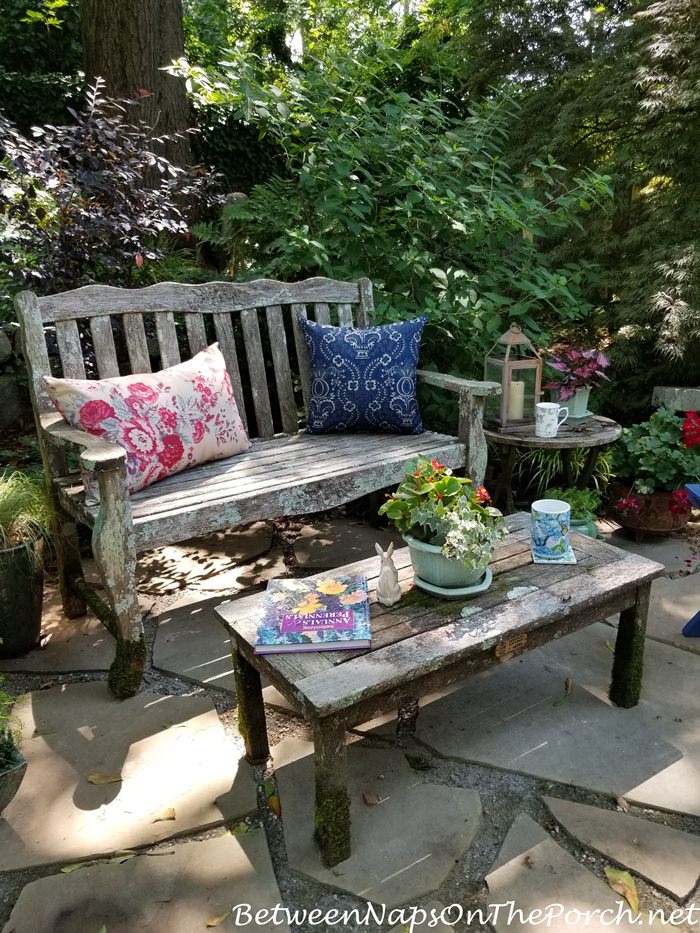 and dreaming…
…there were also plenty of delightful places for entertaining and dining. This little area was just a few feet away from the main house and it looked like the perfect place for entertaining when you want to be outside but with some of the comforts of being indoors.
Can you just imagine how nice it must be to dine here in the evening with the candles lit! I loved all the whimsical art hanging on the walls. Such a fun space!
Love all the bright colors in this tablescape!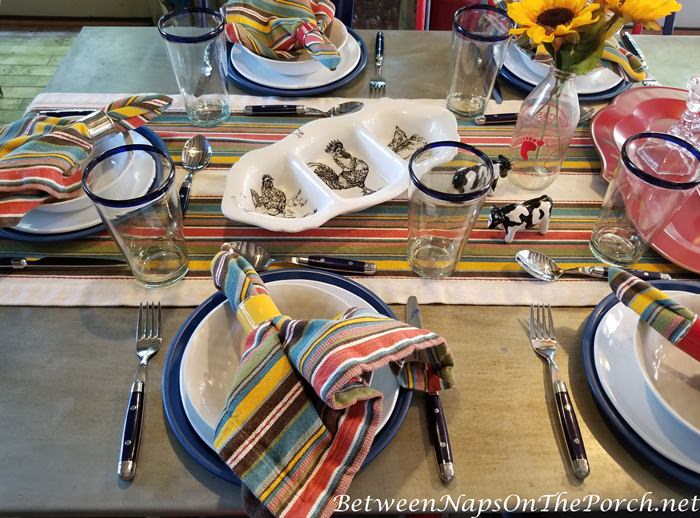 We had to force ourselves to leave this delightful room to explore the rest of the garden.
A little further into the garden we came across this lovely spot for dining. Notice how the addition of the plates hanging on the fence nearby gives this little area of the garden the feel of being its own little room.
That's what I loved so much about the design of this garden–all those individual spaces they've created for summer escapes. It would be so much fun to throw a summer party and have friends dining all throughout the garden.
Another beautiful table setting…love the blue and white color scheme for this table.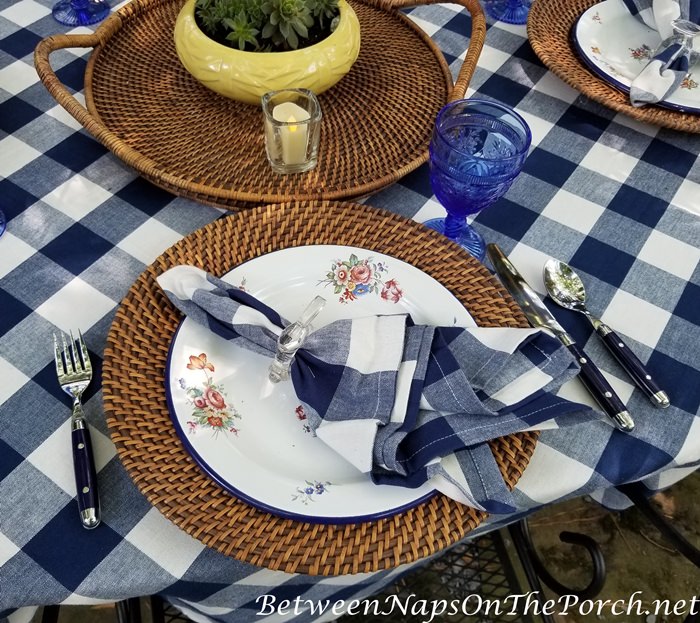 I'll leave you with this final little table tucked away in a cozy spot here on the deck.
This table was created with an "herb" theme using an herb-themed tablecloth and dishware.
I love the soft green colors…so pretty!
The centerpiece was wonderful!
Thanks so much for all the lovely comments you left on Tuesday's post about my colorful atomizer collection. I was driving for 9 hours on Tuesday and a bit sleep deprived/car-lagged on Wednesday, so I haven't had a chance to leave any replies, but I'll be doing that real soon. I always love hearing from you and learn so much from you, so thanks for sharing your favorite scents/fragrances on that post. I'm looking forward to trying some of the ones you suggested!
Looking forward to the beautiful tables shared for this week's Tablescape Thursday!
Pssst: Follow Between Naps on the Porch on Instagram here: Between Naps On The Porch on Instagram and on Facebook here: Between Naps On The Porch on Facebook.
Tablescape Thursday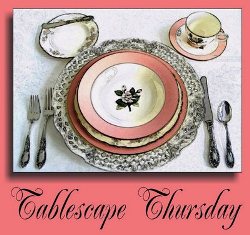 If you are participating in Tablescape Thursday, please be sure to add your permalink below, and not your general blog address. To get your permalink, click on your post name, then copy and paste the address showing in the address bar, into the "url" box when you link up.
You'll need to include a link in your post back to the party to link up and participate. That's so visitors to your blog will be able to find the party and the other Tablescape Thursday participants. Requiring a link back also prevents businesses and scammers from linking up to sell their products. Please let me know if you click on a link that isn't a tablescape or table related so I can remove it.
This party has ended, click button below for the links to all who participated.
*If a post is sponsored or a product was provided at no charge, it will be stated in post. Some links may be affiliate links and as an Amazon Associate, I may earn from qualifying purchases. *