A few days ago I blogged about ordering a couple of the Luciana benches from Grandinroad when they were having a good sale on their outdoor benches. (View that post here: Whimsical Garden Bench for the Front Porch)
As mentioned in that previous post, my front porch was built from this photo found in a Southern Homes magazine many years ago. This is the beautiful historic home at Gainesway Farm. I loved everything about this porch (still do) including the benches on either side. I always thought my porch was too small to have benches but recently I reevaluated that and discovered that they just might work.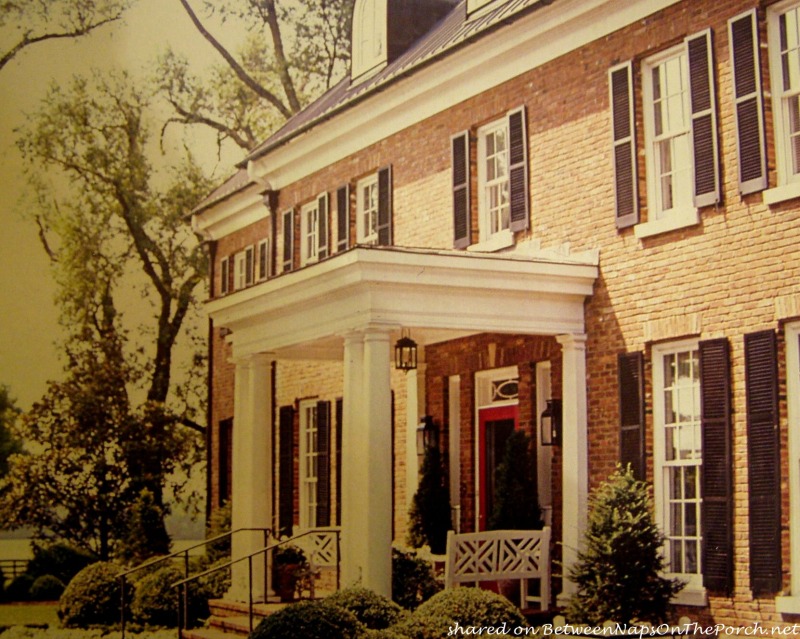 I decided to order the Luciana benches in black. The benches on the Gainesway Farm porch are 48 inches long, I was able to figure that out after shopping for benches and seeing those elsewhere. The Luciana bench is a little longer at 51 inches but it appeared it would still work for my porch.
I don't normally like black furniture but they don't make the Lucian bench in white. Plus, black just seemed like the right choice for my porch since I have black shutters, black lanterns and a door mat with a lot of black in it. As I waited for the benches to arrive, I began to second guess my color choice. (Photo below is from Christmas last year.)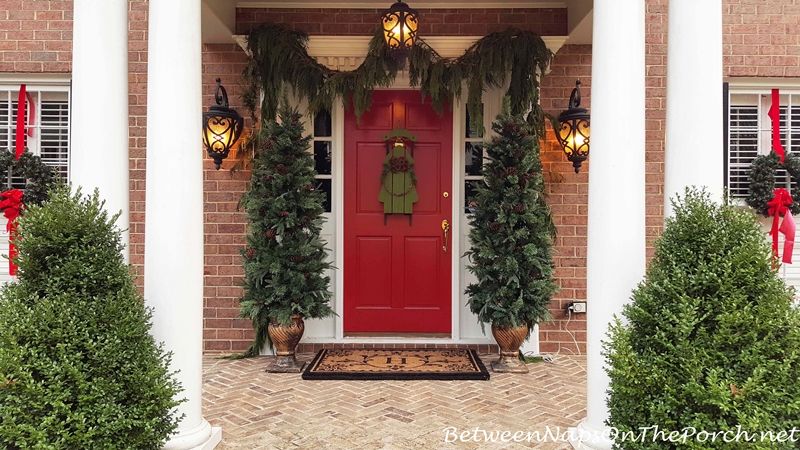 The benches arrived a few days ago.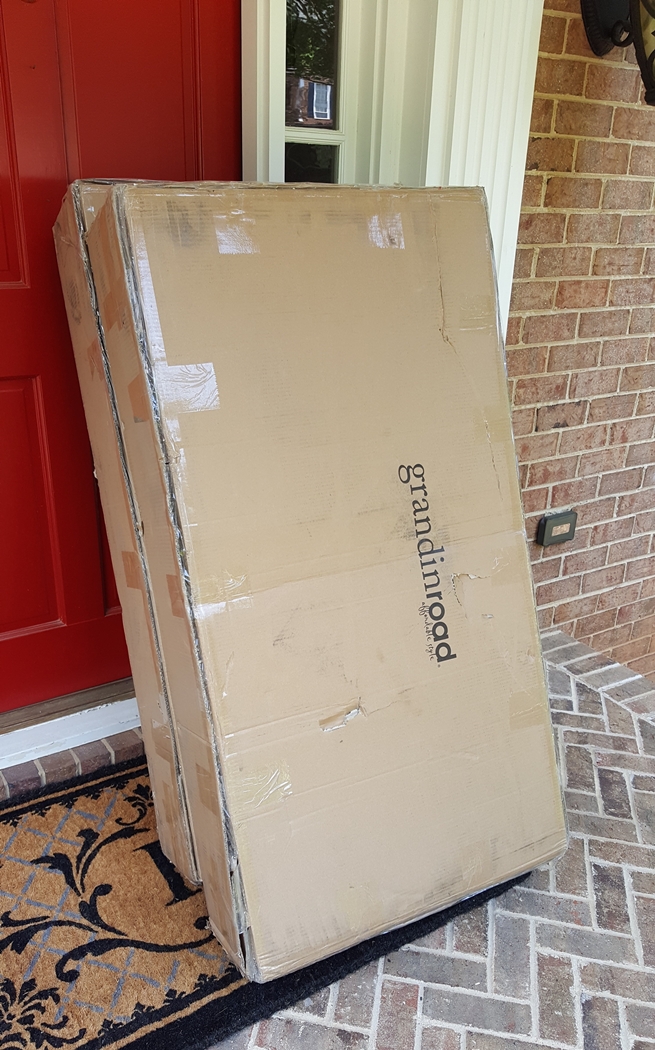 When I opened the box and saw how loosely all the parts were packaged inside, I was concerned the benches would be all scratched up. There were a few very minor scratches, but surprisingly nothing major.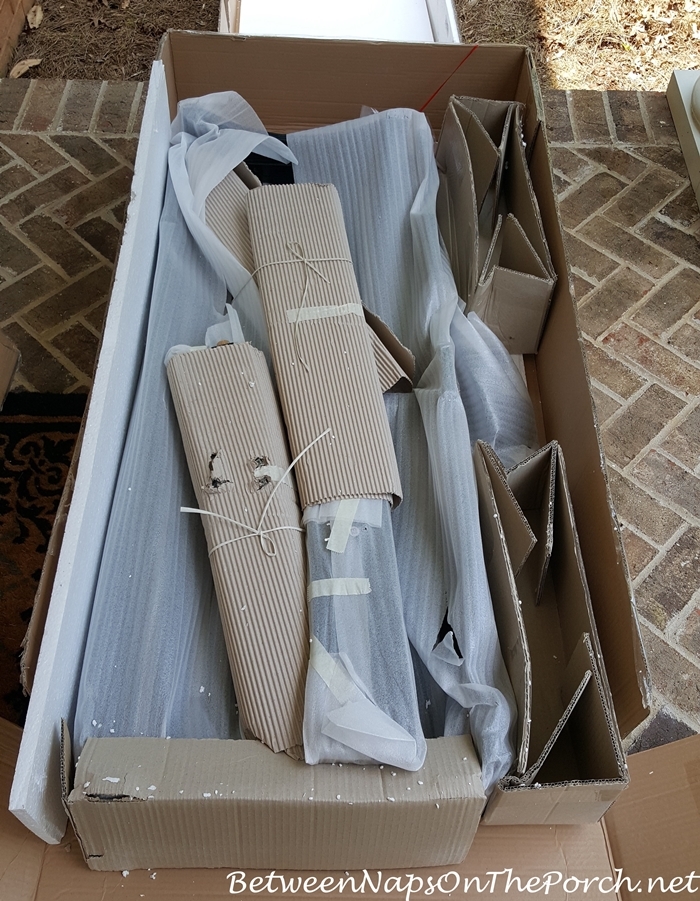 The benches came with wood glue, hardware and detailed instructions for assembly. It really didn't take very long to put them together. Of course the first bench took a bit longer since it was my first time putting one of these together, but the second one went really fast.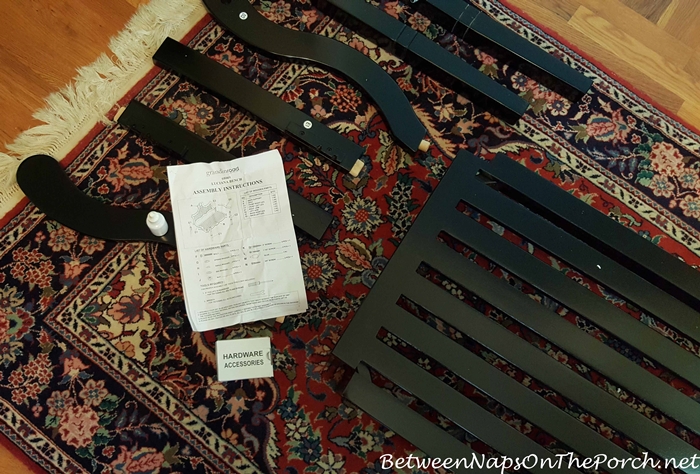 Here's how they look on the porch. Update: A couple of folks suggested I pull the benches forward a couple of inches. See how they look pulled forward in this post: Landscaping with Boxwood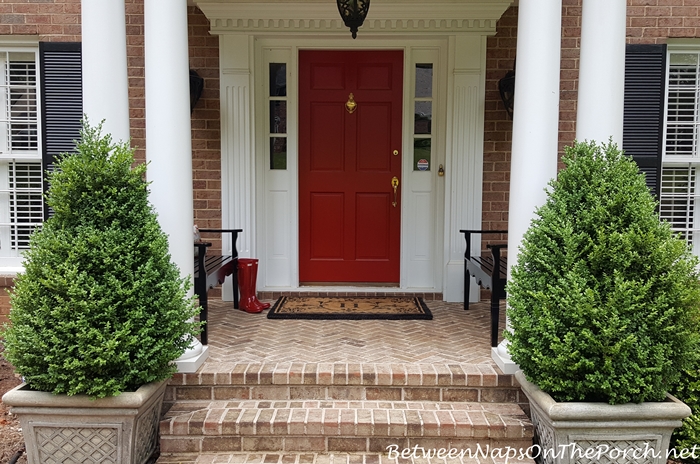 The Gainesway Farm porch shows a small planter at the end of the bench nearest the columns. I measured and if I scoot my benches over a few inches toward the house, I could probably place a planter in the same spot as seen in the inspiration photo. My benches are about 3 inches longer, so it could be a bit tight. A plant/flower would help soften the hard lines of the porch, though.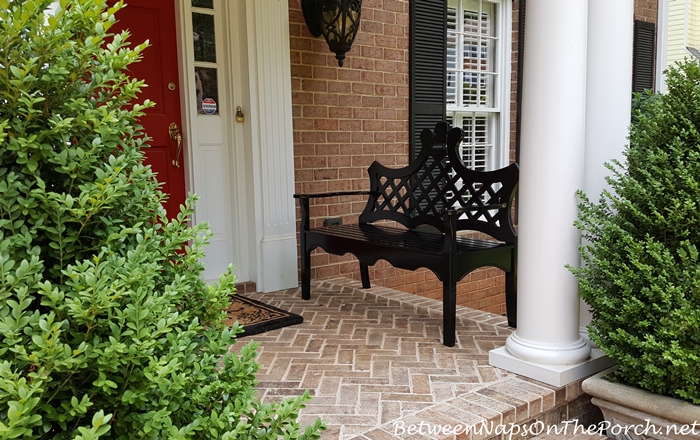 So what do you think, do you like them?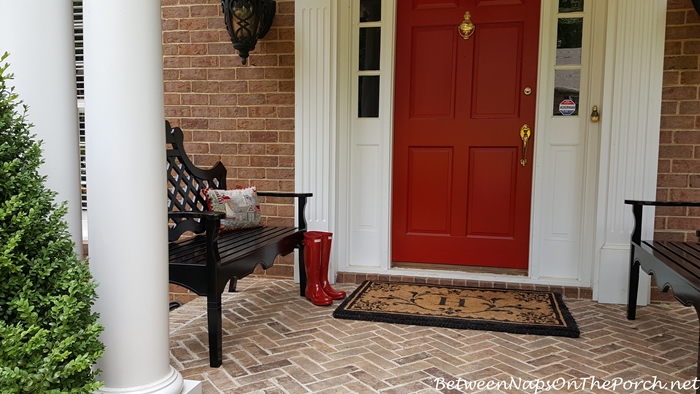 Was black the right color choice?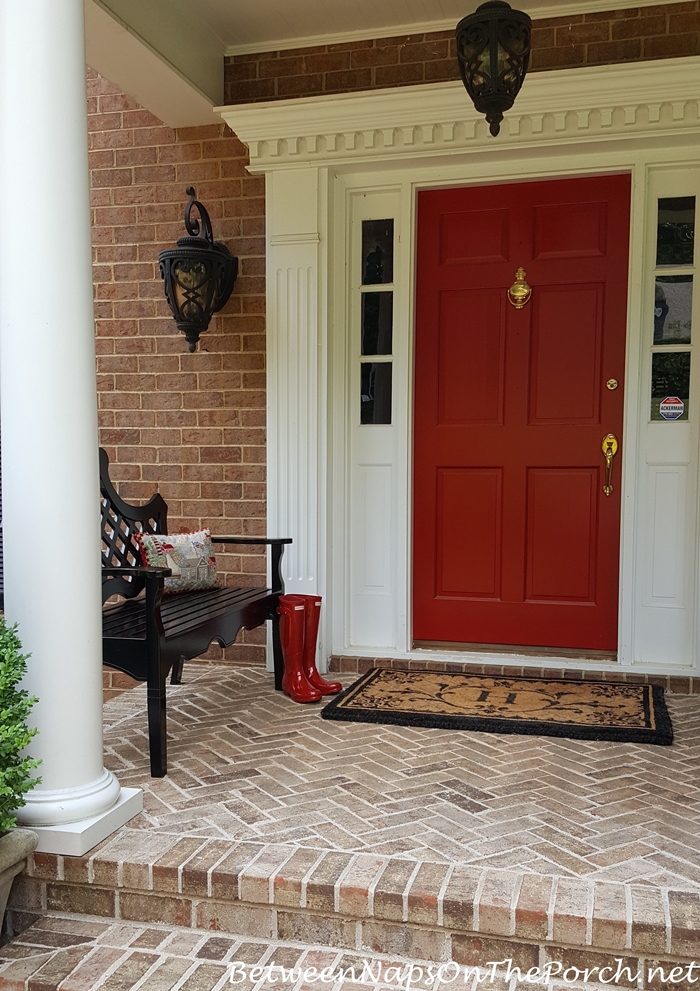 I'll have to keep my eye out for some "outdoor" pillows.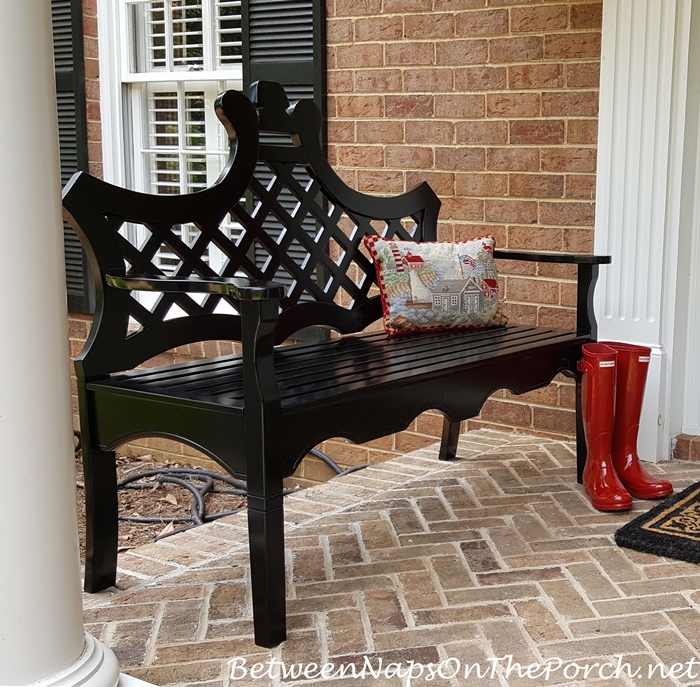 For these pictures I just snagged a pillow from inside. This one is too small I know, but it seemed appropriate for Memorial Day weekend. 🙂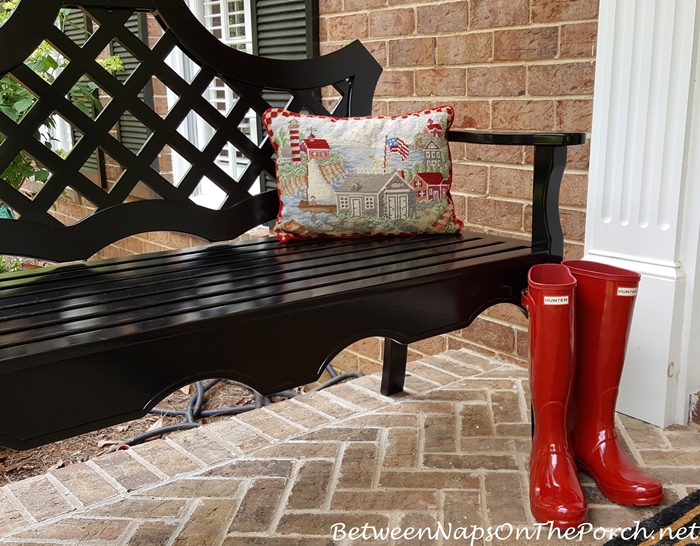 Couldn't resist putting my rainboots out for the photo shoot. Wouldn't they be cute out here at Christmastime? A porch is a little like adding on another room to your home, you get another fun space to decorate and play.
Remember when I planted these Green Mountain boxwood topiaries? (See that post here: Boxwood Topiaries for a Traditional Landscape)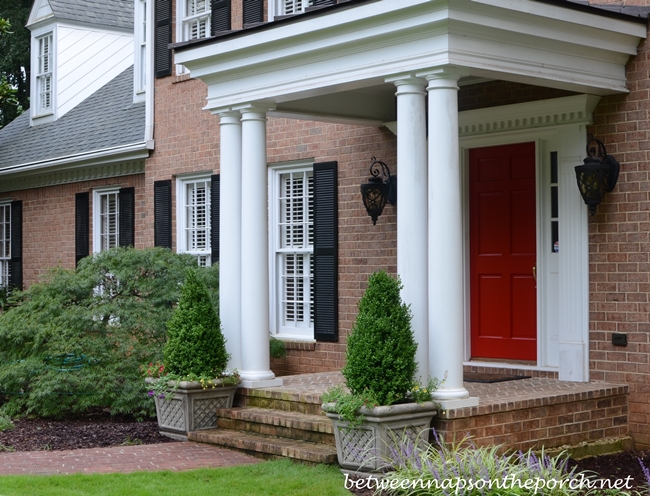 They have really grown! I absolutely love them and can't recommend them highly enough. They are so soft, so lush and so pretty! At the end of this coming winter, they will get their first haircut and it makes me nervous to think about it.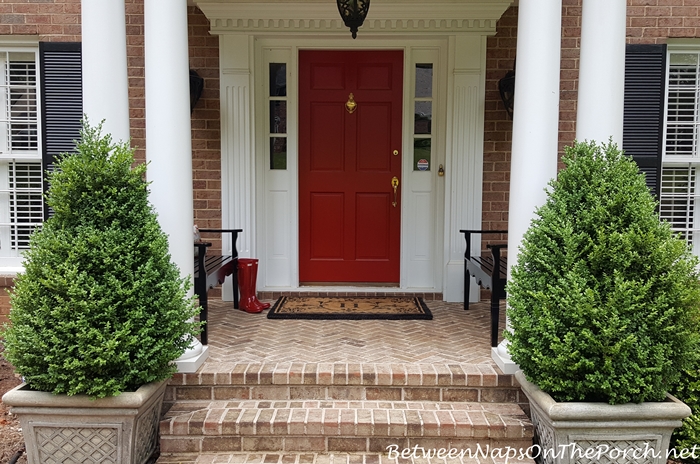 The 10 Green Beauty boxwood shrubs I purchased were all delivered yesterday morning and I've begun planting them. My lawn care company offered to plant them for half of what Pike Nursery was going to charge, but I decided that I need the exercise. One thing I've learned over the years is–the less you do, the less you CAN do. The more you do, the MORE you can do. I used to throw 40 lb bags of mulch around like nobody's business and I've lost a lot of that muscle over the years. It's time to get some of that back.
I'm having to be careful since I fractured my tailbone a few months ago when my desk chair rolled away and out from under me. I thought it had totally healed, but the other day after I sat a long time in a weird way with my legs propped up on my desk, it hurt almost as badly as it did when I broke it.
Won't be sitting that way again for a long time since it puts pressure on that area and it's obvious that it hasn't totally healed. Standing and digging is no problem, though. I got two shrubs planted this morning and may plant a few more this evening since it's starting to cool off a bit.
Hardwood flooring has been installed in the guest room. It has been sanded and has one coat of poly on it, so far. Whew, the smell! lol Actually, it doesn't seem as bad this time as it did last time. I wonder if they used a different type of poly. I've been able to work in my office across the hall today.
On Tuesday the guys will come back out and apply another coat, Wednesday they will apply a third coat and on Thursday they'll come back and move the furniture back in. The color is a bit darker than it appears in this photo. I know this color isn't the "in" color for hardwood flooring these days, but I love it. I loved how it looked in THIS house that I shared recently, too.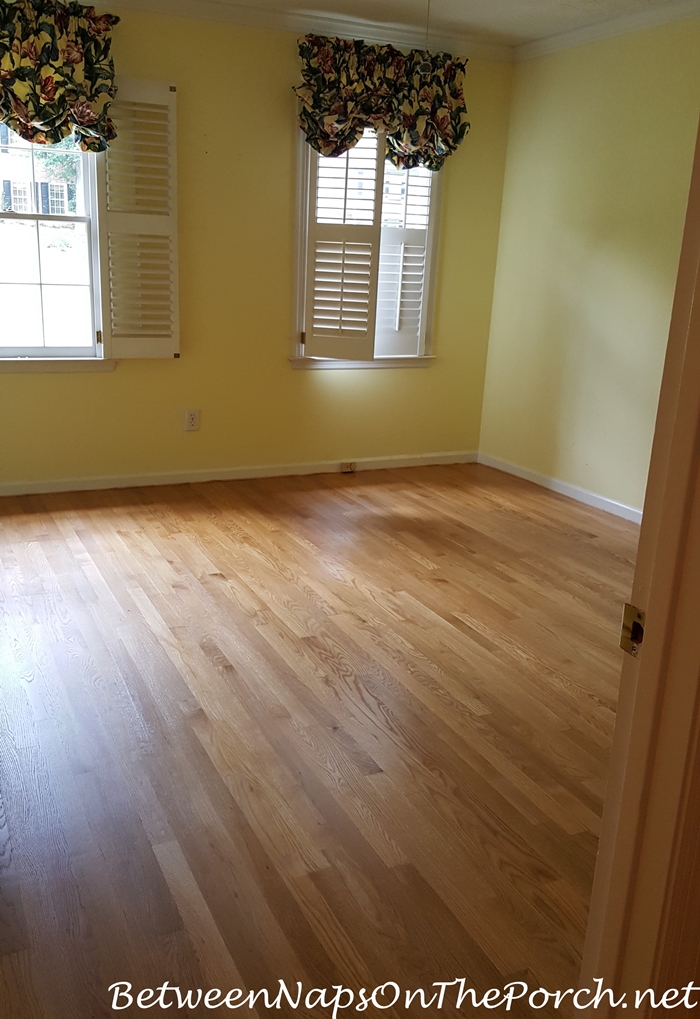 Looking forward to sharing how the guest room looks with hardwood flooring! I can't even envision it right now!
Update: See the guest room with the new flooring in this post: Hardwood Flooring for the Guest Room.
Have a wonderful Memorial Day weekend as we remember all those who have served and kept us safe. What a great country we live in…we are so blessed!
*If a post is sponsored or a product was provided at no charge, it will be stated in post. Some links may be affiliate links and as an Amazon Associate, I may earn from qualifying purchases. *