One of my favorite things to do each spring is to go on the spring garden tours in my area. I love a garden tour every bit as much as I love a great home tour. Over the years while on garden tours, I would often come across these big, beautiful birdhouses. Eventually, I asked someone and found out they were dovecotes.
The ones I saw and loved the most were by a company called, Lazy Hill. When I added on the screened porch in 2008, I finally bought one for my garden. After drooling over them for so many years, I was thrilled to have one of my own.
Shortly after the dovecote was added to my perennial garden out front, bluebirds took up residence. They nested three times in the dovecote that spring and summer, returning year after year to nest there again. Each spring, after one batch of babies would fledge, they would build a new nest in another one of the cavities and do it all over again.
Over the years the roof of the dovecote turned a pretty silver-gray color. It looked just like all the dovecotes I'd seen in all those gardens over the years.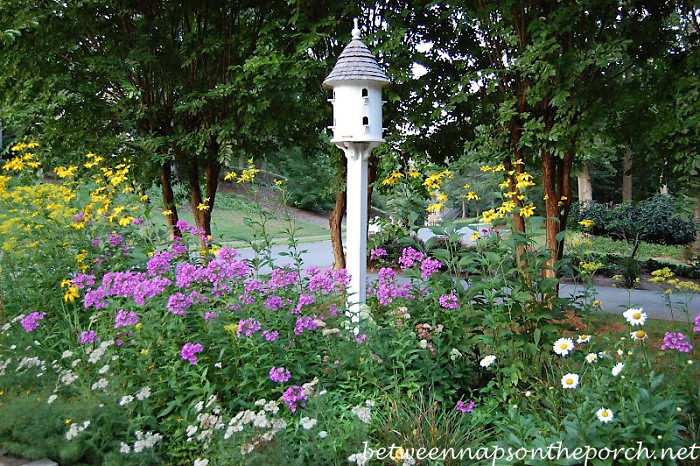 Two years ago I heard a hammering sound while working outside in the yard. I went to see what it was but didn't see anything. A few days later I discovered this. 🙁
What the heck!
I showed a photo of this mini-disaster to my friends at my local Wild Birds Unlimited and they were 99% sure it was done by one of the Pileated Woodpeckers who visit my suet feeders each day.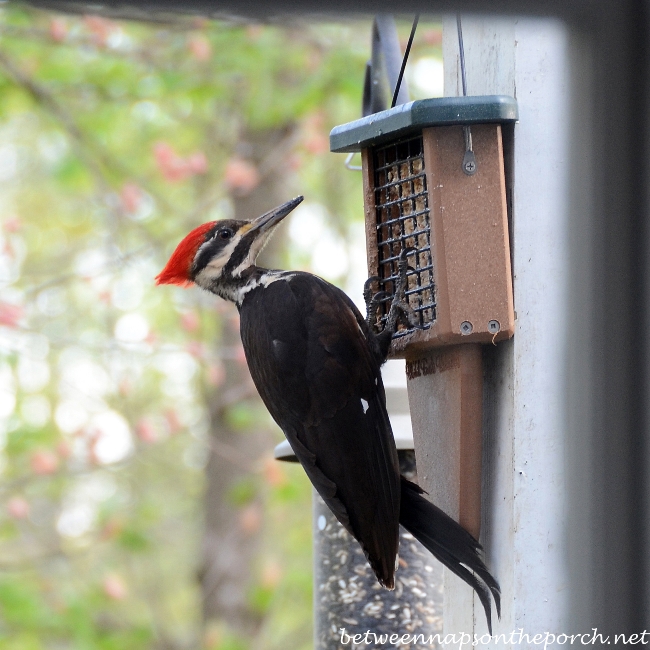 A few days later, whoever made that initial hole came back to finish off what they had started.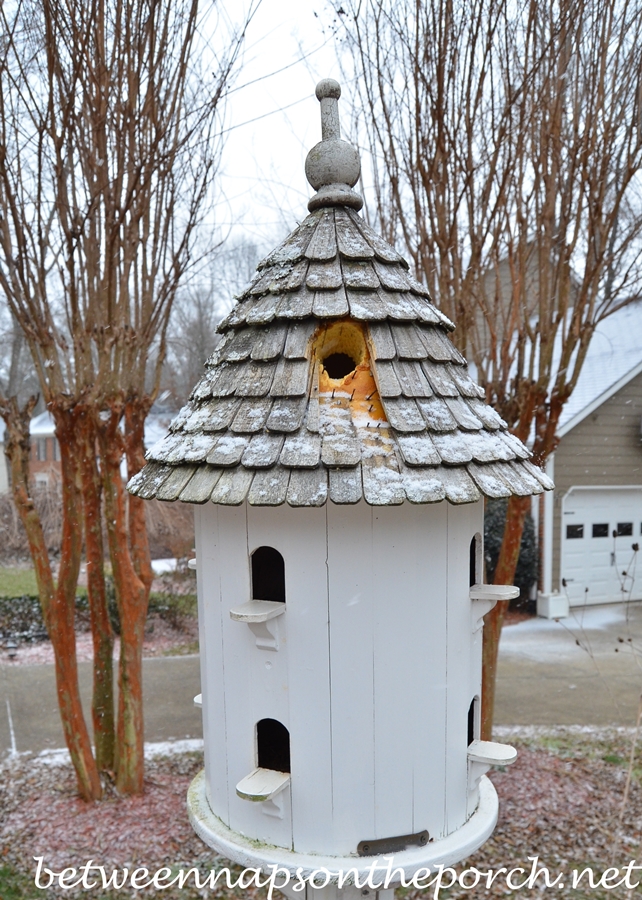 The house stayed this way while I tried to figure out what to do. Unfortunately, after a bit of research, I learned that Lazy Hill had been sold a few years back and the new company that now owned it had changed the roof design. Instead of using cedar, they now used redwood. I knew redwood wouldn't match or age like my existing cedar roof, so I tried to find some thin sheets of cedar from which I could trace/cut singles to match. I looked at dollhouse supply stores and every place I could find online. A couple of times I found sheets of cedar online, but they were never the right thickness.
I had plans to bring the house in last winter while I worked on this issue, but the bluebirds decided to nest in it during the winter for warmth. Then the following spring they nested in it for real. So again, I couldn't take it down to work on it or to repair the hole.
No one nested in it this winter, at least I haven't seen any birds flying in and out. So today I went outside in the drizzly rain and took it off the pole and brought it in. I don't want anyone to nest in it this spring before I can attempt to repair it.
I contacted the company that makes all the Lazy Hill houses again and they sent me samples of the redwood shingles they currently use. I picked out the one that matched the closest in shape, and they are sending me around 10 shingles which is what I think I'll need to make the repairs.
To replace the insulation that the woodpecker tore out, they suggested I buy some of the spray/foam insulation that comes in a can. I looked inside the woodpecker hole and there's a board/ceiling that appears to separate the top nesting places from the "attic area" of the house, so the insulation I spray just inside the hole, shouldn't end up near any future birds that may nest inside. Plus, it will give me something on which to nail the new shingles.
When I first bought this house many years ago, the white paint looked very thin, almost like a whitewash. I repainted it before I ever put it out in the garden, painting it with the same exterior paint that was used on my home and porch: Sherwin Williams, Duration. It's a very, very durable paint and it has done a great job of protecting the siding of this bird house over the years.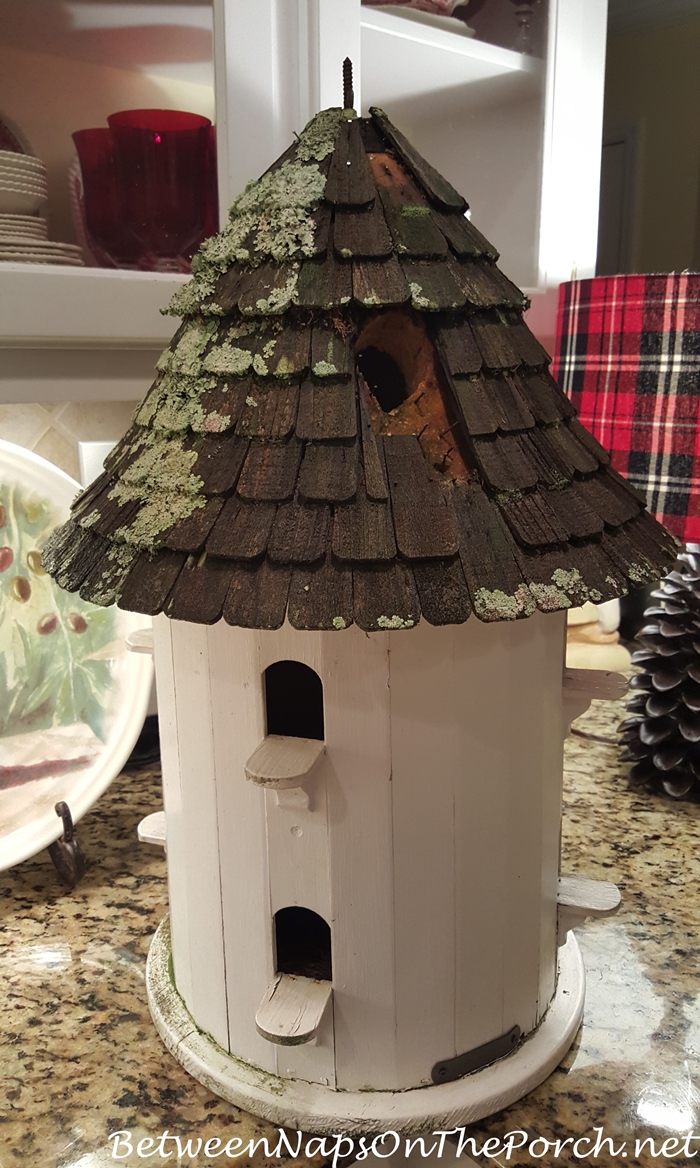 I'm going to try to stain the new redwood shingles to match the existing shingles, which I think is going to be difficult to do. If all else fails, I may order all new shingles and attempt to re-roof the entire house. That would be quite costly because replacement shingles aren't cheap, and I would need 210 shingles! I really love the look of the moss or lichen, or whatever that is that's growing on the roof, so I'd rather not re-roof it if I can avoid it.
The weather has destroyed the finial. The company that makes the house is sending me a new one of those, too. UPDATE: See how I repaired this Lazy Hill Dovecote here: How To Repair a Woodpecker-Damaged Roof of a Lazy Hill Dovecote Birdhouse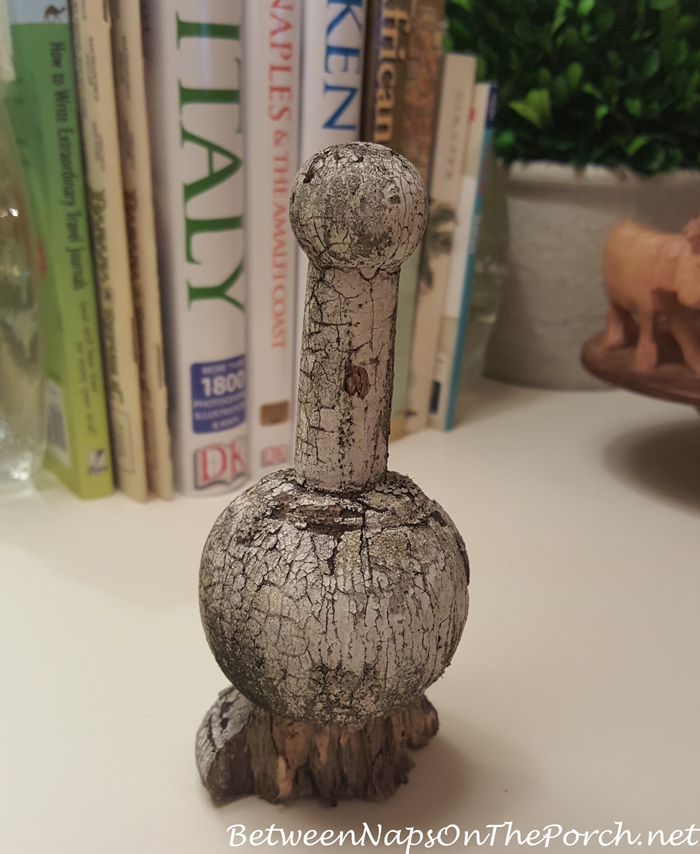 In the meantime, I've ordered a new Lazy Hill dovecote that I hope will be woodpecker proof. I've always admired the copper roof bird houses and I've been told woodpeckers don't mess with these. It's also available with a "Blue Verde" copper roof that looks a lot like aged copper, but I decided to go with polished copper and let it age naturally. Or, maybe I'll see if there's a way to preserve it to keep it looking shiny new.
This house is insulated like the dovecote I already have, so hopefully the roof won't heat up the house. The place I'm thinking of putting it gets a fair amount of shade during the summer, so that should help, too.
Another nice thing about all the new styles of Lazy Hill dovecotes is how they are now designed with a removal roof. That allows easy access to the cavities to clean them out each spring before nesting starts anew. On my old dovecote, I have to reach into the opening of each cavity with a coat hanger to pull out the old nest. That's hard to do when it's mounted up high on a pole.
The best place I've found to purchase the house I bought, and other styles of Lazy Hill houses is online here: Lazy Hill Birdhouse
You'll find the same style house I bought, but with a Verde Copper roof, here: Lazy Hill Dovecote with Verde Copper Roof. I've been told it looks more greenish than bluish, even though it looks bluish in this picture.
If you're looking for one that's like my old house, only now designed with a redwood roof that can easily be removed for cleaning, you'll find it here: Lazy Hill Bird House with Redwood Single Roof They've changed the shingle design slightly, it now has six rows of shingles instead of eight, but otherwise, it looks the same as this one below. Update: All the new birdhouses that I've found online are now made from Vinyl, I think that's to discourage squirrels from chewing on the openings and to make them more maintenance free.
Wish me luck with this repair. I'm not ready to give up on this old house, yet!
UPDATE: See how I repaired this Lazy Hill Dovecote here: How To Repair a Woodpecker-Damaged Roof of a Lazy Hill Dovecote Birdhouse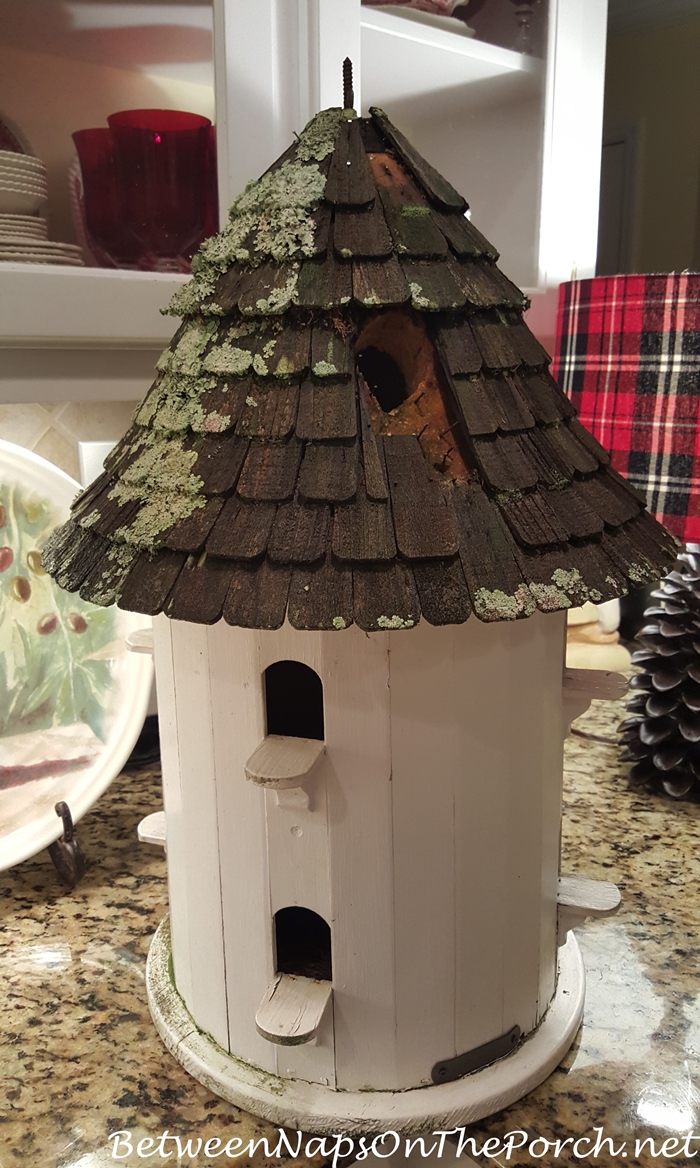 Here are three other style Lazy Hill birdhouses and a feeder that I saw on a garden tour a couple of years ago. I love them all! They make so many beautiful styles! You'll find all these HERE.
*If a post is sponsored or a product was provided at no charge, it will be stated in post. Some links may be affiliate links and as an Amazon Associate, I may earn from qualifying purchases. *