It's been a long time since we made a visit to one of my favorite haunts, A Classy Flea. I stopped in today and found some fun things. The only thing I purchased was a small book but there were quite a few things I found super tempting. I used great restraint!
Sweet serving dish… would be great for a springtime or Easter dinner. Be lovely to display year around. Dishes like this are just too cute to put away in a cupboard!
Olfaire Sheep Serving Dish: $28
I know there are a lot of MacKenzie-Childs fans out there…
MacKenzie-Childs Courtly Check, "Vintage Camp" 16″ enamel platter: $59
This would be beautiful to use for fall or Thanksgiving dinner. I may be kicking myself later that I passed this one up.
Hand-painted Italy Tureen: $24
Blue & White Antique French Twin Bed w/rails: $229
I loved this sweet tree covered in burlap feathered birds. The tree was for display only and not for sale.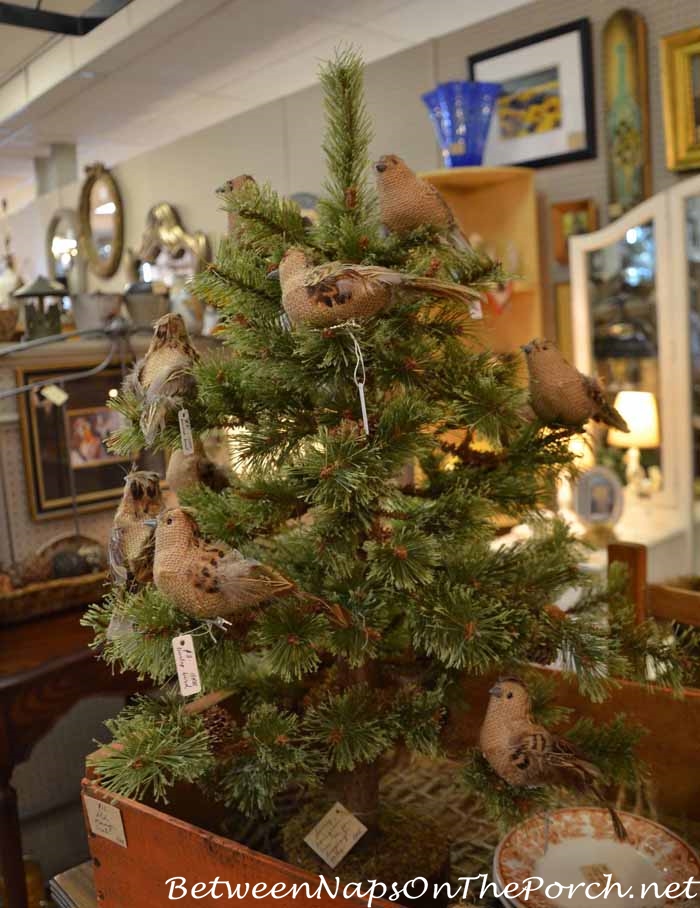 The sweet birds were for sale, though.
Burlap Feather Birds: $3
I'm always drawn to tole pieces. This floor lamp wasn't very tall but it would work great alongside a chair.
Vintage Black/Brass Floor Lamp With Tole Shade: $49
I didn't see a price on this wall sconce and chandelier. Now that I look at it again, that may be two chandeliers.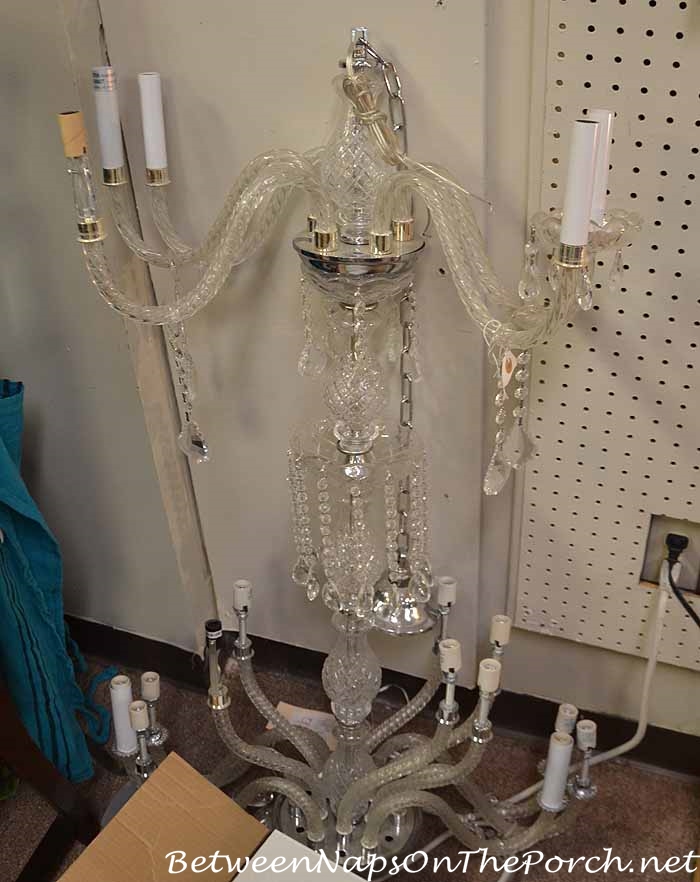 I thought this was a neat changing table. It was already sold. I wonder if the person who bought it will change out the baskets for something other than white. The current baskets are just too white for the table itself. It would look great with some natural-colored baskets or maybe spray-paint these a color that works with the colors in the nursery.
I liked how it had a separate spot for the baby wipes, etc… It felt very sturdy and well-made so I'm sure someone got a bargain.
Vintage White Wicker Bassinet on Folding Stand: $68
Didn't get a price on this matching chest, vanity and desk.
I thought this was such a sweet dresser. It would look great in the right bedroom.
French Style Dresser: $249
Funny I should come across two silverplate pitchers today….
Silverplate Pitchers: $22 and $29
…after just having used two very similar ones in my table setting on Thursday.
Cute mermaid hanging hooks.
This was one of the items that tempted me. I have no need for it so I passed it up, but I really liked it. It was pretty big and the lettering was carved deep into the wood. Would be great for storing magazines or whatever in a beach cottage.
Cape Cod Fish Market: $39.95
I loved this Giclee painting!
Beach Girls (Signed by Artist) $124.95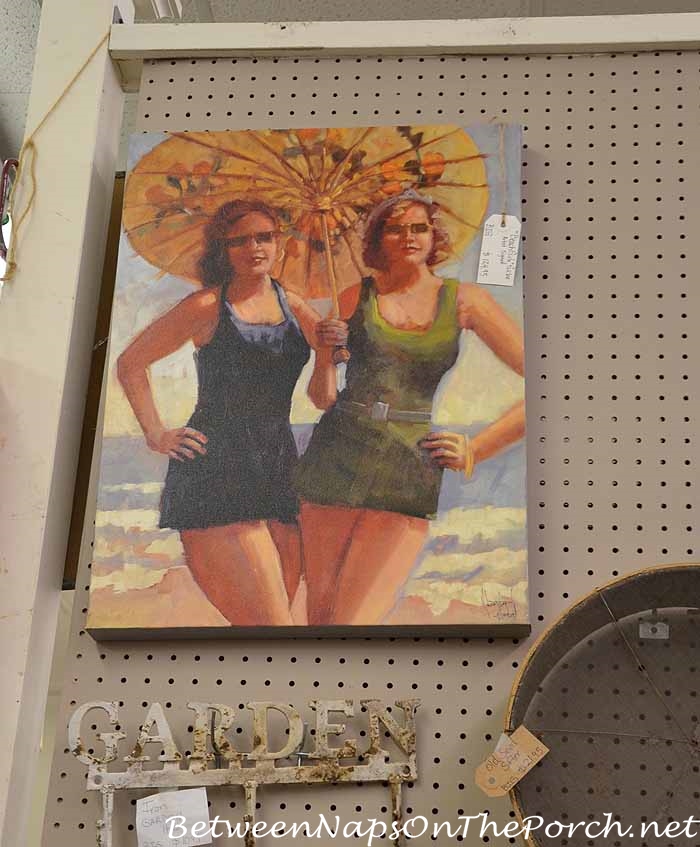 Out of everything I saw today, this was my favorite.
Cute sign!
Happy Cow Sign $16
Pretty painted mirror…
Pretty crystal!
Are these champagne glasses? I'm used to seeing them on taller stems. These were really beautiful!
Loved this old stool!
Old Wood Stool with Cane Seat: $89
This pedestal really tempted me. You just so rarely see real wood pedestals anymore. I would have purchased it if I had a good spot in my home for it. It was hard to get a good picture of it but look at all the turned and fluted sections.
Vintage English Turned Pedestal: $59 minus 20%
I have a similar wood pedestal in my family room…it's to the left of the bookcases in that room. There's an indentation there and it creates the perfect spot for something tall and skinny.
You can see it a little better in this picture taken back when I blogged about silhouettes. I found the one I have while antiquing in Macon, Georgia. The tag on it said it was from St. Joseph's Catholic Church which is a gorgeous cathedral in Macon.
I'm not sure why the church got rid of it but I was thrilled to know where it came from and the color of the wood worked great for my living room. If I didn't already have one in that spot, I would have been tempted to purchase the one I saw today.
Beautiful vintage bedroom set…
Vintage 5-Drawer Dresser with Mirror: $250
1930's Pair of Twin Beds, Peter Kleiner Furniture Co. New Albany, Indiana: $398
1930's Nightstand, Peter Kleiner Furniture Co., New Albany, Indiana: $75
1930 Vanity with Mirror and Bench, Peter Kleiner Furniture Co. New Albany, Indiana: $275
Such a great sign for a pool area or beach cottage!
Wooden Diving Sign: $35
Remember when everyone was making mirrors from paint stirrer sticks? This one is made from reclaimed wood and I loved the colors they chose for this piece. The wood pieces were much thicker than paint sticks.
Mirror Made From Reclaimed Wood: $195
Hope you enjoyed our antiqing trip, thanks for coming along with me. What would you have bought? Anything calling your name? 🙂
*If a post is sponsored or a product was provided at no charge, it will be stated in post. Some links may be affiliate links and as an Amazon Associate, I may earn from qualifying purchases. *