Last May, a couple of weeks before their birthdays that fall just 6 days apart, I bought my son and daughter-in-law this awesome frozen drink maker. We had a blast making drinks with it during the time I was visiting. I've made frozen smoothies for my grandsons with it on subsequent visits.
Yesterday, I stopped by Old Time Pottery on the way back home from another errand and found the cutest Margaritaville highball glasses marked down 50% off. I bought those thinking they would be a fun gift to take to my son and daughter-in-law sometime this summer when I'm there for a visit. Well, I don't think they're going to get those glasses now! lol
When I got home from Old Time Pottery, I started thinking about how I would love to have my own frozen drink machine since I love frozen drinks so much. A frozen drink is just the best thing ever on a hot, muggy, summer day here in the south. I decided to check out the frozen drink machines online and was super excited to find that the same frozen drink maker I purchased for my son/DIL last spring, is currently on sale for $100 less than what it was last year! When I saw that, I couldn't resist getting one to enjoy here at home. You can read more about this frozen drink maker here: Margaritaville Frozen Concoction Maker.
For a skinny minute, I thought seriously about getting this one. It will make three different frozen drinks at one time–just add the ingredients to each pitcher for each drink you're making (Margarita, Daiquiri, Pina Colada, Mudslide, Mojito, Smoothie) and the machine does the rest! Pretty amazing! I hope I don't regret not getting this fancier one because it's on sale, too! You can read more about it here: Margarita Machine for Frozen Drinks.
In addition to the Margaritaville tumblers/highball glasses I bought today in Old Time Pottery, I already have aqua-colored, bubble margarita glasses that I found in Kohl's back in 2008.
Here's a better view of those in this previous table setting.
These are the glasses I purchased last year for my son/DIL to go with their margarita/frozen drink machine. I love the cactus design! You'll find them very reasonably priced here: Margarita Glasses.
If I didn't already have the aqua margarita glasses, I would have to buy these. I think they are so pretty! They would be perfect for summer parties! I may have to cave and get a set of these, love the design so much! You'll find these beautiful, hand-blown margarita glasses here: Beautiful Hand Blown Margarita Glasses.
One More Summer Party Purchase
I'm on a roll for summer party shopping! I purchased one more item that I've always wanted–a Yeti Tundra Haul Cooler. I love how the Tundra Haul has wheels making it much easier to move when loaded down with ice and drinks. I bought this one below for my son a few years back and he uses it every weekend during the summer months when they are grilling out in the backyard.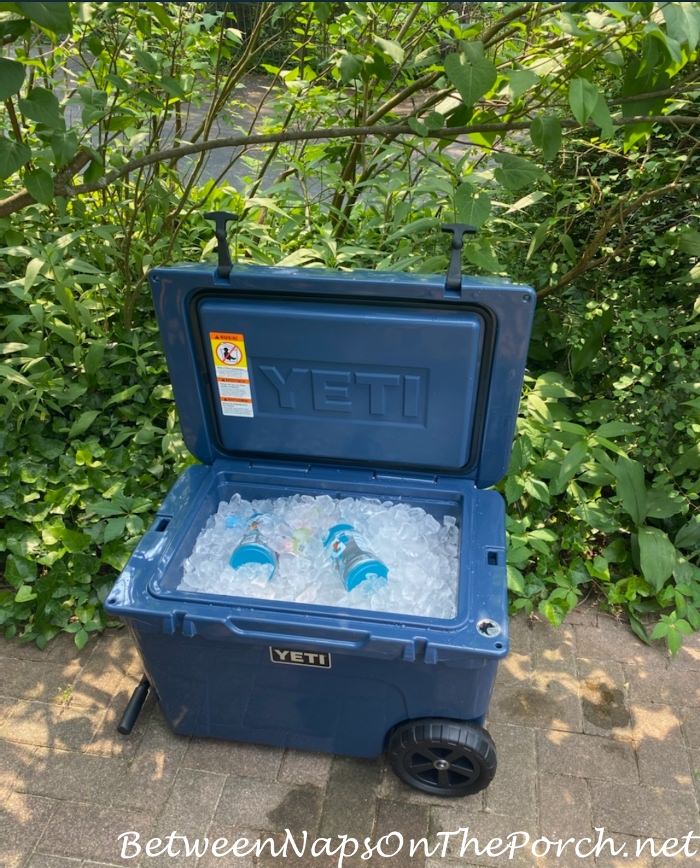 Yeti just came out with the Tundra Haul in a limited edition color called, Rescue Red. They do this a couple of times a year–release their coolers in limited edition colors. The limited edition colors always sell out quickly, so I snapped up a red one before they were gone. So far, I haven't ever seen them repeat a color, so when you see a color you love, you have to get it right then. This red is the perfect red for summer parties, especially 4th of July cookouts. Also, it doesn't hurt that it's the University of Georgia's colors. (Go Dawgs!) It would be perfect for tailgating! The eBay sellers are already snatching the Rescue Red coolers up and claiming that the red is sold out, which is not true–at least, not yet! When I last checked, red was still available here: Yeti Cooler in Rescue Red.
Based on tracking, my cooler should arrive on Sunday. I purchased two racks for it and those will arrive in about a week. Not sure how much I'll use the racks, but I love how perfectly they fit inside. They should work well for anything I want to keep cool, but dry. I know I'll really be glad I have this cooler when it comes time to defrost my chest freezer. Yeti coolers typically keep ice frozen for up to 4 days and sometimes longer! (Racks are available here: Racks for Yeti Cooler.
Have an awesome weekend, Friends! Try and stay cool, it has really warmed up here this week!
*If a post is sponsored or a product was provided at no charge, it will be stated in post. Some links may be affiliate links and as an Amazon Associate, I may earn from qualifying purchases. *