It's been a while since we stopped in for a visit to A Classy Flea. It always amazes me how fast things come and go here. I've learned the hard way over the years, if I see something I like, I'd better get it when I see it because it won't be there long.
All these signs make me wish I had a beach or lake house to decorate.
So many things to see, where should we start?
I was smitten by this beautiful lamp. I can see it beside a gorgeous bed or maybe atop a beautiful dressing table.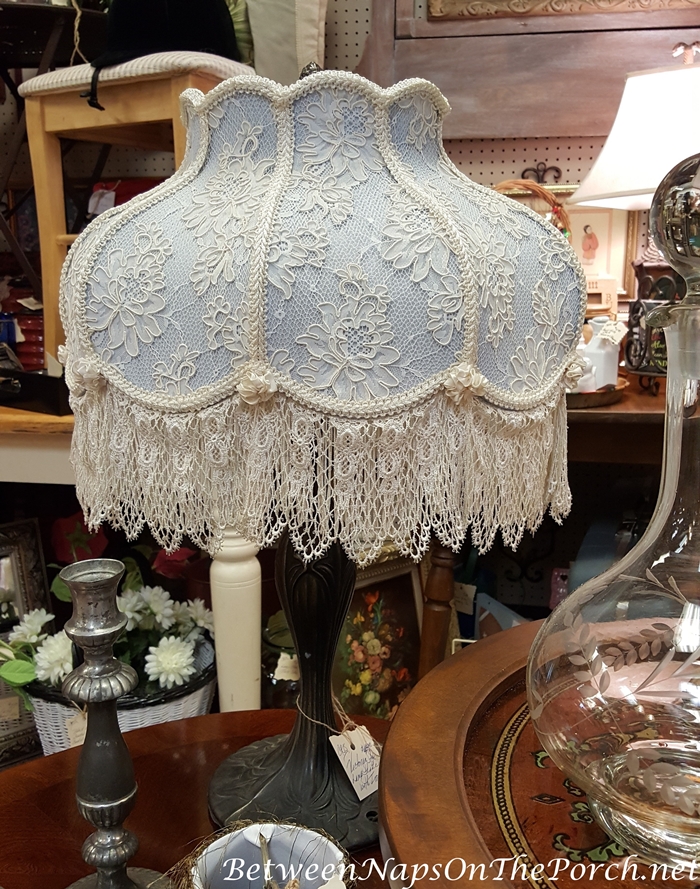 Such a gorgeous shade! $49
I'm always tempted by equestrian riding pieces like this riding helmet. Just love the idea of mixing them into my decor somewhere. This one was in great condition. $29
This student violin was $69. Makes me think of one of my fave movies, The Red Violin.
I saw a lot of pretty chairs during my visit. These were $75 for the pair.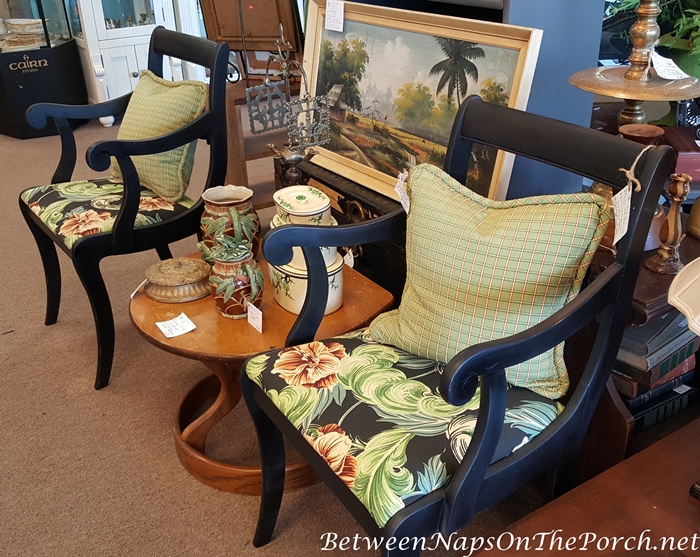 The item that most tempted me during my visit and I found difficult to leave behind was this beautiful punch bowl set. I rarely need a punch bowl but this Ruby Flash punch bowl and cups made me want to have a party just so I would have a good excuse to bring it home with me. It was originally priced at $150 but was on sale 50% off for $74.50.
Another piece I found tempting was this wonderful blue and white umbrella stand. Love the design and of course, love that it's blue and white. $29.95
These custom-made blue and white toile draperies had an adorable whimsical design perfect for a nursery. $39
I love a great chest-on-chest, so much storage for a bedroom or for linens in a dining room. $159
Lots of fun frames, these colors would be great for a beach house or beach-inspired interior.
One of the things I most love about antiquing is you never know what treasure you'll find. I sometimes feel as if I'm in a wonderful museum where touching the fascinating artifacts is actually allowed. So amazed by this old doctor's bag. $49
If I didn't already have this book, I definitely would have purchased it. I miss Colonial Homes Magazine and would subscribe in a skinny minute if it came back. You can read more about this book here: Colonial Homes Classic American Decorating
Here's a great pair of matching damask, channel-back, wing back chairs. The pattern of the fabric was a pretty shell design. They were on sale, $224 for the pair!
Table with six chairs $499
Love cuckoo clocks, this one was missing its weights so it was just $12.99
This vintage East Lake chest had a beautiful carved design. $98.
Some great pieces for the walls…
These were the largest preserved boxwood topiary shrubs I've ever seen! They were really big! $100 each
Got an old drum set that no one uses anymore? Here's a fun idea for repurposing them.
Turn them into pendent lights! These would be great in a kid's room, music room or a rec room. This one was $89 and the silver snare drum shown above was $99.
Pretty highboy, I missed the price on this piece.
Large antique buffet: $499
This guy would be right at home in a cabin, lake house or woodland decorated room. Umm, maybe I should have bought him for my family room, colors are perfect for that space. $12.99
Loved this sweet rocking horse.
Wish I had a spot for this pretty, painted chest. $179
Damask Chair, perfect for a traditional style living room.
Rustic flag made from old fence boards: $98
These metal spinning bins would be great storage for a craft room or work shop. I gave it a spin and was amazed by how the little bins stay level as it turns: $225
This was labeled as a "Step-back China Cabinet." I think I'd use it as a bookcase with storage beneath. Love these pieces because they are so versatile. They work great in a living room, dining room or bedroom…really anywhere. $129.00
I have this book by Mary Carol Garrity and it's excellent, definitely one of my faves by her. You can read more about this book here: Style at Home
See anything that would have come home with you?
*If a post is sponsored or a product was provided at no charge, it will be stated in post. Some links may be affiliate links and as an Amazon Associate, I may earn from qualifying purchases. *