Happy Weekend!
This whole past month I have been working on tons of little mini-projects here around the house. Ever since I returned from Ohio, I've been deep into spring cleaning, actually more like spring clearing. I've been going through bathroom closets, replacing the old, warped, brown-stained wood shelving with bright-white, wide, flat melamine shelving.
I've been clearing out drawers, organizing, even going through all the perfume, lotion, face cream samples that I've somehow accumulated over the past year or two. Seems like every time I purchase a perfume, lipstick, or nail polish, I end up with a bunch of free samples. Amazing how fast they multiply! I am determined to get through them all so I'm trying a new one every day/night. lol
So though I've hardly sat down since I returned home, not a lot of what I've been doing is post-worthy. I do have plans to share an updated office tour soon since there have been some fun changes in that room.
In the meantime, I just discovered that Noritake is having a huge summer sale!
Remember the dramatic Indigo Beach pattern I used in the table setting below?
That collection is being retired so everything is currently 50% off! Some individual pieces are starting to sell out but you can still get the 4-pc place setting for only $19.99! You'll find the sale here: Indigo Beach.
The beautiful, sunny-yellow dishware I paired Indigo Beach in this setting is also on sale. You'll find it on sale here: Colorwave in Sunny Mustard Yellow. I love using this sunshine yellow during the summertime!
Isn't this Kona Wood set stunning?! I would love some of the chargers! You'll find it all on sale here: Kona Wood.
I also love this beautiful pattern…such soft, muted colors for summer. You'll find it 50% off here: Floral Petals.
The sale is sitewide so too many great patterns to list them all here, but def a sale you don't want to miss.
When You Find It For Soooo Much Less
I need to do a Favorites post sometime soon and share all my faves from the month of June. When I put that post together, one item that will make the list is this throw I purchased for my son and daughter-in-law in early June just before leaving to return back home.
They had just purchased new leather sofas for their living room and wanting to contribute/celebrate their living room makeover in some small way, I purchased a few new throws. Around two weeks later my daughter-in-law texted me asking for the link for one of the throws I had purchased. She said they were all obsessed! lol I got the impression that it was THE throw everyone wanted to use in the evenings, so they needed another one or three!
This was the throw for which she wanted the link.
One of the reasons I had purchased that particular throw is because 2-3 years ago I purchased two of this throw below from Pottery Barn. At that time, I purchased one for myself (which I still use in my upstairs living room) and one for my daughter-in-law who ended up loving it so much, she told me she carried it from room to room, even upstairs to her bedroom. (See the Pottery Barn throw here: Throw.)
But here's the big difference: I paid a whole lot more for the PB throws when I purchased them a few years ago. Even though I caught them on sale back then, they were a lot more expensive. Currently, they are selling on the PB website for $119-$189 depending on the size throw purchased.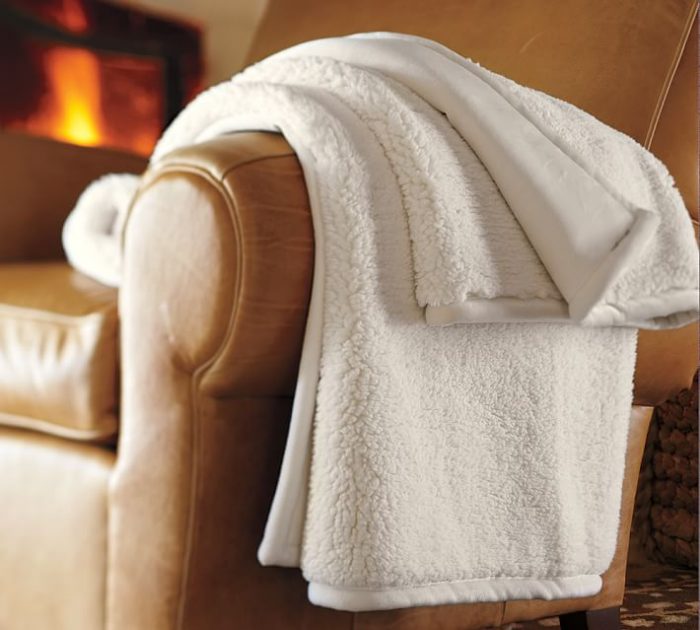 So when I saw this throw below, I couldn't get over how similar it looked to the PB throw I had purchased for myself and my daughter-in-law a few years back. I really wonder if they are made by the same company, they look so much alike.
So if you're in need of some new throws, especially for this fall/winter, you'll find this one below for around 1/3 the cost of the PB throw, here: Sherpa Fleece Blanket Throw.
*If a post is sponsored or a product was provided at no charge, it will be stated in post. Some links may be affiliate links and as an Amazon Associate, I may earn from qualifying purchases. *