Ha! That post title will make more sense in just a second. 🙂
I've been a Bose fan ever since I purchased their Lifestyle® 12 surround sound system for my living room over twenty years ago. When something went wrong with the large acoustimass module after many years of use, Bose was still in business (unlike a lot of companies these days) and were happy to assist.
They mailed me a very large box that contained a lot of smaller boxes, with detailed instructions on how to box it up for shipping. They refurbished the entire system, updated all the components, and mailed it back for what I felt was a reasonable cost of $250. They even replaced the remote that I had managed to catch on fire. Yup, I caught the remote on fire!
I had placed the remote on the table we were going to be lunching at, out on the deck. I lit a large pillar candle (you know where this is going) and placed it in the center of the table. Since this was a casual meal on the deck, I decided to use paper napkins that day.
I was in the kitchen taking care of the last few details of the meal when a friend ran into the kitchen exclaiming that the table was on fire. What?!?!
I rushed outside to find several napkins burning away atop the Bose remote I had placed on the table earlier. Apparently, a breeze had come along and lifted some of the napkins from the stack, blowing them into the candle before ultimately depositing them atop the remote.
I put out the fire and underneath the ashes I found a very charred, very brown, partially-melted remote. Of all the places those burning napkins could have landed, they chose the remote!
Shockingly, it still worked! Too bad I wasn't blogging back then, I definitely would have taken a photo of that little mini-disaster! The remote made for some interesting conversations over the years. It was almost worth the melting just for the looks (and laughs) from friend's over the years whenever they caught a glimpse of it in the living room. lol
When the acoustimass module quit working years later and I was in the process of boxing the system up to send it in for repairs, I asked Bose how much a new remote would cost. They quoted me $100 which seemed like a lot since the repairs and refurbishment of the whole system was only $250. So, I paid for the repairs and told them I'd just keep using the old remote.
As I boxed up the system I thought, what the heck, I'll include the melted remote and just see what happens. They may need it anyway for testing out the system to make sure it works after repairs. I was surprised and delighted to find a brand new remote tucked inside the box when the system arrived back home. Thank you, Bose!
I wonder if Bose has one of those BIG jars on their counter like you see at the repair shop where I take my car for oil services. You know, the jar that's filled with all the "can-you-believe-this-stuff" that customers mail into them? You know there must have been some surprised faces when they opened the box with my system and found that brown, charred remote inside that had obviously been set on fire! lol
A New Bose Addition
For Christmas I was very fortunate to receive two Amazon gift cards, one from family and another from a lovely reader. (Thank you again, Juanita!)
I was so excited about the gift cards, I decided to save them to use toward something special. I didn't want them to get absorbed or vanish into the usual household stuff I order regularly from Amazon. Do you do that when you're given a nice gift card, save it for something really special?
Not too long after Christmas, it hit me. I knew exactly how I wanted to use the gift cards. I decided to put them toward something I had been lusting after for about 10 years, a Bose Wave Radio. That's what I was still calling it, but when I checked on Amazon I discovered the Wave Radio has gone through several updates/editions and is now called a Bose Wave SoundTouch Music System IV.
I ordered one to enjoy here in the office and was happy to find that they also have several sizes of wireless speakers designed to work with the system. That means you can place Bose speakers all around your home and play the same music (or different, if you prefer) all throughout your home.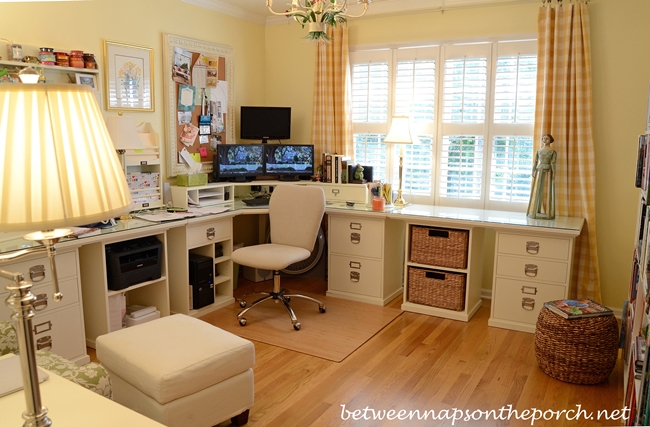 When the Bose system arrived, I opened it and placed it on the section of the desk that's to the right of where I normally sit. As it played a CD, I thought it sounded nice. Then I read the instructions that came with the system and noticed you're supposed to place the system across the room from you for the best performance.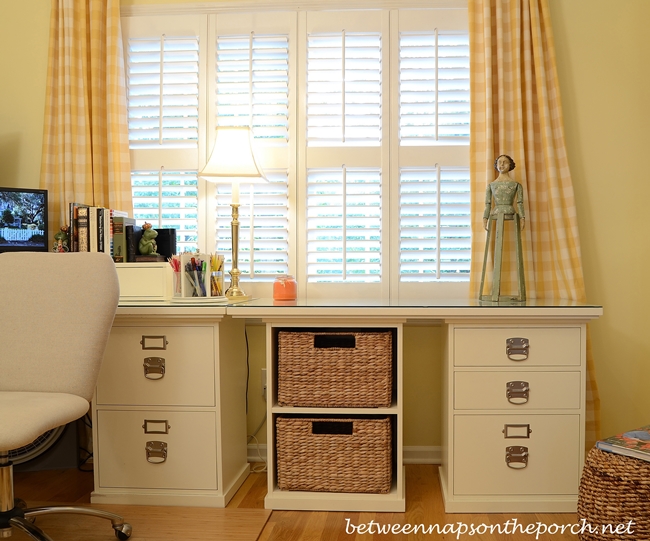 There was only one spot where it could go and that was on the chest across the room from my desk. I moved the travel guides I normally keep there over to the book shelves here in the office. I placed the Bose Wave system on the chest, plugged in and listened again.
Wow! What a difference! Amazing the things that happen when you actually follow the instructions! Bose describes the Bose SoundTouch System saying it, "delivers lifelike, room-filling sound" and indeed, it does!
Update: I've had a few questions about the Bucket List Map I have hanging here in the office. You can read more about it and see some close-up pictures in this previous post: An Inspiration Update for My Home Office.
It's definitely the beautiful Bose sound that I was hoping for and I totally understand now all the amazing reviews online. When it plays, it's hard to believe that big, beautiful sound is coming out of something so small!
Speaking of beautiful, the lovely flowers you see on the right were a birthday present from my sweet friend, Linda. You may remember Linda from when she and I took a Staycation this past fall.
To turn on the Bose system, you can use the remote that it comes with, or simply touch it on the top. Guess that's why they call it a "SoundTouch" Music System. It comes in an all black finish or a platinum silver finish that looks kinda retro. I liked the silver finish and went with that.
The SoundTouch IV system is a radio, but of course it will also play CDs. I really like that feature since I have some CDs that I still enjoy. It also has Bluetooth built-in which means you can stream any music you have on your smart phone or tablet. Cool, huh?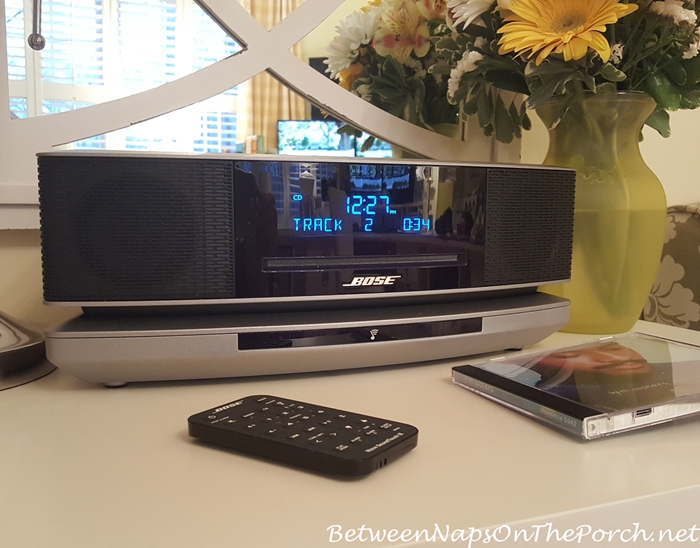 It will also stream music from all these places below. So if you use Spotify, Pandora, Amazon Music or any of the others shown below, you can stream it right through your Bose system. The only one I use is Amazon Music and it does work, I had no trouble playing it.
I hope to one day add some of the Bose wireless speakers to other rooms in my home, then I can enjoy the music all throughout my home without having to have my home wired. Love that!
I just discovered today, if you have the Amazon Echo Dot, which I do, you can control the Bose speaker in that room with your voice! So cool! Update: Paired my Echo Dot with my Bose Wave SoundTouch and it works great. Whatever I tell Alexa (Echo Dot) to play, plays via my Bose.
Read more about that here: Bose SoundTouch & Echo Dot.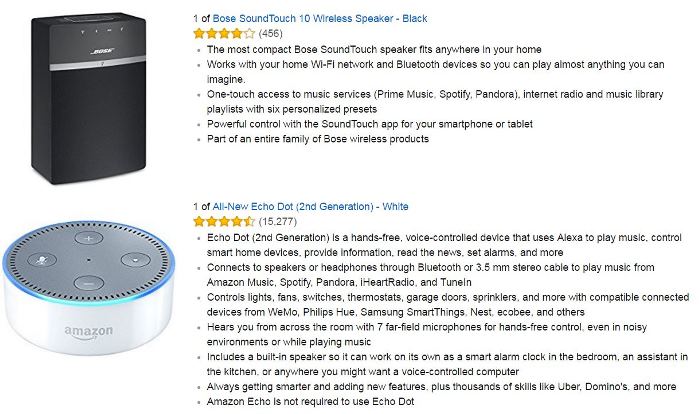 I paired my phone to the Bose SoundTouchand am now enjoying the Audible books I've downloaded via the Bose System. Very excited about all the ways I'm able to use this system, never dreamed of listening to books on it!
The real test of my Bose SoundTouch Wave system was when I played some of my favorite Jazz CD's by Kim Waters. Those CDs have a lot of rich bass tones. I don't like melancholy jazz and don't like jazz music that's too loud or too hyper, but I love Kim Waters' music. I have five of his CDs and love them all.
His music is soft, relaxing and very uplifting/happy…but not manic-happy, if that makes sense. Some jazz music can make me feel on edge. His doesn't, instead it makes me feel super relaxed and happy. Hard to explain until you hear it.
If you've never liked Jazz, test listen to some of his CD's at Amazon. If you're an Amazon Prime member, you can listen to several in full, for free. Here's a good one to try: Kim Waters, and this one: Kim Waters My Loves.
Wish I had found his Christmas music a couple of months ago–hear it here: Kim Water Christmas. Just click on the blue "Listen Now" button on the right at those links, and enjoy! I love listening to his music when I'm reading on the porch, and it sounds amazing coming out of the Bose SoundTouch system!
Just wanted to share this awesome system with you in case you've wondered about it over the years like I have. It's not inexpensive, but definitely worth it. And it comes from a company that's been around for many years and I expect will be around for many more. You can read more about it where I purchased mine here: Bose Wave SoundTouch Music System.
Have a wonderful weekend, Friends! See you Monday for Metamorphosis Monday!
*If a post is sponsored or a product was provided at no charge, it will be stated in post. Some links may be affiliate links and as an Amazon Associate, I may earn from qualifying purchases. *