Today I was on a mission, unfortunately my mission failed. I was trying to find small-to-medium size cookie cutters in the shape of flowers. I struck out in Michaels, Party City (it was next door so I gave it a shot), Bed, Bath and Beyond, Pottery Barn and the Dollar Store. The cookie cutters I found today were either way too big or were in large sets and were too expensive. I finally gave up and decided to let my fingers do the searching online. So the table I had hoped to post for tomorrow's Tablescape Thursday is getting delayed another week.
I didn't expect Pottery Barn to have cookie cutters but I couldn't resist stopping in since they are in the same shopping center as B B and B. I was hoping to get a little preview of their fall goodies. It's dangerous living 2 miles away from a Pottery Barn!
Here's the first table setting I stumbled across.
It has a summery feel doesn't it, although it would easily work as a winter table setting, too. I love the rustic lanterns. Couldn't you see this come January in a dining room with a wood burning fireplace. The china and napkins feel wintry while the centerpiece says warm and rustic by the fire.
It could even work as a New Years setting with all the glitz and glam of the napkin rings.
This setting definitely says summer. I have hydrangeas on the brain right now because I've come to realize my back yard is perfect for them! I'm headed out to a huge nursery tomorrow to check out the possibilities.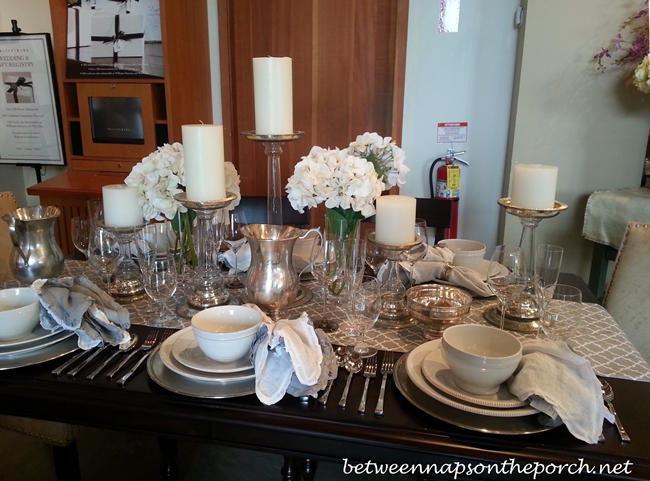 I don't know how P B does it but their silver pieces do a pretty good imitation of silver that's developed a beautiful patina. The pitcher had the word "Drink" engraved into the side. It made me think of Alice in Wonderland with the "Drink Me" messages. I like the ruffled napkins. Cute!
On the other side of the store, I found a pretty blue and green setting.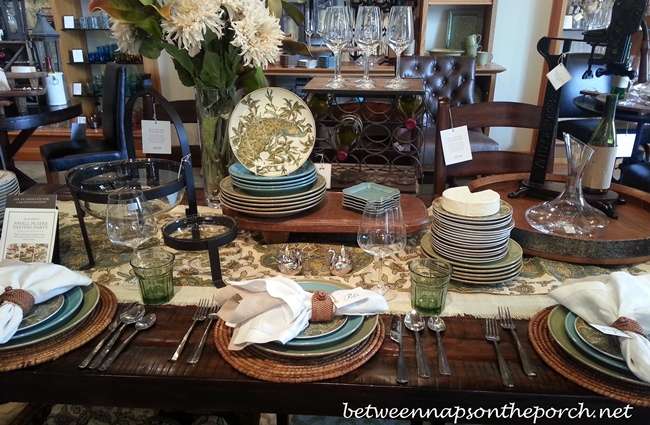 This china could definitely work for fall. Like those napkin rings.
I saved my fave for last. I love Halloween…just love it.
I probably shouldn't admit this, but I am. When I first walked up to this table, I stared at the pumpkin below for a second, trying to figure out why it said, 1300. I thought, "Well, 13 is supposed to be an unlucky number so that's kind of Halloween-ish, but why would they put 1300 on a pumpkin?" Then the light bulb went off and I had a good laugh at myself! Yup, I think I've been spending a little too much time out in the hot sun lately.
Cute pumpkin plates! I'm sure they will all be gone weeks before Halloween. I have some orange pumpkin plates, so I'm good in the pumpkin plate department.
Do you see the cute little mice holding the bowls? I turned them over to check if they were salt cellars and they were! I was surprised! If you scroll back up to the blue table, you'll see two swan salt cellars on that table. I love salt cellars and have used them in table settings for years. Apparently, they are making a bit of a come back.
Does this table put you in the mood for fall? I don't know why, but I'm actually looking forward to it this year. I'm the one who normally holds onto summer to the very end, but this year I find myself getting excited about fall.
Looking for a little early fall inspiration? You'll find plenty here: Fall Table Settings
And don't forget, when you really want to scare someone this Halloween, just sneak up behind them and in your spookiest voice yell, THIRTEEN HUNDRED! 😉
*If a post is sponsored or a product was provided at no charge, it will be stated in post. Some links may be affiliate links and as an Amazon Associate, I may earn from qualifying purchases. *