Back around 2002, I gave my kitchen a mini-renovation. At that time I had the cabinets painted white, added glass to the front of eight cabinet doors, added under-cabinet lighting, new backsplash, had granite counters installed and replaced the stove, microwave and sink. Since my kitchen isn't overly large, I've made a conscious effort over the years to keep the countertops cleared off and as clutter free as possible.
I do keep a few things out fulltime, like my mixer which is way too heavy to put away and pull out each time I need to use it. The paper towels used to be mounted underneath the cabinets, but once the lighting was added, those had to move down to the counter. That's okay, though–the lighting is totally worth having the paper towels on the counter. I could remove the decorative pieces to clear off more counter space but those add a bit of whimsy and fun.
A couple of years back, I added canisters to create a little baking station..
I was inspired to add those after seeing the baking station in the movie, It's Complicated. (Note arrow in picture below) Of course, the character Jane (played by Meryl Streep) is an actual baker in the movie, so it makes sense she would have a baking station with tons of canisters in her kitchen at home. I loved the look of all those filled canisters!
Later, I added one more canister to this area to bring the total to three. I enjoy having these here because they hold the things I use most often: sugar, flour and oatmeal or cereal. You'll find these same jars available here: Anchor Hocking Montana Jar They even have them with red lids now…so cute!
One of the items I gave up having out on the counter years ago is a toaster. In this older picture posted shortly after I began blogging (sorry about the quality of that pic) you can see the Maytag stove I purchased has two ovens. I specifically chose this stove to get the extra oven I so badly needed for parties and holiday dinners.
The top oven, in addition to being great for baking cinnamon rolls, biscuits, casseroles and other short items, is also a toaster. So for the last several years, I've been using the top oven to make toast.
That has worked great except for one problem: it can only toast one side of the bread at a time. Since I'm usually too impatient to toast both sides (it takes around 4 minutes for each side (7-8 minutes total) I usually end up eating toast that's just brown on one side. Toast just really isn't toast when one side is crunchy and the other side is soft.
So you know how sometimes an issue or thing will bug you, but you keep putting off dealing with it until one day something just clicks, and you decide that's enough!? Well, that day came for me last week. I finally decided life was too short to put up with half-toasted toast. Unfortunately, I knew this meant adding another appliance back to the counter. Drat!
As I sat thinking about this dilemma, I came to the conclusion that if I was going to put a toaster back on the counter full-time, it had better be a cute one! I was thinking maybe something with a retro feel in a fun color, a toaster with a little personality. I started Googling and searching for toasters and unfortunately all the happy-colored, retro style toasters I found had terrible reviews. But I did come across one with good reviews that I thought was cute enough to give up a little countertop real estate..
It isn't colorful, but it has tons of personality!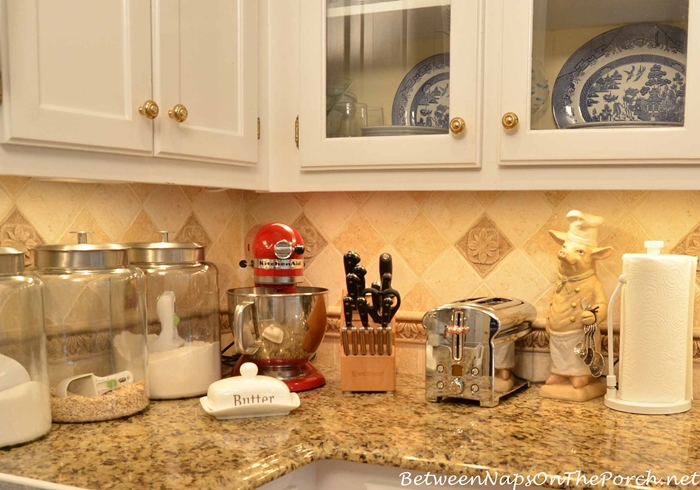 I went with the Michael Graves 2-Slice Toaster
, designed in the shape of a loaf of bread. It makes me smile each time I see it here on the counter. 🙂 (Unfortunately, you're going to see me in all the following pictures because there was just no way to take pictures of a toaster with a mirror-like finish and not show up in them. I made myself as compact as I could. lol)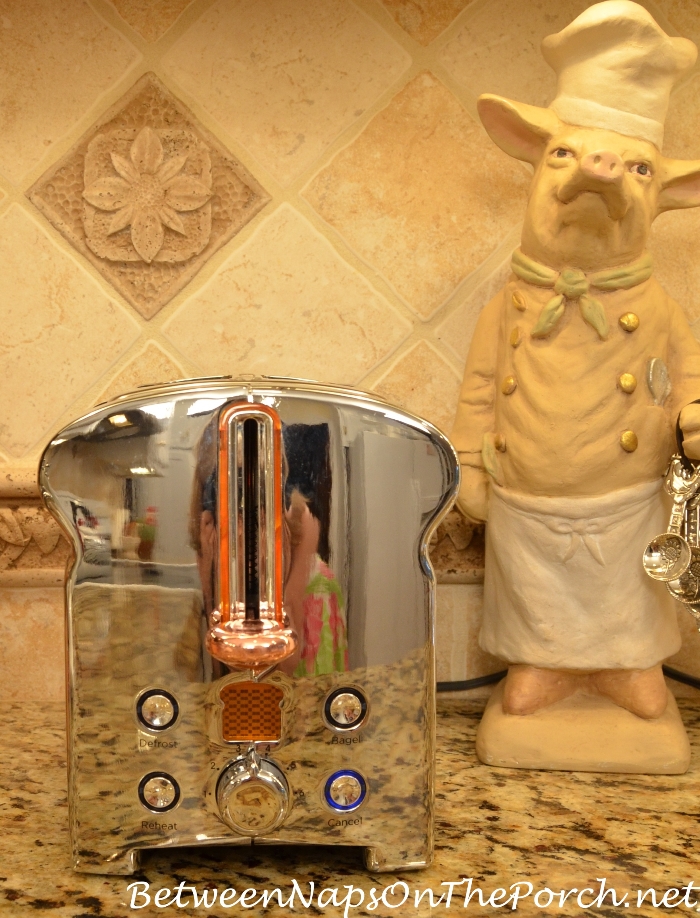 This toaster has a little "toast window" on front that looks like this when not in use.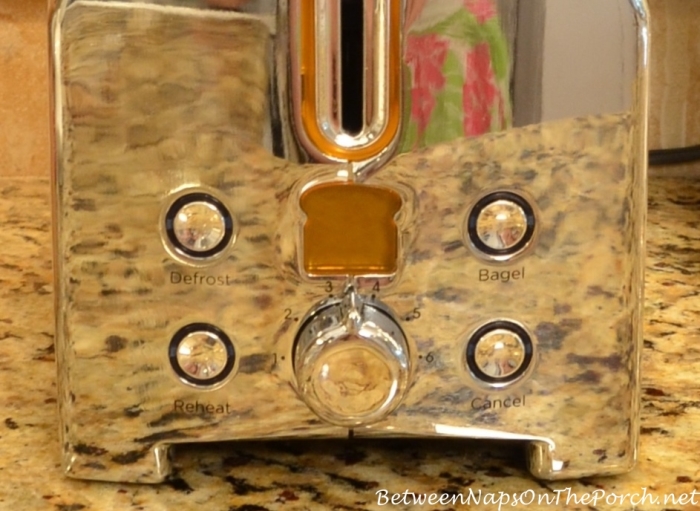 Once you put your bread inside and press down the lever, the toast window lights up displaying pixels that depict the setting you have chosen for your toast. There are six browning levels and the higher the setting, the more dark pixels appear in the window.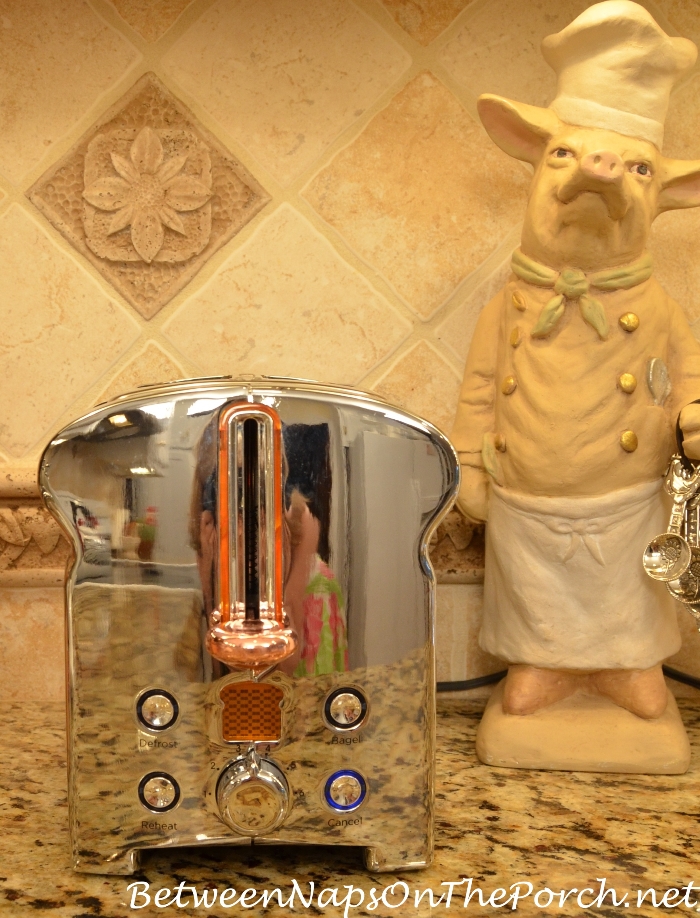 If you turn the dial all the way over to 6, the toast window is almost solid brown with pixels–no open spaces. This is how it looks about half way between 3 and 4.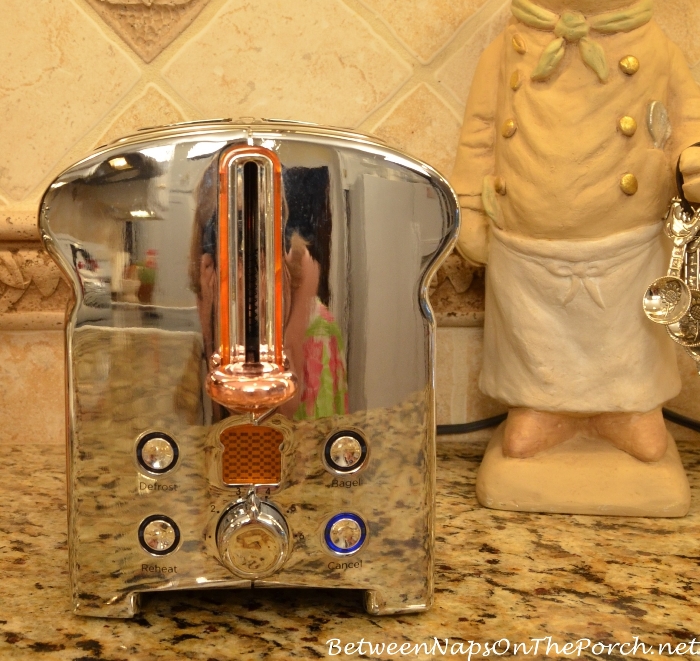 As the toaster browns the bread, the little grids begin to slowly melt away.
See how they are going down a little at the time? Love that!
I love how it looks when the lighting is turned down low. What really sold me on this little toaster was the reviews on Amazon and its whimsical bread shape. The other little features are fun, though.
Update: This toaster was sold out but it appears to be back in stock now. It can be found here: Michael Graves 2 slice Toaster
So, another appliance has found its way back to the counter, much to my chagrin. I don't mind so much, though, it's been really nice having toast that's actually crunchy on both sides! Life is good! 🙂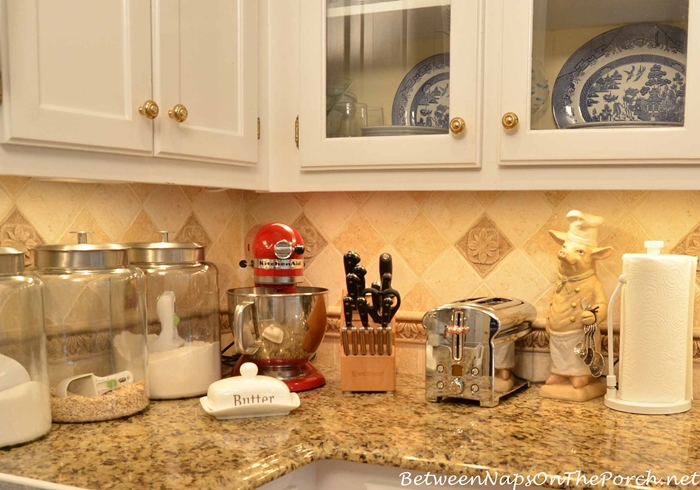 Have you fought this battle in your kitchen, deciding what to keep on the counter and what to remove? It's not easy deciding, is it?
*If a post is sponsored or a product was provided at no charge, it will be stated in post. Some links may be affiliate links and as an Amazon Associate, I may earn from qualifying purchases. *