Not sure what got me thinking about this, but a few days ago I was thinking again about how much I loved the home in the movie, Home Alone, and how it had made such an impression on me when I first began buying furniture and decorating my own home. That sent me down another rabbit trail wondering what else have I done in my home that was the direct influence of something I had noticed in a movie house.
Several years ago I watched the movie Home Alone again, and I think that's when it actually hit me. I had loved the "feel" of the home in the movie, how it had exuded such a warm "family" feeling, but I hadn't realized just how much the colors red and green were used throughout the home until I rewatched it with a new perspective–actually paying close attention to the decor. Red and green were literally everywhere, including on the walls and the carpet.
Red and green even appeared in the paintings and the clothing of the characters.
The kitchen had green countertops. Even the pots and pans were red and green! (Take a tour of the house in the movie, Home Alone, here: Home Alone.)
Fast forward to when I moved into my home–there's definitely a lot of red and green going on throughout my own home. I can't help but wonder if I was influenced by how much I loved the "feel" of the home in Home Alone.
Around the time I was decorating this room, a decorator told me that jewel tones were now out of style. I think that was the first time I realized decor actually followed trends. I didn't care because I never decorate according to what is "in style" and just go with what I love.
Red has popped up in several places throughout my home, including here in the dining room. I discovered this paint color in the den of a home during a Christmas tour of historic homes and loved it.
I just purchased my winter bedding from Williams Sonoma a few years ago, and the green drapery panels were a fairly recent purchase, I think last winter–or maybe it was the winter before. (They are still available here in several colors: Curtains. Apparently, I'm still a big fan of red and green in decor. My likes and dislikes don't seem to evolve with the trends.
Another idea I fell in love with after seeing it in a movie was the concept of having a little "baking center" in my kitchen. Do you remember the large glass containers of flour, sugar, and other baking "stuff" Jane had here in her kitchen in the movie, It's Complicated? (Tour that movie house here: It's Complicated.) Of course, in the movie, Jane actually owns a bakery, but I loved the little baking center she had set up here in her kitchen at home.
I don't do a lot of baking these days, but I decided to copy this idea for my own kitchen. I've since replaced the flour with Cheerios, but this little "baking" center still remains in this corner of my kitchen and I still love how it looks.
There are probably other details in my home that were inspired by something I saw in a movie. One more that comes to mind is how much I loved this tole chandelier from the movie, Under the Tuscan Sun. I must have rewatched that movie around the time I was working on furnishing my home office because I remember being determined to find a charming tole chandelier for that room. I didn't want the office to feel too officey. I was going for a more cozy, whimsical feeling.
This was the tole chandelier I discovered on eBay and purchased for the office. Tole chandeliers were very popular back then I think because I kept losing all the auctions I was bidding in. In the end, I was glad I had lost the others because this chandelier was my favorite of all I had come across. I guess it was meant to be!
I later replaced the plastic candle covers with beautiful resin covers that mimic beeswax candle covers. I now have those on all my chandeliers including the one in the dining room and in my bedroom. You can read more about how I replaced those in this post: Realistic Beeswax Resin Candle Covers.
I would love to hear what decor ideas or things you have done in your home that were inspired by something you saw in a great movie house! Have you painted a room a particular color after seeing something similar in a movie? Have you ever struggled with furniture placement, but then fell in love with a room in a movie and instantly knew just how wanted to arrange the furniture in your home?
One idea that I've always LOVED but have never really been able to work into a home is the placement of Kathleen Kelly's desk in her home in the movie, You've Got Mail. This may sound backward, but sometimes I will see something in a movie or during a Christmas home tour, and once I'm back home, I try to figure out how I can work what I saw into my own home. That's how Benjamin Moore's Raspberry Truffle ended up on the walls of my dining room. Ha!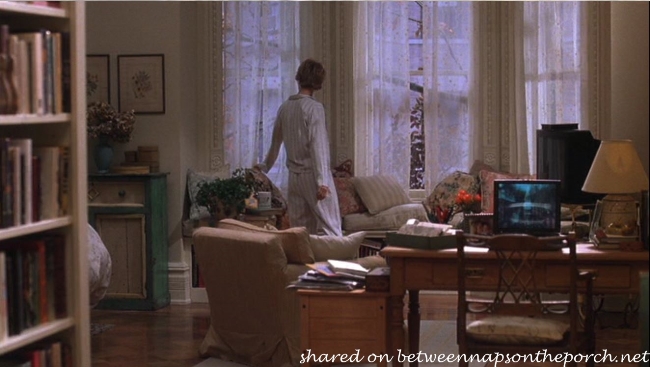 I love how this desk is placed with one end against the wall and protruding out into the room. I love it when furniture isn't lined up all around the walls but actually protrudes out into a space–but in a way that isn't awkward or in the way. This is so much better than if the desk had been placed length-wise against that wall where the pictures are hanging. There are two places/rooms in my home where I could use this idea if I really wanted to, but I just haven't had the need for a desk in those two rooms, so I haven't done it. It really is fun, though–all the decor ideas you can pick up from just watching a movie! (Take a tour of character, Kathleen Kelly's brownstone in the movie, You've Got Mail, here: You've Got Mail.)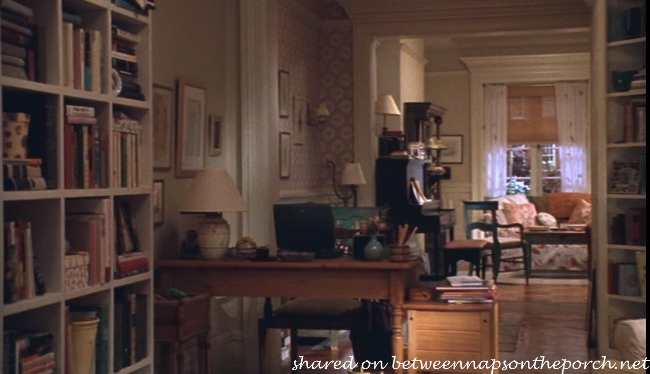 I know we all garner inspiration from Pinterest and Instagram, but I would love to hear about a time that you were inspired by something you saw on a home tour or in a movie! Did you see a picture arrangement on a wall and go home and recreate it in your own home? Has the decor you saw in a great movie house ever inspired a design idea, paint color, or some change you made in your home?
*If a post is sponsored or a product was provided at no charge, it will be stated in post. Some links may be affiliate links and as an Amazon Associate, I may earn from qualifying purchases. *