We are really seeing the warmer temps now and it's got me thinking more about my summer wardrobe. I love this time of year when we can finally tuck away some of our heavy sweaters and start wearing lighter, more carefree prints. I was thinking about this yesterday, how "happy" the spring/summer patterns and prints are, compared to fall and winter. I wondered what it would be like to live someplace where it stayed warm all year long and I only needed a wardrobe with nothing but bright, happy summer prints. As much as I dislike cold weather, I would really miss the beautiful, rich colors we see in fall/winter clothing, the soft, warm sweaters, and the cozy scarves. I really do like living where the weather necessitates a 4-season wardrobe. Do you live where you have a need for clothes that suit all four seasons?
There are so many pretty spring clothes on sale right now, seems like so many shops are having spring/summer sales. I love this floral wrap dress that's currently on sale for around for 1/3 off with the code WEARNOW . That's an awesome sale! It's available here: Floral Wrap Dress.
Love these fun spring/summer boots, they are perfect for our rainy days. I can see wearing them with blue or white jeans! They would even be cute with the white shorts I live in during the summer. They are currently on sale here: Spring/Summer Rain Boots.
I have this lobster sweater in my cart, right now. It's currently on sale here: Lobster Sweater. It would be perfect for an evening walk along the beach this time of year. Def giving me beach vacation vibes! You can see all the embroidered and a special accented sweaters they currently have on sale here: Sweaters.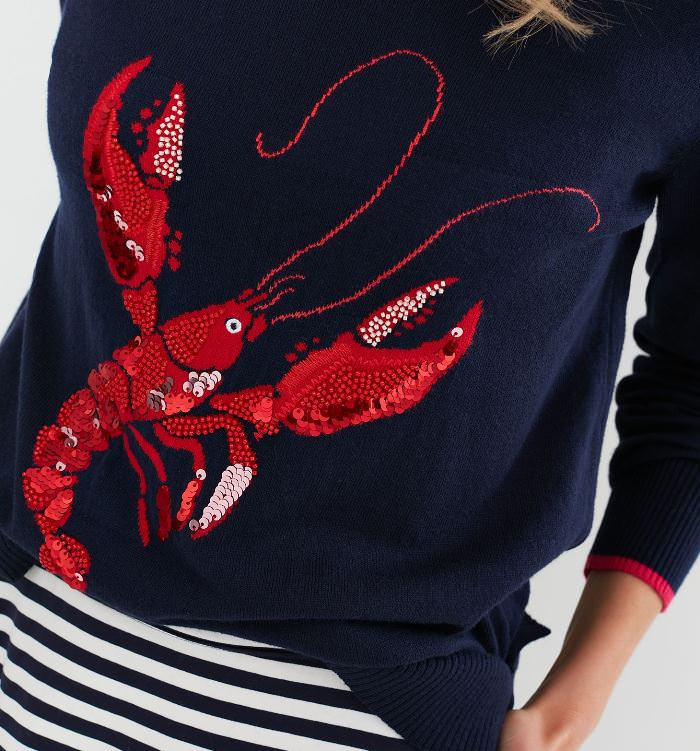 I have a thing for hooded sweaters and sweatshirts. That started a few winters back when I discovered how much warmer they were around my neck than regular, non-hooded sweaters. This one is currently on sale here: Hooded Sweatshirt.
Talbots has a big "Friends and Family Event" going on right now that's 30% off your entire purchase when you checkout using your Talbots card. I think the preview day for cardholders ends today. I guess the sale opens up to everyone starting tomorrow. Talbots is the only "store" card I currently use because I love getting free shipping.
I keep going back to this beautiful toile shirt! It just looks so elegant and sophisticated for when you want to look a bit more polished. I love how it looks with white pants! It's available here: Etched Toile Shirt.
This beautiful eyelet shirt comes in both blue and white. I love, love, love the square neck and scalloped hem! I'm not sure why but I always find this style neckline so flattering on. It's available on sale here: Eyelet Top. (Sale price should appear once it's in the cart.)
Another super cute dress! This one is on sale here: Embroidered Linen Dress.
Are you a chinos fan? These are so cute for summer! I love how they look rolled up. They are available here: Relaxed Chinos.
When I'm not wearing shorts or light dresses in the summer, I'm usually in white pants or white jeans. I've been super tempted to try these Pull-On Jeggings. A friend of mine bought some recently and she loves them! I wear a lot of long tops and I usually wear them out, not tucked in, so this would be perfect for that. These pants would also be perfect to wear with my Lilly Pulitzer tops that get holes in them if worn with regular pants that have a button. (See that post here: How I'm Preventing Additional Holes in my Lilly Pulitzer Shirts.)
I think I'm going to try these, they look incredibly comfortable with that relaxed waist! You'll find them in white, blue, and black here: Pull-on Jeggings.
Happy Spring Shopping!
See you tomorrow for Tablescape Thursday!
*If a post is sponsored or a product was provided at no charge, it will be stated in post. Some links may be affiliate links and as an Amazon Associate, I may earn from qualifying purchases. *