Last winter I put together a list of a few of my favorite things that help get me through the cold winter months. I ask in that post what helps you survive the winter and your comments were filled with wonderful ideas and suggestions. Thanks so much for sharing your fave winter survival tips.
Since we're well into the throes of another winter, with at least two months ahead of us, I thought it would be fun to once again share some of my tips for surviving the cold weather months.
Please be sure to leave a comment with your winter survival tips. I want to know how you get through the winter in comfort and style. Your suggestions last year were amazing so I can't wait to learn from you again this year!
Here's my list, in no any particular order. I'm not linking to any of the products below, so if you see a product you want to try, just Google it and you'll find it online. (All the pics in this post that aren't watermarked are from either Amazon or the website for the product.)
1. Downton Abbey
Though I'm not a big TV watcher, I'm enjoying watching this season of Downton Abbey. Definitely a fun way to pass the time on those days when staying inside is preferable to venturing out into the cold or rain. There's enough drama and heat in this show to keep anyone warm!
2. Heated Car Seats
I didn't mention these last year but I've been a huge fan of heated car seats for many years. When I used to work away from home in an office, I was in my car by 6:45 each morn and it was C.O.L.D! My seat warmers always got warm long before the engine itself warmed up enough to send heat out through the vents. If your current car doesn't have heated seats, put those babies on your "my-next-car-will-have" list. They are also wonderful when you have an achy back…very soothing.
3. Honey House Naturals Lip Butter
I bought a little tin of the Honey House Naturals lip butter several months ago because I couldn't resist the cute raised bee design on the tin. Yep, I'm a sucker for that kind of thing. I'm glad that little bee lured me in because I love the lip butter I found inside. This is the best my lips have ever been in the winter. One thing I really like about the HHN lip butter is it doesn't have menthol in it. I really dislike how menthol feels on the lips. This lip butter is silky smooth and protects without making your lips tingle/burn with menthol.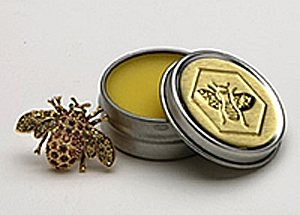 Flannel sheets made my list last year. Even though I'm trying hard to not repeat last year's list, I put them back on the list again because my old sheets (after many winters use) wore completely out and I was forced to shop for new flannel sheets. When I say my old ones wore worn out, I'm not kidding! I got them out of the dryer and they had literally shredded in places. I remembered having seen flannel sheets at Lands End and I've always loved the quality of their products so I ordered their "best seller" flannel sheets. They are amazing! They are unbelievably thick and soft and WOW, are they warm. My other flannel sheets were never this warm. They are so toasty, I don't even sleep with a comforter on the bed, now. They were more expensive that what I normally spend for flannel sheets but the quality is so nice, I'm sure I'll be using them for many winters.
5. A cozy fire…
A cozy fire warms the body and the spirit. Hot tea or cocoa doesn't hurt either. (Teascape can be viewed here: Cozy Fireside Tea)
6. Gardening Books
Books are always a part of my winter survival kit but those that remind us spring will return again are truly comforting. It's fun to dream and plan for another gardening season.
I just added these two to my office bookshelves recently.
7. A Tablet Computer
I'm definitely enjoying having a tablet this winter. I can stay snuggled up under a warm throw, reading…but still answer e-mails or moderate comments.
8. Beautiful Birds Visiting My Feeders
Bird watching and feeding the birds brings so much joy. When things are gray and bleak outside, a beautiful Eastern Blue Bird or a gorgeous red Cardinal is all the view you need. They add so much life to the winter landscape. (For more sweet birdie pics, visit this post: Birdwatching: Cardinals, Bluebirds and Woodpeckers Came Calling)
9. Good Friends
Laughs shared with good friends, especially good friends who happily don furry muffs and deer antlers, 😉 make winter way more bearable.
10. A Snuggly Furry Face
If you have one of these, you may not need the flannel sheets. 🙂
You can check out my winter survival list for last year here: 10 Must-Haves on My Winter Survival List
Your turn!
Please share! Tell me what's on your winter survival list. Your suggestions last year were awesome! Any changes for 2013? Any additions? What's helping you survive the cold temps this winter?
For my Australian readers who are basking in sunshine right now, what gets you through the winter months?
*If a post is sponsored or a product was provided at no charge, it will be stated in post. Some links may be affiliate links and as an Amazon Associate, I may earn from qualifying purchases. *