Welcome to the 136th Metamorphosis Monday!
If you've been reading BNOTP for a while, you're very familiar with this view of my Office.
I've shared this side of the room in previous posts, too.
But, I've rarely shared this side because…well, there's just nothing to see. Pretty boring, right? Well, that's about to change!

I've had big plans for this space all along; I just haven't been able to find the piece I had envisioned. I've been looking for a bookcase cabinet or some type of old china cabinet I could paint and use to hold books. But whenever I've come across an actual bookcase cabinet, it was way too expensive, usually in the $700-$800 range. And, I haven't had any luck finding a china cabinet that would really work well as a cabinet for books. Not one to settle, this space has remained empty.
I'm so glad now because it turns out, I was dreaming way too small. I found something so much better. Remember those trips I made to IKEA land recently? If you're a fan of BNOTP on Facebook, you already know what's on this wall.
Here's the view now as you walk into the office.
I thought I had sooo many design/garden/cook books. Ha! Let's just say I have a whole lot of growing room. What a terrible, terrible problem. I guess I'll just be forced to buy a few more books to fix this awful situation. 😉
I know that chandelier looks low. That's because it is. The ceiling is only 8 ft. but I really, really wanted a tole chandelier in here. It hangs 5'10 inches up and that's fine for my 5'4 inch body. I could raise it another couple of inches, but I'm really the only one who spends any time in here and I love having it down a bit where I can see all the little flowers.
I'll create a post later this week about how I've organized this little library and about the "Billy" bookshelves from IKEA. (Update: Post can be found HERE.) They come in several styles and can be ordered online. The pricing is unbelievably good. Everything you see here costs a total of $195. Soooo glad I never found that bookcase cabinet I "thought" I wanted.
I've decided to just keep Decorating/Design, Gardening, Crafting, Birding, Cooking and Art books on these shelves. A few readers have requested I do a post naming some of my favorite design books. I'll work on that real soon. I'm decorator/design book obsessed so I'll be happy to share some of my faves. (Update: The book post can be found HERE.)
"When I get a little money, I buy books. And if there is any left over, I buy food." -Erasmus
I initially had some books on the right side of the shelves and some on the left. It felt very contrived and sort of hodge-podge, so I moved most of them back over to the left side and filled in with a few goodies I found around the house. This arrangement is definitely not complete. I'll be moving things around and adding to the shelves over the next few months. I'll be sure to share as it evolves with time.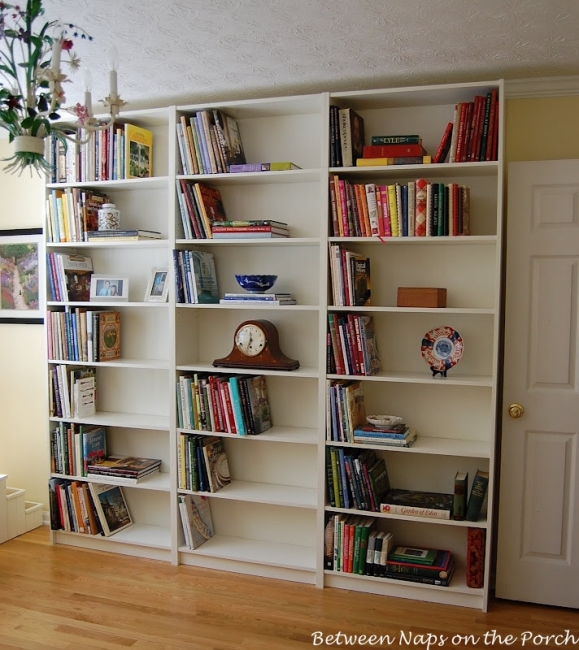 The clock normally lives on the mantel in the family room, HERE and I really should put it back.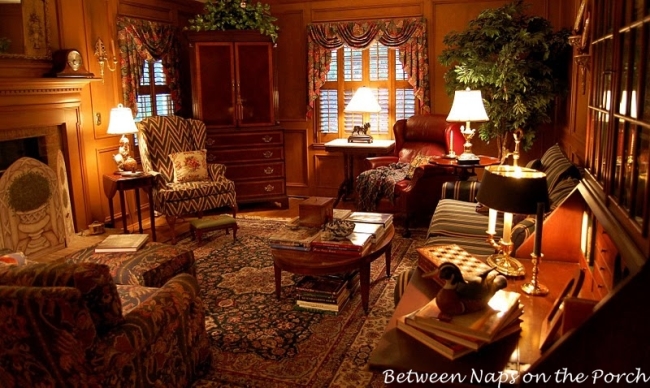 The mantel is looking pretty bare without it, but I have so enjoyed having it here singing to me every quarter hour as I work.
This clock has tremendous sentimental value since it's the very first antique/vintage thing I ever purchased. I was 23 years old and living in Jacksonville, Alabama where we had just bought our very first home. (You can see it in this post called Yellow Cottages and White Picket Fences.) I walked into a dark, scary-looking, run down antique shop and the nicest elderly gentleman greeted me. The clock was around $69, as I recall. I asked if I could pay for it in two payments and he smiled and said, yes.
A few weeks later I brought it home and placed it on our mantel. It has the most beautiful voice…a wonderful, deep Westminster chime. If you don't have a chiming clock in your home, I encourage you to consider adding one. It brings your home alive and you'll wonder how you ever did without one. Promise.
Tip: Look for one that's at least an 8-day clock, so you'll only need to wind it once a week. Sunday is winding day around here.
So, that's what's been happening around here lately. Can't wait to see what you've been up to!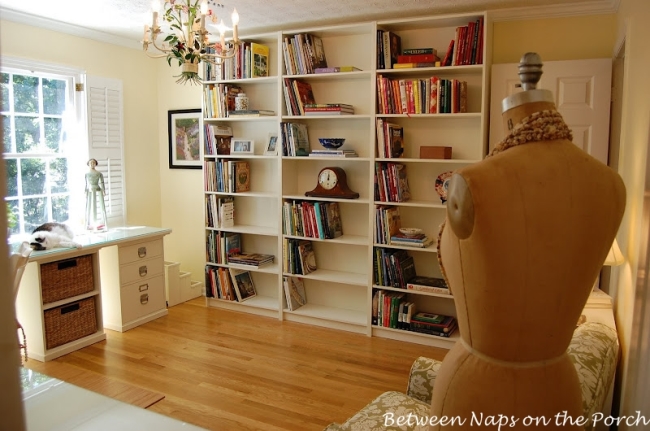 If you would like to view this office transformation from the beginning, click Pottery Barn Office Addition.
Reading this post via e-mail or RSS feed?
*If you are reading this via email or RSS feed, to view all the "Before and Afters" linked for this Met Monday, click HERE.
New to BNOTP?
To receive the latest posts, as well as updates about blog parties, subscribe via an RSS Reader or have BNOTP delivered right to your Inbox. You'll find links to subscribe via RSS and Email on the sidebar to the right. Thanks for reading; so glad you are here!
Metamorphosis Monday:
If you are participating in Metamorphosis Monday you will need to link up the permalink to your MM post and not your general blog address. To get your permalink, click on your post name, then just copy and paste the address that shows up in the address bar at the top of your blog, into the "url" box for InLinkz.
If you'd like to include the MM button in your post, just copy and paste the Met Monday button to your computer or grab the html code from underneath the MM logo under the "Join a Blog Party" header at the top of this blog.
In order to link up, you'll need to include a link in your MM post back to the host blog, Between Naps on the Porch so your regular readers will be able to find the Met Monday party which ensures your friends and fellow bloggers will receive lots of visits, too.
PLEASE DO NOT type in all caps…it spreads the links waaaay out. Thanks!




Welcome! Thanks for coming to the party!
*If a post is sponsored or a product was provided at no charge, it will be stated in post. Some links may be affiliate links and as an Amazon Associate, I may earn from qualifying purchases. *