Welcome to the 690th Metamorphosis Monday!
These screened doors have been tucked away in my garage, patiently waiting to be installed for two years now.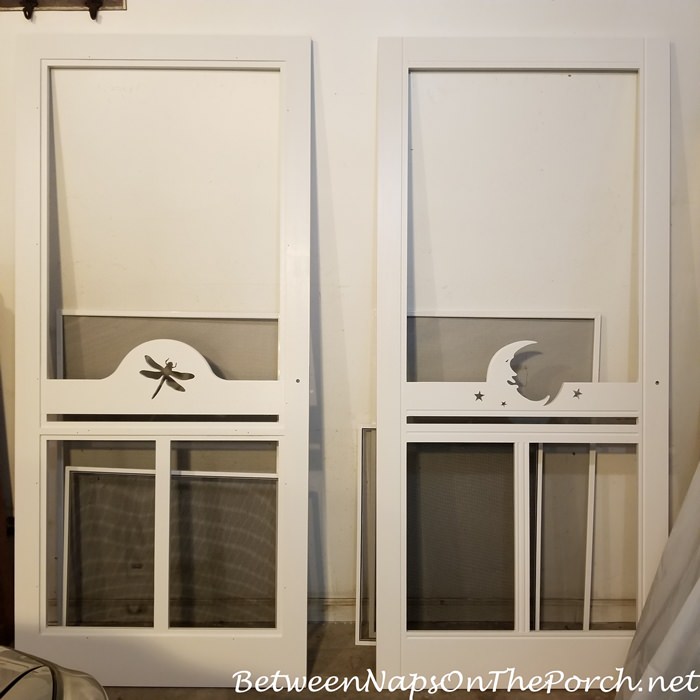 They were built to replace the doors you see on either side of the screened porch below.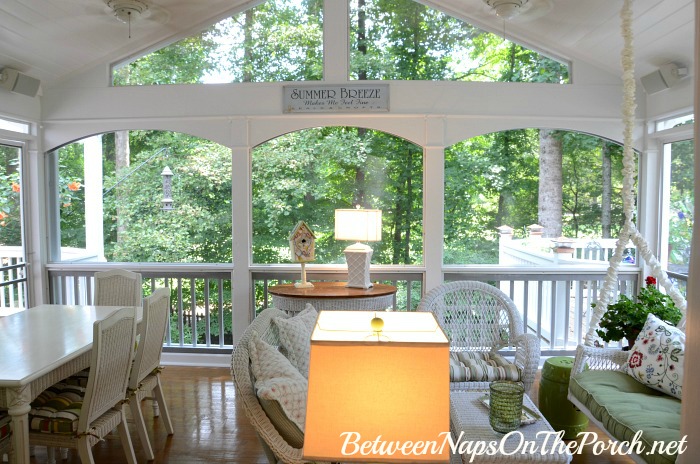 Naughty mice (rats?) made their own door one cold winter when they decided to homestead inside my large gas grill. Argggh!
I had rarely used the grill, so I gave it away to a guy who has done work here in my home from time to time. He was thrilled to get it and I was happy to see it go because I didn't want a mice highway through the doors and across my porch leading out to the grill. lol
It took a while but I finally found someone to install the new doors.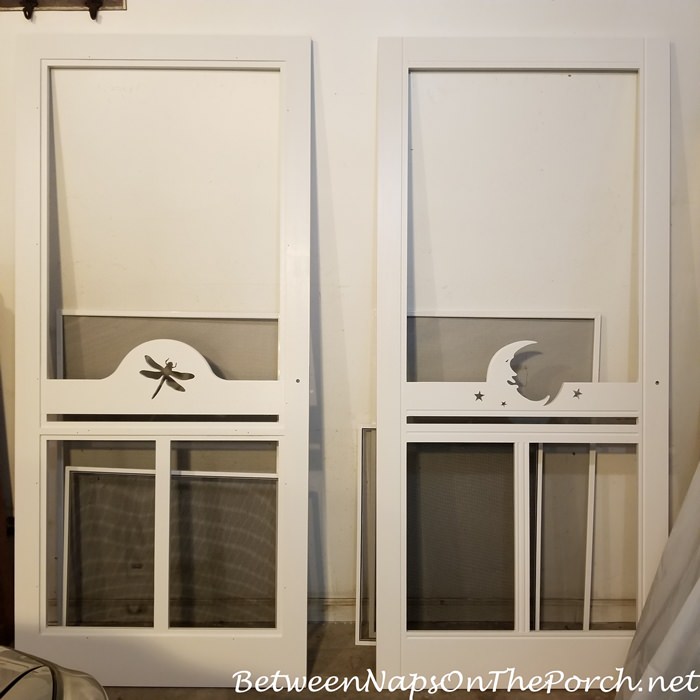 I chose a dragonfly motif for the screened door that leads out to the deck that has a pergola overhead.
There's so much "stuff" currently falling from the trees and occasionally small things get stuff behind the motif part of the door. It's easy to remove though, I just loosen 4 of the little metal thingies that hold the screen in and pull the screen out a small amount and the debris falls out. I think once spring gets past, that will probably stop.
Here's how it looks from the outside. Initially, I ordered all brass hardware from the company that made the doors but when it was time for the installation, I decided to go with white hinges because I wanted the hinges to just disappear. I love the brass knob, though, and decided to use it.
What about the door leading out to the other deck?
You got a quick glimpse of it when I shared it during a recent post.
Here's how it looks from the outside.
These mahogany doors were handcrafted by the Wooden Screen Door Company. They are located in Maine. I hope they never go out of business because if I ever move and have another screened porch, I'm definitely going to want another one of their doors. They add so much personality to the porch!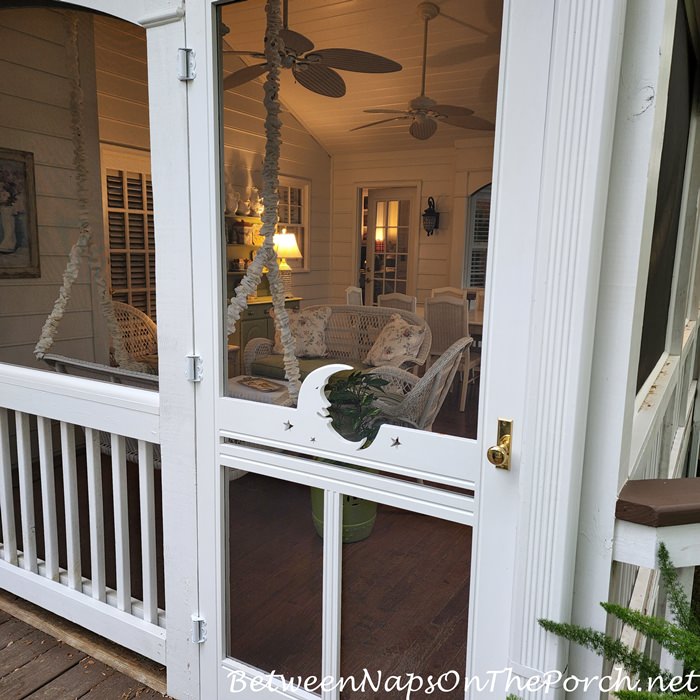 Excuse the dirt on the outside of the porch, I took this photo before I gave it a good washing yesterday. I need to have the whole exterior cleaned–the high-up parts that I can't reach. It's the price I pay for having so many trees in the backyard. They do offer glorious shade in the summer, though. The porch is always around 5 degrees cooler than the forecast temperature.
I need to add some more bottles to my bottle tree this summer. Have any suggestions for products that come in colored bottles–bottles that are actually dyed all the way through and not just on the surface? Otherwise, the sun bleaches them right out.
Happy spring to you! Are you starting to enjoy some porch or deck time in your area? It's raining out this morning but we will have 80-degree weather and lots of sunshine by mid-week, and I am so ready for it! Bring on the sun!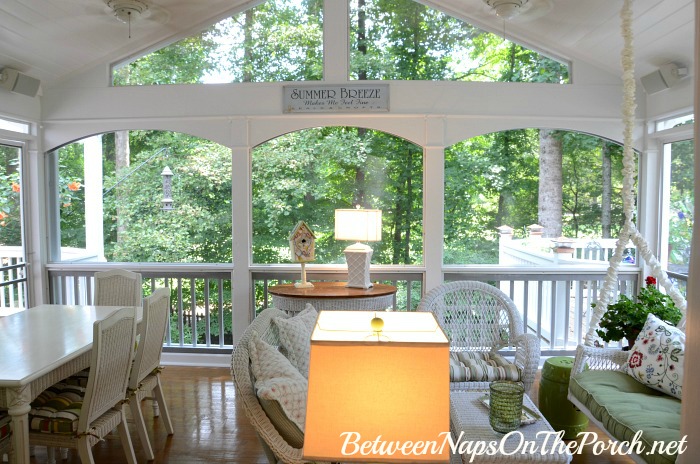 Looking forward to all the wonderful Before and Afters linked for this week's Met Monday!
Pssst: Did you know Between Naps On The Porch is on Instagram? You'll find me on Instagram here: Between Naps On The Porch.
Like to know when a new blog post is up and available to read? Subscribe for email updates, it's free and your email will never be shared. Subscribe for free post updates via email here: Subscribe.
Metamorphosis Monday
Metamorphosis Monday is a party that's all about Before and Afters. Please link up your Before and After projects like DIY projects, room makeovers, craft projects even recipes. Any Before and After is great! Please do not link up Table Settings, save those for our Tablescape Thursday party on Thursday.
If you are participating in Met Monday, you'll need to link your post to the party using the "permalink" to your MM post and not your general blog address. To get your permalink, click on the name of your post, then copy and paste the address that shows in the address bar at the top of your blog, into the "url" box for InLinkz when prompted.
NOTE: Please do not link up more than 3 posts from your blog. In order to link up, you'll need to include a link in your post back to the party so visitors to your blog can find the other party participants. Thanks!
This party has ended, click button below for the links to all who participated.
*If a post is sponsored or a product was provided at no charge, it will be stated in post. Some links may be affiliate links and as an Amazon Associate, I may earn from qualifying purchases. *