Before I share my March favorites, I have to share this awesome surge protector that I had my computer plugged into when a huge lightning strike happened right outside my office recently. That strike caused a surge that took out my cable modem, my speakers, and my garage door opener, but my computer and printer survived the strike completely unscathed. They were both plugged into this surge protector. I just repurchased it again this past week because surge protectors are like sponges, they can only absorb so much before they no longer work. I didn't want to take a chance, so I bought a new one, going with the same one again.
Not all surge protectors are rated the same so it's important to check the "joules" before buying one. This one is rated at 4320 Joules which is perfect for expensive electronic devices like computers and televisions. If it's been a while since you last replaced your surge protectors, definitely recommend doing that as we enter the spring season with its crazy stormy weather. You'll find the one that helped save my computer during this recent lightning hit here: Surge Protector.
Two more faves from last month are the Sperry boat shoes I purchased. I love them so much! I've been wearing them a lot, every time I run out on errands. They are so comfortable and I love the style! This pair is available on sale here: Sperry Boat Shoes.
And the other style I purchased and really like is available on sale here: Sperry Boat Shoes.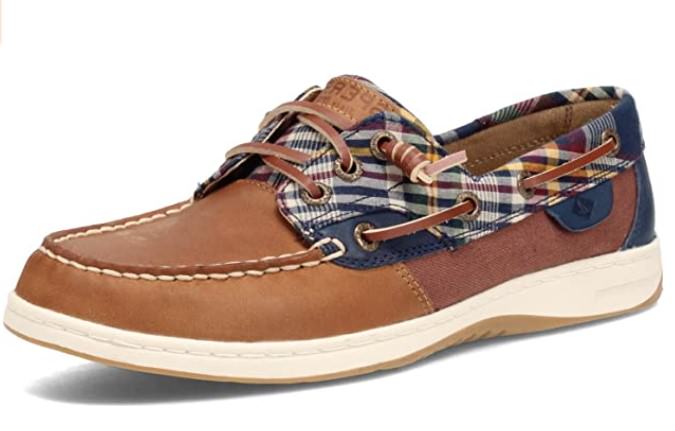 I've really been enjoying my bee cardholder this spring. I often use it as my main wallet since it holds a lot. I love the bee design so much and the size of this wallet works really well in my smaller bags. It's available in 15 different colors here: Bee Card Wallet. They also make an RFID version that would be great for travel, or even for use at home. It can be found here: RFID Bee Wallet.
New Deck Furniture
A few years back I caught this deck furniture on sale for a really great price at Home Depot. Sadly, it didn't last but a couple of years before it started rusting. I gave it away to someone who was going to try and repaint it.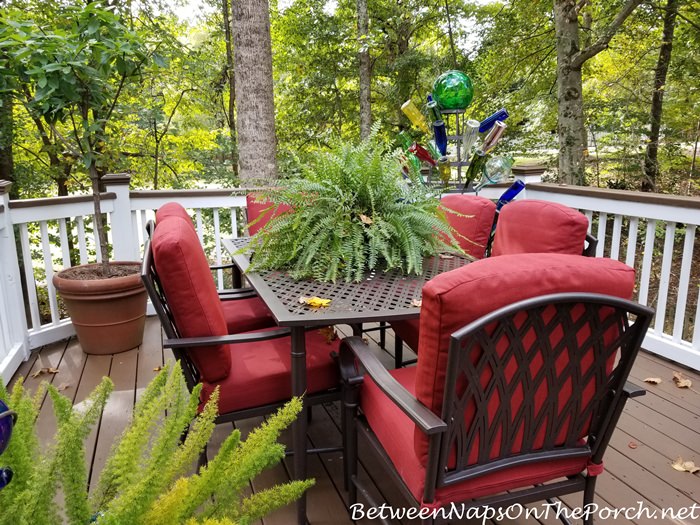 I used to have a beautiful set of outdoor-wicker, dining furniture on a smaller deck that's just off the other side of the screened porch. I found it for an awesome deal at A Classy Flea. Unfortunately, the squirrels loved it too, or at least I think that's what damaged it. It could have been raccoons since they used to come visit the feeders at night. Anway, something chewed the arms of all the chairs to the point where if you rested your arm on the arm of the chair, it was quite painful. They also chewed up the braided part that went around the edge of the table. I was so disappointed when that happened because I hardly got to use that set before it was ruined.
I've been very reluctant to buy any more outdoor wicker after what happened with that set, so both decks have been empty of furniture for a while now. I don't remember how I first discovered it, but recently I came across outdoor furniture that is made from Polywood lumber. You're probably familiar with Trex decking–Trex branded outdoor furniture is also made from Polywood. It comes with a 20-year warranty and is supposed to have a UV-inhibited pigment system that reduces fading. I get a fair amount of shade in my backyard so I'm not too worried about fading but that is a nice feature. What really sold me on this furniture was the great reviews I read online at various websites.
Do you have Polywood outdoor furniture? I'm so tired of having to replace my outdoor deck furniture, I decided to give it a try. In an ideal, fantasy world where nothing ever goes wrong and I have endless funds to constantly replace outdoor furniture, I would probably prefer real wood furniture, but I live in the real world and I'm definitely tired of all the maintenance issues. Polywood dining sets (as well as their seating sets) come in a bunch of different colors from grays to browns to several off-whites/sand colors. I decided to go with this white set for the area underneath my white pergola. (I found it for a great price here: Dining Set for Four.)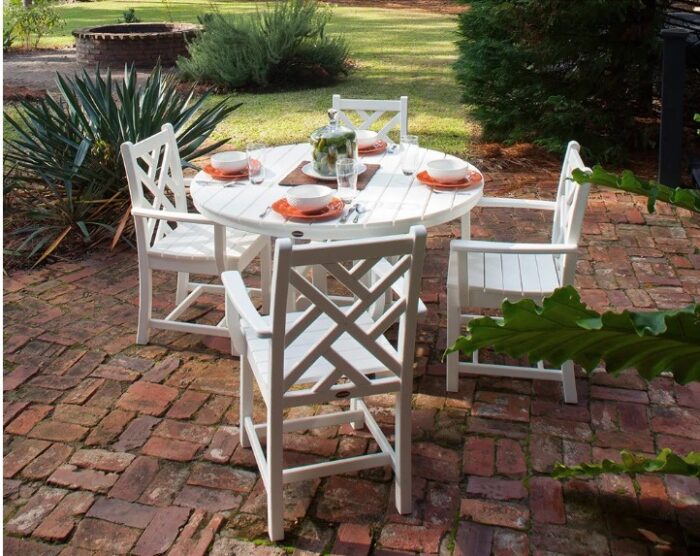 I have always loved the Chippendale design, be it in outdoor benches or even in porch rails, so I really loved the Chippendale design in the back of the chairs! Chippendale style has to be my favorite for outdoor furniture! I read that they use marine-grade hardware for the furniture, so that sounds promising and should mean that the screws will not rust.
For the other deck, the one where I previously had the metal furniture that rusted, I chose this set that seats six. I really liked the soft gray color and thought it would be really pretty with my existing umbrella. There's a hole (with a cover) in the center of both tables. I will definitely take advantage of that for this set that will be on the open deck without the pergola. I purchased this set here: Dining Set.
How I Saved
I am super excited about the savings I got with these two dining sets. I looked everywhere online and no one had Polywood dining sets on sale. Some sites try to trick you by claiming they are on sale but when I compared their prices to other sites, they were not sale prices! I ended up getting the gray set on sale HERE at Overstock and the white dining set below on sale HERE. They had an offer where if you signed up for their emails, they would send you a discount coupon. I did that for the gray set. Today I noticed a flash coupon on their website for 12% off and decided to go ahead and buy the white set for the area under the pergola. You can see the Flash Coupon HERE. in the upper left corner. When you click on that coupon, it activates it.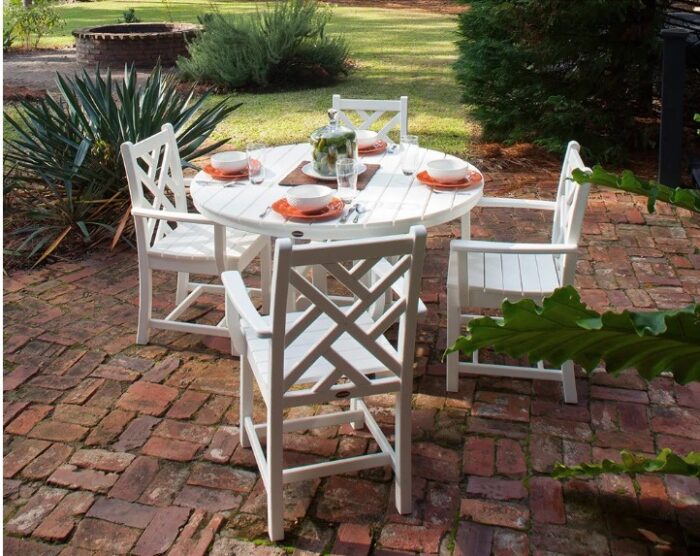 I love this bench! If I ever have to replace the benches on my front porch, I would be very tempted by this beautiful Chippendale design. It's available here: Chippendale Bench.
Wish I had a spot for this seating group…so pretty! It's available here: Outdoor Bench, Chair and two Tables.
Not sure when my dining sets will arrive, I think it will be a few weeks, but once they do, I will be sure to share them with you. That gives me time to get my decks cleaned for the upcoming summer season. I'm super excited about this new Polywood furniture. It's supposed to be pretty easy to clean with just soap and water. It can even be pressured washed at a low pressure per info I found online. That means when I get my desks cleaned, I can have the furniture cleaned, as well if I haven't already done it myself. Anyway, can't wait to share both sets with you once they arrive!
Happy Weekend! See you on Monday with another porch update…the screened doors are finally installed! 🙂
*If a post is sponsored or a product was provided at no charge, it will be stated in post. Some links may be affiliate links and as an Amazon Associate, I may earn from qualifying purchases. *