Welcome to the 746th Metamorphosis Monday! Happy Monday! I hope you had a fabulous weekend! Mine was great except for one mind-numbing incident. lol So you know how I've put together a gazillion of these white storage cabinets for use here in the garage? I have 9 here in the garage–five along the side wall and four on the front wall.
I decided to order two for the basement storage room since I love the clean style of this cabinet. Some good news–when you order these cabinets via Amazon, they are no longer delivered by UPS. Instead, they are now delivered by two strong Amazon employees. You may remember in the past when UPS was handling the deliveries, they would always arrive badly damaged with gouges and chips–even entire side panels broken in half! So glad they found a solution to this problem. The two I ordered for the basement storage room arrived in pristine condition.
I opened them up in my entryway and carried them piece by piece down to the basement. That took a while! Next, I assembled one of the cabinets and all went well just as it has the other 9 times I've put these cabinets together in the past.
But then disaster struck! I awoke early on Saturday, eager to finish putting the 2nd cabinet together. I had already added a lot of the hardware the night before so there wasn't that much left to do. I finished assembling it, then stood it up, and…are you ready for this–the entire cabinet collapsed sideways onto the basement floor. Thankfully, it fell away from me and not toward me, although if it had fallen toward me, I may have been able to catch it.
When it fell, every single panel ripped apart and it landed in a big pile of damaged pieces. I was flabbergasted! I'm not exactly sure what went wrong, but I'm guessing I didn't secure or tighten something well enough during the building process. After assembling 10 of these cabinets with no issues whatsoever, I guess I was due for a failure. I've ordered another cabinet and it should arrive this week. I will be double-checking everything during the building process this time! Good thing I don't construct buildings or bridges for a living!!!
In the meantime, I filled the cabinet that I put together on Friday–you know, the one that didn't fall apart–so you could see how much household stuff these cabinets will comfortably hold. I was pleased to see that they are definitely deep enough to hold things like bathroom tissue. This cabinet below is still not full–there's quite a bit of room left for smaller items. Note: I'm waiting to put the doors on until it's moved into the storage room since the doors add a tremendous amount of weight. These cabinets are a lot easier to move without the doors, learned that when I did the garage makeover. (Cabinet is available here: Storage Cabinet with Doors in 3 Colors.)
As mentioned previously, these two cabinets will go here in the storage room along the wall on the right. I've already emptied and moved the open shelving that was on that wall, so the room is completely empty (except for the Christmas tree) and ready for the painting that should be taking place this week.
One other thing I worked on this week was going through all my old paint from the past 30+ years to see what was still good. A lot of it was so old, it had completely dried up inside the can. For the paint that was still good, I labeled the cans so it would be easy to locate if needed in the future.
I love this label maker I purchased a few years back! I've used it a lot more than I ever thought I would. If you could use a good label maker, the newest version of this one is available here: Label Maker.
I'm looking forward to sharing how the storage room looks once the baseboard, trim, and painting are complete–and the freezer, cabinets, and workbench are all back in place.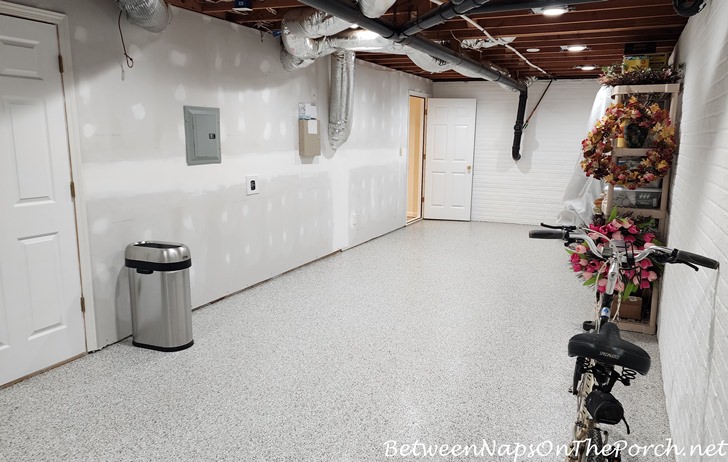 Looking forward to all the great Before and Afters linked for this week's Met Monday! Pssst: Did you know Between Naps On The Porch is on Instagram? You'll find me on Instagram here: Between Naps On The Porch. Like to know when a new blog post is up? Subscribe for email updates (it's free) and your e-mail will never be shared. Subscribe for free post updates here: Subscribe.
Metamorphosis Monday: Metamorphosis Monday is a party that's all about Before and Afters. Please link up your Before and After projects like DIY projects, room makeovers, craft projects even recipes. Please do not link up Table Settings, save those for our Tablescape Thursday party on Thursday. If you are participating in Met Monday, you'll need to link your post to the party using the "permalink" to your MM post and not your general blog address. To get your permalink, click on the name of your post, then copy and paste the address that shows in the address bar at the top of your blog, into the "url" box for InLinkz when prompted. NOTE: Please do not link up more than 3 posts from your blog. In order to link up, you'll need to include a link in your post back to the party so visitors to your blog can find the other party participants. When linking up to the party, give the InLinkz system time to find the link in your post to avoid having your link held for moderation/approval. Thanks!
You are invited to the Inlinkz link party!
*If a post is sponsored or a product was provided at no charge, it will be stated in post. Some links may be affiliate links and as an Amazon Associate, I may earn from qualifying purchases. *