Welcome to the 688th Metamorphosis Monday!
Happy New Week! I hope your week is off to a great start! I just returned from visiting family in Ohio. It was a wonderful visit, so wish we didn't live so far away from each other.
While I was there, we had some return visitors. Every year, a pair of Mourning Doves return to nest on the top shelf of a storage shelf in the garage. This is their 3rd year returning to this spot. My son tries to discourage them by keeping the garage door closed as much as possible, but the minute the door gets left up for a few minutes, they start building their nest. They are fast! We couldn't say "no" to these faces, so nesting is underway! I think they love nesting here since it's out of the rain and those occasional late-season snowstorms. You can see Mom on the nest and Dad sitting nearby in the photo below.
We got in one really long walk/hike during the 10 days I was visiting. We walked almost 5 miles and I swear over half of it was uphill. lol We were walking to a nearby restaurant (Flyboys) that's just a couple of miles away and the route we always take that's away from busy roads and through some beautiful neighborhoods, takes us up hill after hill after hill. I always joke with my son that the restaurant must be on the top of a blooming mountain! I love the walk, but oh. my. gosh–the hills! We walked right by this home I've shared in the past that has a gazillion daffodils in bloom this time of year. This photo is from a previous year–the daffodils were not quite this far along last week, but I bet this week they will be spectacular!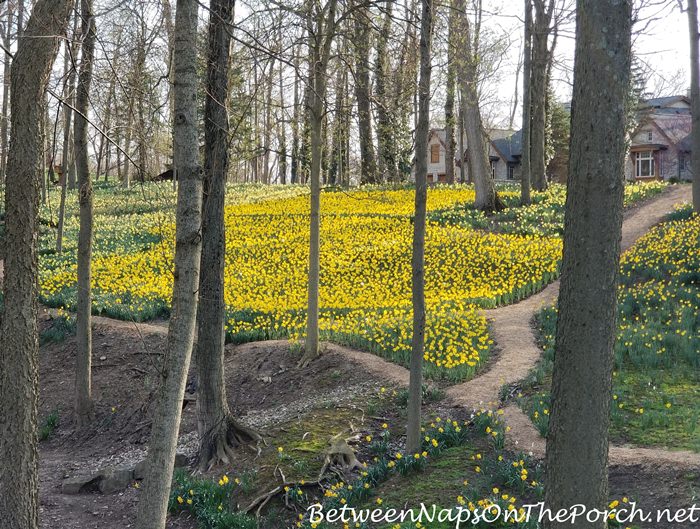 After ordering and picking up our food at Flyboys, we carried it to a nearby park where my son and grandsons played with a small drone my oldest grandson recently got for his birthday. While eating in the park, we spied this guy running around the park–an albino squirrel. Do you see him in the tree below?
My son said he is a frequent visitor to this particular park. I'm guessing he has a nest nearby. He had a nut in his mouth when I took the photo below with my ancient cell phone. I purchased a new cell phone a few weeks back–the Samsung S22 Ultra. From what I've read/seen online, I think it will do a much better job at taking distance photos than my ancient Note 8 does. The phone arrived while I was in Ohio so I haven't had a chance to change over to it, but I'll be doing that in the next day or two. Anyone have that phone and if so, are you happy with it?
On the way home, I stopped by a Cracker Barrel to stretch my legs and to check out their latest wares. I always love seeing what they have in stock and often find some great gifts for my grandsons or treasures for future table settings. They carry my favorite Woodwick candles so I briefly checked those out.
I resisted buying any on this trip but I wouldn't mind trying this trilogy blend of Melon Blossom, Coastal Sunset, and Palo Santo.
Loved the daisy shutter sign! By the way, Cracker Barrel has an online store where you can purchase many of the items I saw while in their restaurant. So if something catches your eye, just do a search for their online shop.
Lemons are big this year, I keep coming across them everywhere! Love that!
If you know someone who loves horses or horseback riding, they had some really cute horse-related goodies and a lot of it was on sale.
The other thing that was on sale was all their rooster/chicken-related items.
So many cute things!
They even had rain boots with a chicken design. If I had chickens, I would have to get these to wear while collecting eggs. Ha!
Probably my favorite area was the section displaying all these great nautical pieces. I love the silly pelicans! They even had a lighthouse floor lamp–that's it there on the left. That would be so cute in a beach house!
How about a Pelican lamp for your beach house? How adorable is that! They always have items in Cracker Barrel that I never see anyplace else. I don't know who does the buying for them, but I love the unique pieces they always find.
I was super tempted by this tumbler. I don't even own a boat, much less a yacht, but this totally cracked me up! I love the colors of it, too. Very beachy!
I did buy this tumbler. I couldn't resist the wildflowers and dandelions dancing all around the bottom, and I especially loved the sentiment: "Some see a weed, others see a wish." I'll leave you today with that beautiful thought. I hope your week is filled with wishes and not a single weed!
Looking forward to all the wonderful Before and Afters linked for this week's Met Monday!
Pssst: Did you know Between Naps On The Porch is on Instagram? You'll find me on Instagram here: Between Naps On The Porch.
Like to know when a new blog post is up and available to read? Subscribe for email updates, it's free and your email will never be shared. Subscribe for free post updates via email here: Subscribe.
Metamorphosis Monday
Metamorphosis Monday is a party that's all about Before and Afters. Please link up your Before and After projects like DIY projects, room makeovers, craft projects even recipes. Any Before and After is great! Please do not link up Table Settings, save those for our Tablescape Thursday party on Thursday.
If you are participating in Met Monday, you'll need to link your post to the party using the "permalink" to your MM post and not your general blog address. To get your permalink, click on the name of your post, then copy and paste the address that shows in the address bar at the top of your blog, into the "url" box for InLinkz when prompted.
NOTE: Please do not link up more than 3 posts from your blog. In order to link up, you'll need to include a link in your post back to the party so visitors to your blog can find the other party participants. Thanks!
This party has ended, click button below for the links to all who participated.
*If a post is sponsored or a product was provided at no charge, it will be stated in post. Some links may be affiliate links and as an Amazon Associate, I may earn from qualifying purchases. *